Are you trying to find a way to make money from home? Needing additional cash to cover expenses? Or maybe you're just tired of working 9-5 with low wages!
So you're surfing the internet, trying to find ideas. Which is a good thing, I might add. You just have to be careful of the promises certain people are making to try to draw you in. One such promise (actually many…) all come from one source. It's called the Secret Income Club, and it isn't what you think!
I'm relieved you're researching this site before buying into anything. I want to show you what it is and how it works, in hopes that you don't fall for their promises.
And if you're looking for a legitimate way to make money, please read my honest recommendation!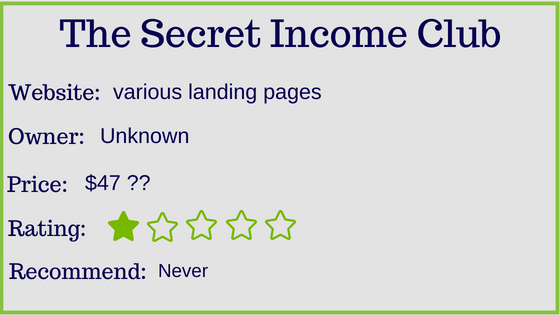 What Is The Secret Income Club?
Secret Income Club's website was created on April 25, 2018. Their privacy protection doesn't allow us to see who owns it, but it's registered in Kirkland, Washington, U.S.
This site sends you to various ads promising you can make money. They keep rotating their ads in hopes that the reader will find it enticing enough to enter their email address. From here, you're directed to the buy-in page. Actually, when I tried it, three more pages popped up offering me riches, lol.
This is currently being used through email marketing campaigns because once they get a hold of your email address, you can count on receiving many, many make-money offers in the future. You will also see them floating around on social media.
These types of campaigns make me so angry! Email marketing is a legitimate form of campaigning for legitimate products. People like this abuse the system and make a bad name for it.
Who Is It For?
The owner of this site is trying to convince people to buy into a system (of which there's a different one every time you click on his site) which can make you rich overnight. He is hoping that you're desperate enough to make fast money and willing to buy in.
Personally, I don't believe it's for anyone. This person is an affiliate of all these make-money-quick schemes and is trying to get as many of them in front of people as possible. If some poor soul buys into one, thinking he'll get rich, then the affiliate makes his commission.
He doesn't care that the systems he's promoting probably don't work. All he cares about is getting paid. And he's certainly not trying to help you in any way.
If you take a look at my website, legitimateaffiliatetraining.com, you will come to a legitimate website. My goal is to help people legitimately start an online business to make money. And I offer valuable information to help you on your journey.
Making money online is an excellent opportunity, but it takes time and work. The offers you see from Secret Income Club are just money-making-schemes for the people promoting them.
How Does It Work?
This is not a website you can access. They have it set up to funnel you through to various offers promising to make lots of money. These are called "landing pages", or ads for different get-rich-quick schemes. They are using a widget on their site called Adrotator which sends you to a different landing page every time you access the website.
Each time I refresh the search page and re-click their website name, I am sent to a different offer. So far I've seen:
Ecom Cash Code
The Passive Money Miracle
Clone My Sites
Prime Time Profit
Viral Cash App
Pay Day Shortcuts
I'm sure there are many more. It's easy to become an affiliate, which is a good thing. But some affiliate companies offer poor products that people have developed. Many of these products don't offer what they promise. In other words, they are scams. The developers are only hoping to make money from desperate people.
So the owner of the Secret Income Club has become an affiliate of many of these "poor" products and is rotating the ads over and over to get them viewed by the public. He is probably making a lot of money off of people honestly looking to make an income online.
The first time I clicked on the website, I saw this the ad for the Passive Money Miracle:
This landing page is to entice you to add your name and email address to "watch now". I have to admit, I laughed out loud when I saw the top ribbon on the page. Being in Canada, their location tracking system assumed I was in Ontario. It said, "Alert: As of Today, Wednesday, August 15th, This Controversial Presentation Is Still Available In Ontario".
Oh my, they'll stop at nothing to convince you to buy!
I was then taken to a video promising me riches…
Now, just so you know, when you see testimonials like this, these are actors that the developer hired. When you go to sites like Fiverr or Upwork, there are actors who list themselves for hire. I did another review which proved that these were hired actors. Check out my Kindle Sniper Review to see my proof!
At the end of the video, you'll see the "get instant access" button below an amazing discount, lol. Of course, they'll show you a ridiculous product price, then slash it a couple times to persuade you to buy. Personally, I doubt it's even worth what they're asking at the lowest price.
And often times, they place a countdown timer telling you that you only have so much time to purchase, to guarantee your spot. Yeah, right!
This is what you can expect from any of the landing pages you see. They will all want your email address (for future use), then some sort of promotion to suck you in, and finally the best deal you'll ever see. Unfortunately, these tactics do work on people, and that's why they use them over and over again.
I'm simply doing my part to try to educate people about how to spot these scams.
Pros
I honestly don't see any pros here. I'm not saying that possibly, and that's a very tentative "possibly", that any of these products would work. I believe they are all just money grabs.
Cons
Wow, where do I start?
There are many red flags here. Let me show you some of them, as they apply to the different landing pages:
Ridiculous Income Claims
You can recognize many scams with this claim alone. When they say you can make XX amounts of dollars a day, or show you all these cheques for thousands and thousands of dollars, it's too good to be true.
This is your typical get-rich-quick scheme in hopes of persuading those who need quick money, a way out of their desperate situation.
You can definitely make money online, but not overnight!
Push Button or Easy Method
These just lie in hopes of you believing you can make tons of money with little to no work. There's no such method. It takes time, work, and persistence to make money online. And anything they may say about copy and paste is unethical and doesn't work anyway. Google would blacklist you for plagiarism.
Limited Time, Positions, or Availability
Many scams will try to rush you into a decision, so you don't take the proper time to research their product. They will say that there are only 9 more positions in your area, or the countdown clock will show 7 minutes only.
These pressure tactics can be very effective, as I explained before. It tracked me to Ontario, Canada, and tried to make it seem like the video was controversial and about to be taken down, lol.
But unfortunately, they're all lies. You can be sure when the clock runs down, you'll be presented with another offer. Most likely at another reduced price.
Fake News
We've been hearing this term a lot lately, haven't we? But in this case, it's true. Many of these scam developers will create a fake news clip, hoping you'll believe the product was talked about on the news. The can be very convincing, but with just a little research, you'll realize there was no such news clip.
I mean come on….. if these products were really that effective, don't you think there would be hundreds, if not thousands of people online boasting about it. People would be shouting it to the world, and the developers certainly wouldn't be offering it for a mere $47.
Thoughts And Recommendations
I hope that reviews like mine will show people how unscrupulous people can be and what to stay away from. The internet is such awesome technology, and having an online business is very attainable.
Unfortunately, there are those who will abuse a good thing, and scare people away from actually pursuing an online income.
Well, I'm here to show you it's very possible, at any age and background. I won't tell you its easy, or promise you'll make money overnight. It takes dedication and persistence.
What I can tell you is that it works! It truly does. All you need is the proper training to get you started.
When you search for internet marketing training online, you'll find many programs available. Some better than others. When you look to see what they offer, check for these services below. You will need at least this to get started:
You can get all these services separately from different companies, but it could run you several hundred per month to access.
I would love to recommend a platform that has all this and more, under one roof. There's no other platform online that offers everything in one place like this. It's effective, it's convenient, and it's free!
Yes, it's free to start. You get 2 free websites and enough training to get you up and running. It's the best way to test drive the platform to see if you enjoy the process. No strings attached.
If you enjoy all the value you receive, you have the option to sign up for the premium membership. It's only $49/month or $359/year if you pay annually (that's a 40% discount). And no upsells. You get everything for that one low cost. The cost of a comparable website and hosting service alone could cost you that much elsewhere. And you'd still have to pay for the other tools you need.
If you're truly interested in making money online with your own internet business, then please click on the picture below. It's a legitimate platform. It's what I use!
Have you tried any of these get-rich-quick scams like the ones I've shown you in this Secret Income Club review? I'm hoping not, but if you have, I'd love to hear your experience. Let me know in the comment section below.
And please share this article with your friends!
Cheers,
Suzanne