Are you trying to find a way to sell something online?  Or maybe a friend or local business wants you to create a professional website for them to showcase their services.
Do you already have a business that needs an online presence?  Not having a website could mean losing potential customers!
So, how do you build a website?  Well, it's much easier now than it's ever been.  Years ago you needed a college IT degree to write code. Not anymore!  Now anyone can build their own website, hassle-free, at very little to no cost at all.
There are many website builder platforms to help you build and host your website, but you need to be careful that they offer you all the things you need to make it a quality site that people will want to visit.
 Below, I will share with you my 4 easy steps to building your own website.
If you'd like to know where I built my own successful website, please check this out!
Step #1:  Where To Start
Like building anything, there's a logical order to progress in.  There are things you need to consider first, to point you in the right direction.  I know you're anxious, but let's do this right, OK?
Your Ultimate Objective
Before you start creating a website for your business, it's always a good decision for you to write down what you're wanting to accomplish with your website.
Have you chosen your niche?  This is the subject of your website.  It's possibly the skills or knowledge you've chosen to share with your readers.
For more information on choosing a niche, please read my article "Definition of a Niche".
Do you want a blogging section and/or a photo gallery?  In other words, are you sharing your thoughts about a particular subject, or do you want to share images of your artwork?
Do you want to be able to upload videos?  This would be if you're interested in podcasting or maybe live footage of your travel blog.
Do you need an online store to sell your products or services?  Whether you create your own products, whether physical or digital, you will need an eCommerce website.
Who is your target audience?  Knowing their demographics makes goal creation so much easier.
Will this store get bigger in the future?  It's what you hope, right?
It's important to think about your growth options.  Some hosting platforms will only offer so much room for storing your data.  Any increased storage space could cost considerably more money.  And sharing your hosting space with other large businesses could really slow your site down.
If you're not sure about what you would need, check out the sites of other businesses in your niche.  You can get great ideas from other websites that are already successful.
Your Desired Goals
It's always important to write down your goals for your website.  It gives you something to work towards, or to get you back on track if things go sideways, lol.
Think about what you want to achieve with this website:
How much revenue do you wish to earn on a monthly basis?
How many visitors do you want to reach each day, week, or month?
Is there a particular way you're hoping your readers will engage with you?
Are you building out your brand of a brick & mortar store?
Please read: What is Product Branding
All these goals will help you focus on how you want to build out your website.  And don't worry about these being your fixed goals.
As you scale and grow your business, you'll most likely have to change or add to your goals.  Even a few months of effort can change them.
Depending on your business needs, it's good to think about what you want to share on your website.  This makes finding the right theme so much easier.
Are you wishing to blog?  If this is your main method of sharing your expertise, then you'll want to highlight the blog style for maximum impact.
Do you want a static homepage?  This is more professional looking and highlights your main purpose.  It's like a landing page for your main product or service.
Are you selling many products that change often?  This is where an eCommerce website is needed.
Are you a local business?  Make sure there's a section to show your address and phone number.  Having the ability to map directions is also important.
All websites will have the ability to set menus, categories and tags.  I highly recommend you set up your spreadsheet at the beginning to keep your content focused and balanced.
Believe me, this is a real pain in the neck to go back over all your posts, a year down the line, to properly tag everything.  Yup, that's what happened to me, LOL.
I can show you how.  Please read: WordPress Categories VS Tags
And of course, you'll want to add a "Call To Action" on your homepage.  This means you're inviting your visitor to take a specific action.  It could be to purchase something, subscribe to your newsletter, or simply share your page on social medial.
This is also important to start and grow your email list.
There are many different ways to do this.  It usually requires a plugin, but don't worry about that.  Wordpress has plugins for everything and anything you can think of.
Personally, I use Thrive Leads, which is an absolutely amazing product.
Step #2: Choose The Right Platform
This second step involves a little research to find the platform that will suit you the best.  I'll help you by talking about the more important things you need to look for, and comparing three platforms for you.
There are many more platforms online to choose from.  Some offer more than others, but the main things you need to look for are:
The content management system (will it provide what you need)
The ease of the website builder tool
The variety of quality theme templates and plugins (and are they design-friendly)
The hosting plans
The security, SSL Certificates, and daily backup systems
The theme's responsiveness (can they be displayed on mobile devices)
Other things you should check out are:
the technical support
your own email account (looks much more professional)
domain privacy (keeps your personal information private)
uptime guarantees (do they offer you any credit for downtimes of your websites).  Downtimes can happen from time to time on a shared hosting plan.
Content Management System
This software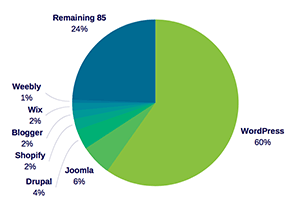 is the application used to create, upload, and manage all the content you put on your website.
For instance, my website that you're on now is managed by WordPress.
WordPress is by far the most popular website management system used today.  It's used by 59.8 % of the market share by June 1, 2018, according to W3Techs.
Using WordPress would put you alongside media outlets like the New York Times, retail businesses like Best Buy, and music icons like Katy Perry.
It's my personal favourite because it's not only free, it's continually being updated with new themes and plugins.
I highly recommend you use WordPress.  This platform is very easy to use, especially for first-time website owners.
Below, I'll talk about WordPress, as well as GoDaddy, Wix, and Wealthy Affiliate to show you the differences.
Website Builder Tool

This software is designed to create your new website with ease.  Some are easier than others but keep in mind that sometimes with ease, comes limitations.
WordPress.org – This platform is self-hosted and the most popular of all website building platforms.  Don't confuse it with wordpress.com.  They are very different.
They are an open-source builder, which means you have complete control over your website (as compared to most others).  They have powerful features, is easy to use, and can be scaled as your business grows.
You can build any type of website.  For instance, an e-commerce store, a membership site, a social network, just to name a few.  There's no limit to what you can do.
This builder is not a drag and drop design like some builders, but the small learning curve is easily overcome.
Godaddy – they launched their new and improved site builder, "GoCentral", in 2017 which focuses on simplicity and speed.
Their builder comes with ready to use blocks that you can drag and drop to build different layouts.
Very easy to use but because of it's rigid design, there are issues when you want more creative control.
Wix – the Wix Editor gives you two options: get an instant site which is super-easy, or customize a template which is easy-ish.
The first, instant site option, is done with Wix ADI (artificial design intelligence).  You basically "tell" it what kind of site you want, and it builds it for you.  It will let you do some basic edits, but that's it.
The second, customizable option, uses a drag and drop editor which allows you a little more creative control.
They have also introduced the Wix Code, which carries out custom actions to make your site interactive.  For instance, you set a rule telling it to display a reservation form for people in a certain time zone.
Wealthy Affiliate – their builder is called Site Rubix and can have your website up and running in under a minute.
They provide easy to follow instructions, so setting up your website is hassle-free.
Because they use WordPress, you can build any type of website you choose, no limitations.
Their free starter membership offers you two free websites (with domain names, and hosting).
Theme Templates and Plugins

Your theme is your business's personality.  It's your business card of sorts.  When people search you out online, their first impression of you is what keeps them there.  With the short and impatient attention span of the average web surfer, you want their first expression to be "WOW".
One thing to watch out for is any offers of free plans.  These types of plans are very limited and they will show their company-branded ads on your website.
WordPress.org – there are over 5000 themes on WordPress.org's theme directory and over 50,000 plugins.  What I really appreciate is the ease of switching from one theme to another, if you're not satisfied.
A popular plugin is the "WooCommerce" plugin for e-commerce sites.  If your site has any kind of store, this plugin is free to use and so easy to set up.  Currently, it powers over 30% of the world's e-commerce sites.
WordPress is also fully translated into dozens of languages, so you can create multilingual websites as well.
These websites are easily migrated to hosting servers that support WordPress.
Godaddy – they offer custom-built WordPress themes, but only 8 with limited design capabilities.
These themes are great for small businesses using just a few pages.  It's not a good choice for larger, content-rich websites.
If you choose their e-commerce theme, you are limited to 1500 products (on the most expensive plan).  If you plan to scale your business any larger, you'll want to choose a different platform.
It's quite difficult to move your website from GoDaddy's builder to WordPress.
Wix – you can choose from over 500 templates and their own Wix App Market with apps similar to WordPress' plugins.
Wix is not an advanced e-commerce platform.  They are better suited to small store sites.  If you plan on growing your business, you'll want to look elsewhere.
Take your time choosing a theme, because if you want to switch later, you'll have to start from scratch.
You cannot export your site to another platform, so if you outgrow Wix, you cant take it with you.
Wealthy Affiliate – You have a choice of over 4200 WordPress templates and over 50,000 plugins.
If you decide you no longer like your theme, it's very easy to switch to another.
If you already have a domain name or website elsewhere, it's very easy to import them onto the Site Rubix platform.  As long as you can export them from where you're currently residing…
Hosting Plans

You can't have a live website without being able to park it somewhere.  Hosting is what makes your site visible on the web.  There are many types of hosting styles from shared to dedicated.  Most of us start with shared hosting and upgrade to something larger if needed.
For more information on hosting, please read my article "What is Website Hosting – A Beginner's Guide".
Many services will offer 50% discounts for your first year.  I will list the regular ongoing rates for you.  As a rule of thumb, you will usually want the middle of the road plan to have enough bandwidth and flexibility.
WordPress.org – because this is a self-hosted platform, for building your website only, you need a WordPress hosting account with a hosting company.  Their website recommends:
Bluehost – shared plans range from $7.99 to 23.99/month.
DreamHost – shared plans start at 10.95 monthly, $119.40 billed yearly (works out to 9.95/mo), or $286.20 billed every 3 years (works out to $7.95/mo).
SiteGround – shared plans range from $11.95 to 34.95/month.
Godaddy – they offer two different hosting plans.  If you use the GoDaddy shared hosting service, the costs range from 7.99 to 19.99/month.
If you choose the Managed WordPress hosting plan, costs range from 10.99 to 36.99/month.
Wix – their ad-free plans range from $10 to 25/month.
Wealthy Affiliate – because this is a membership site that provides absolutely everything (website, domain name, hosting, extensive affiliate marketing training), the cost is $49/month, or $359/year (which is a 40% discount to $29.91/month).
Security and Backups

If your business has any form of an online store or collecting sensitive data, you will be wanting the extra security of an SSL Certificate.  You know, that little green lock!
And having daily backups in case of server crashes, or security monitoring to keep out hackers, are all necessary features for today's online businesses.
WordPress.org – this depends on the hosting service you choose.
Bluehost – SSL certificates, security, and backups are included with your plan.
DreamHost – SSL certificates, security, and backups are included with your plan.
SiteGround – SSL certificates, security, and backups are included with your plan.
Godaddy – you must pay an additional fee for SSL site security, which ranges from $79.99 to $369.99/year.
Site backup is included in the cost of the Managed WordPress service but costs an additional $3.99 to 10.99/month for their own GoDaddy service.
Wix – the SSL certificate and security come with all plans, but there are no automatic backups of your site.  And you cannot download your site to keep a copy.
Wealthy Affiliate – SSL certificates, security, and backups are all included.
They provide 24/7 technical support with an average response time of 1 minute.  So if you accidentally break your website (yes, it's possible, lol), no worries!
Responsive Themes
It's very important to choose a theme that's responsive to mobile devices.  More and more online searches are done on tablets and smartphones than ever before. This is crucial for any business going forward.
WordPress.org – let's just say I haven't found an unresponsive one yet.  But then again, with over 5000 themes, I don't think I'll ever get to check them all…
Godaddy – all their themes are not fully responsive to all mobile devices, yet.  Their website claims that all the themes will automatically update to fit different devices, but testing and customer reviews have proved this false on some occasions.
Wix – their themes are not responsive.  Instead, they generate a different site that you edit separately.
Wealthy Affiliate – because they use WordPress, all themes are responsive.
Step #3: Choose And Register Your Domain Name

Now that you've chosen your hosting platform, let's look at domain names.  This is the unique address to find your website on the web.  It's also a name that reflects the personality of you and your business.
If you're not too sure how to go about picking a name, please read my article "What Is My Domain Name".  
I break it all down for you there – how to choose, which extension to choose (.com, .net), etc.
Your best choice should be something catchy that's easily remembered.  And try to stay away from numbers and punctuation marks.  Consider how someone would type it in if they heard it said.
Another important consideration is your targeted keyword.  For instance, my business is helping people learn how to start their own online business, therefore I chose LegitimateAffiliateTraining.com.  It's probably a tad long, but I like it and it was available with the .com.
Once you decided on a name, you will need to find out if it's available, then register it with the hosting service you chose.  All of the hosting companies I've listed above have domain name registrations.  They have tools that allow you to type in your chosen name, and it will tell you what's available.
Once you've got what you want, you will be given the instructions to purchase it.  Some platforms may offer your first year for free if you purchase their premium plan, but then expect to pay the average amount of $15 per year for your domain name.
Once you've purchased your domain name, it's yours for as long as you pay for it.  You can take it with you wherever and whenever you leave any platform.
It's not always the same for your website though.  As I mentioned above, platforms like Wix, you cannot take your website with you if you leave.
This is the big reason why I recommend WordPress and a platform that hosts them.
Below, is the Site Rubix domain tool, to check if your chosen name is available.  From there, you can click "Build it Now" and get started right away with your free starter membership.
If you choose another platform, most will ask you to choose the hosting plan you want, followed by your domain name.  You will then create your account with your personal information, payment details, and any additional options you wish to pay for.  Then onto the fun stuff.  The website itself.
Step # 4: Choose Your Theme and Build Your Website

When choosing a site builder platform such as GoDaddy or Wix, they will provide you with the necessary details to choose your theme and design your website.
If you choose to use WordPress, then the hosting company you chose should have a 1-click-installation to install WordPress.
If they don't, then please reconsider using them.  Any well established hosting company should have this feature.
With other platforms, you may or may not have to choose the theme before the website is built.  If you didn't need to choose beforehand, it's ok.  It would have uploaded a basic theme and you can change this at any time by logging into the dashboard.
Your next step is to customize your website.  There are a few things you should do first:
Setting up a strong password.
Activating and updating your plugins if included with your upload.
Deleting any default posts, pages, and comments.
Create your About Me page, your Privacy Policy, and any affiliate disclosures.
As of May 25, 2018, you now have to be GDPR Compliant if your site will be seen by anyone in the UK.
Please read this post by the co-founder of Wealthy Affiliate, Kyle.
Turn on your SSL Certificate if not already done for you.
Setting up your custom menus.
Again, most legitimate hosting platforms should have easy to follow directions to walk you through all these steps.
For a detailed explanation on how Wealthy Affiliate walks you through all this, using both text and video,  here are the links:
Building Your Own Niche Website.
Getting Your Site Ready for Search Engines
Creating Your Initial Website Content
Creating Custom Menus on Your Website
Site Rubix is the fastest site builder available anywhere.  Want proof?  Kyle, the co-founder, created a video to show you how you can get a website up and running in under a minute.  Check it out…
Where Do I Go From Here?
Are you new at affiliate or online marketing?  Are you starting a blog that you wish to monetize?  If so, I truly believe your website is crucial, but so is the training you need to be successful.
There is an abundance of information online, but it's scattered about.  If you don't learn the proper techniques in chronological order, you're doomed to frustration and possibly failure.
I can say this, because that's how I started, lol.  Then I found Wealthy Affiliate, and my failures turned to successes.  And I wish this for you as well.
Wealthy Affiliate is a powerful platform that takes you by the hand and walks you through everything you need to learn, from the ground up.
This is an all-inclusive platform that has everything you need under one roof. No need to hop around from site to site trying to figure out what to do. It's all there for you.
Here's a bit of what they offer:
Training – Step by step courses, classrooms, tutorials, and live weekly webinars.
A domain registry – An easy way to find the perfect name for your business.
A website builder – With over 4,000 WordPress themes to choose from.
Website hosting – With powerful servers, security, backups, and emails, and more.
A keyword research tool – Find low-competition keywords for the best ranking.
A large and active LIVE community – They always have your back!
And much more…
And for the approximate price of a website and hosting elsewhere, you can get all that PLUS excellent training, extra free site monitoring and security, and much more for one single price.
And the owners, who you meet and interact with whenever you wish, are so confident in their platform, that they allow you to start with a FREE starter membership. No credit cards necessary.
There's really no other place like this online today!
If you click on the image below, you can read all about it. And when you join, I'll be there to greet you and help you as long as you need me. See you soon!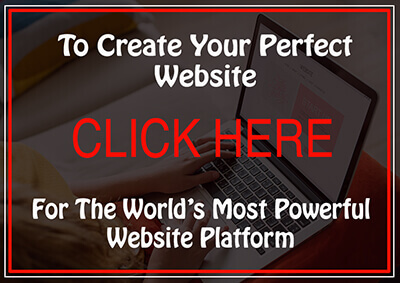 So what business do you have needing a website?  I'd love to hear from you.
If you have any questions or comments please leave them below and I'll get right back to you.
Good Luck,
Suzanne
P.S.  Do you know anyone who can benefit from this post? Please pass it along.
SaveSave
SaveSave
SaveSave
SaveSave
SaveSave
SaveSave
SaveSave
SaveSave
SaveSave
SaveSave
SaveSave
SaveSave
SaveSave
SaveSaveSaveSave
SaveSave
SaveSave
SaveSave
SaveSave
SaveSave
SaveSave
SaveSave
SaveSave
SaveSave
SaveSave
SaveSave
SaveSave
SaveSave
SaveSave
SaveSave
SaveSave
SaveSave
SaveSave
SaveSaveSaveSave
SaveSave
SaveSave
SaveSaveSaveSave
SaveSave
SaveSaveSaveSave
SaveSave
SaveSave
SaveSaveSaveSave
SaveSave
SaveSave
SaveSave
SaveSave
SaveSave
SaveSave
SaveSave
SaveSave
SaveSave
SaveSaveSaveSave
SaveSave
SaveSaveSaveSave
SaveSave
SaveSave