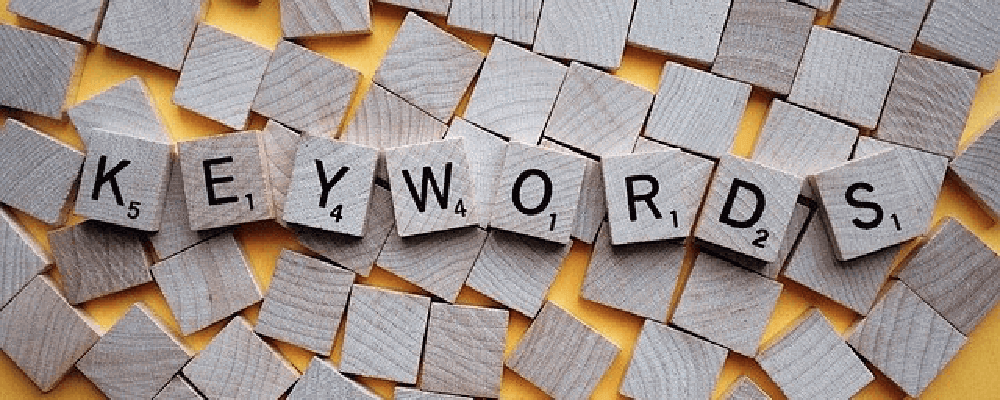 That's a really good question! How do I find keywords?  With Google's ever-changing algorithm updates, we have to stay on our toes.
It's very important that we do keyword research.  Knowing how to do it is something else.  So let me help you.
First, let's define what a keyword is, then I will show you the proper strategy to find your keywords so that you can be found online, by your targeted audience.  After all, they're the ones who would be interested in your promotions, right?
Would you like to know where I learned all about keywords?  CLICK HERE.
What Is A Keyword?

According to Techopedia,
"A keyword, in the context of search engine optimization, is a particular word or phrase that describes the contents of a Web page. Keywords are intended to act as shortcuts that sum up an entire page. Keywords form part of a Web page's metadata and help search engines match a page to with an appropriate search query."
So in other words, a keyword is the word or phrase (known as long-tail keywords) that you type into the Google search bar, to find the information you're looking for online.
Keep in mind, though, that in today's Google, it's not only keywords that are important.  It's the conversational tone you write with, along with other important SEO factors.
You might be interested in reading "Rules For Content Writing".
Why Are Keywords So Important?
Have you heard the term SEO (Search Engine Optimization)? Well, without a keyword, the search engines wouldn't know how to find the information you're looking for.
In a sense, it's a shortcut for the search engines to match your question to the appropriate page, post or website. Or from a business's point of view, this is how people find you!
It's important you choose the right keyword or phrase to attract the type of audience you want for your niche.
This is why the proper keyword is vital to your article. People will word their questions in many ways. So the more descriptive your keywords are, the more likely you will attract the audience you are looking for.
Personally, I prefer long-tail keywords. Single-word keywords are quite broad and often have a tremendous amount of competition.
A longer phrase is much more descriptive and will target the right kind of audience.
What Is Keyword Research?

Keyword research plays an important role in whether or not your website gets ranked for the correct keywords, and attracting the right kind of visitors.
Your research will determine which words or phrases people use the most, and which keywords will get you the most traffic with the least amount of competition.
You might think the most obviously worded question will get you found online if you use it as a keyword.  But you'd be wrong.  It's more complicated than that.
This is why a keyword research tool is so important.  Without a tool such as this, you would never know how much competition you'd have.
Your competition is the number of websites online that are targeting the same keywords you are.  And if these businesses have been around for a long time, they're most likely popular with a large audience.
This type of business is usually ranked quite high in Google, and hard to compete with.  But it's still possible to outrank them with the right keyword research strategy, so don't worry.  I'll show you how.
Your Keyword Research Strategy

Step #1 – Your Niche
Do you have a niche website yet?  If you do, now is the time to come up with a list of ideas you want to write about.
If you haven't picked your niche yet, this article might really help you out.
Try to come up with the main topic or topics you think are important to your niche, and that you'll want to write about.  They don't have to be specific keywords yet, just the overall ideas.  These are your main ideas, the foundation of your house.
If you're having a hard time with this, put yourself in your reader's shoes.  What would they want to know?  What would they ask you about?
This is where a keyword research tool can really help you.
Step #2 – Keyword Research Tool
I use Jaaxy, which is a powerful tool provided for the platform I run my business on.  I highly recommend this tool.
There are also free tools online, that are useful but nowhere near as powerful.  They are great for starting out, but you'll want to eventually invest in a good one for more detailed statistics.
Keyword Planner (Google) – this free tool is great for giving you your keyword "foundation" ideas.  You need to set up a Google account to use this tool.
KWFinder – Again, this is a free tool that can help you get ideas and shows you related ideas.  Your free account will give you 5 searches/day for only 7 days.
Keyword Shitter – If you want a never-ending list of ideas, this is the tool to use.
Google Autocomplete – Just begin typing in your topic idea in the search bar, and the most commonly searched words pop up below the search bar.  You can also see related searches at the bottom of the page, for even more ideas.
Now that you have your keyword "house" foundation, it's time to frame your house.
Step #3 – Your Keyword Phrases
You need to start "adding walls" with some keyword phrases that are more descriptive.
Why?  Because:
These phrases are the keywords that people use when they "really" want something.  That's your target audience, the ones who are ready to buy.
These phrases usually have much lower competition and will be easier to rank for.
This is the way people will ask questions to "Siri" on their smartphones.  This is a very important consideration moving forward to the future.
Let me show you how I come up with my keywords.  My niche is "make money online" which is my overall topic.  But this term is way too vague so I break it down to smaller topics like:
Product reviews
How-to Tutorials
Making Money from Home, etc.
These are still quite broad, so I drill down even more.  For my how-to topic, I want to write about:
Websites
Keywords
Content, and so on…
By the end of this phase, you've broken down your main topic into much smaller topics.  Your exterior walls are now in place.  That's great!
Step #4 – Checking our Competition 
Now it's time to add rooms in our house.  These are much more detailed and need extra measurements to make them fit.
The same with our keywords.  Our initial ideas will need more research to determine which ones will rank for us.
Let's look at this particular article you're reading right now.  I wanted to write a tutorial about how you can find the proper keywords.
So I started with "What is a keyword?", and this is what Jaaxy came up for me.
At first glance, you might think this is a great choice because the average monthly search for this term is over 36K people.
Now take a look at the competition (QSR – quoted search results).  There are already 212 websites ranking for that exact term.  Plus, it's telling me that I would only have a 75/100 chance of ranking (SEO).
Those odds are way too high for me.  So I drill down some more.
If I change up the way it's worded, and use "How do I find keywords", the searched drop to 228, but the competition is quite a bit lower at 106 websites ranking.
Jaaxy also gave me additional ideas, which are even better.  The searches for the bottom choice are higher, and the competition is only 12 websites.
I found what I wanted to use!
Don't worry if you choose something with fewer searches per month.  These people are looking for a more specific answer to their question, and are the targeted audience you're looking for.
If you happen to have an e-commerce store, these are the people who will most likely buy.  A broader keyword will include all the tire-kickers too, lol.
Here's another article that will help you learn how to drill down to find ranking keywords – Keyword and Website Ranking
Step #5 – Keywords In Your Content
It's important to ensure that when you write your article, it's directly relevant to the keyword you chose.
The keyword should sum up all the information on your page or post. It's the foundation of your article and lets the visitor know the purpose of your page.
You should add your keyword in certain areas to improve your SEO:
In the title of your article.
In the first couple of paragraphs.
In one of your H2 to H4 headings (optional).
In the "alt" text of your images
In the meta title, and meta description
Regardless of what marketers used to do, years ago before Google changed their rules, DO NOT overdo the use of your keywords in your article.
Other than what I've listed above, just write naturally as if you were talking to a friend.  Google prefers a conversational tone, and you'll have a much easier time getting ranked.
Why I Recommend Jaaxy



This is an amazing tool that analyzes different types of data. There are many online you can try, but not all of them give you the information you're looking for.
Some have outdated information no longer relevant to today's SEO.
Some give you the information you don't need for online marketing.
Some are so complicated, you don't know where to start.
You will have to try quite a few of them to find the right tool for your marketing needs.  So let me save you some time and show you my personal choice, Jaaxy.
It's the perfect, easy to use tool that will help you with your keywords.
It's lightning-fast and accurate in real-time.
I rely on Jaaxy to not only give me the average monthly searches with Google, Bing, and Yahoo, but also the exact number of competing (and ranked) websites, as you saw above.
One of my favourite results within Jaaxy is that it ranks the keyword or phrase as "great", "normal", or "poor" choices.
This is the next best thing to having your keywords given to you on a silver platter. (But of course, no tool does that!).
This is just part of what this tool offers. It gives you many more keyword ideas by brainstorming other like-keywords and alternate phrases; it determines if the keyword would be a good candidate for SEO ranking; it gives you more niche ideas, etc., etc….
I won't go into everything here as there is so much to tell you, and I just want to show you the basics for now.

Why not try it yourself? All you have to do is sign up for a free account and you will get 30 free searches. I use Jaaxy almost every day to find keywords for my blogs. It's an integral part of my business.
Jaaxy was created by the same two owners of Wealthy Affiliate, an incredible online teaching platform.
If you've heard of Wealthy Affiliate, then you need to know that they have put in the same experience, dedication, and ease of use that they use on their platform.
If you like to read more about them, please click on the button below.
Knowing what a keyword is and how to find the most profitable ones are essential to all online marketing businesses. With the proper tools, your business can become successful and an authority in your niche.
If you have any questions or comments, I would love to hear from you.
And if you think anyone could benefit from my article, please share!
Your friend,
Suzanne
SaveSave
SaveSave
SaveSave
SaveSave
SaveSave
SaveSave
SaveSave
SaveSave
SaveSave
SaveSave
SaveSave
SaveSave
SaveSave
SaveSave
SaveSave
SaveSave
SaveSave
SaveSave
SaveSave
SaveSave
SaveSave
SaveSave
SaveSaveSaveSave
SaveSave
SaveSave
SaveSave