Are you trying to find a way to make money from home? Needing additional cash to cover expenses? Or maybe you're just tired of working 9-5 with low wages!
So you're surfing the internet, trying to find ideas. Which is a good thing, I might add. You just have to be careful of the promises certain people are making to try to draw you in. One such promise (actually many…) all come from one source. It's called the Secret Income Club, and it isn't what you think!
I'm relieved you're researching this site before buying into anything. I want to show you what it is and how it works, in hopes that you don't fall for their promises.
And if you're looking for a legitimate way to make money, please read my honest recommendation!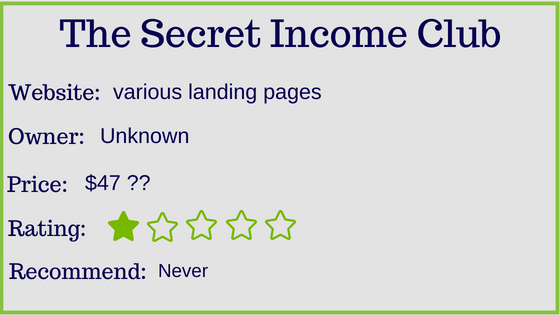 What Is The Secret Income Club?
Secret Income Club's website was created on April 25, 2018. Their privacy protection doesn't allow us to see who owns it, but it's registered in Kirkland, Washington, U.S.
This site sends you to various ads promising you can make money. They keep rotating their ads in hopes that the reader will find it enticing enough to enter their email address. From here, you're directed to the buy-in page. Actually, when I tried it, three more pages popped up offering me riches, lol.
This is currently being used through email marketing campaigns because once they get a hold of your email address, you can count on receiving many, many make-money offers in the future. You will also see them floating around on social media.
These types of campaigns make me so angry! Email marketing is a legitimate form of campaigning for legitimate products. People like this abuse the system and make a bad name for it.
Who Is It For?
The owner of this site is trying to convince people to buy into a system (of which there's a different one every time you click on his site) which can make you rich overnight. He is hoping that you're desperate enough to