Are you interested in Bitcoin? If you are, then you've probably come across this product online. Or possibly it came to your inbox?
What is the Digital Formula? That's a great question and I'm so happy to see you doing some research before going ahead and buying it.
Is this a legit way to make money, or could it be another scam? This is why I write product reviews. I want to show you what's inside the member area and how it works. I want you to see if it's right for you, and then give you my honest recommendation.
My desire is to help you make money online, but with the proper training and tools. And if a product doesn't deliver what it promises, I will be honest and tell you OK?
If you'd like to see where I learned how to create a successful online business, please read this!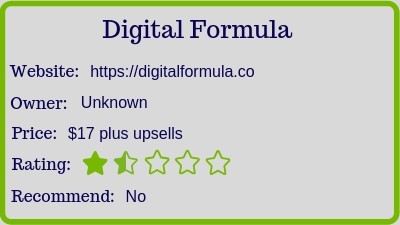 What Is The Digital Formula?
This product can be found on Clickbank. It claims to have you set up in three quick and easy steps so that you can make money buying and selling cryptocurrencies.
The owner calls himself Neil Carter, which is a fake pen name. The actual owner is unknown.
Digital Formula – $17
What's Inside
List of Tools To Generate Profits
Crypto Portfolio Tracking & Latest Info – unusable link provided?
Crypto Calendar & Events – this site will give you updates, road maps and other changes useful for forecasting.
Blockonomi – education and the latest happenings in the industry.
Cointelegraph – a useful blog with unbiased opinions.
Crypto Coins Telegram Group – Invite to a private group online.
Digital Formula: Main Guide – 26 page PDF
An overview of what cryptocurrency is.
Bonus: Bitcoin Profits – 10 Bitcoin Profit Secrets Ebooks
What is Bitcoin and Cryptocurrency – 11 pages
How Is The Value of Bitcoin Determined? – 10 pages
Different Techniques to Acquiring Bitcoin – 10 pages
Everything You Need To Know About Bitcoin Mining – 10 pages
Storing Your Bitcoin and Other Cryptocurrency Safely – 10 pages
Trading and Selling Your Bitcoin For Profit – 10 pages
Using Bitcoin As An Investment Strategy – 10 pages
Accepting and Using Bitcoin In Your Business – 10 pages
Protect Yourself Against Fraud and Theft – 10 pages
The Future of Cryptocurrency – 10 pages
Bitcoin Profit Secrets Checklist
Bitcoin Profit Secrets Resource Cheat Sheet
Upsells
Digital Airdrops Package – $197, downsell $97
Digital Academy Package – $147
Who Is This System For?
If you simply want a general overview of what Bitcoin is, that's all you'll get with this product. It certainly doesn't give you the information you need to make money, let alone $2K in 24 hours.
You can get the same information online for free, and from more reputable sources.
The video has you believing you'll get training to start trading immediately and make money overnight. But you know what? If it sounds too good to be true, it always is!
There isn't any training, only generic information. Everything is in text format with no practical steps to follow. I don't believe it's worth the $17.
How Does It Work?
I'm sure most everyone has heard the term "bitcoin" at some point over the last few years. But not too many may know what it actually is.
The creator of this product is trying to profit from the popular trend it's had, especially the last couple of years with its massive growth.
But along with the sudden spike in value comes the big crashes. He won't tell you that, of course, but it's true.
I know, because I tried investing, and lost most of my money, lol. Thankfully I didn't risk too much… phew!!
Let's take a look at what the Digital Formula is offering you. First, we'll start with the sales page and video.
Lots of Hype, That's For Sure!!
So the sales page tells you that in 3 quick and easy steps, you can earn up to $2,254 per day. Amazing how precise it is, isn't it?
Apparently, all you have to do is follow the methods he shows you.
The first few minutes of the video are snippets of well-known people talking about bitcoin.
If they are interested, shouldn't you be? LOL.
And then the hype begins. There are the usual red flags, or should I say "lies", that he states in hopes of getting you so excited, that you'll buy this immediately.
Let's look at a few of the more obvious ones to me. I hope that in doing this, you'll be able to recognize them in future product promotions you may come across.
Lie #1: I've Been Chosen?
Yes, apparently you've been carefully selected to view this exclusive video that's available in your county, no less. Oh brother…
That's just crazy talk. Anyone who ends up on an email list would get this promotion, lol.
And because it's digital, it doesn't matter what country you live in. If you have an internet connection, you can get this product!
But it makes you feel special, right? And that's the reaction he's looking for.
Lie #2: Ridiculous Income Claims
Really?! $2,254 in the next 24 hours? And then every day, like clockwork? Sorry everyone, but I seriously doubt that.
To make that kind of money you'd have to buy your cryptocurrency really low, and turn around and sell it really high.
And if all the people investing in that market are doing the same thing, then who's going to sell you theirs for a low price? Exactly! No one!
You could always buy low and hang on to it until the value goes up, but then how are you going to make over $2K in 24 hours? Exactly! You won't, let along making that amount every day. LOL
Lie #3: Fake Testimonials
Even though he "says" he has 25 lucky people who make $15,778, he still has to hire an actor to say he's done so well with this system.
Why? Because it doesn't work! He has no real success stories, so he has to make them up.
He hires a video spokesperson from a freelance site like Fiverr, sends them a script to read, and they make him a video.
Here's my proof for you…
Lie #4: Mouth Watering? Cash Creating?
Wow, such descriptions. Haha. A video like you've never seen before. Oh my, if you only knew how many times I've reviewed product videos like this. They all say the same sort of things…
And of course, it's highly confidential and shockingly profitable! Quite the speech eh? He talks about "exploiting" the cryptocurrency marketplace.
Did you know that this kind of descriptive language is on purpose? He wants to push your emotional and physiological buttons.
He hopes that your desire to make money is stronger than your common sense.
Because if it is, you'll quickly buy this product before you've had a chance to step back and think about it.
Another manipulation is his saying you need to watch to the end of the video for his special announcement.
If you don't watch to the end, you'll hate yourself later. Ya, right…
Then he throws in words like "loophole" and "secret strategy" for good measure, lol.
Lie #5: What Proof?
He wants to prove to you he knows how to make money by showing you his personal account. Then you can trust him.
He must think we're really nieve, lol. Do you know how easy it is to show a fake account like this? This isn't proof of anything!
Sorry, still don't trust him…
Lie #6: Another Sob Story
In order to try to connect with you, marketers will often tell you about their background and how they've gotten to where they are today.
It's a valid technique, and I sometimes do this myself when it's appropriate.
But these creators go over the top. They create a story that usually follows a generic script. It goes something like this:
Something happens to his job or his health, and he's almost ruined.
Can no longer take care of his wife and children.
Someone he knows shows up with an idea.
He launches the system and makes immediate money.
Now he's rich and wants to help people.
Lie #7: Take Down…
These creators love to create scarcity. They tell you to hurry and reserve your copy before he shuts down the site forever. Too many people on his site can affect his own profits within the system. He'll then be forced to shut it down.
I have to laugh at comments like this. Only because it's a Clickbank product, and the only reason he would ever take it down is that it's no longer making him money!
Lie #8: Fake User Review
So many of these low-quality products use fake user reviews and upload them to YouTube. Again, there are no successful customers that they can use so they hire another actress to make it sound like she loves it.
Did you notice she never says "Digital Formula", or even describes what it is? That's because they gave this actress from Fiverr a very generic script. That way they can use it over and over again by simply swapping out the product logo.
Let me show you. The following products are using the same exact video but with its own logo…
See what I mean? So what do you think? Same owner for all of these?
OK, so this is sort of what I expected, unfortunately, but let's see what the actual product is like.
The Product Is Outdated!
Tools and Resources
The owner provides you with a list of tools to help you with cryptocurrency. For the first link, he says that a historical price chart will be added soon, but the link is no longer available online.
The Main Guide Is Disappointing
The main guide is just a general overview of what Bitcoin is. There are no actionable steps to take here. I suspect this is just another PLR product like the bonus below…
The Bonus Is Outdated
The bonus called Bitcoin Profit Secrets is an outdated PLR product. PLR stands for Private Label Rights.
Someone creates a product with ebooks, videos, graphics, email swipes, etc, and sells them with various restricted rights for others to sell as their own.
This is a perfectly legitimate marketing strategy. But unless you resell the PLR right away, they become outdated quickly. This particular PLR was released in 2017.
I'm not sure how quickly things change in the crypto world, so just be aware that the information you're getting is already 2 years old.
The owner has divided up the ebook chapters into 10 ebooks, and also included the resource cheat sheet and checklist. The remaining product he most likely used to create his sales promotion.
How Do I Make $2,254 in the next 24 hours?
That's a great question, isn't it? It's simple… you won't. There's just no way you get enough information here to help you start buying and selling Bitcoin. You will need a lot of additional training and support to get going.
I'm not saying you can't make money. You can when you know what you're doing. But please be careful. This is a very risky industry. New crypto-coins come and go quickly. And Bitcoin itself can rise very quickly, but also drop even quicker.
If you have the right insights, you can buy the currency when it's low, hang on to it, and sell it when it's high.
But there's no way you'll make over two thousand dollars in 24 hours.
My humble opinion is that this owner put together this "training" from old material, created a new video, and is trying to sell it to make himself money. He probably doesn't even know how to trade Bitcoin himself, LOL.
Don't Buy The Upsells
Personally, I never trust a product with an unknown owner. Why is he hiding? Well, when you consider that the product doesn't deliver what he promises in his video…
I'm sure he knows that if his customers find out who he is, his reputation will be ruined. Or worse, they'll come after him, haha.
Anyway, this is why I'll always say to avoid any upsells. If the main product is junk, what can you expect from the upsells? Yep, more junk but for hundreds of dollars.
Safer Alternatives For You
Do you really want to learn and invest in cryptocurrency? There is a lot online that has much more legitimate training. Check out this training:
Udemy – This site has many courses available to help, from actual teachers.
BlockGeeks – Learn from the pros! For a low monthly fee, you get a lot of training and support.
This industry has a lot of varying views so doing research can be tricky. Always make sure your data comes from a reputable source. Check out the reviews and what their customers are saying about them.
Pros
60-day money-back guarantee
Low cost
Cons
Ridiculous income claims
Overview of cryptocurrency only
No practical training
No support
Requires money to invest
Risky business
Final Thoughts And Recommendations
This product is nothing but general information about Bitcoin. There's no practical training or step by step videos to help you get started in the crypto industry.
Bitcoin is a real thing, and you can make money when you know what you're doing. But there's also a lot of people who take advantage of others who don't understand, and that's when you risk losing a lot of money.
Is Digital Formula a scam? No Would I recommend it? No
Sometimes I wish I could honestly call these types of products a scam, but legally it's not. You are actually getting something for your money. It's just not what they promise.
And because they don't tell you what's inside, you have to buy it to see. Thank goodness for the 60-day refund from Clickbank, eh?
There are so many better, and easier ways to make money online. Did you know that the easiest method is with affiliate marketing? That's what I do online, and I've created for myself a passive income. It's great.
And when you have the proper training and tools, you'll be creating some financial freedom and security for your future.
Can I make you my sincere recommendation?
I would love for you to come and see where I learned everything about affiliate marketing, and where I run my business to this day.
This is an all-inclusive platform that has everything you need under one roof. No need to hop around from site to site trying to figure out what to do. It's all there for you.
Here's a bit of what they offer:
Training – Step by step courses, classrooms, tutorials, and live weekly webinars.
A domain registry – An easy way to find the perfect name for your business.
A website builder – With over 4,000 WordPress themes to choose from.
Website hosting – With powerful servers, security, backups, and emails, and more.
A keyword research tool – Find low-competition keywords for the best ranking.
A large and active LIVE community – They always have your back!
And much more…
And the owners, who you meet and interact with whenever you wish, are so confident in their platform, that they allow you to start with a FREE starter membership. No credit cards necessary.
There's really no other place like this online today!
If you click on the image below, you can read all about it. And when you join, I'll be there to greet you and help you as long as you need me. See you soon!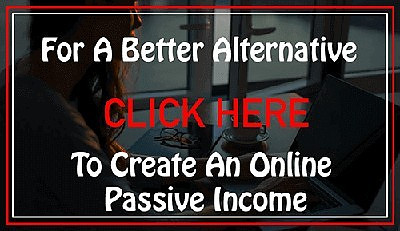 So where did you hear about the Digital Formula? Did it come to your inbox, or on facebook? I got mine in my inbox, lol.
If you have any questions or comments, please leave them below and I'll get back to you.
Cheers,
Suzanne