Are you looking for help with your business? Are you struggling to find leads to promote to, or seeing a lack of traffic to your site? There are many platforms online who can help you. If you've been searching for help, you've probably come across My Lead System Pro.
But what is My Lead System Pro about? Is it just another MLM company? Or will it help you with any type of business?
I'm glad you're here, seeing you do research on this system before opting in. That shows me you're wise with your time and money. And I want to help you out by giving you all the information you need. By the end of this review, you'll be able to make an informed decision whether to buy in or not.
And if you're a total beginner to online marketing, and need the best platform for your needs, please come and see where I started my successful business.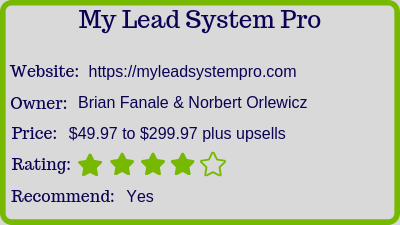 What Is My Lead System Pro?
MLSP has been operating since 2008 and is co-founded by Brian Fanale and Norbert Orlewicz. It was formerly known as the MLM Lead System Pro.
MLSP has three payment plans:
Basic – $49.97/month (1000 contacts, 5 funnels, 1 custom domain)
Professional – $149.97/month (10K contacts, 25 funnels, 2 custom domains, 1 blog)
Premium – $299.97/month (unlimited contacts, 100 funnels, 5 custom domains, 2 blogs, additional training & support)
What's Inside
Getting Started – 6 steps with training videos and notes to get to know the system
Welcome to MLSP – The Foundation & Overview
Live Weekly Ongoing Training & Education
Get Everything You Want From MLSP – Creating Your Future
Integrate Your Business Opportunity, Product, Or Service Into Your MLSP System
Why You Need An Autoresponder & How To Integrate It Into MLSP
Congratulations, Your MLSP System Is Set Up – Contact Your Team Leader
MLSP Sites – Their Own WordPress Blogging Platform
Part 1 – Getting Started – Watch Me First
Part 2 – Watch After Activation
MLSP CRM – Customer Relationship Manager Software
A platform that contains all your contact's information
Can send out templated emails
MLSP Funnelizer – Lead Page Builder
Instructions for creating funnels
Templates provided
MLSP Training – Marketing Training
The Fundamentals

Online Fundamentals – 3 courses
Using MLSP Tools & Software – 4 courses

Core Courses & Action Plans

Beginner courses – 7 courses

Core Marketing Strategies

Facebook Marketing – 7 courses
Social Media – 6 courses
Blogging & Content Marketing – 6 courses

Additional Marketing Strategies

Intermediate & Advanced Training – 9 courses
MLM Success, Build Your MLM, and Prospecting & Recruiting – 8 courses
MLSP Community – Facebook
Live Weekly Training & Webinars
Webinars are held on Wednesdays, at 9 PM, EST (available to anyone – just check their website to register)
Daily Morning Wake-Up Call every Monday to Friday via a phone number. There's also the podcast of past recordings you can subscribe to. (Available to anyone)
Affiliate Program
When referring people to the system, you will receive a commission based on the membership level you purchased. For instance, if you are a Basic member, and someone signs up to the Premium level, you only receive the commission for a Basic level.
Your monthly residual income is based on your leadership level. The higher your level (according to points received), the higher the commission.
Upsells
These are added in-depth courses and training you have the option of buying. They also seem to be available to the public, but I'm not sure how you'd find them. Here's the link if you're interested.
Attraction Marketing Virtual Summit – $197
Messenger Marketing Pro – $497
Go Live Studio Pro – $297
3 Minute Expert – Attraction Marketing Edition – $297
Copywriting Mastery – $497
Total Recruiting Mastery – $297 or 3-pmts of $117
Insta Lead Magic – $297 or 3-pmts of $117
Social Retargeting Pro – $299
Attraction Marketing Intensive – $297
100 Day Challenge – $297 or 3-pmts of $167
Master Sponsoring Series – $97
Expected Costs
Cost of your membership – $49.97, $149.97, or $299.97/month
If you purchase the basic membership, you will need to build and host your blog elsewhere, from $25/month and up.
Domain name purchase – $15/year
Keyword Research Tool – $49/month and up
Autoresponder and email capture service – $19/month and up (depending on # of subscribers)
So you are realistically looking at about $144/month to $394/month plus any upsells.
Who Is This Platform For?
This system is for anyone wishing to learn about affiliate marketing and how to generate leads. It's designed to help beginners, small business owners, and anyone needing leads for their business.
Though they were originally created to help people with their MLM businesses, they've now changed to offering help for any online business.
Their main focus is "Attraction Marketing" which simply means learning how to attract visitors to your promotions or website by building your brand and offering valuable information. This method takes time to master but is beneficial in the long run. It's all about building a relationship with your visitors.
Keep in mind that you won't have access to their blogging platform with the Basic membership. You will have to purchase your own website hosting elsewhere.
And there is no keyword research tool, which is very important to your blogging success.
How Does It Work?
My Lead System Pro is not an MLM company. It's designed to help people with their MLM businesses, as well as all other online business owners.
They offer an affiliate program for members only. This is a nice way to create another income stream, and you can be sure that MLSP puts a lot of focus on this. There will be pressure to purchase the highest level of membership, so you can make the most amount of money.
The compensation plan isn't too complicated but would cause this blog to be quite long if I explained it properly, LOL. So here's a YouTube video by Valerie. She's a team leader with MLSP who explains the structure for 2019…
The Leadership Development Program
They claim to build leaders by having you get to different leadership levels within the platform. It's supposed to take your business to the next level by providing you with dedicated help.
I see this as another way to persuade you to upgrade your membership level, as well. You're given points for different actions, such as referring more members. The higher the points, the higher the level.
And the higher the level, the higher the commission rate when you promote MLSP.
So it sounds wonderful to hear them talking about making a leader out of you, but it's also a way to push the platform, LOL.
The Six Core Areas
MLSP covers six core areas to get you going.
#1. Getting Started
This area gets you acquainted with the platform' and explains how MLSP can help you.
You get the 6 training and 1 bonus videos, but can also get on the phone with a team leader to cement what you've learned so far
#2. The Websites
You can have access to their own WordPress blogging platform if you've purchased one of the top two memberships.
If you have the basic membership, it's still highly recommended you have a website created and hosted offsite as your blog is the central part of your online business.
They offer you many plugins for your WordPress site. MLSP covers the cost of any paid plugins, so you get them for free.
#3. The CRM (Customer Relationship Manager)
This part of the platform allows you to keep all your customer contact information in one place. So instead of having to keep a journal or list of everyone offline, they are kept here, online, for easy access.
They give you a variety of customizable email templates, if and when you want to send out emails to your prospects.
This is not an autoresponder. It's only your personal list of contacts and designed for promoting MLSP.
#4 The Lead Page Builder (funnels)
This software allows you to build your own pages and funnels. It gives you training videos to learn how to use the software.
They provide many editable templates to use and are continually adding new ones.
The amount of funnels you can create depends on your membership level.
#5. The Training
MLSP provides you with over 46 training courses, with multiple, short videos for you to walk through.
They have videos to learn how to use their tools and software, as well as beginner courses up to more advanced.
They target many strategies and plans to help you with each of the more popular social media platforms such as Twitter, Facebook, Pinterest, Instagram, Youtube, and more.
There are also courses for all types of attraction marketing like content marketing, video marketing, etc.
#6. The Community
They provide you with access to a Facebook group. It's active and you should get responses to your questions and comments fairly quickly.
You can get involved in their yearly "Live The Dream" live event in Austin Texas.
What's Not Provided
This is a great platform for those people who already have a business, whether online or off. But what about the beginner with no experience? Is there enough training for them?
Practical Beginner Training
MLSP refers to some of their training as "beginner", but it's more theoretical than practical. A newbie needs to be led by the hand, and start with the practical basics.
My concern is that the training provided is more suited to someone with online experience. When you're a newbie to this industry, the terminology will not only be confusing but overwhelming at times.
Proper training for beginners needs to start at square one, not only with an explanation as to what affiliate marketing is, but why you need to choose the right niche, and then shown how to go about doing this. You should then be shown how to pick the right business and domain name. These are all important steps to take before you can build your website.
And as you go through these beginning steps, you are starting to learn the terminology as well as starting to build a strong foundation for your business.
Keyword Research Tool
MLSP gives you the training to add content to your site, and they discuss the importance of keywords, yet don't offer any tools specifically created to find those keywords.
A keyword research tool is an online marketer's best friend!
Finding the right keywords that have a lot of searches but little competition is the only way to get ranking on Google. It's ultimately what either brings you success or failure when trying to drive traffic to your site.
There are free tools online, but they aren't powerful enough to find what you're looking for. So this is something you will definitely need to invest in.
Advanced Training
I was disappointed to see the more in-depth and advanced training in the form of upsells. This is what many system creators will do to make additional money. They hold back some training, and then sell it to you.
If you notice, above, where I listed all the upsell courses, there is a lot of additional training that could really help you out. Unfortunately, beginners who aren't even making an online income yet will find them quite expensive.
Pros
30-Day No Questions Asked Guarantee
$10 risk-free 10-day trial (by personal invite)
Comprehensive training
Cons
Not for beginners
Must upgrade to a higher plan to have access to more tools and training
Will only host MLSP sites
Does not provide a Keyword Research Tool
Final Thoughts And Recommendations
I believe that My Lead System Pro can be very useful for those who already have businesses. Whether you have a brick & mortar store, or an online business, MLSP can teach you how to create leads, and therefore, more sales.
I don't believe this would be enough for someone who's just starting online. You would need to go elsewhere to fill in the gaps of information, as well as needed tools.
For those of you who currently have a business, but are struggling with traffic and sales, this system can give you the help you need. They cover many of the different strategies to attract visitors, especially using social media platforms.
And sometimes, just retaking some marketing courses, can refresh your memory and get you back on track. When we get busy with our daily tasks, we sometimes take shortcuts, which eventually lead to bad habits, LOL.
Is MLSP a scam?   NO   Would I recommend them?   Yes, for current business owners.
Personally, I was quite impressed with this system, but have no need for this as I'm already a member of another platform. It's no use for me to pay so much more per month to have duplicate content.
For my readers who are just starting their online careers, I really feel you deserve something better.
Can I make you a better recommendation?
I'd love for you to come and see where I run my business. When I started online, I knew nothing about this industry. Terms like niche and keyword were foreign to me. I knew what a website was, but didn't have a clue about building one. And content? What's content? Haha.
Well, the platform I'm on has taught me everything I need to know to succeed. They start at the ground floor and walk you through each step. By the time you get through the certification course, you know exactly what to do and why you're doing it.
And that's just the 1st course. There are hundreds more on every topic you can imagine.
Most importantly, they also provide all the tools you need, integrated right into their platform:
A domain name registry
A WordPress website builder
Website hosting
A content writing tool
An in-house live community (no Facebook)
And there's so much more
The best part you need to know is that you can start for free! You can sign up for a free starter membership to test drive the entire platform. And when you see the incredible value, you can choose to sign up for the premium membership.
There's only one membership level, with optional payment plans to suit your needs. It's very affordable. You get so much more for a little less than MLSP's basic membership, but with everything of their premium.
They too have an affiliate program, but this is entirely optional. If you choose to promote them, they offer you a specific certification course for that too.
So please click on the image below, and you can read all about it. And when you join, I'll be there to greet you and help you along the way. See you soon!
Do you have an online business that's struggling? Do you need help? MLSP can help, or you can visit where I am. Either way, there's help for you to be able to succeed.
Your friend,
Suzanne