You've come to realize you're needing some online training to start your business as an affiliate marketer.  That's great!  You've taken the first very important step.  But there are so many options!
You're doing the right thing by reviewing all your options.  Many platforms are all hype and no action.  That's why I want to write reviews for you, so you can be well informed before making any financial decisions.
I'm sure you've come across, and are wondering, what is the Chris Farrell Membership.  Is he legit?  Does he deliver what he promises?  Keep reading and I'll show you what it's all about.
My name is Suzanne, and I'd like to help you narrow down your choices. Firstly, do you have a good definition of what affiliate marketing is?
This is where I learned all about creating my own successful business.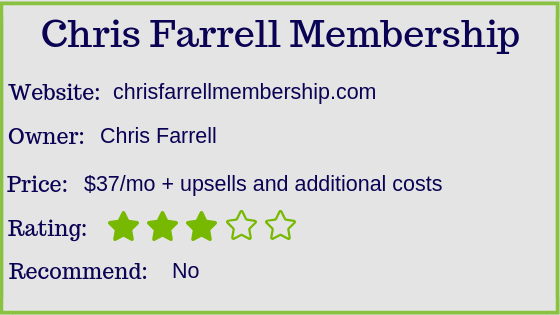 Who is Chris Farrell?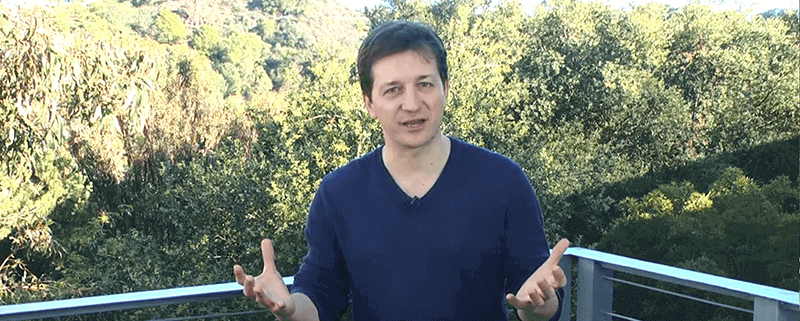 This platform was created by Chris Farrell who started his marketing career as a "newbie" in 2008.  After 2 years, he claims to have made over $1 million dollars, in 24 hours, with Affiliate Dot Com.  But his biggest accomplishment is the Chris Farrell Membership.
Now, a well known and successful internet marketer, Chris has created this platform to help others make money online.  Chris seems likable and genuine in his introductory video and is upfront about your needing to put in the work and not promising you overnight millions.
Though it is very rare for many to see this kind of financial success, I believe it was his success that drove him to this path.  But let's see if his desire to help others actually delivers…
What Is The Chris Farrell Membership About?
Chris Farrell promotes his platform as a make money online program.  What he doesn't tell you is that his training is only focused on one method, email marketing.  It's important you know that in advance!
Chris talks about the three main steps to email marketing:
Finding a profitable niche
Building your list
Promoting relevant products
The program includes:
#1.  Five training sections – $4.95 for 7 days, then $37/month or $297/year
Getting Started – Introduction to the three basic steps of email marketing and promotion of annual membership.
10 Minutes To Success (Core Training) – 31 videos over 31 days (each less than 10 minutes) with actionable steps.  When finished, you'll have a website landing page and email campaign set up.
Money Making Labs (Specific Skills) – These lessons cover creating ebooks, webinar hosting, video marketing, and Facebook ads.  It also provides training on LeadPages and ClickFunnels.
I Love Traffic – 15 videos covering paid advertising (Facebook), forum marketing, guest blogging, and video marketing.
Webinars (Goodies) – 7 webinar recordings only.  No updated material.
#2.  Tools and Resources – nothing is provided, but recommended 3rd party tools through his own affiliate links.  A few of the 10 recommended resources are:
#3.  Support – Chris offers three types of support:
Knowledge Base – a list of facts.
Forum Support – forum style of seeking answers to previously asked questions, or posting your own question and waiting for a reply.
Ticket Support – Submit a ticket for help and wait for a reply.
#4.  Upsells
Chris Farrell's Personal Email Swipe File – $47
The 4 Week Fast Track Program – This program is currently closed.  The previous price was $497
Additional costs you can expect:
These costs are for the minimal services you will need for any email marketing campaign.
Aweber – $19/month
LeadPages – $37/month
Domain name – $15./year ($12.95 first year), additional $14.95/yr for privacy protection
HostGator – $10.95/month ($3.49 first month), or $83.88 for 12 months and so on.
Your initial expense will be approximately $68/month for the basic services and the program fees.

Who Is This Program For?
This program is designed for beginners or unsuccessful email marketers only.  The training is a step by step video series made easy for beginners to understand.  But that's where it ends.  There is no advanced training.
His training covers all the basics needed to start an email marketing campaign.  Like any new business, it will be up to you and the consistent effort you put in to create any kind of income.  This isn't a get-rich-quick scheme, nor does he promise you that.
Though the course named "10 Minutes To Success" can be misleading, it only means that the training videos are shorter than 10 minutes each.
You will not be successful in 10 minutes, lol.
Because of the brief training in each module, you might find the terminology difficult to understand.  He doesn't explain what each term means and expects you to know what each is.  You may need to pause your training to research a thorough explanation of the terms, and why he's doing what he's doing.
Sure, it's easy to blindly follow steps to get something set up, but as an online marketer myself, I truly believe you need to understand the reasons behind each action.  You'll only be as successful as the solid foundation you've built on.
How Does Chris Farrell Membership Work?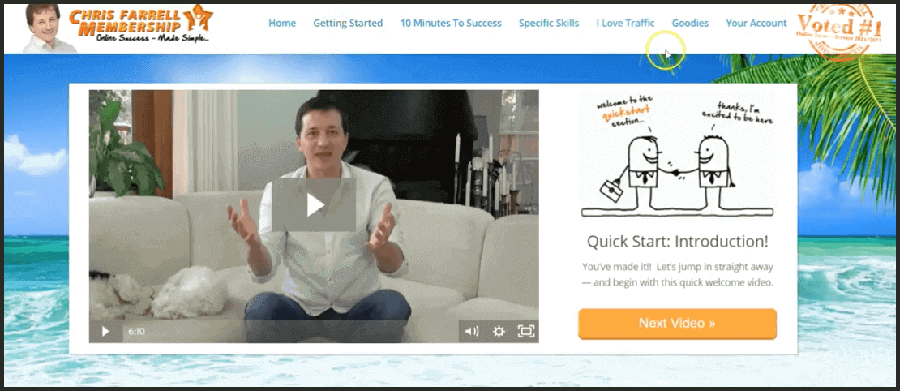 Starting Out
Once you have created your account and paid the initial $4.95 (with your first $37 to be deducted in 7 days), you'll be taken inside to your dashboard, as pictured above.
This is when you'll be presented with a pop up for a $47 upsell for Chris's swipe files.
It's too bad it's so soon.  Most beginners don't even know what a swipe file is!  So how do you know if you want to buy it, lol?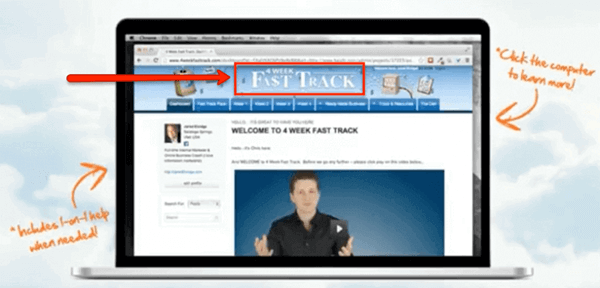 Whenever you are on your member page, you're also presented with the "4 Week Fast Track" upsell.  Even though it is currently closed.  He tells you it's opening soon, but it's been showing the same status for quite some time now.  Previously it was offered at $497.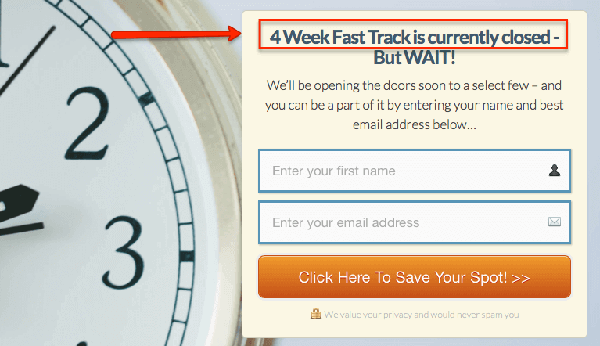 The Training
Your core training is the 10 Minutes To Success portion of the program.  You need to watch these in order.  Chris recommends one per day for 31 days.  Each video is under 10 minutes.  This training is a very basic, step by step, do-as-I-do type of training.
It's good that's it's beginner friendly, but my concern here is the lack of foundational training you're getting.  I can understand his wanting to help you set up fast, so you can start earning money sooner (no guarantee here), but if this platform were ever to come down, would you know how to start again on your own?
This program provided training only.  It does not provide you with any of the necessary tools to actually start an email campaign.
The Resources
Chris recommends certain products for you to sign up with.  These may be the services he actually uses, not that it matters.  There are many great services out there to buy.
I would suggest doing some research before automatically signing on to what he recommends.  His platform is somewhat outdated, so you might find better and cheaper products that have come onto the market since he created this platform.
The Money Making Labs, or Specific Skills as stated on your dashboard, are extra training resources to help you with specific needs.  It's not required to take each course.  In fact, I would recommend you start with one strategy to make money and learn it well.  When it's working for you, then choose another.

The worst mistake a beginner can make is to try to start with too many things at once.  You'll end up getting nowhere.  You know what they say about "too many cooks in the kitchen", or "too many sticks in the fire", lol. It's better to learn one thing well, than do several poorly.