Are you looking for a way to make extra cash? Are you looking to do this online? If you are, you've probably come across many systems claiming to show you how. And today, I'd like to share with you my Home Income System review.
I'm proud of you doing some research on these systems before purchasing. And I know you're a smart person, but these promotional videos can be so convincing. Unless you've been involved in the online marketing industry for a while, you won't be able to recognize all the red flags shouting "STAY AWAY", lol.
That's why these reviews are so important. I want to give you as much information as possible so that you can make an informed decision. And after spending a lot of time researching, I'll share what I learned and give you my honest recommendation.
If you really want to make an extra income online, you need an honest and legitimate platform to work on. I can get you on your way, the safe way, if you CLICK HERE.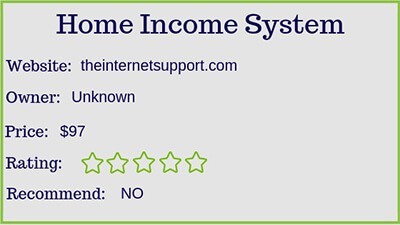 What Is The Home Income System?
This is a very difficult question to answer. I have spent hours researching every little trail I could find, online, to no avail. It has come and gone by several business names. Many of the online reviews have different URL's, all of which are no longer being used.
The only working website that's currently working is the one listed above. It was created in May 2018 according to Whois.net. There is no mention of the product's creator or owner. Sure, he gives himself a name in the video, but we all know it's fake, lol.
The Home Income System video is very vague. It's done in a way to get you excited about making money, but there's no mention of how you would do that other than posting ads. He doesn't talk about the tools he uses, the training you'd receive, any support etc.
In fact, this newest video is the vaguest of his past products. Other reviews talk about creating ads on Facebook, which I can believe.
But even then, that won't make you the $400 per day he claims you can make.
A precise way to see what upsells are included, is to sign up for the system's affiliate program. Well, I hunted high and low, and couldn't find how to apply. I know there must be one because the only positive reviews online are obviously from their affiliates. Unlike any legitimate affiliate program, you must have to purchase the program before you can promote it.
There are mentions of upsells in other reviews, which is how most of these sales funnels work. A sales funnel will direct you to purchase their low-ticket item. In this case, $97 to give you access to the inside. Once inside, they will try to convince you to purchase the first upsell, which they will undoubtedly tell you it will help you make more money.
Depending on the number of upsells, you will be continually pushed to purchase the next upsell until you're convinced to buy their high-ticket item. They'll say you can't be successful until you buy it, but really, it's just to make themselves more money out of your pocketbook.
I believe if anyone is making money with Home Income System, it's by promoting it as an affiliate.
I didn't purchase the product, because frankly, I know it will be a complete waste of money. These types of systems rarely offer anything u