Are you looking for a way to make money with YouTube? Then I'm sure you've come across a product called the YT Crusher. But what is the YT Crusher? Is it another scam, or could this one be legit?
I'm so glad to see you asking these questions and researching these products before buying. It's so important these days because there are indeed so many low-quality products offering you grand promises and lousy information.
By the end of this review, you'll know exactly what to expect. You will be able to make an informed decision about whether this product will give you what they claim.
And if you're sick and tired of combing through these offers, just to find something that works, please come and see where I learned how to be successful online. My desire is to help you avoid scams and learn from an honest, and transparent platform that delivers what they promise.
[adinserter block="1″]
Update
This product is inactive and no longer for sale.
Not a big surprise, and I'm glad it's gone. This way it can't suck any more people into a useless product.
What Is The YT Crusher?
This is a Clickbank product teaching you how to make money on YouTube. It was launched in September 2018.
This system claims you can make up to $3000 today, with very little work each day. The owner calls himself Ciaran, but we know this is a fake name. The actual owner is unknown.
YT Crusher – $37
What's Inside
YT Crusher PDF – 14 pages
Intro – 1 page
Setting Up – 2 pages
Keyword Research – 2 pages
Making Your Videos – 3 pages
Finding Offers To Promote – 2 pages
Monetization – 4 pages
Free Commission Website
This offer is in many low-quality products
Has nothing to do with YT Crusher – just another way for the owner to make money
It's not free – must pay for your domain name and monthly hosting fees
Upsells
#1: Crusher Premium – $147, downsell $97

This is a done-for-you set up to get thousands of views each day
#2: Targeted Traffic – $97

Help you turn $1000 profit into $5000 profit overnight
[adinserter block="1″]
Shocking Discovery
OK, I guess not too shocking, LOL. Many unethical product creators do this.
This product is simply repackaged and renamed, then relaunched. It was originally called Tube Crusher. This one is taken down as well.
Here's the fake user review video from Tube Crusher, the exact same product as YT Crusher. The owner uses the same video, which is vague and the hired actress never says the product name. The owner just swaps out the product logo each time he uses it.
The owner didn't even bother to change anything except the name. The video was identical with all its hype and lies, and fake user testimonials, lol.
These serial product launchers look to make a lot of money at launch time. They offer monetary prizes for the highest selling affiliates. So to be at the top of the leaderboards, these affiliates push hard to sell this product.
It's usually the same few people who have huge email lists. When the competition is over, and no one else is buying it, the owner will rename it, and relaunch it a month or two later. And the cycle starts over.
I've reviewed many products like this. Take a look at this other product, that was relaunched many times.
[adinserter block="1″]
Who Is This System For?

This product isn't for anyone, really. All you get for your $37 is 14 pages of a very generic overview of how to create your own YouTube channel to earn commissions from advertising.
There isn't nearly enough detail to actually teach you anything, and no step by step instructions to get you up and running. The truth is some information can be dangerous to you.
In one small section, they suggest you take other peoples videos as your own. This is not only unethical but if you're reported on, you can have your channel shut down. YouTube uses a three-strike policy.
There are much better courses available online if you truly want to make money with a YouTube channel. And of course, you can go to YouTube itself for more information.
I'll go over some alternative below, OK?

[adinserter block="1″]
How Does It Work?
You should never trust a video that starts out with promises of a large income that takes next to no work. I know this is an attention grabber, especially for a newbie that isn't experienced online. But it's not true! It's impossible!
This is why I want to review products like this. I want to show you the signs to what to watch out for so that you can recognize the red flags when you view other sales videos.
Let me show you…
The Video Is All Hype & Lies
#1: Scarcity Tactics
Right away they tell you there are only a certain number of copies or positions left in your country. Which is of course ridiculous.
This is a Clickbank product, and available to everyone and anyone who wishes to purchase. The owner won't take the product down until he stops making money. There's no limit to the number of people who can buy it.
#2: First Lie – Make Up To $3K Per Day
He claims that you will be able to make up to $3,000 today. Well, that's an outright lie. There's just no way you can make that kind of money in one day. If you're new to this, you have a lot to learn before making money like this.
I'm not saying it isn't possible to make a lot of money over time. But this would require a YouTube channel with millions of views each month, have authority on YouTube, as well as many other requirements.
#3: Second Lie – He's A YouTube Celebrity
This Ciaran claims to be a YouTube celebrity and a top player on YouTube. LOL. Ya sure! He wants to remain anonymous because if YouTube found out he was helping too many people to access it, he would be pushed out of the inner circle and lost his advantage… hahaha.
That is so ridiculous! Anyone can upload videos on YouTube. There isn't a number of limited positions and its certainly available to everyone.
#4: Third Lie – His Six Testers
He shows us the income of his first six testers of this product. Apparently, they made thousands of dollars in their first 20 minutes, and make over $2,000 consistently every day, with very little work.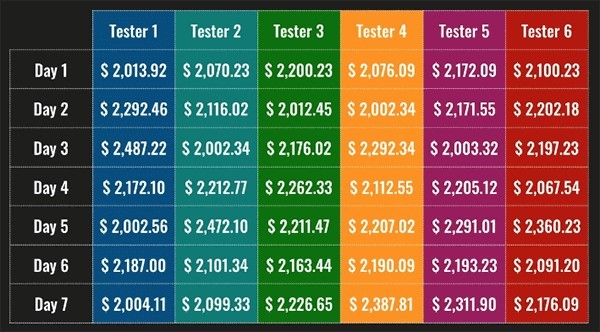 Not only is this impossible but easy to fake. And like any profitable online business, it takes much work, trial and error, and time to make any money at all!
#5: Paid Actors For Fake Testimonials
Like many lousy products like this, and no real proof of anyone using the system to make money, the owners have to put in fake testimonials.
These are created by paid actors from sites like Fiverr. They are hired to read a script saying that they've used it and are so thankful for it because they're making money. But its all fake! Let me show you my proof…

#6: This Is A One-Of-A-Kind System
That's funny! There's nothing one of a kind about this information. Many, many entrepreneurs use YouTube to promote their products and services.
This is the second biggest search engine after Google and is an excellent way to build up your online business. And everyone needs to use the same basic techniques to be found and followed.
The Product Is Nothing But A Small PDF
It was disappointing but not surprising at the pathetic amount of information inside the member area.
This product has nothing but a 17 page PDF with only about 14 pages of information. It includes a vague overview of how to set up your YouTube channel, creating your videos, finding keywords and offers, then finally how to monetize your site.
But I can tell you right now, there's no way you can learn how to do any of this properly with the info you're given.
For instance, finding keywords. This is the key to attracting quality traffic to your channel. And it requires proper tools to do so.
A 2-page overview just won't cut it. And without the proper training, you won't be making any money.
The is most likely a PLR product that the owner had, and is selling it as his own. This is fine, and many product sellers do this, but they usually include more helpful videos and support.
A PLR is a Privat Label Rights product. This means that someone else wrote the ebook and sold his rights to allow a buyer to use it as his own.
Many of these PLR's are very outdated and will be sold for cheap. The big issue is that because they're outdated, some information in them is either useless or dangerous to your business.
In this case, there's bad advice that can get your YouTube channel shut down.
Pros
60-day money back guarantee (from Clickbank)
Low cost
Cons
Insufficient training
Outrageous income claims
Fake testimonials
Lies about needing next to no work
No videos for step by step instructions
No support
Dangerous advice is given
[adinserter block="1″]
Final Thoughts And Recommendations
I think you know my final thoughts, haha. This product is junk and you really should stay away. I know its cheap, and probably won't break the bank, but why bother? It's been exposed that the claims are lies!
It's not going to give you what you need to start an online business, and you'll just get frustrated.
This is why I get so angry at product creators like this. They make a bad name for the affiliate marketing industry. All they care about is making money for themselves, at the expense of innocent, inexperienced marketers.
Is YT Crusher a scam?   No, but almost!   Would I recommend it?   NO
If you really want to learn how to make money with YouTube, there are many online courses available to learn. And they'll be updated as well.
Hubspot Academy – You can sign up for a free mini-course to get you going.
Udemy – There are many courses on this site that will give you great training. And if you don't see any reduced prices, just wait a bit for the next sale, which is often. Most courses can be reduced to about $14.99.
YouTube – Why not go to the source itself? YouTube has many of its own courses to explore.
Are you serious about wanting to make money online? Can I help you with my personal recommendation?
Any online business starts with a website. This is how you start your online presence and link your YouTube channel to it. Your website is a reflection of you, and its how you can build up an audience that you can engage with.
To have both a website and a video channel is the perfect recipe to success.
I would love for you to come and check out where I learned everything about online affiliate marketing, and where I still run my successful business today.
It's on a platform that has everything you need under one roof. All the training and tools you need to become successful.
Yes, they have YouTube training as well as courses, tutorials, videos, live webinars and classrooms on every type of marketing you'd use.
The best part? You can start for free and test drive the entire platform. The founders have created and are continually adding to this platform. And they are so confident you'll love what you see, they don't even require a credit card to start.
There's nothing like it online today. And certainly not for the low monthly cost of premium membership. It's a fee that never goes up. And No Upsells! haha.
I have been there since 2011, and love it. I think its the community that keeps me there. It's live and active, and they always have my back.
They have been successful for 15 years with 1.5 million members. They must be doing something right, eh?
If you click on the image below, you can read all about it.  When you join I'll greet you on the inside and help you out as long as you want me to. See you soon!
So where did you hear about YT Crusher? Most likely in your inbox. That's how most affiliates would send their promotions. What did you think? I'd love to hear from you.
If you have any more questions or comments, please leave them below and I'll get right back to you.
Cheers,
Suzanne