Have you come across the Wealth Academy while trying to learn how to make money online? And now you're wondering what is the Wealth Academy?
I'm so glad to see you here, researching these products before jumping in. There are so many scams online, that it's hard to determine what's legit and what isn't. Especially if you have no online marketing experience.
When I first heard of this product, it was called the Wealth Academy AZ Method. And I couldn't find one honest user review out there. Lots of hyped up positive ones, but we all know those are the affiliates trying to sell the system.
So I decided to test it out and give you my honest review. And by the end of my blog, you'll have all the information you need to make an informed decision. I'll show you what you get inside, how it works, and offer you my honest recommendation, OK?
And if you're tired of all these random products, and would just like an honest, reliable platform to learn how to succeed online, please check out where I am.
[adinserter block="1″]
What Is The Wealth Academy?
This is a Clickbank product, created in August 2018. The sales video is narrated by Richard, which is a pen name. Richard claims that this is a proven rapid training system to become an Amazon Affiliate.
Please don't confuse this system with another product by the same name, founded by Shaqir Hussyin.
Wealth Academy – $37
What's Inside
Wealth Academy 1.0
Wealth Academy AZ – Overview about how to become an affiliate of Amazon, 48 pg. PDF
Wealth Academy CPA – Introduction to CPA (click per action) strategy, 18 pg. document
Wealth Academy Traffic Course – Discusses traffic strategies using social media platforms, 93 pg. PDF
Wealth Academy FBA – Explanation of "Fulfillment By Amazon", 17 pg. PDF
Upsells
#1. Wealth Academy 2.0 – $197
Wealth Academy 2.0 – Video format of information given in the 48 page PDF – 15 short videos (2 to 4 min. each)
Wealth Academy Instagram – PDF and 4 videos (same info as PDF)
Wealth Academy YouTube – PDF and 4 videos (same info as PDF)
Wealth Academy Twitter – PDF and 4 videos (same info as PDF)
#2. Wealth Academy Pro – $177
Wealth Academy Pro – 98 page PDF
Wealth Academy Pro Video Training – 16 videos (same info as PDF)
Wealth Academy Social Media Marketing – 10 lessons with templates and videos
Wealth Academy Pro Traffic Video Course – 12 videos discussing traffic sources
Wealth Academy Social – $97
Wealth Academy Facebook – 21 videos
Wealth Academy FB Marketing – 2 videos
Wealth Academy Snapchat – 26 videos
[adinserter block="1″]
Repackaged AGAIN??

I couldn't believe it! I've seen this EXACT same product three other times. It seems this owner just changes the name and relaunches the same thing over and over and over, lol. Sheesh!
This started out as Smart Money Methods in June 2018. Then Smart Cash App in November 2018, and again in January 2019 as the Fast Cash App.
Funny thing is I wondered why the time gap between June and November? These serial product launchers will start again every month or so.
Well, my question was answered with this product, LOL. New name for August 2018!
What I don't understand is why he added a few more sections in this one, versus the first release, and took them away again for the last two releases.
If you read my reviews of the other products, you'll see what I mean:
Here's proof for you… I've taken a screenshot of inside Smart Money Methods and inside Wealth Academy.
Other than this product offers you a "free website" as a bonus (which is far from free, by the way), it's identical right down to the logos used. All he did was change the name…
You'll notice he added a few more segments of the PLR product.  But it's still no better a product than when it was Smart Money Methods.
Still outdated!  Still won't work!
[adinserter block="1″]
Who Is This System For?
No one. I said this for the others, and I'll say it again, lol. This product is nothing but an old, outdated PLR that he's trying to sell as new products.
A PLR is a "Private Label Rights" product that someone wrote many years ago and sold the rights to marketers who wished to use it as a promotional offer.
It's perfectly legal to do this. Many marketers do. Though when they are this outdated, it's usually given away as a free product.
This PLR was originally sold as Amazon Affiliate Profits and was last updated in Feb 2016. He's used some of it, but not all.
There have been so many changes with Amazon, and all the social media sites, that the training you get with this product won't be helpful. It might actually hurt your business…
[adinserter block="1″]
How Does It Work?
It all starts with seeing an ad in your inbox or on social media. You're taken to a page with a sales video to watch. And of course, it's ridiculous. I'll tell you why so that you can recognize all the emotional triggers in hopes of getting you to buy quickly without thinking too much.
Sales Video
The narrator starts off with a Bang! Richard asks you if he can show you a brand new way to make money online from just one cash-rich website.
Lie #1 – This is NOT a brand new way to make money online. It's simply being an Amazon affiliate.
Lie #2 – You can get on this website in 5 minutes and get results immediately. Nope, not possible.
Lie #3 – People with no real education or marketing skills are using this astonishing website to make autopilot income, 24/7. Again, nope! Being an Amazon affiliate takes a lot of work and marketing skills to succeed.
Lie #4 – This is an evergreen system. Well, selling on Amazon is evergreen, yes. But NOT this system. It's much too outdated.
He claims he also fell prey to online gurus, who are scam artists with empty money making promises. LOL. Oh, that's rich!
And, of course, Richard gives us his sob story about losing his job, then running into an old co-worker who showed him how to make money online. Ever notice how many of these types of sales videos have similar stories? That's because many people will believe it…
And now he wants to share the system because he can't stand seeing people struggle as he did. If that were the case, this Richard wouldn't be selling people a low-quality product like this, haha.
Next, he tells us this is his insider proven rapid training system to become an Amazon Affiliate. And that you'll be able to bypass all the trial and error he's had to go through.
So, you tell me… do you think when you try to apply the training that is no longer applicable to Amazon, that you might have a few issues?
Lie #5 – Very few people are using a system like this! OOPS! Actually, that's the truth, because this system doesn't work!
Lie #6 – People are generating up to $6K in their very first month. Ya, sure…. nope!
Lie #7 – All the technical things are done for you. What technical things? There are no technical things!!
Lie #8 – He says it will cost you $24.95. I guess he forgot to update his video to $37…
Apparently, two weeks from now you'll get up in the morning and see all this money coming in. With only a couple of hours per day working on your business.
OK, really?? If it were this easy, don't you think I'd be doing this? Don't you think everyone would be doing this?
The Product
As I've already explained, this is a low-quality, PLR product. It's very outdated with some areas not even useful any longer.
The primary product is the 48 page PDF called Wealth Academy AZ. This was written prior to 2016 and hasn't been updated since February 2016.
Do you know how many times Amazon has changed since then? And what about social media. They've been continually changing their algorithms since then.
Let's take a look at part of this PDF, OK? Notice in the screenshot below, chapter 14…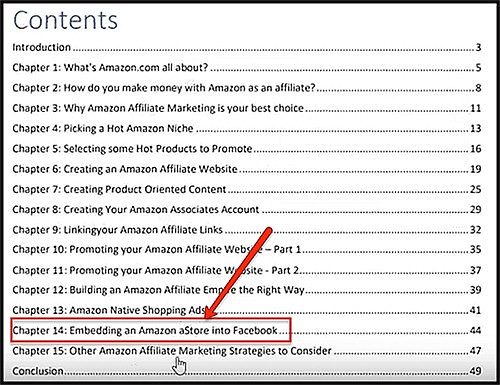 The section Embedding an Amazon aStore into Facebook is no longer applicable. Do you want to know why? Amazon retired all their aStores as of October 27, 2017.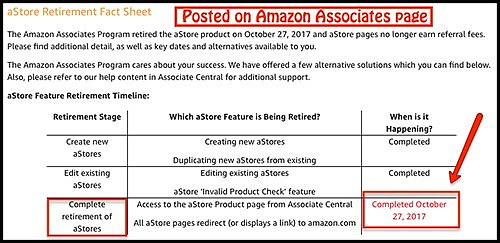 This product may have been great at the time it was written. It would have given you many great strategies to use as an affiliate. But today? I wouldn't waste my money on this.
If you wish to become an Amazon affiliate, go straight to the source. Amazon offers training, for free! And there's much more you can find online, that's much more relevant to today's affiliate industry.
The same goes for social media. Each site has training for those who run businesses. Here are three examples for you:
Facebook teaches its own Blueprint courses.
Pinterest will show you how to use its Ads Manager.
Instagram will show you how to grow your business.
Inside the member's area, you're presented with a "special offer" of a free commission website. I'm not sure why he says FREE because it's far from it. You have to pay for your own domain name as well as hosting.
These types of offers are common with products like this. They have you thinking you're getting something for free, and when you claim it, they make a commission on your purchase.
The rest of the training, that's not outdated, is simply a generic overview of Amazon and social media sites. The videos are short and easy to follow but have no depth. There's really no way you can launch effective promotions with the training you get here.
And you need to make sure you double check EVERYTHING with the platform they talk about, so you know if it's even applicable. You've just doubled your workload, or more…
Pros
60-day money back guarantee
Cons
Unrealistic income claims
Outdated PLR material
Expensive upsells
Insufficient training
Not as easy as it claims
[adinserter block="1″]
Final Thoughts And Recommendations
Would you want to trust a product that's been repackaged and renamed FOUR times now? I wouldn't. It's obvious this owner is just trying to make as much money as possible, relaunching the same junk, over and over again.
You see, when they launch a product, they create a lot of hype for potential affiliates. They offer contests over the launch week, paying out money and prizes to the highest 2 or 3 sellers. And it's always the same circle of affiliates.
That's why you'll see all these positive reviews out there. They basically restate what the sales page says, and tell you how great it is. Most of them haven't even tried the product themselves…
So the owner makes a bunch of money for the first few weeks, and when the sales die down, they rename it and relaunch again. They offer all the contests again, and make more money.
And the cycle goes on! Rename, relaunch. Rename, relaunch. I really wish there was a way to stop all this nonsense. People are losing hundreds of dollars, and these owners don't give a hoot!
Is Wealth Academy a scam?   No   Would I recommend it?   NO
Unfortunatly it's not a scam because you receive a product for your money. Even though it won't work. So the least I can do is try to warn people, and hopefully teach you what to look for in the future.
No matter what these product creators try to tell you, succeeding online takes time, work, and patience. There's no such thing as creating a massive income in a month or two. It just doesn't work that way. But with proper training and tools, you can and will succeed.
I've found the best way to succeed, and it worked! I'm now creating my own retirement wealth!
I know this Richard guy said his system was proven, but now we know it isn't. But where I am is definitely proven… 1.4 million members will agree!
Can I make you an honest recommendation?
I would love for you to come and see where I learned all about online affiliate marketing, and how to become a successful marketer. It's the best way to build towards your own financial freedom.
This platform has everything you need under one roof. No need to search around online, to find the most current and accurate training. And they provide all the tools you need too! They have:
Certification training as well as many more classrooms and tutorials.
Live weekly webinars for the best tips and tricks.
A domain registry.
Website hosting.
A powerful keyword research tool.
A live community for support 24/7/365.
And much, much more.
The founders proudly update, edit, and add new features every year. You can expect nothing but the most current training for your success. I've been there for many years now, and I love it. Actually, it's the community I love, lol. There's nothing like it anywhere else online. These members are from around the globe doing international marketing.
Want to know the best part? You can start for free! The free starter membership is easy to sign up for, and you don't even need to add a credit card number. That's how confident they are that you'll love it and want to stay.
If you click on the image below, you can read all about it. And when you join, I'll be there to greet you, and help you as long as you need me too.
So how did you hear about the Wealth Academy? In your inbox? I'm actually surprised it's still available, lol.
If you have any questions or comments, please leave them below. I'll get back to you right away.
Cheers,
Suzanne