Have you received an email talking about a Secret Affiliate Machine? I've received a few over the last month and decided to check it out. And if your anything like me, you're asking "What is the Secret Affiliate Machine"?
I'm so glad to see you researching this before jumping in. Sure, the videos sound very persuasive, but then, don't they all? What makes this product any better than all the scams out there?
When I started researching, I found two types of reviews. Those that just sounded positive and pushed the product. And we know those are the affiliates, lol. Of course they're positive. They get paid if you buy!
Then there were those who were very negative. I'm not sure why, because they didn't offer any proof that they had used it themselves.
So I wanted to share an honest review, offering both the pros and cons. And by the end of my review, you should have all the information you need to make an informed decision, to buy it or not!
And if you're new to the affiliate marketing industry, and want to learn the whole process from the ground up, please read about where I learned, and where I run my own successful business now.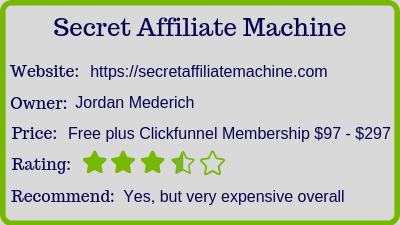 What Is The Secret Affiliate Machine?

The Secret Affiliate Machine, also known as the SAM Funnel, is a high converting funnel designed by Jordan Mederich. The funnel itself is free, with a monthly membership to Clickfunnels.
SAM Funnel – Free
What's Inside
Clickfunnels
14-day free trial, then…
Basic Account – $97 per month
Etison Suite – $297 per month
Aweber Autoresponder
30-day free trial, then…
$19/month and up
TrafficForMe Solo Ads
Ranges from $.58 to $.89 per click depending on the package chosen
ClickMagic Tracking
14-day free trial, then…
$17/month and up
Bitly URL Shortener
$0 to $499/month depending on the number of links needed.
Bonuses
Private Facebook group for support and training
Webinar for "Affiliate Secrets 2.0 – $897
10X Secrets – $297 – $497
30 Day Summit – $100
DotCom Secrets Book – Free + $7.95/1495 shipping
Experts Secrets Book – Free + $7.95/1495 shipping
Upsells
9 Secret Funnels Training – $47
This offer is only available with step 2 of the Clickfunnels free trial activation.
Includes 9 additional websites and training imported into your account.
Set-up Packages
Basic Pkg. – Free step by step videos to show you how to launch your SAM funnel
Create Your ClickFunnels Account – 1:06 min.
Create Your AWeber Account – 2:03 min.
Create Your SAM List In AWeber – 4:39 min.
Load Your SAM Email Swipes Into AWeber – 15:12 min.
Integrate AWeber With ClickFunnels – 3:27 min.
Import Your SAM Funnel To ClickFunnels – 1:55 min.
Integrate Your SAM Email List With Your SAM Funnel – 4:25 min.
Edit The Pop-Up Settings – 5:24 min. – 5:24 min.
Get Your 14-Day Short Trial Link – 6:00 min.
Don't Touch Anything On Step 3 – 3:15 min.
Get Your 7-Digit ClickFunnels Affiliate ID & Insert It Into Four ClickFunnels Products – 8:26 min.
How to sign up for TrafficForMe Affiliate Link & Add To SAM Funnel – 2:48 min.
Purchase Traffic With TrafficForMe – 8:37 min.
Pre-Launch Funnel Audit & Report – $47
Gold Pkg. – $97
Check to make sure your affiliate links are correct and functioning.
Will also set up your autoresponder (Aweber) with a done for you 4-email campaign.
Will set up your email list with Clickfunnels and your SAM funnel.
Platinum Pkg. – $147
All the Gold Pkg. plus integrating a custom "NameCheap" domain & website.
Add your affiliate link to Traffic For Me solo ads platform.
Link your custom email address to your autoresponder.
Set up your ClickMagick tracking links.
15-minute pre-launch funnel call with a team member.
Expected Costs
Clickfunnel membership – $97 or $297/month
Aweber autoresponder – starts at $19/month for 500 subscribers, and up
ClickMagick – $17/month and up (depending on the number of clicks)
TrafficForMe Solo Ads – $$$$/month
Total per month minimum = $133 and up, plus hundreds to thousands for Solo Ads.
Who Is This Funnel For?
I believe this funnel is for two types of entrepreneurs:
The more experienced affiliate marketer who understands the process of a marketing funnel, and who has some working capital to invest.
Someone new to the industry who doesn't mind losing money (just in case). Solo Ads get very expensive, so they would also need adequate working capital, upfront, to get the funnel started.
There are no guarantees that Solo Ads will convert. Some may, but you'll probably have to buy several packages before you have enough profit to reinvest into your business.
If that isn't a problem for you, then I believe there's a good chance this will work if you get into it soon. At the writing of my review, it's been out for several months. And like any other funnel that's been around for a while, it will slowly die out.
As more affiliates get on board, more and more ads will flood the market. It will soon be saturated, and people's responses will die down.
How sustainable this will be in the long run, no one can say. Jordan says you only need to work 30-minutes per week to "feed your funnel" (buying more Solo Ads). Well, maybe just the feeding aspect, lol. But any successful business takes considerably more time than that to stay successful.
Your work doesn't begin and end with the funnel. You must stay engaged with your affiliates, find more effective ways to promote your funnel, keep on top of all your statistics, etc., etc.
This is the only way to keep your referral count high enough to earn those car payments they promise you… LOL

How Does It Work?
The funnel itself is free and leverages Clickfunnel memberships to earn your commissions. You can also add other affiliate links, by editing the funnel and adding other products if you wish.
Clickfunnel was founded by Rusell Brunson and is a very good and legit product.  There are many business owners using this service for affiliate marketing.
Let's walk through the different steps you'd take if you decide to purchase your own membership…
Step One
This is the introductory video explaining how "J" (Jordan) want's to help you earn at least $4,000 per month in passive income.
He discusses affiliate marketing, and how very few people know how to create an income online. He's created this funnel which he wants to share with you for free if you follow the steps he's going to give you.
His reasoning for calling it the Secret Affiliate Machine is this:
Secret – Because very few people know how to generate real results online.
Affiliate – You get paid generous commissions from a product that sells itself.
Machine – The entire process is fully automated and done for you.
His goal is to get you to $4K/month in passive income, with the extra bonus of earning your dream car as he did. And apparently, you only need to "feed" your machine with only 30 minutes of work each week.
OK, here's where I'm skeptical… I don't know of any successful online business that only takes 30 min. of work per week!
Now you fill in your name and email address (the phone number is optional) and move to step #2.
Step Two
Another video explaining how it works, why it works, and how to download the machine.
He starts by explaining what affiliate marketing is and how it works. He talks about the "free trial" with click funnels and tells you to start with a brand new email address specific to this new business (for tracking purposes).
Apparently, you're going to make enough money in the first two weeks to pay for the membership cost afterwards.
That's a pretty bold statement. Especially if you choose the $297 per month plan! 
When you activate your free trial with Clickfunnels, you'll be brought to an explainer video within the platform, and offered a free t-shirt. That's cool!
But then return to the SAM page to continue with your setup.
Note: A pop-up with another video is presented.
You have the option to have the funnel set up for you, or watch videos to walk you through the setup process. There are 3 packages to choose from, depending on your level of experience.
I would really recommend you at least watch the free videos. They're very helpful and ensures you activate the funnel properly with your own links.
Here is the first, welcome video that you will see in your SAM funnel support area…
Step Three
If you already have a Clickfunnel account, you may wish to just click on the "Done With This Step – Next Step" button. I was really frustrated at this point because it wouldn't let me bypass the pop-up. It must have been that affiliate's error when editing their funnel.
I found another ad that didn't include the pop up so I could move on.
And this is why you need to watch the videos…lol.
Jordan continues to explain how the commission structure works. He shares how you will get a 40% commission on each referred member, as well as a 5% commission on their referrals.
Is this an MLM business? Well, sort of, but it's only these two levels.
Once you've referred 100 Clickfunnel members, you should be making about $4K per month. And when you do, Clickfunnels will be sending you an email saying you're qualified for your own dream car!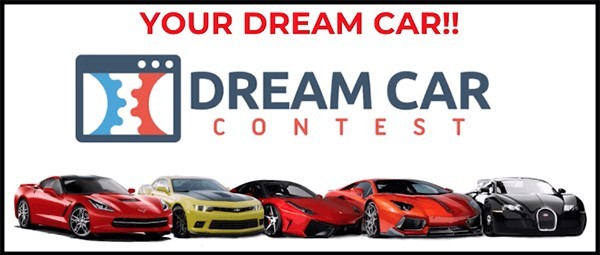 You can pick from a list of cars and they will send you $500 per month towards your lease payment. Wow!
You can now import your SAM funnel into Clickfunnels and add your own personal affiliate link.
Step Four
This video talks about your traffic. He doesn't believe that you can just blast your ad on Facebook, or something along those lines, because none of those people are ready to buy what you're selling. He goes on to justify paying for your traffic instead.
His recommendation is to use Solo Ads. Specifically from a platform called TrafficForMe.  Solo Ads are when you pay a merchant to use his email list. They can average from $.50 to $1 per click.
He goes on to recommend 1000 clicks. OK, this is where it gets expensive!
There are many options you can choose from. He chose lists from the top five countries, giving you a better chance at conversion.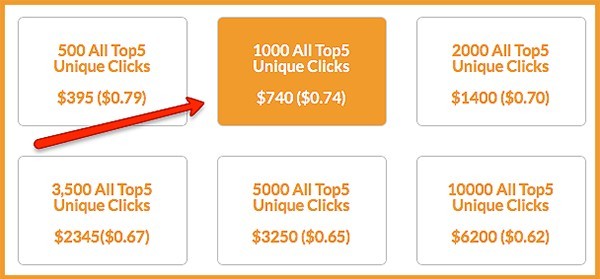 Jordan is assuming that you will get at least your 100 referrals, making $4000 per month. If you're lucky enough to get that, you're laughing. If not, you hopefully got enough referrals to cover your expenses. That's the chance you take with Solo Ads. There's no guarantee!
Once you've bought your traffic, make sure you import the proper funnel link. Or none of your potential referrals will be credited to you. What a shame that would be! Ouch!
The hope is that your referrals will exceed your expense of Solo Ads, so you can reinvest into your business with more ads.
Step Five
This video discusses how you can study your stats within Clickfunnels. He also recommends you use ClickMagick https://clickmagick.com/go/suzieq to track your campaigns. Another choice is to use Bitly.com to shorten your links. This service has some tracking capabilities as well.
Jordan explains your 90-day business plan. He says you should send clicks to your machine weekly. Basically, the more traffic you send, the faster your business will grow.
He also says you can direct message people, such as friends and family. Hmm…sounds like an MLM again, lol.
You can create shoutouts on social media or create webinar training on affiliate marketing. The more experienced you are with online marketing, the more strategies you may want to apply.

Pros
Potential to make a lot of money
Free funnel
Editable funnel
Step by step training
Cons
Very expensive to run the funnel
Requires a large advertising budget
No guarantee of conversions with Solo Ads
Funnel will become saturated in the near future
Final Thoughts And Recommendations
Overall, I think this is a great funnel. It's the cost of running it that concerns me. For a more experienced online marketer, who understands what they're getting into, and has working capital from other businesses to invest, then yes, go for it!
It's the newbies I'm thinking about. If you've never had the proper training for making money online, this can sound so easy. But trust me, it's not.
The funnel is easy, yes, especially if you pay extra to have someone set it all up for you. But understand how expensive it will get to keep "feeding" it. You don't want to go in debt if you don't have the funds upfront.
There's a good chance you'll eventually get ahead, but no guarantees. So please be careful!
What I did appreciate him saying was to give this system 90 days to do its work! So even though you might hear some testimonials about how soon these affiliates got their referrals, they are far and few between.
Of course, he's going to share the success stories! That's just great marketing. What you don't hear are those who might be failing. Like I said before, buying Solo Ads can get very expensive, and there's no guarantee you'll get any conversions. Are you willing to lose some money?
If you don't understand all the other aspects of online marketing, there's a very good chance of failure. Please trust me on that. I've been there, and it wasn't until I got the proper training that I started succeeding online.
If you just rely on this funnel to earn you $4K per month, you're going to be very disappointed.
And this is why… The referrals who sign up under you are thinking the same thing… All they need is 100 referrals and they're golden! But what happens when this funnel starts to die down. Eventually, your referrals will be getting fewer and fewer of their own referrals.
And when they can't keep their numbers up, they'll most likely quit because they can't afford the costs of their own membership, tools, and advertising each month. And when they quit, your own numbers drop.
Its hard work to sustain a business model from just one funnel. There's more work to it than just 30 minutes per week!
Unless, of course, you just keep throwing money at it. But then it's not passive income, is it?
When you start with affiliate marketing, which is a great industry, by the way, there's a lot more to learn than just running sales funnels. Every successful business has had to:
Choose their domain name.
Create their own website.
Find hosting for their website.
Learn how to drive traffic to their site.
Learn how to effectively engage their readers and customers.
Learn about different promotional strategies, both free and paid.
Find a community of like-minded people for support (this is very important also).
Can I make you my honest recommendation?
What if I told you that all this training is available in one place, including the domain registry, website builder, hosting, tools, and the best, live community online today. And I'm not talking about Facebook, haha!
You can create a free starter membership to check it all out. I've been there since 2011, and I love it. I wouldn't be where I am today without their help and support.
Their current membership is over 1.4 million people, worldwide. And that's because it works!
If you click on the image below, you can read all about it. And when you join, I'll be there to greet you. I will help you along for as long as you need me to. See you soon!

Have you looked into the Secret Affiliate Machine yet? What do you think? I'd love to hear from you.
If you have any more questions or comments, please leave them below and I'll get right back to you.
Your friend,
Suzanne