Are you wanting to make money online? There are many legitimate ways to do this, one of them being membership sites. If this is your focus, then you've probably heard about the Membership Method.
But what is the Membership Method? Is it a legitimate program, or just another scam like the many others online?
I'd like to answer your questions in my review of this training program. I'll show you what's inside, how it works, and then give you my honest recommendation.
I love the fact that you're researching this product before purchasing. This shows me you're wise with your time and money. By the end of this review, you will be able to make an informed decision.
If you would like to bypass any uncertainty, and read about where I learned how to start my successful business, please CLICK HERE.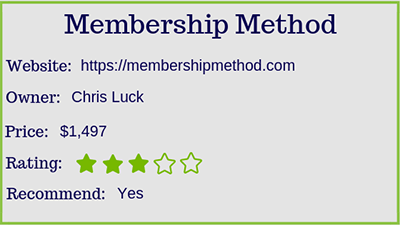 What Is The Membership Method?
Created by Chris Luck, this is a training course on how to create and sustain a membership website.
Membership Method – $1,497
What's Inside
Masterclass:  Is a 6-week, 35 step by step video tutorial (varying from 5 to 30 minutes each)
Week 1: Roadmap – 6 Steps (Fundamentals, Idea Brainstorming, Market Validation, Idea Selection, Namestorming, Domain Registration, plus final assessment)
In this first module, Chris discusses the fundamentals of membership sites and why he believes it's the best way to generate passive income. And if done correctly, you will be able to scale your business with a steady flow of incoming members.
He discusses what type of markets to get into and how to validate their success.
It's then followed up with the reasons behind purchasing your own domain name, and why it matters.
Week 2: Content – 6 Steps (Strategy, Content Basecamp, Research Tools, Gold Mining, Content Creation, Outsourcing, Assessment)
This module is all about content. What should you charge? What will the market tolerate? And how much content should I start with?
Chris will show you the tools and worksheets to find the best trending topics in your niche, and how to model after the successful ones.
He then discusses how to outsource your content if you'd like to pay someone else to write for you. He'll show you how to find freelance sites and how to negotiate with your prospective clients.
Week 3: Development – 6 Steps (