One of my readers recently asked me "What is Powerhouse Affiliate? Wanting to enter the world of affiliate marketing, she wondered if they were any good.
So I decided to give a more in-depth review for anyone else out there who's come across their advertising. I'd like to describe what this product is and who it's for.
You must be reading this today because you've come across this product and are doing some research. I'm happy you are doing your due diligence and researching products before purchasing.
Many products can sound very convincing and have you feeling that it's the "key" you're looking for, to gain success.
I wish all products advertised on the internet were legitimate, but unfortunately, many are scams and not worth the money you paid.
Is Powerhouse Affiliate legitimate? Let's take a look and see if what they promise is true.
I joined the free membership so that I could get a look inside. Please know that I've done extensive research on Powerhouse Affiliate so that you can make an informed decision.
If you want to make sure you use a proven platform, read about where I gained my online success.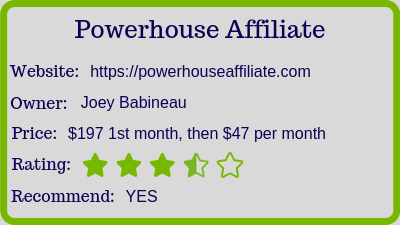 What Is Powerhouse Affiliate?
This program was founded by Joey Babineau, in February 2013. An affiliate marketer since 2002, he eventually freed himself from his 9 to 5 job and began providing training for others interested in the industry.
This is an affiliate marketing training program that focuses mainly on one form of marketing, called CPA (Cost Per Acquisition, Cost Per Action).
Powerhouse Affiliate – Limited Free version, or $197 All Access (1st month), then $47/month
There is currently a special "Action Taker" offer which expires soon.  You can get your first month for $19 rather than $197.
What's Inside
Dashboard
Overview Video
Link to Bootcamp Training
Announcements & Events (Premium)
Training – Powerhouse Affiliate Bootcamp
Stage 1 – Affiliate Marketing Certification (Free Membership)
Stage 2 – Monetization Channels (Premium Membership)
Stage 3 – Performance Marketing Arbitrage (Premium Membership)
Stage 4 – Advanced Traffic (Premium Membership)
Stage 5 – Advanced Strategy (Premium Membership)
Stage 6 – Ongoing Training & Business Development (Premium Membership)
Additional 8 Single Lessons (Premium Membership)
Affiliate Info
Your affiliate link
Statistics
Support
Community – (Free membership can read, Premium membership can participate)
Forum
New Topics
Calendar
Webinars – (Premium Membership)
Case Studies – (Premium Membership)
Resources – (Premium Membership)
Landing Page Templates
Marketing Graphics
Business in a Box
Coupons and Discounts
Facebook Group – For everyone
CPA Network – (Premium Membership)
Affiliate Program – (Premium Membership)
Information about the program
Mentor Bonuses & Rewards
LP Studio (Beta) – (Premium Membership)
Free web hosting
Landing page / Website builder
Expected Costs
Membership – $47/month
Bluehost – Domain/hosting – Minimum $127 per year
OptimizePress – Landing page software – $79 to $199 per year
Aweber – Autoresponder (My recommendation) $19/month with a free trial
Bemob – Tracking Software – $25/month to $1499/month
Solo Ads – $$$$ per month
What Is CPA Marketing?
Do you know what CPA Marketing is?  This is what Wikipedia has to say…
"Cost per acquisition (CPA), also known as cost per action, pay per acquisition (PPA) is an online advertising pricing model where the advertiser pays for a specified acquisition – for example a sale, click, or form submit …  
In affiliate marketing, this means that advertisers only pay the affiliates for leads that result in a desired action such as a sale.  This removes the risk for the advertiser because they know in advance that they will not have to pay for bad referrals, and it encourages the affiliate to send good referrals."
Here is a short video, by Marshal Carper, who explains what CPA is from a marketers point of view, and what you can expect going forward…
OK, now that you know what CPA means, and what's involved, let's move on.
Who Is This Platform For?
Making money online with affiliate marketing has become most popular due to the low entry cost. From there, many are trying their hand at CPA (Cost per action).
This can cost much more at the onset but can be very lucrative if you have the proper training.
If earning income through paid advertising (CPA) is the direction you want to take, then Powerhouse Affiliate could be for you. If not, then you will be disappointed.
The price of Powerhouse's membership is affordable, but be aware of the 3rd party services you will need to pay for.
As the video showed you, you will need proper tracking if you want to make a profit.
The nice thing is that Joey owns his own CPA network, so it'll be easy, as a paid member, to get affiliate links for the products he advertises.
It's also nice to see that there is no surprise upsell with this platform. Joey Babineau appears to be very transparent on his home page, explaining what you can expect.
I also believe if you are anxious to earn an income, you should expect to have a healthy advertising budget.

How Does It Work?

You most likely came across an ad on Facebook, or in your inbox.  Mine came to my inbox!
I want you to know that I'm only a free member.  I'm currently a member of another program, which I'll tell you about below.  So I've done a lot of research to inform you about the Premium membership.
The Sales Page 
When you access the Powerhouse Affiliate home page, you'll notice right away about the "free training".  Who doesn't like free training, right?
I really liked Joey's sale page.  It offers a lot of information without all the added hype that other marketers tend to use.
Joey introduces himself, which is an important factor.  
There are way too many products out there where the owners hide behind fake names.  Joey is upfront and personal, which I admire!
He explains how this platform offers a no BS breakdown of how to get traffic and conversions:
With a detailed step by step affiliate marketing certification training program.
Showing you how to build your business to last.
By avoiding the most common money-sucking mistakes.
Showing you his exact landing pages, squeeze pages, and direct linking campaigns.
Showing you live examples of actual campaigns he's run.
Helping you understand is the exact CPA affiliate sales funnel.
After sharing some testimonials, Joey explains how he's refined the business with updated methods, course progress to stay on track, and direct access to a personal coach.
The updated platform is the next important factor!
Do you know how many products I come across with old, outdated courses?  You will never find success unless you're taught the most current methods of affiliate marketing.
After touching on the available training and tools, he tells you about the Powerhouse Affiliate Facebook Group.  This is for both free and premium members.
It's important to have a community of like-minded people to encourage, help and support one another.
And finally, he explains his Super Affiliate Newsletter for members only.  He sends out complete lesson plans of some of the biggest affiliates of his platform.  Here are some of the topics:
Advanced PPC advertising strategies.
How to get low-cost clicks that convert.
How to run affiliate links through separate domains.
Email marketing strategies.
Using multiple products.
Understanding online marketing traffic.
Potential off-line affiliate marketing opportunities.
The Member Area
To access your free training, you have to enter your name and email address, username and password.  And just like that, you're inside your own member area.
Dashboard
The overview video is done by Joey himself and is 10:35 minutes long. The video is geared for the Premium membership.
So even though a free member can view it, you won't have access to most of what he shows you.
This is also where any announcements or events are posted.  This is a Premium member feature.
Training
Powerhouse Affiliate offers you 5 stages of courses and 1 stage of ongoing training with live case studies and webinars.  There are also 8 additional lessons on various topics:
A Quick Guide To Solo Ads
5 Verticals Worth Testing!
How To Set Up CPV Lab Tracking
Landing Pages Tips For Higher Conversions
Tips For Setting Up Facebook Campaigns
Tips For Setting Up Google Adwords Campaigns
Tips For Setting Up Bing Ads Campaigns
Tips For Finding Profitable Keywords To Target
Stage 1:  Affiliate Marketing Certification (The Only Course for Free Members)  
This course provides you with generalized information regarding affiliate marketing.
After an introduction to affiliate marketing, and an overview of their own affiliate program, you will get a basic understanding of:
How to choose a niche and find products with affiliate networks.
How to choose your domain name, where to host your website,  and building your website.
Setting up blogs and landing pages.
How to create a landing page to promote your own product.
How to track your pages.
How to get free traffic from Facebook.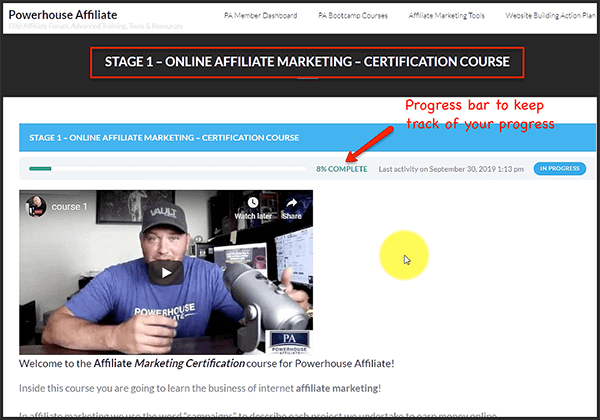 When you click on a lesson, you'll be taken to that lesson page.  When done, just mark it complete.
Stage 1 training is quite basic, and if you don't purchase the Premium member, you will need additional training elsewhere to be successful.
Some of the lessons will have "action" steps which you should complete.  These are important in setting up your business as you go through the training.
Stage 2 – Monetization Channels      
This course is all about building email lists.  This is an important asset for every business to have.
Once you've learned the need for having your own list, you'll be walked through how to set one up with an autoresponder.
Their recommendation is to use Aweber.  That's what I use for my business, and they're great!
Having your own list grow over time will help eliminate the need for continual Solo Ad purchases, and will help create a long term campaign.
Stage 3 – Performance Marketing Arbitrage           
Here you will learn your CPA affiliate funnel strategy.  This course has been recently updated from their CPA Cash Vault 3.0, which is also one of Joey's top-selling products.
You will learn things like:
Performance marketing using whitehat techniques.
How to attract leads from your website traffic.
How to set up your marketing funnel with landing pages.
How to promote your CPA offers.
Stage 4 – Advanced Traffic           
This course will teach you how to get targeted traffic to your campaigns, and how to set up your proper tracking. It's important to not only track but understand how to analyze the data.
Traffic is the lifeblood of any affiliate marketing business.
You will learn how to use different traffic streams, such as social media, PPC (Pay per Click), PPV (Pay per View), display advertising, and more.
Stage 5 – Advanced Strategy       
Here, you'll get access to Joey's exact landing pages, squeeze pages, and direct linking campaigns.
You'll be able to follow his campaign strategies to see exactly what he does.  These live examples will give you an added advantage to setting up your own.
What can be better than copying a pro?  OK, don't copy! lol
It's always great to get ready-made landing pages.  But remember to edit them with your own words, your own story.  Otherwise, you'll run into duplication issues with Google.
Here's a screenshot of some of the landing pages available…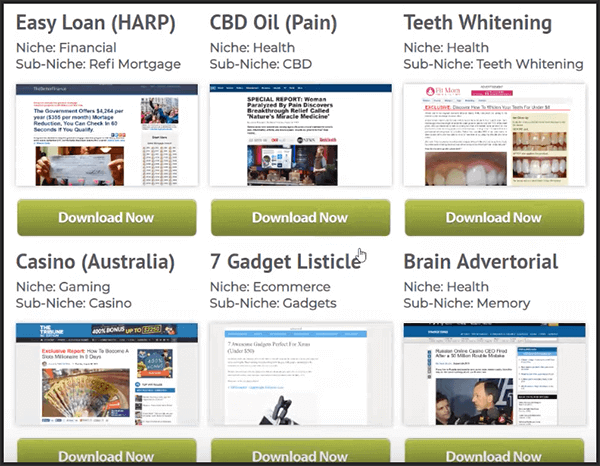 Stage 6 – Ongoing Training & Business Development
Live Case Studies – Learn advanced strategies and tactics to further develop your business.  Joey continually adds new campaigns on a regular basis.  You have access to all past and future studies.
These are done on paid traffic sources showing you how they set up everything.  They even show you the commissions they make.
Webinars – Access to all new and past webinars.  New webinars are continually added to enhance your training on different topics.
Affiliate Program
Anyone can be an affiliate, free or premium.  The only difference is that free members get paid once per month, whereas premium members are paid every week.
The affiliate commission is 50% of the first month and all recurring monthly fees of your referrals.
There are advantages to being a paid member.  Their program includes:
Paid weekly
Access to CPA network
Advanced tracking
Mentor bonuses & participation rewards
Affiliate training courses
24/7 support channel (Private Forum)
The Mentor Bonus Program comes in 4 levels.
Level 1 – Powerhouse Affiliate Guide – Any month that you directly refer 25 new premium members, you qualify for a bonus of $125.
Level 2 – Powerhouse Affiliate Coach – Any month that you directly refer 100 new premium members, you qualify for a bonus of $500.
Level 3 – Powerhouse Affiliate Mentor – When you directly refer 250 new premium members within the calendar year (Jan. to Dec.), you qualify for a $1000 bonus.
Level 4 – Powerhouse Affiliate Ambassador – When you directly refer 500 new premium members within the calendar year (Jan. to Dec.), you qualify for a $2500 bonus.
The Participation Bonuses are a ranking system related to your participation within the platform.
You rank by writing posts on the forum and updating your profile.  As you reach each rank, you can earn points, and then redeem them for bonuses.
New Member – 75 points
Contributor – 100 points
Active contributor – 200 points
Redeem a free Powerhouse Affiliate Shirt
Experienced Member – 300 points
Redeem $100 cash credit & 100% month 1 commissions on the next 10 referrals
Powerhouse Affiliate – 500 points
Redeem $200 cash credit & 100% month 1 commissions on the next 10 referrals
Qualify to participate in their paid program to contribute content
Inside the Platform
Forum
Your community is in the form of a "forum".
A free member can read the forum only, and can't participate.
I don't usually like forum settings, because you can wait hours if not days for a reply to your question.  But they have theirs set up to notify your personal coach when you post anything.
So this means that you "should" get an answer fairly quickly from your coach, as well as anyone else who wants to respond to you.
As I scroll through the forum, I notice that it's not very active.  This has me wondering where struggling members are getting help from.  Possibly private messaging?
Member Blog Posts
This is a new feature for Premium members to share helpful information with the community.  You can also earn points for posting, that can then be redeemed for cash or other benefits.
Courses – Links to your courses.
Resources
Blog – find some free courses here
Landing Page Templates – new ones added monthly
Marketing Graphics
Business in a Box
Coupons and Discounts – other online services they recommend
FB Group – Link to the Facebook Page
CPA Network – Login link to Vault Media.  This is Joey's private network where you will get immediate affiliate links for any offer you choose.  Includes all programs used in the case studies.
Support – Link to the customer help desk via a "ticket".
Affiliate Program 
I'm a little confused about their affiliate program, when after looking through the forum, I came across an announcement that was made on October 31, 2018.
It states that free members were no longer allowed to participate as an affiliate.  And there was a reference to their tiered program.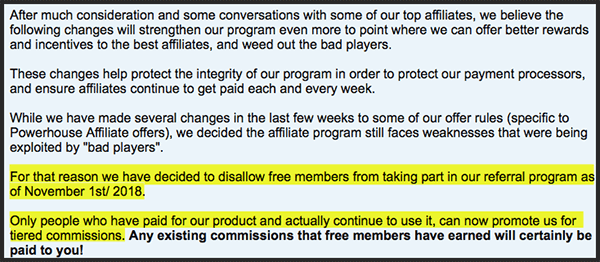 And then there's this section in their "Affiliate Referral Program Terms" (which Joey refers to in his welcome video)…
So right now I have no idea if any of this is true.
I'm waiting for a reply to my email I sent them and will update this review when I discover the truth!
Regardless of who can apply to be an affiliate, at least they've overhauled their compensation plan for the better.
Take a look at what it used to be, lol…
Kind of looked like an MLM Business didn't it!
During my research, I found one reviewer's post discussing his "Business in a Box", which he was able to download his first month. It was in the anti-ageing niche. It was a skincare product with all the premade templates ready for you to customize.
A real time saver for your first campaign.
In fact, any of the pre-made landing pages could be very useful, as long as it promotes a product you're interested in promoting. OK, OK, I know… if you can make money with them, you'll become interested, right? Haha
Just remember to edit everything to reflect your personal style to avoid duplication issues!
So now you have to decide if paid advertising is the way you want to continue, or do you want a more thorough education in all forms of affiliate marketing?
CPA can be very lucrative, but you must be aware of the extra costs associated with this method. For a beginner, it can be very expensive.
Yes, you can use the free traffic route, but this takes a lot of time and effort. Most marketers using the CPA method have large advertising budgets.
If money isn't a deterrent to you, then you could learn a lot from Joey.

Pros
Affordable membership
Step by step training
Great way to learn about paid advertising and CPA
No upsells
Easy cancellation (request within 14 days of billing)
Cons
Must pay for some 3rd party tools
A steep learning curve for beginners
Requires a large advertising budget
Final Thoughts And Recommendations
From what I've seen, and researched, I find this to be a legitimate platform that can offer you some excellent training on paid advertising techniques and strategies.
Is this a legitimate platform?   YES   
Would I recommend them?   YES
I'm just disappointed that it only teaches one form of affiliate marketing.  There are so many other lucrative ways to make money online. Maybe, someday, he'll expand his training…
The nice thing is that Joey seems to be quite involved with his platform. When checking out the Powerhouse Affiliate Facebook group (which I joined quite easily), he is active there.
You can pick up a few tips here and there if you scroll through.
If you're a beginner and find the learning curve somewhat steep, you can ask questions in their forum.
Free members can only view the forum. It's broken down into 5 or 6 general areas, then breaks down even further by topic.
This is something I don't like. It can take forever to scroll through all the posts in hopes of finding an answer to your question.
For instance, the "General Affiliate Discussion" section has 147 topics within it, that contains 484 posts. That's a lot of scrolling! And if you post a question, it might take several days before you get an answer.
That can be very frustrating for someone trying to learn the ropes!
To be honest with all of you, I'm finding it very difficult to remain positive when I'm unconsciously comparing it with the platform I'm currently on.
Simply because they offer this training as well as all the other ways you can make money online, with free traffic.
And, they provide all the tools and services you need, right there!
I'm not saying that Powerhouse Affiliate isn't good, because it is.
I've just found something better!
I would love for you to check out where I've learned everything about online marketing before you make any decision about Powerhouse Affiliate.
It's less expensive, and you can start for free.  You get:
Phase 1 of the training (10 lessons with 30 actionable steps)
Access to a large, active community that's live!
and much, much, more
If you click on the button below, you can read all about it.  Then you can truly make an informed decision about the path you wish to choose.

When you get inside, I'll meet you there. You'll have my help for as long as you need me.
My desire is to help you start your own online business, and see success in creating a passive income.
If you have any questions or comments, please leave them below, and I'll get right back to you.
Your friend,
Suzanne