Did you know that higher-end products have a greater chance of conversion being promoted through webinars? People want to see a real person, and some real proof to be convinced to purchase anything like that.
Are you looking for an easy way to show webinars without having to put your face on camera? If you're looking for a way to do this, you've probably come across Easy Pro Webinars.
They are promising just that! But is it true? Is it legit or another scam?
Excellent question and I'm happy to see you researching this product before purchasing. The sales page sounds so convincing, doesn't it?
We'll go inside, see how it works, and if it's what you expect. By the end of my review, you'll be able to make an informed decision if it's right for you.
I'll share my honest opinions and recommendations, OK?
Would you like to know where I learned how to create my own successful online business?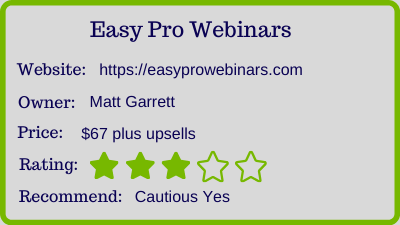 What Is Easy Pro Webinars?
This software creates automated webinar funnels to promote your choice of affiliate products.
It was created by Matt Garrett. He launched it on Warrior Plus on October 25th, 2019.
Easy Pro Webinars – $67
What's Inside
Create Auto Webinar
Add keyword
Add personal IDs
Add chosen product & bonus
Add webinar details
Add autoresponder optin form code
Add privacy information
Tutorials
Create Webinar Tutorials
YouTube API Tutorial
SEO Tutorial
Google Ads Tutorial
Facebook Ads Tutorial
YouTube Channels
Less Known Traffic Sources
DFY Bonuses
Preloaded ebooks in various niches
Bonuses
#1: Internet Marketing
#2: Health & Fitness
#3: Dating & Relationships
Upsells
OTO #1: Done For You Webinar Packs – $27 per month
OTO #2: WP Toolkit Developers Edition – $97
Who Is This Software For?
This software is for any affiliate marketer wishing to promote products via a webinar. Especially if you want to promote high-end products.
These types of products are much harder to convert without webinars.
This software finds the videos for you, has DFY bonuses to choose from, and puts everything together in a funnel ready to be shared.
It's a lot cheaper than a more professional service like EasyWebinar, which starts at $78 per month, where you have to create your own video as well.
So if you don't mind what the funnel looks like (there are no other choices), it's a great tool for both beginners and intermediate marketers.
Please know that this is just a tool for your online business. There's no guarantee you'll make loads of money. It really depends on your traffic sources.
If you're a beginner to the affiliate marketing industry, with no traffic sources as yet, you won't make much money, to begin with, unless you purchase paid traffic or paid advertising.
How Does It Work?
How would you like to sell affiliate products using the power of webinars? And without expensive monthly software or standing in front of a camera?
That would be great, wouldn't it?
Let's see what else the sales page says…
Sales Page
You could massively boost your sales if you had the same advantages as the "big boys". But it all takes time, money, new tools, new products to promote, etc.
And now it seems the mainstream webinar companies are offering automated webinars, which makes the gurus even more successful.
The solution is the availability of prerecorded webinars that you can use for free.
By plugging these into their new software, and filling in a form, you can promote your own webinars simply and easily.
And the best part is that you never have to get in front of the camera if you don't want to!
All you need to do is:
Step 1: Select any affiliate product the system finds for you in your chosen niche.
Step 2: Choose a webinar or video from that same niche.
Step 3: Pick a free bonus for your attendees, from over the 100 bonuses already in the system.
Step 4: Complete the form and click "Create Webinar" to generate your custom webinar.
When completed, your webinar sales funnel is complete. Inside this funnel you get:
A high converting registration page with a 2-step registration process to convert even cold traffic.
A thank you page that encourages your subscriber to view the webinar immediately.
A webinar access page with a countdown timer to increase anticipation.
When they begin watching, your subscribers are encouraged to stay on the webinar so that they qualify for a special bonus or offer at the end.
At your chosen time, a popup will open making that special offer, with another countdown timer. When the timer hits zero, the link is taken down.
But that's OK because your follow up email will give them another opportunity to "re-open" the offer.
At the end of the webinar, there will be a large call to action message posted on the screen, with an animated background to grab your viewer's attention.
So you see, they've thought of everything! It's not only great for conversions but grows your email list as well.
This software is cloud-based, with no monthly fees. The webinars are yours which you download on your own server so there's no risk of losing your work.
They'll also provide full video training on how to drive traffic to your webinars, both free or low cost, for sources such as Facebook, Google, and YouTube.
This all sounds really slick, don't you think?
Let's see if the product does what it promises…
Member Area/Dashboard
When you've accessed your member area, this is what you'll see…
The first thing you should do is watch the training videos to get acquainted with the software. They're easily accessible if you need to refresh your memory throughout the process.
Create Auto Webinar
When you click on "Create auto webinar" you'll be brought to a page requiring you to enter some information:
The webinar general subject (niche keyword)
Your Clickbank nickname (affiliate ID)
Your YouTube API key (optional)
When you've finished and clicked "create", the next page has a few more details for you to enter:
Webinar Title
You can decide what to call this webinar or use the one on the video.
Affiliate URL
If you click on this line, you'll be shown the products that the system has brought up for you.
For example, if you entered "Diet" as your subject on the first page, the system pulls up products relevant to that niche…
By clicking on the one of your choice, it automatically inserts the proper information on the form.
Free Bonus
This is for encouraging your viewer to continue watching to the end. If they do, they get a free download gift…
Simply browse through them and choose one that relevant to the webinar they're going to watch. Clicking on it will input the link into the form.
YouTube Code
Entering your code on the first page will give you many more video options to choose from. Clicking on this line will bring up all the videos the software pulled up for you…
As before, the one you click on will automatically show up on the form. If you wish to preview it first, simply click on the "red" YouTube icon, and it will open up in a new window for you.
Start Time
This feature is great if you need to remove the first part of the video. It may be promoting something different or has a logo of their business showing and you don't want it included.
By typing in the "hour/minute/second" that you want it to start at, you'll remove any unwanted footage.
Pop-up Time
This is the pop-up for the sales page, and ideally, you want it near the end of your webinar. That way your viewers are more engaged and likely to buy.
End Time
As with the start time, you can choose where you want the webinar or video to end.
Pop-up Button Text
This button is one the sales page, and you can change the text to whatever you wish. If you don't change anything, it will default to "Show Me My Special Offer".
This button does two things:
It delivers the free gift to the viewer.
It delivers the paid offer you're promoting.
Description Text For Thank You Page
The simplest thing to do here is to copy the description below the YouTube video and paste it into the editor…
Paste Your HTML or Javascript Web Form
This is so you can collect email addresses for your email list.
Go to your autoresponder, such as Aweber or GetResponse, and create your optin form.
When you've finished, you'll be able to copy the "JavaScript Snippet" or "Raw HTML Version" code to copy into the editor…
I use Aweber myself, but all autoresponders will have similar methods. This is all shown to you in the training tutorials.
Contact/Privacy Policy Customisation
These are the legal forms added to the sales page, and the system automatically generates them for you. All you need to add is:
Email address
Website name
Website URL
These only have to be entered once, and for future campaigns, simply click them from the drop-down list.
And there you have it! Click create and your webinar campaign is generated…
From here you can download it to your own server for safe-keeping.
This allows the webinar to be run properly, and not just on YouTube. People will be able to pause it, etc.
You can also "test webinar" to preview what your subscriber sees…
When they click on "enter", the screen will show numbers counting down to allow time for your video to load.
When it's done, a disclaimer pops up saying you've made every effort to be truthful and honest, and that you don't guarantee their success, etc.
When the video opens, don't be alarmed that it's showing on YouTube. This is only for the test. They will be watching the downloaded version on your own server.
Tutorials
This tab has all the tutorials needed to learn how to use this software, as well as additional training on:
YouTube API Tutorial – learn how to find your YouTube API code to put into the software.
SEO Tutorial – SEO is very important to rank your offer and be seen by potential customers.
Google Ads Tutorial – an excellent way to drive paid traffic to your offers.
Facebook Ads Tutorial – FB is still the most used social sharing platform to advertise on.
YouTube Channels – create your own channels to drive even more traffic to your offers.
Less Known Traffic Sources – learn the more obscure methods to find traffic sources.
DFY Bonuses
As shown in the image above, this is where you'll find all the DFY (done for you) bonuses already uploaded into the software.
There are multiple ebooks in the most popular niches that you should be focusing on.
Bonuses
#1: Internet Marketing
This bonus will save you hours of research in figuring out which are the best paying affiliate marketing products available.
These top products are currently paying some of the highest commissions to affiliates with many offering recurring monthly payments. Some could add up to $1500.00 per sale.
#2: Health & Fitness
This is another popular niche outside of the MMO (make money online) niche. This bonus gives you a list of the highest paying affiliate health and fitness products.
This niche has many sub-niches with many having recurring commissions giving you regular monthly payments.
#3: Dating & Relationships
This is another huge niche. There are loads of affiliate products for you to offer and they've put together a list of the top products in the dating and relationship niche.
All these bonuses include the full historical data of the products. They have been chosen for their high "average commissions per sale".
Upsells
OTO #1: Done For You Webinar Packs
This upgrade guarantees you new funnels every month. This will help you start making commissions even quicker.
They've spent hundreds of hours researching and selecting the very best products.
Then matching these products with the best webinars and bonus offers, provides you with great results as quickly as possible.
OTO #2: WP Toolkit Developers Edition
This upsell gives you 600+ premium themes and plugins with all the developer rights.
It's simply a massive library of premium WordPress tools offered for pennies on the dollar.
Demo Video
My Concerns?
I don't have any concerns with this software. It works very well to quickly and easily create webinars for your affiliate offers.
What's especially nice is that you don't have to be in front of the camera yourself. This is perfect for beginners or shy intermediate marketers.
That being said, I have a couple of concerns that I'd like to share with you.
Concern #1 – Stealing?
I have problems with taking other people's webinars and making them sound like they are mine. It isn't obvious to your viewers that you're not the person in the video.
Now, this is a personal issue, and may not bother you at all.
That's great, I'm not judging anyone!
But as my own business continues to grow, and my fans and followers know who I am and what I look like, it's obvious that the webinar is done by someone else.
Concern #2 – Updated?
Besides never knowing if the owner will continually update the software, my bigger concern is the DFY bonuses.
Are these evergreen or current?  Is the information in them quality?
This is important to know because your reputation is on the line.  People will quickly learn not to trust you if your bonuses are junk.
I'm not saying these are, just that you should review them before offering them as free bonuses.
But if they're old and outdated, will they be updated within the system?  Maybe not!
Concern #3 – Only Clickbank
I'm sure the reason they're using Clickbank products is that you don't need affiliate approval for most products.  All you need is your nickname ID.
The concern is that Clickbank is notorious for crappy products.  So again, you'd need to preview each product before promoting it to ensure your not offering junk!
Pros
30-day money-back guarantee
Low cost compared to other services
Great training
Can download your webinars
Cons
Will it be continually updated?
Quality of ebooks?
Final Thoughts And Recommendations
This software does what it promises on the sales page, and is quick and easy to use. It allows you to choose videos or webinars and put them into a simple funnel for sharing.
But any success will be determined by the quality of traffic you send to it.
This may be an issue for beginners who don't want to purchase paid traffic or paid ads. Starting out by sharing on your own social media accounts is not considered "targeted traffic".
Is Easy Pro Webinars a scam?   No
Would I recommend it?   Yes
Are you a newbie in this industry? If you are, I truly believe you need to learn the ropes before trying to promote products this way.
And not only that, you'd need a website to upload your webinars to. Do you have one of those yet? Probably not. And the training doesn't go that in-depth here.
Can I make you my honest recommendation?
I would love for you to come and see where I learned everything about affiliate marketing, and where I run my business today.
This is an all-inclusive platform that has everything you need under one roof. No need to hop around looking for additional training or tools. It's all there for you.
Here's a bit of what they offer:
Training – Step by step courses, classrooms, tutorials, and live weekly webinars.
A domain registry – An easy way to find the perfect name for your business.
A website builder – With over 4,000 WordPress themes to choose from.
Website hosting – With powerful servers, security, backups, and emails, and more.
A keyword research tool – Find low-competition keywords for the best ranking.
A large and active LIVE community – They always have your back!
And much more…
And the owners, who you meet and interact with whenever you wish, are so confident in their platform, that they allow you to start with a FREE starter membership. No credit cards necessary.
There's really no other place like this online today!
If you click on the image below, you can read all about it. And when you join, I'll be there to greet you and help you as long as you need me. See you soon!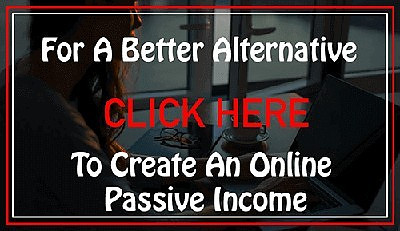 So where did you hear about the Easy Pro Webinars? I hope my review answered all your questions.
If you have any more questions or comments, please leave them below and I'll get back to you.
Cheers,
Suzanne
P.S. Please share my post with your friends!