Are you looking to make money online? If you are, I'm sure you've already come across "Explode My Payday", either on Clickbank, or delivered to your inbox.
I'm glad you're here to read the Explode My Payday review. This tells me so much about you. That you're not only smart but cautious with your time and money.
And that's awesome because you never know what these products are. Are they scams? Are they legit? Let's find out!
And if you're really serious about creating your own online business, please read about where I learned how to become successful, the honest way… CLICK HERE.
[adinserter block="1″]
What Is Explode My Payday?
This product is supposedly created by Meaghan Harper and is a product that will make you money without much work…Ya Sure!
So What's Included?
Explode My Software – $47
If you try to leave the page often enough, the discounts keep coming. First to $37, then $27, and finally $17.
Upsells
Big Bundle – $196
Campaigns – $99
Extra Costs
There will be considerable monthly costs for memberships to autoresponders, tracking products, and Solo Ads.
$$$ per month
This system is a renaming of a previous product called "Seven Figure Profit Code", which is no longer available.
[adinserter block="1"]
Who Is This System For?
Definitely, only the owner's pocketbook!
Please, please don't buy this! Not only are there red flags everywhere, but the income claims are also ridiculous and you're going to be wasting your money.
Personally, I didn't know whether to laugh or get really angry when I watched these videos, LOL
[adinserter block="1″]
How Does It Work?
That's a very good question! The video didn't give any indication of how you would make any money. Sure, it promises you can make over $1000 per day with only 15 to 20 minutes of work per day, but how?
Just so you know, I haven't purchased this system, but have experience with their previous one, "Seven Figure Profit Code".
Meaghan Harper is definitely a lie, and I'll prove that further on. When you click on the affiliate's page for the product, you listen to a video showing you the actual owner. He only gives you his first name as John.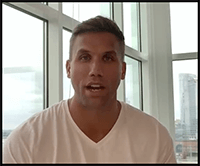 Personally, I don't know who he is, and nothing came up in the reverse image search using TinEye.
In the video, she claims to have already set up your website, and it shows a zero balance. Then after a while, she comes back and you've made several hundred already.
This is so ridiculous! It's not even possible!
But she sure pours it on, doesn't she? This is what frustrates me so much. That they use all the sales gimmicks in the books to convince you to buy. And the poor souls out there that are desperate to make money, for whatever reason, will have their hopes raised and want to buy.
Thank goodness there's a 60-day refund because the product is identical to Seven Figure Profits Code, and that didn't work either.
The system isn't even complete. You would have to purchase the upsells if you want to set up a working model, and have considerable extra costs for hosting, etc.
Same As The Previous Product
In the previous product, you are shown how to collect emails via a website they build for you.  Your contacts are then sent to a referral program called "Now Lifestyle", which is a health and fitness site.
The Website
You were required to set up a sales funnel through Click Funnels and provide hosting for that page (essentially this is your website).
These membership costs were your responsibility.
Promotional Product
Though most affiliate marketers will promote a variety of products, they only provided you with the "Now Lifestyle" program.
This review on Funnel X Advance talks about the Now Lifestyle system.
You had to purchase the monthly or annual membership to Now Lifestyle, which then provided you with the autoresponder.
They then recommended you use a product called WebFire, which is a tracking and analysis product to help you create the most effective advertising
All these products were at your own cost.
Collect The Leads (email addresses)
You were then shown how to collect these leads by sending out the ads to promote Now Lifestyle.
Another product creator uses this business to promote their sales funnel as well
This is where things can get very costly.  They want you to buy Solo Ads.  This is where you pay someone who will send your ads to their email lists.
This can costs hundreds of dollars each time you have a campaign.
Beware
Oh….and if you do decide to try this, please use a dummy email address, because when you enter your information to proceed to the second video, you're giving them permission to sell your information.
This is how your inbox gets spammed by others, by the way…
Take a look at the permission you give…
This product had a launch date on December 3rd, 2018 and held a contest until December 14th. And this is how the creators make their money. They invite everyone to promote their product and offer generous prizes to the top few affiliates.
These affiliates have huge email lists, probably gotten through means as in the image above. And many others buy lists via Solo Ads.
Because the product is so new, no one knows yet that it's (almost) a scam. People who are desperate to make money, buy the product and the creators get rich.
In time, there are enough reviews online to warn people off, so the creators move on to the next project. Sheesh…
Red Flags
Oh boy, where do I start? The sales page is full of them…
Scarcity tactics
They claim the registration will come down on the day you've opened the sales page.
There are countdown timers everywhere.
You've been selected for your city, only.
The last spot has just been opened because someone dropped out.
The list goes on. There are several alternate videos that have different gimmicks.
Fake Owner
This was already proven with the affiliate's information page, but here's more proof:
Notice how they used an image from Shutterstock…
Fake Testimonials
This is commonly done for most product videos that are scammy.
Most of these actors and actresses can be found on Fiverr, and many of the same faces are in other product videos.
Over The Top Video
I'll never understand why they need to do this? I guess because it still works on people.
When you start hearing things like "this is a private video, don't share it with anyone", you need to know how crazy that is. I mean, it's online! Anyone can access this.
When they start showing you "proof of income", even some as outrageous as these, always take it with a grain of salt. These types of images can be so easily faked.
And when they say they're the only ones who know "the secret loophole" to making money, run! LOL
Fake YouTube Video
These owners even went as far as to post a "review" video on YouTube. They created it with an actress from Fiverr, and gave her the name Stacy Morgan, with her own avatar picture.
Here's the proof that it's all fake…
Notice the description under the YouTube video says "You are one of only a few selected people to receive this personal note."
You're kidding, right? This is YouTube! How can someone be selected to view, haha? Oh, brother…
Take a look at other reviews I've written showing this actress…
Pros
60-Day Money Back Guarantee
[adinserter block="1″]
Cons
Impossible income claims
The product is very generic marketing information
Require upsells to make it work
Fake everything!
Can sell your email address
Final Thoughts And Recommendations

Well, as you've probably figured out, I don't like this product, lol. It's someone's shameful way of making money off of unsuspecting and innocent buyers.
I would love to see what their refund rate is, haha!
Is Explody My Payday a scam?  Very Close!    Would I recommend it?  NO, NO, NO
The reason I get so frustrated with these products is that they're giving affiliate marketing a bad name. They don't care about you or the industry. All they want is to make money, no matter who it hurts.
Affiliate marketing is a legitimate industry and yes, you can make an online income. A very good income if you do it right. Not like these selfish people.
In my opinion, affiliate marketing is all about helping people.
It's about choosing a niche that you're passionate about. For instance, my niche is all about helping people start their own online business, and providing the proper tools to do so.
And this greatly depends on building your own website. Not some website that someone else owns, but your own. This is the first thing I ALWAYS recommend to my readers.
Using someone else's is like a rental property. You never know when they may close down. Any money you may have been making just disappears overnight. You really have no control over your own business.
These types of systems provide a very narrow view of what affiliate marketing is.  In this case, they rely only upon email marketing (or as I would call it – email spamming).
Because they recommend you buy Solo Ads, you're spamming people's inboxes who haven't given you permission to do so.
But with the right training, there are so many strategies you can learn to create many income streams. Here are just some techniques you can use:
social media marketing
video marketing
online courses
Can I make you a much safer recommendation?
If you're serious about creating an online income and are willing to take the time to learn how to do it the proper way, I can show you how to start for FREE. No strings attached.
This is the training platform that I learned on, and I'm still there! They have everything you need under one roof, so no more need to search online and get caught by these scammy products.
The lessons are easy to follow for beginners. They have all the tools to build your website and other tools to help you get noticed by Google. Without that, you'll get nowhere, lol.
Everything is live and interactive. Their lessons are in text, video and live webinar. And the support is amazing.
They have over 1 million members, so obviously they're doing something right.
I encourage you to come and try it. Once you create your free starter membership (no credit card needed), Kyle, one of the founders, and I will greet you.
You then have our 1 on 1 support as long as you need us. In fact, you'll have the support of all the members. Everyone is so helpful!
Click on the image below to read how you can start your very own online business. You won't regret it. I promise!
So where did you hear about Explode My Payday? Did it land in your inbox with lots of promises? I'm so glad you thought to research it before buying and so happy I could save you the money.
If you have any more questions, please leave them below and I'll get right back to you.
Your friend,
Suzanne