Would you like to make extra money online with posting videos on YouTube? Some people make great money this way. If you've been looking around for some help, you've probably come across this product called Tubeloom.
But what is the Tubeloom program? Can it really provide you with the right training? Is it legit or just another scam? I don't blame you for wondering. For every one great product, there are probably ten scams.
I'm happy to see you here doing some research before you buy. And I want to help you by showing you exactly what you get inside, how it works, and whether it's worth the money. I'll give you my honest opinion, and then any alternatives, OK?
By the end of my review, you'll be able to make an informed decision about if it's right for you.
If you'd like to bypass all the uncertainty, and create your own online income, read about where I learned how to build my own successful business.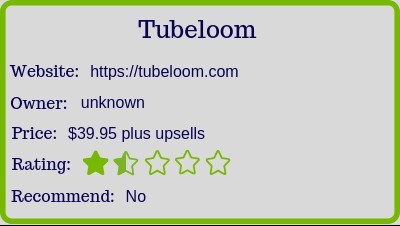 [adinserter block="1″]
What Is The Tubeloom?

This is a Clickbank product about how to make money by doing product launch reviews on YouTube. The narrator calls herself Charlotte White, but this is a fake pen name. The training inside is actually presented by Gerald Soh and Dean Henry. They are real persons!
It claims you can make $300 to $500 per day on YouTube, without getting in front of a camera.
Tubeloom – $39.95
What's Inside
For each video, there is also a transcript download.
Welcome Video – 2:17 minutes
Commission Overview – 4:35 minutes
Module 1 – Picking The Product – 5:28 minutes
Module 2 – The Review Video – 3:39 minutes
Module 3A – Video Optimization – 4:58 minutes
Module 3B – Video Optimization – 4:53 minutes
Module 3C – Video Optimization – 2:36 minutes
Module 4 – Outsourcing YouTube SEO – 16:26 minutes
Conclusion Video – 2:38 minutes
Bonuses
How To Triple Your YouTube Payments PDF
The Top 10 Most Lucrative Markets & Hobbies PDF
Recommended Resources
These are just the three links to the upsells listed below.
Upsells
Tubeloom Step by Step Riches – $67, downsell $37
Done For You Easy Cash Campaigns – $47

5 done for you campaigns
List of Solo Ad vendors

Vip Elite Mastermind – $47

Mastermind group
Interviews with Gerald Soh & Dean Henry
[adinserter block="1″]
Who Is This System For?

I have to say no one. Not only is this an old, outdated program that was relaunched with a new name, but it's also not going to help you make the kind of money it promises.
And certainly not overnight! Your YouTube channel takes time to earn enough traffic to make sales.
You first need to allow time for Google to rank you to be found in the first place. Then you need to start attracting traffic to get your "views" and followers.
The video really misleads you into thinking you'll make immediate money, but you won't.
He also shows you some strategies that are no longer recommended. For this reason alone you shouldn't consider buying this product.

[adinserter block="1″]
How Does It Work?

This sales page seems to have been updated not too long ago and looks a little better, but that doesn't mean the product itself has changed.
Let's go through the sales page and video, to see what we find…
The Usual Sales Page Hype & Lies
I was hoping maybe I had found a better sales video than many of the other products I review for you, but nope! Same as usual… sigh. This was the usual, emotionally driven sales video meant to hype you up.
Let me show you what I mean. To those of us with online experience, we can see many red flags that warn us away from things like this.
But if you're new at this, and are looking for a way to make money online, you may not notice. Hopefully, after reading my review, you'll be able to spot them in other product promotions as well.
Red Flag #1: Little-Known?
Charlotte wants you to think that you've stumbled upon a little-known money-making secret. A secret hidden in plain sight!
Who doesn't like to be in on a secret, right?
But it's no secret and very well known, lol. It's all about making money using YouTube. And there are millions of people already doing that!
Red Flag #2: Outrageous Income Claims
She claims you can make $1000 with a few hours work? Or how about $322.50 with only 9 minutes work?
Now don't get me wrong. This is possible, but only after a lot of work, time and patience.
When your YouTube channel has been around for years, and you have a huge following, you can make lots of money with affiliate links and advertising.
But it's not an overnight success like she implies.
Red Flag #3: 3 Minutes…
Ok, this really isn't a red flag so much as it really annoyed me. Charlie keeps saying she going to reveal the secret in 3 minutes.
Arg… the video was over 30 minutes long…
This is just another way to keep you listening to the video. If you think it's only 3 minutes long, you'll stick around right?
But if you knew it would be over half an hour of your time, you'd probably leave, haha.
Red Flag #4: Fake Testimonials?
You come to realize that this product doesn't work when you discover the testimonials are all fake.
If it worked, the owner could interview any success stories. But because there aren't any, he pulls up random images online, adds a story to it, and pretends these are actual testimonials.
Here's my proof for you:

Red Flag #5: The Usual Sob Story
Charlie gives you quite the sob story. This is done in hopes of the owner connecting with his audience on an emotional level.
This is a valid technique, and I use it myself sometimes. It helps to build a relationship with your reader.
But these stories are all fake and usually over the top, lol.
When you've listened to as many sales videos as I have, writing product reviews, you soon start to see a pattern.
These stories almost always follow a generic script which looks like this:
Something happens to his job or his health, and he's almost ruined.
Can no longer take care of his wife and children.
Someone he knows shows up with an idea.
He launches the system and makes immediate money.
Now he's rich and wants to help people.
This one was slightly different and included a sick child with huge medical bills, but basically, they're all the same!
Red Flag #6: Can It Be That Easy?
Nope! It can't!
She would have you believe that all you have to do is make a short video about a product, upload it to YouTube, and get commissions the same day.
But where did the traffic come from?
EXACTLY!! There's no way you could have traffic coming to your website the first day you set up your YouTube channel.
To get buyer traffic you need to do:
Find an affiliate program for the product you want to review.
Do keyword research to find high traffic, low competition keyword.
Drive traffic to your video via organic traffic from your website (people looking for a solution online).
Drive traffic by promoting your product via social media.
Drive traffic via email marketing.
Etc, etc, etc.
And she claims she made two sales with just 10 minutes of work… I don't think so!!
Do you know how many videos are watched on YouTube every day? 5 Billion! So if you don't know how to get your video ranked on the first couple of pages, no one will see it.
And if no one sees it, how can you get any sales?
Red Flag #7: Blueprint?
What do you think about when you hear "blueprint"? Something very detailed and step by step, right?
Knowing what's usually included isn't what's promised, I'm very skeptical at this point. Being an online marketer myself, I know what's required to make money online. YouTube included.
So let's take a look at the product to see if they deliver what they promise.
The Product Is Outdated! Unethical?
When you get inside the member area, you first see a thank you page, directing you to the downloads. Both the videos and the transcripts have to be downloaded to your computer.
When you click on a video, the first thing you see is the name "Easy Tube Commissions". There's no Tubeloom branding so this is obviously an older product.
Just A Name Change
After some research into the older product, which is no longer available, I discovered that Tubeloom is an identical product. They only changed the name of the product but didn't bother to change the branding of the videos to Tubeloom.
I suppose that's OK, but it does tell you that the system is an older one!
Personally, I would want updated and current training in any system I would consider buying. And that's because the changes in the online marketing industry can happen often. Using outdated strategies can just end up hurting your business rather than helping it.
Easy Tube Commissions was a JVZoo product that was archived in 2016. This link was still available when I wrote this review if you'd like to take a look at it.
How Old Is This?
This system was launched in 2016 under a different name, and who knows if it was launched even earlier than that under yet another name.
You can also see an old version of Microsoft Windows in the videos. Someone with enough computer savvy will know how to interpret that to the newest software, but those with no computer experience will struggle to follow.
You also need to know that outdated training is not recommended for current marketing strategies. Things can change very quickly with online marketing, and using outdated methods could actually hurt your business.
Next-Day Commissions? Really?
No, sorry. That's not possible. It takes time for your YouTube channel to earn traffic. And that's doesn't happen overnight.
Unfortunately, the sales video was very misleading about how quickly you can make money.
I'm not sure why they'd even add that to their sales page, because the videos themselves tell you several times that some steps take as long as 15 days to finish.
I Have To Outsource?
He recommends you outsource your YouTube SEO. SEO stands for "search engine optimization".
Google has certain requirements they want to see with any of your posts, whether written or video, in order to rank high enough to be seen. And he tells you that you need:
Views
Embeds
Likes & shares on social media
He then recommends you go to Fiverr, and find a vendor who will sell you these things.
Please don't do this! This is considered a "black hat" strategy and when Google finds out, you'll never be ranked!
Is This Unethical?
What they teach you in these videos is called "launch jacking". Basically, this means that you're reviewing products before they're launched.
The idea is to write a positive review on a product "about" to be launched, in hopes that people will want to purchase it through your link.
This issue I have is that you're only talking about the positives and if you're getting that from the product's sales page and video… well, you now know how often they lie to you…
What happens to your reputation when your customers realize the product they bought is junk?
This method is for those who are just out to make some money and don't care enough about their viewers to deliver an accurate review.
The Upsells
Would you think the upsells would be any better than the main product?  I don't and that's why I didn't purchase any.
Personally, when the owner can't bother to introduce himself, and then you find out the product isn't what he promised you, I'd stay far away from any upsells.
They are just another way for this owner to make more money off of you…
Better Alternatives
If YouTube marketing is something you'd really like to do, then here are some better choices for training:
2019 YouTube Marketing & YouTube SEO To Get 1,000,000+ Views by Alex Genadinik: This course will show you how Alex created a 99% automated channel with over 2 million views. Click on my link to see the full course breakdown.
YouTube Masterclass – Your Complete Guide to YouTube: Phil and Michael give you a complete guide to starting a YouTube channel, getting more views & subscribers, and building a brand with videos. The link will show you the course breakdown.
Searching for free online courses will bring you many options, though be aware that most free training will be brief. You will most likely need additional training, or you will be hit up to purchase their upgrades.
Pros
60-day money-back guarantee (from Clickbank)
Low cost
Cons
Incomplete and outdated training
No support
How do you review a product you can't yet buy?
Black hat strategies
[adinserter block="1″]
Final Thoughts And Recommendations

YouTube marketing is a real way to make money online. If you learn the proper techniques with the best tools available, it can be a very profitable business for you.
Unfortunately, Tubeloom is not what I'd consider the best tool available, lol.
The videos in this product are much too short and outdated to teach you anything to sustain a long-term business.
You need to learn how to use affiliate marketing techniques within your YouTube channel with the most current training available.
Did you know that Google owns YouTube? So that means that you need to follow the same SEO requirements for YouTube as you do for posting on Google.
It makes regular algorithm updates and if your strategies go against their recommendations, your posts and videos won't see the light of day…
Is Tubeloom a scam?   No.  Would I recommend it?   No
As I said before, you need the most current training available. And training that is continually updated to reflect any recent algorithm changes.
Can I make you my sincere recommendation?
I would love it if you came to see where I learned everything about affiliate marketing. And yes, YouTube marketing as well.
This platform has continually updated training, tools, and a live community of like-minded people for support and encouragement. It's what you'd call an all-inclusive platform that has everything you need under one roof.
And the best part? You can start for FREE! How great is that?
There's nothing like it online. And with over 1.5 million members? They must be doing something right!
If you click on the image below, you can read all about them. When you join, I'll be there to greet you and personally help you as long as you wish.
So where did you first hear about Tubeloom? Did the ad come to your inbox? I'm not sure why it's still available, but will most likely not last much longer.
If you have any comments or questions, please leave them below and I'll get right back to you.
Cheers,
Suzanne