Are you wanting to make some extra cash online, and looking for a way to learn? What about Copy Paste Income? Could this be something legit or just another scam?
These are very good questions, and I'm happy to answer them for you. It's difficult to know if these sales promotions are all hype, or if it'll actually do what it says it will.
I will show you exactly what's inside, how it works, and if it's right for you. By the end of my review, you have everything you need to make an informed decision. And I promise to give you my honest recommendations.
If you'd like to know where I learned to create my own passive income, read this!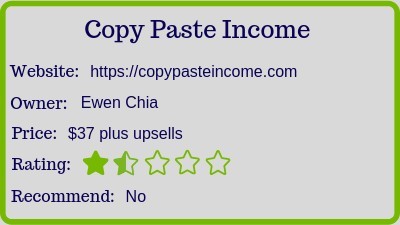 [adinserter block="1″]
What Is Copy Paste Income?
This is a Clickbank product created by Ewen Chia. He has been online since 1997.
It's all about affiliate marketing and making money by giving away free viral mini ebooks. Ewan's system is supposed to be a system so advanced, that all you do is copy and paste the done for you tools.
This site was created in 2014.
Copy Paste Income – $37
What's Inside
Complete Coaching Videos (approx. 2.5 hours)
Step #1: Profitable Niche – 36:53 minutes
Step #2: Affiliate Products – 16:43 minutes
Step #3: Relevant Keywords – 10:06 minutes
Step #4: Create Mini Ebook – 39:18 minutes
Step #5: Promote Mini Ebook – 46:22 minutes
Summary, Advanced Strategy – 6:43 minutes
Copy Paste Ebooks
10 ready-made ebooks to rebrand
Subscriber Secrets
Internet X-Factor
Email Profit Maximizer
Ezine Secrets
Easy Content Cash
Secret Marketing Formula
Preselling Secrets
Effective List Building Secrets
How to Boost Your Online Sales
How to Create Affiliate Bonuses
Earn Easy Cash
Become an affiliate of Copy Paste Income
Provides your affiliate link
Email swipes
Classified Ads copy
Facebook/Twitter Ads copy
Banners & Graphics
Resources
Copy Paste Traffic (Upsell – see below)
Traffic Software (Upsell – see below)
Website Software (Upsell – see below)
Affiliate Coaching – Super Affiliate Millionaire product – $297
Done For You Biz (Upsell – see below)
Push Button Profits – dead link…
Upsells
Auto Social Cash Special Discount – $197
Cash Sites Software Lifetime Membership – $197
Complete Business Set-Up – $297
Copy Paste Traffic & Copy Paste Conversion – $67
Expected Costs
Domain name – $15/year average
Website hosting – $30/month and up
Keyword research tool – $49/month and up
Email capture service – $19/month and up
[adinserter block="1″]
Who Is This System For?

Unfortunately, no one. The information you get is old and outdated. There's no way to build a long-term sustainable business.
And with each member using the same 10 free ebooks, your competition is using the same promotional material you are. The market will become, or already is, saturated with the same ebooks and offers.
The best way to make sales online is to be genuine, unique, and earn a loyal following by offering valuable and helpful answers to your reader's questions and needs. This is not the way to do that!
[adinserter block="1″]
How Does It Work?
Ewen Chia, the creator of this product, doesn't have the greatest reputation online. He has been around since 1997 and at the time he made quite a name for himself as a super affiliate.
But recently, he's been accused of creating poor quality products that many marketers don't recommend.
So let's take a look at his sales page, and then his product, to see if it's legit.
When I find anything that raises any red flags, or outright lies, I'll let you know. And the way you'll be able to recognize them in future product promotions OK?
The Sales Landing Page
I was surprised to not see a video. Especially in this day and age. Video is an excellent way to promote anything. Many people prefer listening to a video than reading a long promo page.
Well… red flags right off the bat, lol.
Red Flag #1: You Can Make How Much In 24 Hours?
Ewan starts off by showing you some incredible sales numbers, saying you could make that in just 24 hours from now.
I can honestly tell you that this is impossible. And any successful online marketer will agree. I know it looks amazing, and I don't blame you for wishing it were true. But it isn't.
It's just a way to keep your attention and keep reading.
And even though he says this is proof of what you can make, a snapshot like this can be faked so easily. How do we know it's his? And if it is, there's no proof of name of date.
Red Flag #2: Exaggerate Much?
I know he's been successful online, but really? Merchants would send him cash (among other things) to keep him affiliated?
Or he would sign up as an affiliate and there would be 10's of thousands of dollars in commissions the next day?
Sounds like he's stretching the truth here, I'd say…
But when he says some merchants were willing to pay him 150% commissions was when I rolled my eyes.
How could a merchant stay in business if he pays out more then he makes? Sounds a little fishy to me…
Red Flag #3: Another Secret
He says he knows how to drive traffic. And I'm sure he does. That's the only way to make money online.
But I always laugh when I hear these "gurus" say it comes from a secret source that no one teaches about.
He says they either don't know about it, or they want to keep it to themselves.
You know what? There are no secret sources. Every possible traffic source is being used. Please believe me here.
When these product creators use words like "secret", it's to push your psychological buttons. Who doesn't want in on a secret, right?
But that's all it is. Just a way to get you excited about his offer and persuade you to buy quickly without thinking.
Red Flag #4: Will It Really Be Done For You?
Though he claims he started helping his students create a highly profitable business in one week (impossible), then 3 days (really impossible), then 1 day (absolutely impossible)…
He's now implying that all you have to do is copy and paste and you'll be making money.
Not only don't I recommend made-for-you systems, but this is starting to sound like you'll be emailing out his own emails and promoting his product.
Whatever it is, he says he's spent hundreds of thousands of dollars hiring experts to create each element of the system. And you get to use it for free! Ya, sure…
All you need to do is "activate it" in under 10 minutes. And you'll be making sales the next day.
Well, I'm not convinced. Especially when he shows us this…
I don't know of any successful online business that doesn't have any of the assets described in the image above. If you want any control over your own business, you would need at a minimum:
A domain name
A website
Website hosting
Without these, and using someone else's material, you're at the mercy of the system you're using. No control, no say, and possibly no money if it shuts down…
Red Flag #5: Traffic Magnets?
What the heck is a traffic magnet? LOL. He'll say anything to keep you on his page!
He says he's giving you three that could triple your income with each addition. Amazing! So that would be 9 times the traffic with all three. Ya, sure…
Notice he doesn't tell you what they are…
I have my suspicions, and I'm prepared to be disappointed, haha. This is just a lot of hype to push your buttons. He wants you so excited about everything that you'll buy without thinking.
Now, let's take a look at the actual product…
Another Outdated Product, Sheesh!
Videos 1-5
The first five videos that are fairly basic but offer you some useful information:
After Ewen explains how the system works, you're told you will add your own affiliate link into a free ebook. And guess what? The first one I looked at promoted his own product. I KNEW IT… LOL.
Heres a screenshot from the ebook "Subscriber Secrets".
I'm not sure how we could rebrand this ebook? It's obviously Ewen's product. And personally, I find it a little tacky and not something I'd write myself.
Because it's not consistent with my style, I'm sure my readers would wonder why I'm promoting this to them.
This is a surefire way to lose your reader's trust and have an abundance of "unsubscribed".
He then shows you a few tips about how to pick your niche. Um, if the ebook promotes his product, isn't that niche already picked for you??
Even though much of his videos are outdated, he does give you some good tips on choosing your niche, finding a product for that niche, and finding relevant keywords for promotional purposes.
I disagree with how he teaches you to create your own ebook, though.
Ewen recommends you use PLR content or Public Domain articles. PLR stands for private label rights.
This is content written by someone else who sells the rights for you to use it as your own. The other articles are those that are free for anyone to use.
Sure, this type of content is really cheap, or free, but is that wise? It won't sound like you or be uniquely yours. Will this confuse your readers? Aren't they used to your writing style by now?
The 5th video is obviously outdated too. He recommends uploading your ebook to article directories. This is no longer a recommended strategy.
And promoting in forums and on social media has it's own rules now. If you simply upload everywhere, you could be banned for spamming.
How many other identical ebooks are being promoted?
Another great question. If everyone who's purchased this product is using the same ebooks, the market will be saturated, and therefore ignored.
Video 6
The advanced strategy video is about email marketing. Brief at only 6 minutes. And didn't he say you didn't need any tools etc?
You can't do email marketing without and email list. And to collect email addresses, you will need an email capture service.
That's not free, and yes, it' a tool, lol.
Also, it's less about email marketing and more about promoting his own product called "Autopilot Profits". This product isn't even available on Clickbank anymore! LOL.
The Free Ebooks
He had said that these ebooks were brandable. Nope! The only changes you'll be making is adding in your own affiliate link from Clickbank.
These "free" ebooks are also filled with other advertisements. It may give more opportunities to get additional sales, but personally, when I want to give something away for free, it won't be loaded up with additional spam…
A few of the ebooks have useful information for your readers, but most of them are outdated. There is much advice that just isn't recommended anymore.
And because he advises you to use PLR material for your own ebook creations, you can be sure that these are the same thing!
Earn Easy Cash?
This is the only other section you have access to unless you've purchased any upsells. And it's all about promoting Copy Paste Income. Surprise!! Haha
Do you want to promote an outdated product to your email list? I don't. But if you do, he provides you with everything you need including email swipes, graphics and social media ads.
Notice it says "classified ads"? That right there tells you how outdated it is.
Even sites like Craig's list and Kijiji now have rules against this type of spam. And good luck on social media. Facebook would just as soon ban you from posting ads like this.
When Ewen created this product, you could probably get away with all of his recommendations, but not any longer.
Resources
Everything under this tab is upsells. And I've noticed they've changed with his new sales page.
The old upsells included a product called $1K a Day Biz which invited you to join MOBE. This was taken down by the FTC when it deemed MOBE to be a scam.
And I'm guessing his "traffic magnet" are in these upsells somewhere because there's no mention of them in the primary product.
I would never recommend the upsells to anyone because if the product itself is outdated, so will the upsells be!

Pros
60-day money-back guarantee
Cons
Old, outdated training
Some strategies no longer relevant
No done-for-you system
No support
[adinserter block="1″]
Final Thoughts And Recommendations

Copy Paste Income may have been more relevant back in 2014 when it was first released, but no longer. It's now recommending outdated strategies that no longer apply.
The ebooks themselves are supposed to be brandable, but really, all you can do is add your own Clickbank affiliate link to them. You can't make them as you own because many have his own image and products promoted within them.
And I certainly don't agree with his saying that you don't need a website. Any successful online business needs a website. That's your "home base", your very own real estate online.
Yes, you don't need any technical knowledge or coding experience, etc, because these days, building a website is done for you with the amazing technology they offer today.
Another confusing statement is your not needing an email list, yet one of his modules talks about email marketing. It's pretty difficult to promote to your email list if you don't have one, lol.
Is Copy Paste Income a scam?   No.  Would I recommend it?   No
Making money online is easy when you have the proper training and tools.
Did you know that affiliate marketing is the best method for beginners to start? And once you've mastered that method, there are many more you can learn to scale and grow your business and income.
Can I make you my honest recommendation?
I would love for you to come and see where I learned everything about online marketing, and where I run my own successful business to this day.
This platform has everything you need under one roof, and the best thing is that you can start for free!
If you click on the image below, you can read all about it. And when you join, I'll be there to greet you and help you as long as you need me to. See you soon!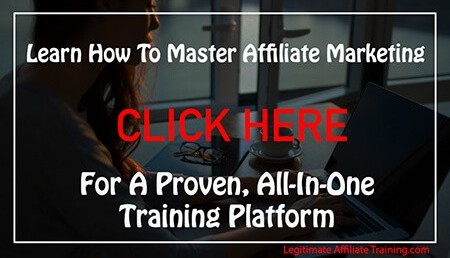 So where did you hear about Copy Paste Income? I'm always surprised and disappointed when these old products are still for sale. It's misleading to so many people!
If you have any questions or comments, please leave them below and I'll get right back to you.
Your friend,
Suzanne