Are you wanting to make money online and have heard of Virtual Assistants?  It's a real job!  Have you been researching this industry and found ClickEarners?
But what is Click Earners?  I'm glad to see you researching this product before jumping in.  It's a wise decision because there are so many scams online, that it's hard to tell the good from the bad.
So is this one legit or a scam?  This is why I write these reviews for you.
I want to show you what's inside, how it works, and if it delivers what it promises.  
I'll then offer you my honest opinion and recommendation, OK?
If you'd rather learn how to create a passive income instead, please read where I learned how to succeed online.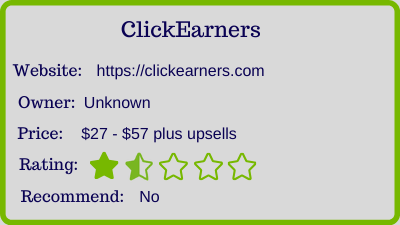 What Is The Click Earners?
This is a Clickbank product, and the creator is unknown.
This is an informational product that provides information and resources related to working as a freelance virtual assistant.  The website was registered in December 2017.
Click Earners is not to be confused with another service called Click Earner.
ClickEarners – $27 for 12 months, or $57 for lifetime access
What's Inside
Operations Manuals – PDFs
Virtual Assistant
Data Entry
Social Media
Click Earners Marketplace
Type in your keyword
Enter a location
Choose from: Freelance, Full time, Internship, Part-time, or Temporary
Register With…
Descriptions for…
Data Entry/Input
Admin & Secretarial
Customer Services
Envelope Filling
App Testing
Game TestingSocial Media Manager
Writing Jobs
Paid Survey & Research
Photography Jobs
Online Tutor Jobs
Resume template
Support With…
Facebook Groups
Virtual Assistant Tribe Job Board
VA for Hire
Virtual Assistant Connections
Virtual Assistant Business Community
Virtual Assistant Studie
The VA Virtual Cafe
VA Directory
Virtual Assistant Tribe
Virtual Assistant Clinic
Social Media & Marketing Jobs
Industry Overview Infographic
If you would like to see this infographic, click here!
Virtual Assistant News
3 links to news sources
Virtual Assistant Blog
Bonus
Link to WhatsApp
Upsells
#1:  Envelope Filing Starter Pack – $47
#2:  Mystery Shopper & Secret Diner Starter Pack – $37
#3:  VIP Package Success Coach – $3 for a 7-day trial, then $14.97 per month
Who Is This System For?
This program would be for anyone who's interested in being a virtual assistant.  It's a viable way to make money, and there are many different types of jobs available online.
Though you could find all this information for free, online, this product basically puts it all in one place.
My main concern is if the listed jobs are regularly updated.  There's also no training and no support.
I don't recommend the product, but know that you have a 60-day money-back guarantee if you want to try it.
Remember to go directly to Clickbank for your money back, and not the system itself.  Clickbank is very good to refund your money if you don't like it.
How Does It Work?

When you first see the sales page, you don't get any information until you give them your email address.  It will also say that they need more people in your country, which is just a scarcity tactic that's used to hype you up.
You then answer a short questionnaire, which again, is only hype.  They are not about to turn you away and lose a potential member!
When you're "approved", they will again tell you there are limited spaces remaining.  This cracks me up, LOL.  It's amazing how they try to make you think you should hurry…
These are online jobs!  There are no limited spaces, haha!
You are then required to choose your membership, which isn't really a membership so much as a Clickbank product worth $57.
The Member Area
Once inside the member area, you will see this…
You are congratulated and directed to download your three PDFs.  These are simply an overview of each area (Virtual Assistant, Data Entry, and Social Media).
Job Marketplace
The Job Marketplace allows you to search and browse remote jobs, tasks and projects.
To find these jobs, you would enter a keyword and then a location if you want.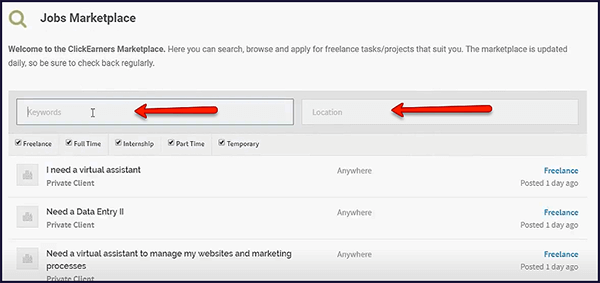 It then pulls up all the available jobs according to your keyword.  It will show:
The job name
The location if you asked for one
What type of job – Freelance, full time, temporary, etc.
When it was posted
Suggested Categories
The first section advises you to register with four different platforms.  It gives you the links to four well-known freelance sites.
These sites are where people go to find someone who's offering various tasks to complete.  For instance, if you know how to do web design, or create a video, you would post an ad saying you can do this.
You would advertise your skills to acquire work.
Below this, is a section of descriptions of all the areas I've listed above.  It gives you a link to register for that specific type of job, as well as estimate the earnings per hour you might receive.
Your Resume
They provide you with a template for your cover letter and resume.  This could be a real asset for a beginner to virtual assistants.

Creating a proper resume is more important than you think, and online job requirements are the same as offline.  You must present yourself with as much professionalism as anywhere else.
Support
You are given links to three online organizations for support in this industry.
These websites can give you many more details about what to expect, as well as contact a real live person for help.
Facebook Groups
There is a list of links to various Facebook groups that are for the virtual assistant industry.  These can offer you a lot of support from a like-minded community.
Upsells
I never recommend the upsells when I don't know who the creator of the product is.  He calls the first two "starter packs", but I feel that they could just be more PDF's.
And the coaching upsell?  I have no idea what they could possibly provide for $14.97 per month.  
Freelance Company Comparisons
My Concerns

Oh boy, there are many…
Concern #1 – Smoke & Mirrors
First of all, this website is just a front to sell you a Clickbank product.
Nowhere on their website does it say you will have to pay for their services.  They make it sounds like it's a freelance website where you will learn about the industry, and find various tasks and projects for you to work on from home.
Concern #2 – Real Jobs?
I don't know how updated these jobs would be.  The site says that it's updated on a daily basis, but is it?
Often, these types of products are left online without any maintenance.  The product creator put it together to sell, and after a couple of months, they're ignored.
Concern #3 – Unreasonable Income Claims
The rates per hour for each section are rediculous.  The jobs they're listing are the lowest paying jobs online!
These jobs usually only pay pennies to do online.  Anytime you might be paid $25 per hour as a freelancer is when you have a very specific skill.
And even then, it takes training and time to get to those levels.  For instance, you're a web designer or logo creator.  Then yes, you will climb to those income levels with experience.
But filling out surveys, customer service, or envelope stuffing??
I would say that the suggested earnings are for those who already have some virtual assistant experience, and can show this on their resume.
And really, those types of people won't be needing this type of product, lol.
Concern #4 – No Support
The fact that they send you elsewhere for support is troubling.  For instance, they give you links to 3 online sites specializing in freelance work.
This tells me that this site was created to make the owner money, and that may he isn't invested with this product.

Pros
60-day money-back guarantee
Real ways to earn money
Low cost
Decent overview
Cons
All this information can be found for free, online
No Video training
No support
No step by step system
No community
No passive income opportunity.
Final Thoughts And Recommendations

I think this product is in no way worth the money.   You could get just as much information online with a little research.  It's a real industry with many opportunities.
The fact that there's no system support is frustrating.  To me, that says the owner isn't invested in this program and wants it to run itself.
The good thing is that there are many sites online that do provide support and encouragement.  And I'm sure the information they provide is much more detailed than Click Earners.
I provided you with the links to the three VA sites, above, and I'm sure there are many more online.
Is Click Earners a scam?    No  
 Would I recommend it?    No
As I said before, this is an industry that many businesses use, and many people work in.  Working online can afford you flexibility, as well as being able to work from any location with an internet connection.
And it can be quite lucrative if you happen to find a full-time position with a business.
The only thing is that you are trading time for money like any offline job.  You work, you get paid.
Which is ok, don't get me wrong.  But I would love to see you build your own business to create a passive income.  And the easiest way is with affiliate marketing.
Can I make you my honest recommendation?
I would love for you to come and see where I learned everything about affiliate marketing, and where I run my business to this day.
This is an all-inclusive platform that has everything you need under one roof. No need to hop around from site to site trying to figure out what to do. It's all there for you.
Here's a bit of what they offer:
Training – Step by step courses, classrooms, tutorials, and live weekly webinars.
A domain registry – An easy way to find the perfect name for your business.
A website builder – With over 4,000 WordPress themes to choose from.
Website hosting – With powerful servers, security, backups, and emails, and more.
A keyword research tool – Find low-competition keywords for the best ranking.
A large and active LIVE community – They always have your back!
And much more…
And the owners, who you meet and interact with whenever you wish, are so confident in their platform, that they allow you to start with a FREE starter membership. No credit cards necessary.
There's really no other place like this online today!
If you click on the image below, you can read all about it. And when you join, I'll be there to greet you and help you as long as you need me. See you soon!
Are you truly interested in becoming a virtual assistant?  Or are you simply wanting to earn money online?  There are so many ways, and I'd love to help you.
If you have any comments or questions, please let me know below, and I'll get right back to you.
Your friend,
Suzanne