Have you heard about affiliate marketing? How about Clickbank? If you've been hearing about becoming a Clickbank affiliate, I'm sure you've come across this product.
But what is 24-7 Wealth Club? Is this a legit system, or just another scam?
I'm so happy to see you researching this product before buying. It's a very smart decision because you don't want to waste your time and money, right?
This is why I'm writing this review. To show you what you'll actually get, how it works, and if it's right for you. Then I'll share my honest recommendation with you, OK?
And if you just sick and tired of looking for a system that actually works, please read about where I learned how to become successful online.
[adinserter block="1″]
What Is 24/7 Wealth Club?
This product claims to be a done-for-you money making system that you can set up in minutes. It claims you can make up to $13,127 per week, starting today.
The narrator's name is Richard, who is a fake name for the owner. This website was created in March 2019, so it's fairly new. The product is about becoming a Clickbank affiliate.
24/7 Wealth Club – $37
What's Inside
24/7 Wealth Club Course PDF's:
Course Intro
Cheat Sheet
Mind Map
Resource Report
Ready Make Sales Page
Sales Video
Legal Pages
Graphics
Articles
Banners
Email Swipes
24/7 Wealth Club Video Training (Video):
Introduction – 1:34 min.
Choosing A Niche – 3:46 min.
3 Layer Conversion Systems for Clickbank – 11:11 min.
Clickbank Marketing Overview – 15:22 min.
How To Select A Product – 3:19 min.
Finding Keywords – 0:58 sec.
Quora Answering Questions – 4:59 min.
Commenting On Blog Posts – 3:10 min.
Forum Marketing – 4:29 min.
Twitter Marketing – 2:45 min.
Automated Facebook Marketing – 1:43
Conclusion – 0:40 sec.
24/7 Wealth Club Website
Download your ready-made website & graphics
24/7 Wealth Club Audio 
Lesson 1:  24/7 Wealth Club Audio
Lesson 2:  Websites
Lesson 3:  Graphics
24/7 Wealth 1.0

24/7 Wealth Club AZ – Overview about how to sell on Amazon, 6 PDF's
24/7 Wealth Club CPA -Introduction to CPA (click per action) strategy, 2 PDF's
24/7 Wealth Club Traffic Course – Discusses traffic strategies using social media platforms, 3 PDF's
24/7 Wealth Club FBA – Explanation of "Fulfillment By Amazon", 1 PDF
Upsells
#1: 24/7 Wealth 2.0 – $194
24/7 Wealth 2.0 – Overview on how to become an Amazon affiliate – 15 short videos (2 to 4 min. each)
24/7 Wealth 2.0 Instagram – PDF and 4 videos
24/7 Wealth 2.0 YouTube – PDF and 4 videos
24/7 Wealth 2.0 Twitter – PDF
#2: 24/7 Wealth Pro – $177
24/7 Wealth Pro – Overview of selling on social media.
24/7 Wealth Pro Video Training – 16 videos
24/7 Wealth Pro Social Media Marketing – 10 lessons with templates and videos
24/7 Wealth Pro Traffic Video Course – 12 videos discussing traffic sources
24/7 Wealth Pro List Building – this is a new section added to the older product
#3: 24/7 Wealth Social – $97
24/7 Wealth Facebook – 21 videos
24/7 Wealth FB Marketing – 2 videos
24/7 Wealth Snapchat – 26 videos
24/7 Wealth Bing Ads – this is a new section added to the older product
[adinserter block="1″]
Who Is This System For?
If you're interested in becoming a Clickbank affiliate, or an Amazon affiliate, then this product will give you a brief overview of the process. But that's it. It's not a shortcut to making thousands of dollars. He may tell you it all done for you, but it's not!
I've included a couple of links in the Video Training list above, so you can get an idea of what you'd get…
You will really need additional training to become successful with these marketing methods. Much of what's inside this product can be found online for free, so I'm not convinced it's worth the price. But I guess it is convenient to have it all in one place.
You will need to weed through the outdated training though.
The section on becoming an Amazon affiliate is very old with some sections that can't be used today.
When looking through this product on the inside I thought it looked very familiar. And guess what?? I discovered that part of this product is another, an older one, that I've reviewed time and time again…
[adinserter block="1″]
It Just Won't Go Away…

This owner is the worst type of serial product launcher. It seems he repackages these products almost every month. This one is an older product with newly added material. Sheesh.
And I'm sure he's making tons of money each time he launches them. He offers huge prizes to his affiliates, who go out and push a "new" product. Then he renames it and launches it again the next month.
It's people like this who make a bad name for the wonderful industry of affiliate marketing.
The 24-7 Wealth Club is a PLR product called Clickbank Marketing Secrets. It was submitted in December 2018, so it should be fairly updated as far as the training goes.
A PLR product is written by a separate author, who then sells the rights to resell the product under your own name. It's commonly done, and this is fine as long as it's accurate to today's methods. Many of them are sold for cheap because they're outdated.
The rest of the product is an outdated PLR called Amazon Affiliate Profits, which hasn't been updated since 2016. Some training isn't even applicable anymore due to changes Amazon has made to their site.
I've written reviews on these other systems if you'd like to see what I mean…
And to top it off, I found proof that it's renamed from yet another product, "Smart Profit App".  Here's a snapshot of my purchase order…
This guy needs to come up with a new product, lol.
[adinserter block="1″]
How Does It Work?
As I mentioned above, this is a repackaged and renamed older product that the owner has relaunched. At least this one has a recently new section about Clickbank that could be useful, haha.
Just be prepared to get outdated information on the rest of the system, as well as the upsells. You'll have to pick through the training to find out what's useful.
Another Hyped Up Video
The video is what I expected… talks about how you can make so much money, with little work. And yet never tells you what the system is!
The owner most likely hired a spokesperson to read his script. He never introduces himself, which is always a big red flag to me.
I mean, if it's such a great system, why not take the credit and introduce yourself! I would!
Instead, he says anything he can to push your psychological triggers. Meaning, he hypes you up by making you think this system will show you how to make thousands of dollars each week.
He gives you fake testimonials about how much money his students have made. Ya sure! How can someone just trust that he's telling the truth? He just spits out a name and a number and were supposed to believe him, lol.
At least there are no fake videos with hired actors this time…
He also uses scarcity and secrecy to get you excited.
There are only 9 new spots available.
Don't share this video with anyone, not your spouse, your parents, or your best friend.
This opportunity won't be around forever.
Do you know how ridiculous this is? This is a Clickbank product which means anyone can purchase this at any time, as long as it's available.
And the owner certainly won't take it down until he stops making money, lol.
It's always amazing to me how often these creators say they're part of some secret inner circle. He claims he was active on secret online forums, and as he was refining his system, he had to keep turning down major investors who wanted to buy him out.
Hahaha… Oh brother! He should have taken the money and ran…
There's Some Improvement To An Old Product
The Clickbank product is OK, but certainly not enough training to make you successful. It's a great overview of the process but that's about it.
What's so disappointing is that the video tells you that this is a revolutionary, done for you, money making system. And it's not! So please don't expect everything to be done for you.
To have a successful business, you will need additional training, patience, and time.
The rest of the system, about Amazon, is outdated and I wouldn't recommend you use it. If you do, you'll have to filter through the modules to find out what's useful and what's not.
For instance, the training talks about you setting up your own Amazon aStore. But this is no longer available on Amazon.
They have long been retired, yet this training is still being sold today. The image below is the list of chapters in the PDF…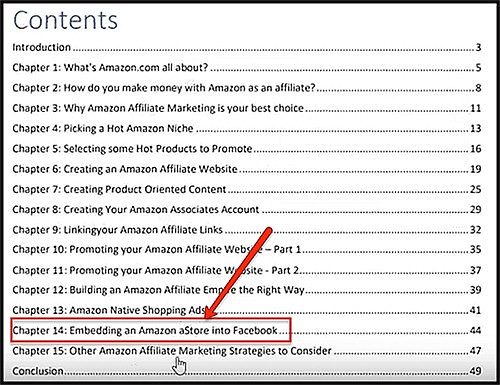 This snapshot is the current page regarding aStores on the Amazon Associates page…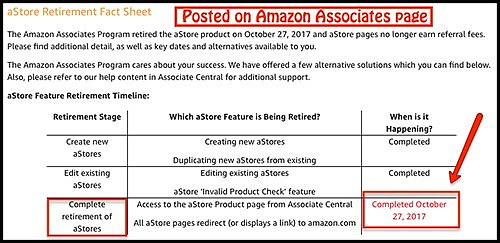 This PLR original product was correct in early 2017, but no longer!
Would You Trust The Upsells?
Personally, I never buy the upsells of a low-quality product like this. How can I trust that the upsells won't be outdated as well? Did he just take a section of the outdated PLR and is trying to make more money off of you?
I suspect he is. And if I'm right, you'll be spending hundreds of dollars for nothing.
At least in 24/7 Wealth Club, he's added a couple more modules to change it up, but that doesn't mean it's any good.
Clickbank Alternatives
If you really want to be a Clickbank affiliate, there is more current training available online.
ClickBank Knowledge Base – Why not go to the source itself? Clickbank offers its own training.
Udemy – This site is full of amazing courses about any topic you can think of. And you'll often find their $200 courses on sale for $14.99
Amazon – The Clickbank Marketing Secrets ebook is being sold by different authors. This link here is the cheapest at $2.96 for Kindle or $12.99 for paperback.
Pros
60-day money back guarantee
Cons
Unrealistic income claims
Repackaged older product
Insufficient training
No made-for-you system
[adinserter block="1″]
Final Thoughts And Recommendations
I have to wonder how many more times I'll be reviewing this same product, lol. 24/7 Wealth Club has at least added a new, fresher PLR product, but the remaining system is still outdated.
It's people like this that frustrate me so much. My desire is to help people start their own online business to create a passive income for themselves. And it's very real and possible when you get the proper training and tools.
And then someone comes along who's only interested in making a bit of money by selling trash to unsuspecting persons. Persons like you who simply want to earn some extra money to help with the bills, or to travel, or to help with retirement.
I believe success comes with the desire to help people with valuable information. And when you're sincerely helping, you create a loyal following who learns to trust you.
This is why these serial product creators never show their faces. Can you imagine what would happen when their customers found out who they really were? That would be the end of their reputations, LOL.
Is 24/7 Wealth Club a scam?   No   Would I recommend it?   No
Personally I don't believe it's worth $37. I've provided you with better alternatives, above.
So why do you think being a clickbank affiliate is good? I mean it is, if you can find a quality product that's actually helpful, lol. But did you know you can become an affiliate of many more products and services?
Online affiliate marketing is a widely done and profitable industry. You don't have to limit yourself to Clickbank products. Unfortunately I find the majority of products to be low-qualtiy and wouldn't want to offer them to my readers.
I believe in offering only valuable, helpful solutions to people wishing to create a passive income.
Can I make you my honest recommendation?
I would love for you to come and see where I learned all about affiliate marketing. It's an amazing platform that has all the training and tools under one roof. I've run my business there since 2011, and I love it.
Their expert training will show you how to choose your favorite niche all the way to building your website for you. Because owning your own website is important to having a successful business. After that, there's endless training on all different marketing strategies, not just affiliate networks like Clickbank.
And there's the awesome community support. It's integrated right into the platform, and is live. They currently have over 1.5 million members worldwide, so you can imagine how many members are logged on each and every minute/hour/day.
It's a proven system that works! And I'm proof, lol.
The best part is you can create a FREE starter membership, no credit card needed. It's an awesome way to test drive the system. And if you're like me, you'll join within days when you see the value.
If you click on the image below, you can read all about it. And when you join, I'll greet you on the inside and help you for as long as you need me to, OK? See you soon!
So where did you hear about 24/7 Wealth Club. Did it come to your inbox? Or maybe social media? I don't expect it will be around for long, but you never know, haha.
If you have any questions or comments, please leave them below. I'd love to hear from you.
Cheers,
Suzanne