Are you looking for a way to make some extra cash? Maybe you'd like to be your own boss and make money online? If you've been looking online for some ideas, you would have come across this product, right?
But what is the 10 Minute Paydays? Is it another scam, or could it actually help you make a ton of money?
I'm so happy to see you doing research on these systems before purchasing. I know it's only $9, but if you spend $9 here, $19 there, etc., it all adds up. And trying to get refunds is such a pain.
This is why I write these reviews for you. I want to show you what's inside, how it works, IF it works, and if it's right for you. By the end of my review, you'll be able to make an informed decision. I'd also like to give you my honest opinion and recommendations, OK?
And if you're tired of trying to find something that actually works, let me show you where I learned how to succeed online.
What Is The 10 Minute Paydays?

This is a Clickbetter product (not to be confused with Clickbank). This site was registered in April 2019.
It claims to teach you how to create $5000 per month with only 10 minutes of work each day. The training includes various freelancing gigs you can do online.
The creator calls himself Gregg Price, but this is only a fake pen name. The owner is unknown.
10 Minute Paydays – $9
What's Inside
Introduction – Sign up for John Crestani's Super Affiliate System for $997 (optional)
10 Minute Paydays Method 1 – 18 page PDF
Making Money by Doing Online Voiceovers
10 Minute Paydays Method 2 – 22 page PDF
Making Money by Selling Stock Photos
10 Minute Paydays Method 3 – 21 page PDF
Making Money by Freelancing Online
10 Minute Paydays Method 4 – 22 page PDF
Making Money With Online Gaming
10 Minute Paydays Plus – 28 page PDF
This covers topics such as subcontracting freelance jobs, building a service business, and useful resources.
10 Minute Paydays Secret Method – 25 page PDF
This covers several topics, like social media, niche marketing, analytics, finding clients and building an agency.
Upsells
#1: Double Your Profits – $197, downsell $97
#2: Boost Profits 5X – $147, downsell $47
Expected Costs
Depending on your choice of venues, the costs may be quite high:
Camera equipment
Video equipment
Gaming equipment
My Summary Review Video
Who Is This System For?
No one! There's nothing in this system that can help you make the thousands it's promising.
For $9, all you're getting are vague, outdated PDF's that just give you a basic overview of different ways to make money online. And the info you do get isn't enough to get you anywhere.
It will give you the ideas, but you will need to do much more research in any specific industry, to know how to succeed.
Each industry is a valid one, and with enough time and experience, there is money to be made. Just please don't expect this product to help you, other than to briefly describe what each one is.
How Does It Work?
Oh my! This sales video is so over the top, lol. As soon as I hear so much hype and lies, I know it's going to be a lousy product, lol. But hey, you never know, right?
Let's take a look at the video, so I can show you what I mean…
The Crazy Sales Video
So right off the bat, he says this is a "free, money-making system that you can use to generate up to $5K with just 10 minutes of work each day".
Lie #1 – Short Work Day?
Hahaha… there's no way you can make that kind of money with only 10 minutes of work each day.
Please believe me! I've been doing online marketing for a few years now, and it takes much more than 10 minutes of work a day to become successful.
If you were doing any kind of freelance work, you'd be spending much more time than that as well.
What about gaming? My son did a lot of online gaming, and I only wish he was online 10 minutes per day, LOL.
But according to this guy, you can work 10 minutes on your laptop each day, then go sit outside and sip margaritas. Boy, I only WISH this could be true.
Lie #2 – Fake Testimonials
These testimonials are all fake. The owner doesn't have any successful customers to interview, so he hires video spokespersons from freelance sites like Fiverr.
Here's my proof for you…

As it turns out, her exact video the owner used is on her ad on Fiverr.
It's actually pretty ironic, right? He claims you can make money doing voice-overs, and he turns around and hires an actor to says she's made a ton of money with this product!
The actors are doing exactly what this product says it will teach you. Unfortunately, it's doesn't do any of that!
Lie #3 – Become a Millionaire?
He says many people have become millionaires using the methods taught in this system. Oh brother, I seriously doubt that!
And he gives you some proof by showing you a fake income statement from Bank of America.
Funny thing is that I'm pretty sure I've seen this "proof" on other sales videos.
Now, I'm not saying that professional freelancers aren't making money, but becoming millionaires? Not with stock photos anyway. They generally sell for very little.
Lie #4 – Going Away?
As usual, there's false scarcity to hype you up. He claims that when he's helped enough people, he'll be taking this video down.
And then what? You'll lose out on your chance to make up to $35K this week. Wow! What nonsense! These sales videos are getting more absurd every month…
He goes on to say that if you don't make up to $35K this week, you'll get a full refund. Funny!
Lie #5 – The Usual Sob Story
These types of sales videos typically have the "owner" tell you how he came to be so rich. They always start off with a tragic sob story which usually follows a general script, like this:
Something happens to his job or his health, and he's almost ruined.
He can no longer take care of his wife and children.
Someone he knows shows up with an idea.
He launches the system and makes immediate money.
Now he's rich and wants to help people.
This one was slightly different, but basically the same.
They do this with the hopes of resonating with their visitors. He hopes that you can relate to the story, and feel connected.
Well, maybe if I hadn't heard anything like this before, I'd wonder. But I'm telling you this so you can recognize it in other product sales videos.
Lie #6 – Insulting…
The owner tries to push your buttons! He goes on about "if you're smart, you'll get this system", or "I'm giving you the golden ticket".
He then says if you're not extremely excited right now, that maybe this system isn't for you. That you should get off this page and leave this valuable opportunity for someone who really wants it and DESERVES it.
OK, so now I think he's kind of a jerk! LOL
So now let's look at the actual training system…
Shocking Truth Revealed
I shouldn't be surprised. I've seen this done with so many other products. But it's still so disappointing.
This system is rehashed from an older product that's no longer available. It was called 30 Minute Money Methods, and I've written a review on that one too.
It has the same dashboard, with the identical PDF's. Take a look at this product's member area…
Now take a look at 30 Minute Money Methods member area..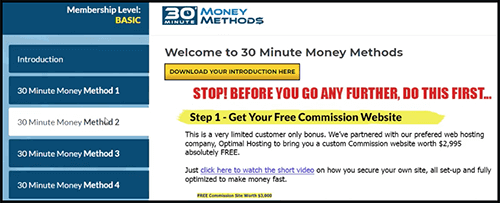 See what I mean? And the PDF's are exactly the same information, just redone with a different cover page. Here's a comparison for you to look at below.
The first is the table of contents for this product…
Now take a look at the PDF from the 30 Minute Money Methods…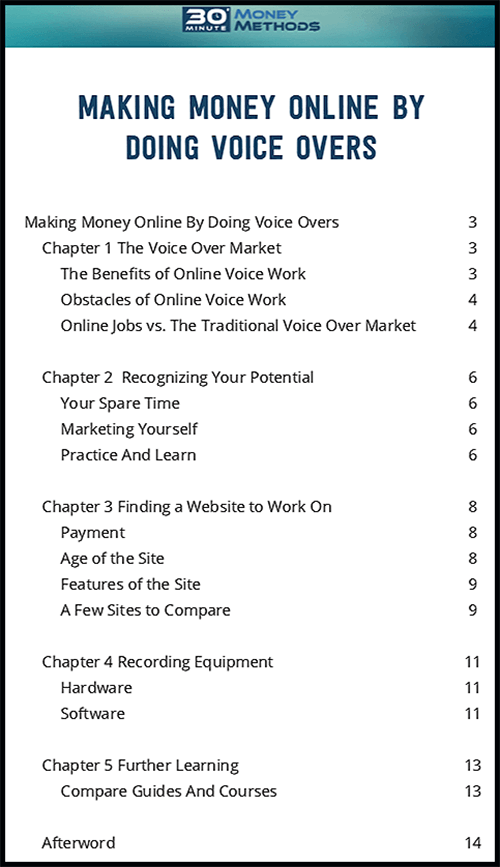 The exact same information but reprinted in a different PDF with a new cover page.
Isn't it amazing that his 30-minute product for $37 is now a 10-minute product for $9, haha!
So Where's The System?
There is no system! All it has is 6 PDFs with a very basic overview of different forms of online jobs.
It's ridiculous really. Especially after the hyped-up video telling you how you can get rich with this system. There's no way that can happen.
I suspect these are old PLR ebooks that he bought to sell as his own.
PLR stands for Private Label Rights. This means that someone wrote the material and then sells his right to use it to his customers. Many marketers will purchase them, then change it up a bit, put their name on it, and re-sell it.
The information in these PDF's are simply an overview of what is possible for you to do to make some money online. They are all valid industries, but without any training, you'll be hard-pressed to make even pocket cash.
So when he says you can be set up in no time and making thousands by the end of the week is an outright LIE!
What About The VIP Workshop?
The offer you see as soon as you get into the member area is a webinar by John Crestani. He sells his own system to affiliates. It's called Super Affiliate System, and I've reviewed this already.
Many of these low-quality product creators add this offer to their own. If anyone buys it for the $997 entry price, the owner makes a large commission.
The PDF's
These PDF's are short, vague, outdated, and all-around poorly written. Other than talk about the various ways you can make money online, they simply don't give you any practical training.
The first 4 are at least focused on their single topic, but the remaining 2 are a mess!
I have to wonder if he took several articles on different topics, and spun them all together to create very confusing PDF's.
For instance, take a look at the chapters of the "Secret Method" PDF…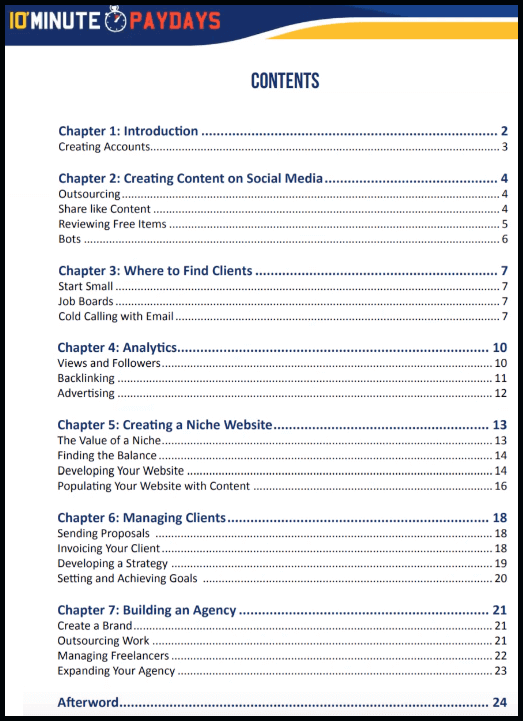 Each chapter is about something entirely different. There's no flow here.  Just a mish-mash of varying topics.
Let's say you wanted to learn about "Creating a Niche Website".
Do you really think you could learn anything helpful in 3 pages?
The Upsells
I would never recommend you purchase the upsells with these types of products. Not only do I not trust something from an owner who can't introduce himself, but if the main product is bad, the upsells will probably be bad as well.

Pros
60-day money-back guarantee
Low cost
Cons
Unrealistic income claims
Unrealistic time frame (10 min./day)
No training what so ever
Basic overview only
Final Thoughts And Recommendations

As I expected after viewing the sales video, this system is nothing like what it promises. I'm always surprised at the outright lies these owners put in their promotions.
It tells me that all they want is your money. They don't care that you're spending money on trash. And they're hoping that your $9 is low enough that you won't bother with applying for a refund.
I guess with enough $9 sales, he'll make a little money on this…
Is 10 Minute Paydays a scam?   Darn close…
Would I recommend it?   NO
It's online marketers like this that make a bad name for affiliate marketing. This is such a wonderful way to make yourself a passive income, and with proper training and tools, anyone can create their own online income.
And I know this because that's what I do! I've been working online for a couple of years now, and have built a successful business earning me a monthly income.
Yes, it takes time, work, and patience. But when all the hard work starts to pay off, it's so worth it!
My desire is to help you create your own income and to help you avoid garbage like this product. They are full of lies and that's what I wish to expose in my reviews.
Can I make you my sincere recommendation?
I would love for you to come and see where I learned everything about affiliate marketing, and where I run my business to this day.
This is an all-inclusive platform that has everything you need under one roof. No need to hop around from site to site trying to figure out what to do. It's all there for you.
Here's a bit of what they offer:
Training – Step by step courses, classrooms, tutorials, and live weekly webinars.
A domain registry – An easy way to find the perfect name for your business.
A website builder – With over 4,000 WordPress themes to choose from.
Website hosting – With powerful servers, security, backups, and emails, and more.
A keyword research tool – Find low-competition keywords for the best ranking.
A large and active LIVE community – They always have your back!
And much more…
And the owners, who you meet and interact with whenever you wish, are so confident in their platform, that they allow you to start with a FREE starter membership. No credit cards necessary.
There's really no other place like this online today!
If you click on the image below, you can read all about it. And when you join, I'll be there to greet you and help you as long as you need me. See you soon!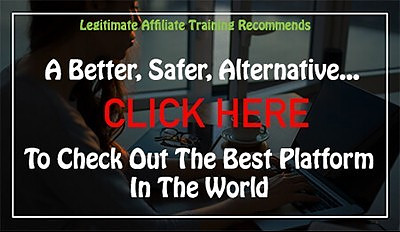 So how did you come across the 10 Minute Paydays? Was it online, or did it end up in your inbox? I'd love to hear how you came across it.
And if you have any questions or comments, please leave them below. I'll get right back to you.
Cheers,
Suzanne