Are you hoping to find an easy way to make money online? Are you hoping to make money fast?
If you've been searching for a way, you most likely heard about this product. But what is Profit Sniper X? Is this a legitimate product or just another scam?
I'm glad you're asking these questions and doing the research before purchasing this product.
Let's go inside so you can see what you get, how it works, and if it's what you expect. Then I'd like to share my concerns with you so you learn the truth behind this newest launch.
By the end of this review, you'll be able to make an informed decision if it's right for you or not, OK?
Would you like to see where I learned how to create a successful online business and income?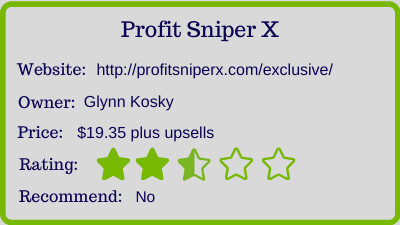 What Is Profit Sniper X?

This product creates sales funnel, both DFY or your own, and GiFs for social sharing.
It was created by Glynn Kosky and his team. He launched it on Warrior Plus on June 21st, 2020.
Profit Sniper X – $19.35 (10 campaigns per month)
What's Inside
Dashboard
Training
Set Up Campaigns (See Demo Video Below…)
How To Connect Your Autoresponder
How To Create The Promo Page GIFs
How To Add Products To The Download Page
How To Add Additional Affiliate Products To The Download Page
Traffic Strategies – Email
Traffic Strategies – Video
Traffic Strategies – 3 Free
4 Free Traffic Sources
New Campaigns
List of Your Campaigns
Create New
Done For You Funnels
GiFs
List of your GiFs
Create a GiF
Autoresponders
Aweber
Get Response
Mailchimp
convert Kit
Sendlane
Active Campaign
Hub Spot
Constant Contact
Sendiio
Affiliate Products
Free Traffic
App 1: Affiliate Traffic Lab
App 2 + 3: Viral News Jacker + Tube Traffic Machine
App 4: Triple Traffic Bots
Submit your Link for Free Traffic
Clickbank Database
Bonuses
#1: Multiple Free Traffic Softwares
#2: 70+ Extra Bonuses
#3: Guaranteed Approval To High Converting Affiliate Offers
#4: Exclusive Live Streams
Upsells
OTO #1: Unlimited – $67, downsell $37
OTO #2: Done For You – $97, downsell $47
OTO #3: Unlimited Traffic – $97, downsell $47
OTO #4: $30K Per Month – $97, downsell $47
OTO #5: Super Affiliate – $97, downsell $37
OTO #6: License Rights – $97, downsell $67
OTO #7: Auto Profit Boost – $47, downsell $37
Who Is This System For?

No one! I can't recommend a product that's been rehashed so many times. It's getting ridiculous, really!
The hype on the sales page alone is scary. They're taking advantage of beginners and telling them they can make thousands of dollars in no time at all.
It's simply impossible, and it makes me mad that they make a bad name for affiliate marketing.
This is a wonderful industry if done properly, honestly, and with a willingness to help your audience.
I'll still show you what the product is, but please read my concerns as well, so you understand why I can't recommend this product.

How Does It Work?


This appears to be yet another DFY (done for you) funnel creator that claims to get unlimited leads, sales and commissions on demand.
These seem to pop up every other week or so, and I'm quite skeptical. Especially when one of the first comments is:
"This Automated DFY System Is Making Us Over $10K PER WEEK From Free Traffic!"
This is all hype and I can tell you right now, it's not true!!

But let's see what else the sales page says. I'll leave out all the usual hype, OK?
Sales Page
It says all you need are 3 quick steps to grow your buyer's list and automated commissions:
Step #1: Grab your copy of Profit Sniper X.
Step #2: Login and enter your affiliate link into a DFY campaign.
Step #3: Enjoy the free traffic you'll get in 30 seconds or less.
This is what you get with this system:
Multiple DFY lead profit funnels
1-click autoresponder integration
GiF creator
DFY lead page templates & lead magnets
100% free traffic included
Step by step training
Agency rights included
Well, now let's see if the product does what it promises…
Member Area/Dashboard
When you get access to your dashboard, this is what you'll see…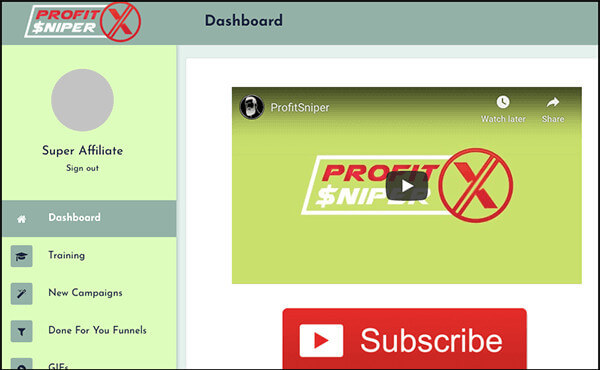 Right away, I can see that this product is a rehashed software that he's released several times over with a few different tweaks here and there.
They get their software developers to change a few things, make it look a little different, and then release it as a "new" product. AGHHH…
Here's my proof. I've written many other reviews of his products, and here's 3 of them:
Additional proof was watching the "How To Add Additional Affiliate Products To The Download Page". OOPS…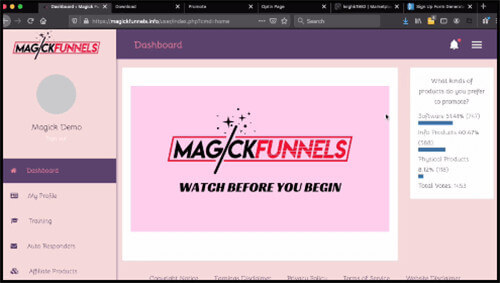 I'll go through the main sections to show you what's inside. The demo video below shows you how it works.
Training
The first thing you should do is watch the training so you know how to use the software. It's easy to use software, but the videos are there in case you get stuck.
The GiF training talks about a free screen capture and video recording software called TinyTake, which is pretty cool.
There are also videos explaining how to use some upgrades if you purchased any.
The traffic videos are the same ones he includes in all his products, and have some useful information you can use.
You're then invited to subscribe to his partner's YouTube channel. Leigh uploads many helpful videos to help you with your online business and traffic strategies.
New Campaigns
This section lists all the campaigns you've already created and where you would go to create a new one.
To do that, click on "create" and you'll be brought to the editor.
To start, you can upload an optin page template…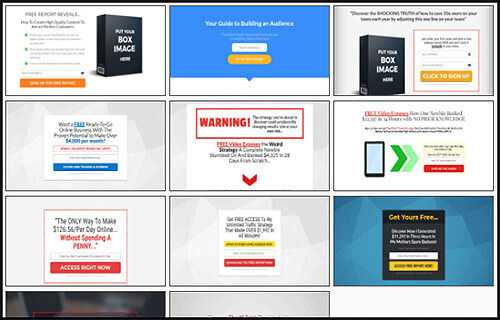 When uploaded, you have the option to "clone" the page. This is great if you want to do some split testing between two variations of the page.
Now all you do is edit the settings:
Integrate your autoresponder
Add your affiliate link and GiF
Set your download page CTA (call to action)
Choose your bonus product
Add any conversion tools (upsell)
Done For You Funnels
There are 11 DFY funnels here, in different niches. The products are:
Cinderella Solution
Flat Belly Fix
Yoga burn
12 Minute Affiliate System
Affiliate Bots
Clickbank University
Video Marketing Blaster
Viddyoze
Sqribble
The EX factor
Teds Woodworking
The woodworking product is crap. I know this from personal experience!!
You're provided with the optin page, the promo page, and the download page.
Your free traffic is the ability to share your funnel on any social sharing sites you have an account with…
You can access each funnels stats, but I don't find this useful at all. All it shows is the browser and IP address of whoever clicked on your page.
GiFs
This section is where you can create your GiF. You can upload a video from your computer or enter a video URL.
The video can only be an Mp4 and 5 seconds long.
The training video for this talks about a free online screen capture software that you can use to capture 5 seconds of any video playing on your computer.
Please be aware that if you upload a video from YouTube or Vimeo, you could be breaking Copywrite law.
Autoresponders
As you can see, there are 9 different autoresponders you can integrate with this software…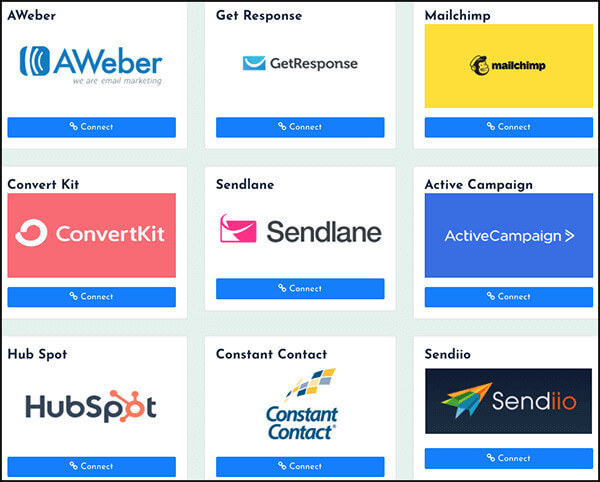 When you click on your choice, a popup with instructions gives you the steps to take with integration.
It's very easy to do, but if you have any difficulty, there's a training video for this step.
Affiliate Products
If you'd like to add your own affiliate products to this funnel creator, this is where it's done.
Simply add some details about it, upload your image and affiliate link, and your button text.
Now you can go back to "New Campaign" and create your funnel with your newly added affiliate product.
Free Traffic
This section has a video explaining how you download the traffic training and apps…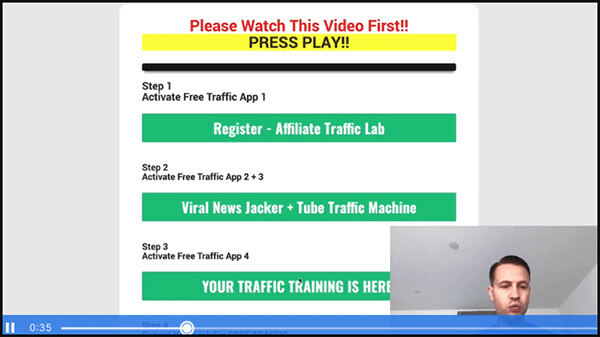 You would have received another download page with your purchase, providing you with the links.
Clickbank Database
This section is convenient to find more products for you to promote. This is also why he can say you'll have guaranteed affiliate approval for all your chosen products.
It's because they're Clickbank products which the majority don't require you to ask for approval. You simply add your account ID to the affiliate link and away you go.
You can search for a specific niche or product, and it will provide you with stats to help make your choice…
All the other tabs on the dashboard are for any upsells you may have purchased, your profile settings, and support.
Please watch the demo video below.
Bonuses
#1: Multiple Free Traffic Softwares
You'll get free access to their premium traffic software and access to their unlimited free traffic system.
They use these traffic sources on a daily basis to generate their traffic.
#2: 70+ Extra Bonuses
This bonus includes a large collection of their best products.
It includes training products, software, and enough stuff to keep your head spinning with ideas for a long time.
#3: Guaranteed Approval To High Converting Affiliate Offers
Newbies have a difficult time getting affiliate approval without a proven sales record.
This bonus will give you automatic approval to 10 of their best-converting offers.
#4: Exclusive Live Streams
To help ensure you optimize this system, you'll be invited to several live streams to watch.
These are exclusive to members only and will include Q & A sessions.
Upsells
OTO #1: Unlimited
This upgrade will allow you to create unlimited campaigns, sites, funnels, and hosting on their servers. You'll also get access to their premium suite of templates.
You'll also be provided with:
Unlimited free buyer traffic
Premium support from the USA
Additional money-making features
Full-length video series
Fast start guide
OTO #2: Done For You
Now you can get everything done for you with hand-picked offers proven to convert. Simply login and add your affiliate link.
Your DFY funnels will be:
Halki Diabetes
Custom Keto
My Back Pain Coach
Thumbnail Blaster
Tao of badbass
OTO #3: Unlimited Traffic
They are allowing 50 people to siphon traffic from all their previous and future sales pages.
By simply adding your own pixel to their pages, you'll be able to tap into the buyer traffic. This data could result in 10s of thousands of retargeting opportunities.
OTO #4: $30K Per Month
This upgrade will provide you with DFY high-ticket offers to make you huge commissions.
You'll get additional training, money-making bonuses, and a 2-hour rapid response support team.
OTO #5: Super Affiliate
This software provides you with DFY bonus pages. Free bonuses encourage people to purchase the products you're reviewing, to make you even more money.
This bonus page software will create your pages in minutes, including opt-in pages that are integrated with your favourite autoresponder.
OTO #6: License Rights
This reseller license allows you to sell this product yourself and keep 75% of all the profits. With the sales funnel and promotional material at your disposal, all you need to do is add your affiliate link.
You'll also get 1-on-1 coaching, a fast start guide, exclusive mentoring, and access to their traffic video library.
OTO #7: Auto Profit Boost
With this exclusive suite of conversion boosting tools, your pages will convert like crazy. This upgrade will take things to the next level and fast track your success.
You'll get to:
Add Facebook Ads pixels
Add Facebook comments
Add exit popups
Add social proof popups

Demo Video
My Concerns

Wow, where do I start, lol? Funny thing is that the software does work, but I'm so tired of seeing this software rehashed over and over again, I'm hesitant to recommend it.
These are my concerns I'd like to share with you…
Concern #1 – Unbelievable Hype
This is the most frustrating thing for me. These sales pages that have so much hype and lies, all in order to take advantage of beginners who don't know any better.
And this is the reason why so many new entrepreneurs think that online marketing can make you rich overnight. It just doesn't work like that.
The most maddening thing is that these product creators KNOW THAT!!
But they don't care about you. All they want is to make themselves money at the expense of others!!
Concern #2 – Ridiculous Amount of Upsells
7 upsells!! That's ridiculous.
They offer you the bare minimum with the front end product, then try to convince you it won't work as well without the upsells.
The sign of an honest marketer is someone who over-delivers the value you get when you purchase their product. Not the other way around. Sheesh!!
Concern #3 – Rehashed Product
As I previously stated and proved, this is simply a piece of software that been rehashed, re-tweaked, and re-launched so many times.
I was recently reading an article from a software developer who was so frustrated with other developers who steal or copy the code of specific software, then claim it as their own.
This is why you see so many similar products launched every month!
Pros
30-day money-back guarantee
Low cost
DFY funnels included
Cons
Hype lies to beginners
Limited front end product
Rehashed product
Need upsells to optimize the product
Final Thoughts And Recommendations

Though the software does work, I simply can't recommend another copy-cat product that's considered a "churn and burn" technique.
Because these products come and go so quickly, there's no way to know how long it will be up and running, let alone any support.
Is Profit Sniper X a scam?   No
Would I recommend it?   No
If you're a beginner to affiliate marketing, there is a much safer and reliable way to learn. What if I told you of a wonderful platform where you can learn from the ground up.
Can I make you my honest recommendation?
The platform I run my business on is one of the best online today. Not only do they have expert training for affiliate marketers, but they also have:
Training by experts who've worked in the industry for over 15 years.
A domain registry so you don't have to search elsewhere.
A website builder that extremely fast and efficient.
Powerful website hosting that's an industry leader.
A keyword research tool to get you the best ranking on Google.
An affiliate platform with the top vetted affiliate programs.
A large and active community that's live with thousands of members online every day.
And so much more…
And guess what? You can start for FREE! Isn't that amazing?
Just sign up with your name and email address. No credit card info required to start!
Click on the button below and you can read all about it. When you join, I'll greet you on the inside and help you for as long as you need me to.

So where did you hear about Profit Sniper X? Did my review answer all your questions?
If you have any more, or would like to leave a comment, please do so below and I'll get right back to you.
Cheers,
Suzanne
P.S. Please share my post with your friends!