No doubt the name of this product was intriguing to you.  So what is Lazy Affiliate Method?  Is it calling you lazy? LOL
Are you hoping to find a fast and easy way to make money online?  I don't blame you.  If you're finding yourself in a financial bind and are looking for a way out, these sales pitches look very inviting.
The problem is discovering whether it's legit, or another clever scam by a creative marketer.
I'm so glad to see you here, researching this product before pulling out your wallet.  It's a wise thing to do, and I want to help you decide if you should purchase it or not.
I'll show you what you get inside, how it works, then offer you my honest opinions ok?  By the end of my review, you'll be able to make an informed decision with no surprises!
Would you like to see where I learned to create a passive income?  Click Here.
What Is Lazy Affiliate Method?
This is a WarriorPlus product created by Kevin Fahey.  It was launched on Sept 15, 2019.
The product claims to be a 100% "Done For You" affiliate marketing system that will create passive commissions on complete autopilot, with only 30 minutes of work per day.

Lazy Affiliate Method – $27
What's Inside
Training – 16 Videos with Transcripts
Everything That's Included – 3:10 min.
Installing the Squeeze Page & Thank You Page – 6:22 min.
Creating a New Subscriber List – 2:24 min.
Loading Up the Follow Emails – 6:19 min.
Using the Spreadsheet Requesting Your Affiliate Links – 4:24 min.
Saving Your Affiliate Links – 1:31 min.
Personalizing Your List & Affiliate Links – 2:14 min.
Changing Your Signature – 1:18 min.
Connecting Autoresponder API – 2 min.
Connect Your Squeeze Page – 4:16 min.
Rebranding the PDF – 2:43 min.
Rebranding Your Download Page – 2:54 min.
Turning Off Double Opt-in – 2:13 min.
Testing Everything – 2:20 min.
Traffic Generation
Bonus Webinar Replay
Done For You Funnel
Funnel strategy
Squeeze pages
Thank you pages
47 day follow up sequence
High converting affiliate offers
Bonuses
IM Emails Pro
Genesis Affiliate Marketing
Live Webinar Training
Upsells
15 Monetization Methods – $27
Facebook Tracking Pixel – 3:44 min.
Google Remarketing Pixel – 10:35 min.
ManyChat Signup Link – 16:02 min.
Fan Page Box – 27:15 min.
Viral Share – 32:40 min.
Split Testing – 34:37 min.
Advanced Tracking – 41:22 min.
Exit Popup – 44:00 min.
Bonuses – 50:50 min.
Segment Buyers – 59:56 min.
Tag Openers & clickers – 1:01:12 min.
Study Stats After 30 Days/60 Days – 1:03:28 min.
Rebranding PDF – 1:04:32 min.
Monetize Your Download Page
Optimizing For Mobile
10X Traffic – $37
Facebook Fan Page
Facebook Groups
Facebook Profile
Medium
Youtube Videos
Blog Post & Sharing
Solo Ads
Facebook Ads
Google Ads
4 More Powerful Traffic Resources
IM VIP Trial – $1 for 5 days, then $29.95 per month
Training platform with access to all of his previous products
Case studies
10-day bootcamp coaching
IM coaching series
Gold member training (upsell?)
DFY System Setup – $97
Have everything set up with your choice of ONE funnel
He will host it on his server (you won't need a website)
Spreadsheet report with all your affiliate links
Squeeze page connected to your Aweber account
Follow up emails imported into Aweber
Tracking links installed
IM Checklist – $3, then $17 per month
His product on Clickbank
Over 30 hours of training on multiple marketing strategies
431 marketing checklists with PLR rights
Continually being added to
Live monthly training webinars
Expected Costs:
Domain name – $15 per year (average)
Website Hosting – $15 per month and up
Aweber – $19 per month and up
Optimize Press – $79 – $199 per year, or
Thrive Themes – $19 per month
Paid advertising – $$$ per month
Solo Ads – $$$ per month
Who Is This System For?
This system would be for anyone who wants to try affiliate marketing without learning about the process.  Everything is done for you except the most important aspect… driving traffic to your funnels.
What can I say?  This is for "lazy marketers", lol.  
Actually, you can't be too lazy.  As I said, you need to drive traffic to your promotions or you won't be making any money.
There is a "traffic" upsell that will show you various methods to do this, but you'll still have to do the work yourself.
And unless you plan on paying $97 to have it all set up for you, Kevin is assuming you already have your own website, or at least know how to go about setting that up yourself.
You should also know that Kevin's funnels are to promote MMO (make money online) products only.  
If you're interested in promoting diet or self-improvement products, for example, this won't work for you!

How Does It Work?
Kevin is definitely trying to tap into your need to make money fast…
Limited Time Offer
Nope, don't believe it.  Sure, he had a discounted price for a week or so when he launched the product.  It was about $12 or $13 I believe.  That's what most of the other reviews say online.  But that price is over now!
Even though the sales page says it's a limited time offer, and only available for 3 days, it isn't.  It's still here after 5 weeks, and the set price of $27 will remain until he takes the system offline.
These are scarcity tactics that many marketers use.  They are actually quite effective to help push people into buying.
Step by Step Training
Yes, there's step by step training, but maybe not what you think it is.
The video training is to show you how to upload and activate your funnel to your website and autoresponder.  It isn't training about the "why" and "how" to build your own sales funnel.
Make Money Today
Kevin claims that you will make your commissions as soon as 24 hours.
These types of statements frustrate me so much!
I can honestly say that this is a huge exaggeration.  Unless you're an experienced marketer with a huge email list, I would think this is rare, if not impossible.
If you are experienced and do have a huge following, then maybe you could.  But the question is… if you're experienced, why would you need this product? Lol
Ok, let's look at what you get inside…
The Member Area
When you access your member area, you'll first get a brief welcome video by Kevin.
Next, come the training videos.  These are well done, over-the-shoulder style, showing you how to set up your funnel.  These are short and to the point, which is nice.
Kevin walks you through each step, then shows you how to test your funnel.
Lesson #15 on "traffic generation" IS NOT showing you how to drive traffic to your offer.  He's basically trying to convince you to purchase the 10X Traffic upsell for $37.
If you're a total beginner, this upsell is needed to show you the different ways you can use to drive traffic to your site.
And now you know how some marketers make their money!!  They hold back a crucial part of the system, in order to get his customers to spend more money.
You see, if you don't have traffic, you won't make any money!
It's still relatively cheap for the upsell, but know that driving traffic to your offer takes time and work.  Setting up a DFY is the easy part.
3rd Party Services
You will need additional services to pay for to make this funnel work for you.  They recommend:
Aweber autoresponder service
This is the service I use, and I love it.  I recommend this also because they don't have an issue with MMO products.  Many services out there will not support affiliate marketers.
If you're new, Aweber is great for you to start.  If you already have an autoresponder, this system will not upload your leads for you.  You will have to manually upload your list into your own email capture service, and manually upload the follow up series.
Landing Page Builder
For ease of importing his templates, Kevin recommends Optimize Press or Thrive Themes.  Both of these services are excellent.
I personally use Thrive Themes, and I can say it's the cream of the crop!  
I recommend you look into both to see which one suits you better.  I don't use Optimize Press myself, but I know many who do and like it.
If you choose the monthly membership with Thrive Themes, you will have access to all their products, not only the landing page builder.
Done For You Setup
This is the easiest way to go if you don't mind spending another $97.
The big advantage is that the platform will host your funnel for you!
There are pros and cons to this.
Pros – everything is done for you & you don't need a website or hosting or page builder service.
Cons – you can only choose from one of Kevins funnels
Do you want to rely on only one funnel?  That's a big disappointment.  Maybe someday he'll offer more?
If you do have it set up, you will still need Aweber.
If you would like to use all his funnels, you will need to get your own website.
Please know that this system assumes you already have your own website, or know how to set one up.
In this case, you'll need:
Domain name
WordPress (I recommend a hosting service that offers WordPress)
Website hosting(I recommend finding one that has a website builder included)
The Bonuses
The bonuses are decent and will provide you with additional training.
IM Emails Pro
This is an upsell to Kevin's product called IM Emails.  This is a $30 value for you.
You'll get access to his email marketing software with all his professional emails, training, reports, and his Facebook support group.
Genesis Affiliate Marketing
This is a video course by Kevin and Brendan Mace.  It's video training on how to get free traffic.  The front end product is $13.95 with over $2K in upsells.  You will only get the video training in this system.
Live Webinar Training
This can provide you with extra training and help by Kevin himself.

Pros
Low Cost
14-day Money-back guarantee
Done-for-you material
Cons
API is only for Aweber
Unrealistic income claims
No traffic training
You don't learn how to build your own business
Final Thoughts And Recommendations
The Lazy Affiliate Method is just that… lazy, lol.  In this day and age, people are impatient and want to make money NOW.  And this is the reason why so many marketers are creating products like this.
They are relying on people's desire to have everything done for them, and believe it will bring money in faster.
And Kevin is no different.  He's been making money online since 2007, and he knows how to market his products.  It's nice to see him sharing his funnels like this, but it's really not teaching you how the process really works.
It's just plugging in numbers and relying on his funnels to work for you.  Remember… you still need traffic!
Is Lazy Affiliate Method a scam?  No 
Would I recommend it?  Yes & No
Yes, because I think it could work, if you have a large email list and don't mind bombarding them with offer after offer.
No, because you're not learning how to set up your own successful online business.
If you've gotten to know me from my other reviews, you'll know that I don't like these done for you systems.  You are putting all your eggs in one basket.  And a basket you don't own.
Imagine if you pay to have everything set up for you so you don't have to pay for hosting or a page building service.  Ok, that's fair…
But what happens if Kevin disappears overnight.  I'm not saying he will, but it has happened to people before.  And if his system disappears, so does your business.
Now what?  Back to square one with no knowledge of how to start up again.  Unless you purchase the next shiny object, that is!
There are many successful marketers out there that have tried this route, and admit they made a huge mistake.  One such marketer is Aaron Chen.  He and I agree on the same thing…
DFY stuff just doesn't work in the long run.  You need to create your own business and build a trusting relationship with your followers.
Listen to his Youtube review of this product…
If you'd like to learn how to succeed and create a passive income, please come and check out where I learned everything about online affiliate marketing.
This platform is great and trains you in all methods and strategies.  It offers:
Training – Step by step courses, classrooms, tutorials, and live weekly webinars.
A domain registry – An easy way to find the perfect name for your business.
A website builder – With over 4,000 WordPress themes to choose from.
Website hosting – With powerful servers, security, backups, and emails, and more.
A keyword research tool – Find low-competition keywords for the best ranking.
A large and active LIVE community – They always have your back!
And much more…
The best part? You can start for FREE!
Click on the image below to read all about it.  And when you join, I'll greet you on the inside and coach you along as long as you need me to.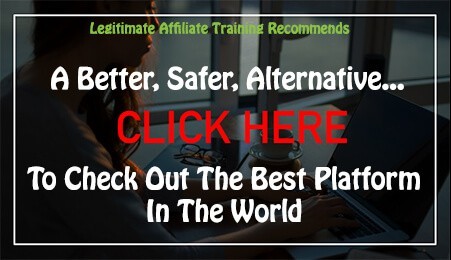 So where did you first hear about Lazy Affiliate Method?  I can't say that I like the name, lol.  Kind of implies that we marketers are lazy…  which is the farthest thing from the truth! Haha!
If you have any comments or questions, please let me know below and I'll get right back to you.
Your friend,
Suzanne
P.S.  Please share!