Just when you thought you'd heard about all the Funnel X systems, here comes another. Another promise to earn commissions without selling anything.
So what is Funnel X Advance? That's what I'm here to show you. I joined the system to be able to review it from the inside, in hopes of giving you all the information you need to make an educated decision.
By the way, you're AWESOME for taking the time to review these products before purchasing.
It's important, because the creators of these systems are excellent, experienced marketers themselves, and know how to persuade you to buy. But that doesn't mean it's right for you.
And you risk losing a lot of time and money if you have no email marketing experience.
So let's take a look at what Funnel X Advance is, and whether it's a legitimate product.
If you want to learn how to make money online, on a safe and proven platform, CLICK HERE.
What Is Funnel X Advance?
This is yet another system created by David Dekel. He has several, and you have to register for each one separately.
This new system was registered in April 2018.
It's basically a system within his other systems. He claims that if you sign up for, and purchase this product, it will help build your list of subscribers.
This product includes all the done-for-you emails and landing pages for your sales funnel.
There are three premium levels to choose from, as well as having to register with an autoresponder and his own tracking tool.
Keep in mind that you can only promote the services David recommends in his other funnels.
You cannot promote any outside services with these funnels.
Essentially, you're a customer of the funnel, as well as being able to use it to make yourself affiliate commissions!
Premium Levels

When you enter the system, you already have the free membership, but that's it.  No additional training or material.
You really need to upgrade to one of the following three levels to have access to his pre-made landing pages and emails.
#1. Builder Level – $200
Three landing pages
Email swipe files (pre-written emails)
Hosting for your lead pages
Re-seller license with 50% commission on this level only
Bonus – 20 min. training video, access to traffic purchase co-op, a consultation phone call from team manager, 10% extra visitors on first co-op traffic run (solo ads)
#2. Super Affiliate Level – $597
Includes Builder level benefits
Ability to earn multiple income streams from recommended services
Access to exclusive Facebook Group
Re-seller license with 50% commissions on this and previous level only
Bonus – access to live calls with David Dekel, mindset training, one-time additional 100 visitors on a traffic co-op run (solo ads)
#3. Leader Level – $1997
Includes previous two level's benefits
Access to a private mastermind group for leader members only
Access to live Q & A sessions for leader members only
Re-seller license with a 50% commission on all levels.
Bonus – live traffic case study, 60 days private coaching, one-time extra 300 visitors on a traffic co-op run, priority support
Additional Tools
#1.  Now LifeStyle (includes autoresponder) – $50/month or $600/year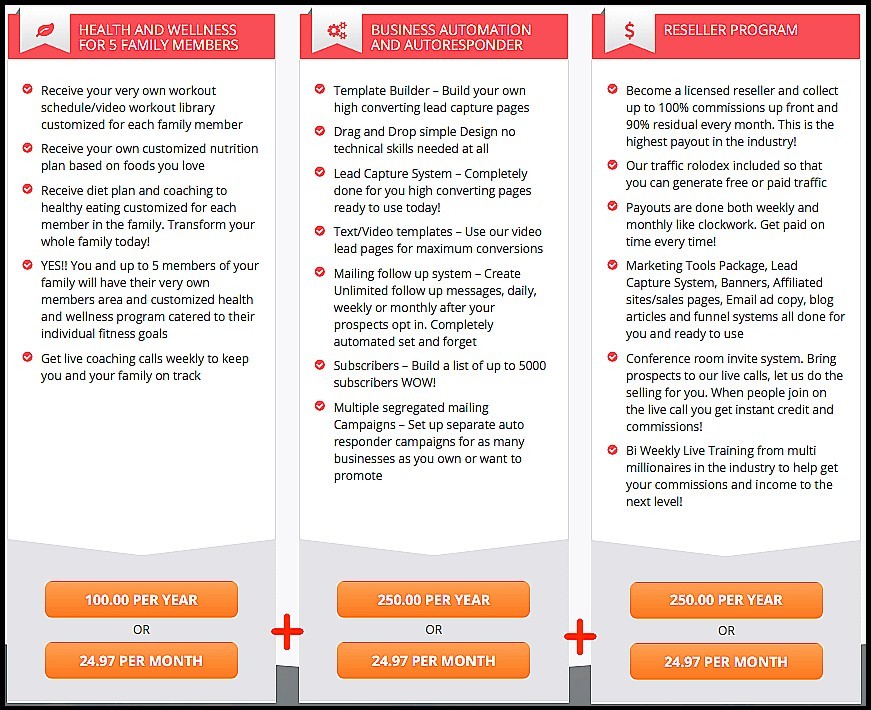 Now Lifestyle is a health and wellness platform founded by Joel Therien. It offers video workout training programs as well as nutritional supplements.
To access the autoresponder service within their platform, you must purchase three levels.
The health and wellness for 5 family members – $24.97/month or $100/yr
The business automation and autoresponder – $24.97/month or $250/yr
The reseller program – $24.97/month or $250/yr
That comes to $74.91/month or $300/year. He is currently running a special for $50/month which includes a free, hands-on training and nutrition advice from Joel himself, at the Texas headquarters.
Notice how the $50/month adds up to the same as the annual cost of the three levels.
This is the autoresponder that David uses for all his products. It's also another income stream when you promote Now LifeStyle.
#2.  The ROI Panel – $197, $597, or $1497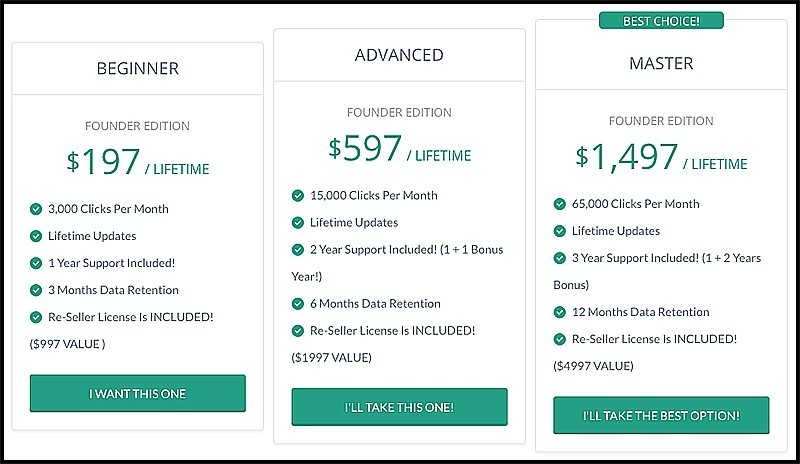 This is David's own tracking program to replace Clickmagick. It's what he calls his Profit Vision system.
Great marketing, eh?
You're able to track your most profitable leads, like the solo ads he recommends you buy.
There are three levels to choose from, that each gives you their maximum clicks per month, level of support, and bonuses. David claims it's in beta form right now, and could double in price later on.
Another great marketing gimmick, lol.
So you not only use this product to track all the data of the products you promote within the Funnel X systems, but you can promote the ROI Panel as well.
Each level comes with a reseller license, allowing you to earn a 50% commission up to the amount you initially paid.
For example, if you purchased the Beginner level for $197, and someone uses your link to purchase a higher level, you will still only make 50% of $197.
#3.  Udimi (Solo Ads) – ($hundreds per email blast)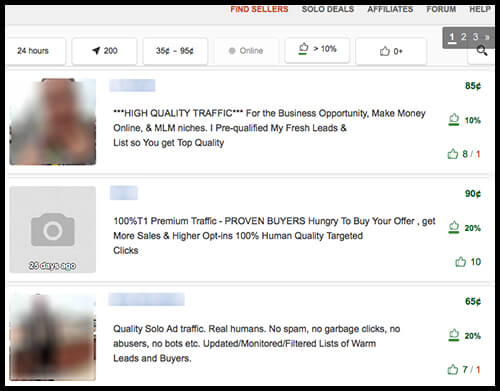 Udimi is a solo ad buyer and seller platform. You look for a seller you're comfortable with, and pay him to blast his email list with your emails.
The prices range from $0.35 to 0.95 per click, depending on the filters you choose.
Expected Costs of Entire System
Anywhere from $397 to $3494 upfront costs plus $50/mo and $100's per email campaign.
Who Is It For?
Funnel X Advance is for users of the Funnel X systems only. It contains the pre-made landing pages, email swipe files, and some training for promoting the products
David has integrated into his funnels. This one would have you promote the Funnel X Advance, Now LifeStyle, and the ROI Panel.
You can promote any of his other products as well, such as Easy 1Up, and Advertising Boost if you register with Funnel XROI.
You can also promote Motor Club of America and Global Money Line if you register with Funnel X Project.
It's a maze, I know, lol. All I'm certain of is that David, himself, is getting rich!
As I said in my previous reviews of his systems, I wouldn't recommend these for beginners.
I know he makes it sound easy, and that all you do is let the system sell for you. But it's never as easy as they make it seem. Especially if you have no email marketing experience.
You're taking the risk of making very little, if not zero, and you'll lose a lot of money. There are no refunds for any of his products.
I would recommend this for experienced marketers only.
I know you want to start making money online, and I don't blame you for wanting to believe everything he says in his videos. They are very convincing! But that's because he's a good marketer. He's experienced!
Please read my other reviews of his systems and products, by clicking the links below:
How Does It Work?
So how did you first see this promotion? On Facebook, or your email? Mine came to my inbox. So I signed up to see what's all involved.
After receiving a welcome email and login information, I was brought to a page with a welcome video.
Here, David tries to explain how you can make money on auto-pilot by simply promoting your link. It sounds very convincing but it's NEVER that easy.
I'm not saying he's pulled the wool over your eyes. I know you're smarter than that! But he's an excellent marketer and knows how to persuade people.
All of David's systems are free to join, but that's because it's just a sales funnel with no means of making you money by itself.
It's the products inside these funnels, that you purchase and promote via email marketing, that earns you commissions.
Funnel X Advance are the nuts and bolts of the sales funnel.
It's access to all of his landing pages and email swipe files. But keep in mind that if you only promote Funnel X Advance, you only get commission amounts up to the level you purchased.
For example, if you paid for the Builder level for $200, and one of your leads purchased the Leader level for $1997, you still only make $100 (50% of $200).
That also goes for Easy 1Up and the ROI Panel. This is why he persuades you to buy the highest levels. So you don't lose out on any commissions… if you make any, to begin with!
Being an experienced marketer, David knows how to use language that persuades and convinces his visitors that they can make massive amounts of money using his systems.
And he applies monetary values to everything to have you believe you're getting such a great deal.
I have no idea how he comes up with these values though. How can you put such a high price tag on groups? Q & A groups $4997, Mastermind group $9997, Facebook group $1997.
Really? Facebook? Wow, mine must be worth a fortune by now, LOL.
Pros
Pre-made landing pages and emails
Hosting for the landing pages is included
Some training added to each level
Offers multiple income streams
Cons
Higher levels are very expensive
No free trial
No refunds
Costs of Solo Ads can get very high
Cannot promote outside products
Final Thoughts And Recommendations
I found it quite interesting that he mentions you struggling to make any money if you haven't purchased Funnel X Advance.
Does that mean his other funnel, the Funnel X Project, isn't as successful for you as he proclaims? There's no mention of signing up to X Advance in that one.
Granted, having your funnel pre-made for you is wonderful, but what does he use in the others?
Anyway, I'm getting off track, lol. I believe this system is legitimate, and though costly, obviously works for some people.
My concern for you is if you're still a beginner. I truly think you need some experience to make this successful for you. It's not as easy as you think! It will take time and lots of money.
Is Funnel X Advance a scam?   No    
Do I recommend this system?   Only to experienced marketers.
What do you think will happen if this system ever shuts down and you lose access to all the premade material? Will you be able to continue on your own?
The training that's offered to you within the system just isn't enough to get you off on your own. It's training to use David's material in his own funnels.
What you need is proper training, from the ground up, so that if and when this shuts down, you can pick up on your own and do just as well with your own email marketing campaigns.
And the nice thing is, you can then promote anything you wish. You're no longer limited to only his recommended services.
Can I offer you a safer alternative?
Did you know that there are many ways to make money online, besides email marketing? And I know a wonderful place for you to learn.
They offer you extensive detailed training with beginners in mind. They also offer all the tools and support, all under one roof. No searching around. No extra costs.
If you choose the premium membership, it's one monthly cost of $49 or an annual cost of $359. That's it! No upsells inside. That's your annual cost for life.
But the best part is you can start for free! No credit card needed.
With your free starter membership, you get a free website, level one of the certification training, tools, support and… me! Consider me your personal coach for as long as you need me.
If you'd like to learn how to make money online, the safe way, please click the picture below. I'll meet you on the inside.
So how did you first hear about Funnel X Advance? I'd love to hear from you.
Please leave a comment or any question you might have, below in the comment section. I'll get right back to you!
Your friend,
Suzanne