Have you been looking into making money online and come across Smart Money Methods? Aren't their income claims amazing?
Imagine being able to make this much money in only 30 minutes a day. Everyone's dream job!
Welcome to the Smart Money Methods review. I'm so happy to see you researching these products before jumping in.
I know how enticing it sounds. And that's why they create videos like this. To persuade you they have the answer to whatever financial issues you may have.
But is this product just another scam? Or could it possibly be true? Well, by the end of this review you'll have all the information you need to make an informed decision.
I'll show you what you get for your money, how it works, and then give you my honest opinions and recommendations.
Would you like to see where I learned how to create my own successful online income?
What Is Smart Money Methods?
This product is supposed to show you how to be an Amazon affiliate.
It's created by Mark Foster and was launched in June 2018.
Smart Money Methods – $37
What's Inside
Smart Money 1.0 – 49 page PDF
Overview of how to become an affiliate of Amazon.
Smart Money CPA – 18-page document
Introduction to CPA (click per action) strategy.
Upsells
Smart Money 2.0 – $197
Fast Cash 2.0 –15 short videos (2 to 4 min. each)

The video format of the previous PDF (smart money 1.0)

Fast Cash Instagram – PDF and 4 videos (same info as PDF)

Introduction to Instagram marketing

Fast Cash YouTube – PDF and 4 videos (same info as PDF)

Introduction to YouTube marketing
Smart Money Pro – $177 – Advanced Training
Smart Money Pro – 98 page PDF
Smart Money Pro Video Training – 16 videos (same info as PDF)
Social Media Marketing – 10 lessons with templates and videos
Who Is It For?
No one! This product is nothing like what the video promised.
It's simply a generic, basic training about Amazon and how to become an affiliate.
And it's certainly not enough training to help someone get started without added help.
Why Not?
This product is simply a PLR product that this guy bought and repackaged as his own. A PLR is a "Private Label Rights" product that someone wrote and sold as such. They all have various restrictions as to how much the buyer can change.
In this case, he has the right to add his name and claim it as his own. He just can't pass on the PLR rights to anyone else.
This PLR was written in 2016 and is very outdated.
Some of the information you'll receive isn't even usable today. I'll explain further down, OK?
Overall, it's a low-quality product and you could find better, newer information for free, online. In fact, Amazon itself offers you it's own training platform.
You should also know that this exact same product has been relaunched on November 5, 2018, called "Smart Cash App", and again January 14, 2019, called "Fast Cash App".
This guy is known as a serial launcher. Just out to make a buck at your expense…
How Does It Work?
You probably would have gotten something in your inbox. They encourage their affiliates to promote via email marketing and offer them email swipes to use.
The Video
Like most other spammy videos, it's nothing but hype and lies. These kinds of videos purposely mislead you so that you will be persuaded to buy.
It's full of things that will push your emotional buttons so that you click on the "buy now" link before even thinking it through.
Here are some things to watch out for…
#1. Scarcity Tactics
Immediately, the video says you're one of the lucky few who is invited to watch this video before he takes it down. HA! Everyone and anyone can watch this and he won't take it down until it stops making him money.
He claims there's a limited number of spots available, and he only wants to work with a small number of people. Sheesh…
#2. Outright Lies
Right away you see "Free Training Reveals: A Brand NEW Idiot-Proof Scheme". Really? Free? Then why are you paying $37?
Then he says this is something NEW and never seen before… well, that just a big fat lie, lol. And apparently, you only need 30 minutes a day, online, to earn what you deserve.
May I say that if you only commit to 30 min/day, you'll never make anything! LOL.
#3. Outrageous Income Claims
He claims you can make up to $7,592.30 per week with this product. Wow! So specific! But another ridiculous claim.
Sure, there are marketers out there making that and more per week, but only after months and months, even years of hard work.
The training here isn't enough for you to even get started, let alone make that kind of income.
#4. Fake Testimonials
I get a kick out of hearing his user testimonials, haha. He simply says that "Conrad from Illinois pocketed $7,068 from 90 minutes work online last week". And we're supposed to believe that!
#5. Fake Owner
You can be sure that this Mark Foster is a fake name. Whoever put this product together hired a voice-over actor from a freelance site like Fiverr, gave him a script to read, and voila!
It's easy to create a video with false claims, a sob story, and emotional triggers for whoever hears it.
Can you imagine if a customer found out who the real owner is? This owner would be receiving a lot of emails!
The Product
This product is only a brief overview of what affiliate marketing is and how to be an Amazon Affiliate. I really don't think this is worth $37. There better information that can be found online for free.
All you get is some reading material. No actionable steps. No step by step instructions on what to do.
Never Seen Before?
Yes, it has! Mark didn't create a never before seen, secret method to make money online. He simply bought a PLR product, repackaged it under his name, and is selling it as his own.
There's nothing wrong with that principle. Many marketers do it. It's his misleading lies I don't like. And the fact that he's pushing an outdated product.
Strategies change very quickly in this industry, and if you don't keep up, you'll be left behind.
For instance, chapter 14, titled: Embedding an Amazon aStore into Facebook. Well, guess what? Amazon retired all their aStores as of October 27, 2017.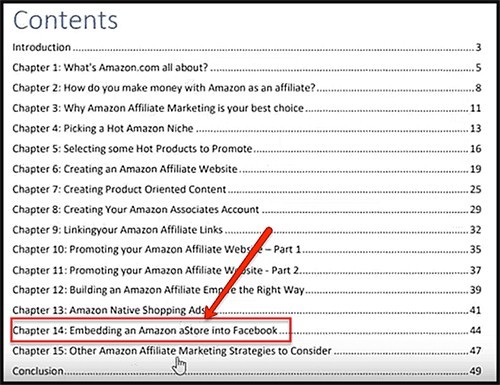 When I looked into this PLR product, I found out it was written in 2016. It's still being sold, but very outdated. Many times, the writers will attempt to make the information "evergreen", so that it can be used down the road.
Anyone who buys these PLR's should take the time to update any useless information. But in this case, you can see he didn't do any of that.
And that tells me he doesn't care about providing value to his customers. He only cares about making money for himself, at your expense!
The other material you get regarding Cost Per Click is again very generic. It's an overview of what it is, and how you can find the cost per click advertisements.
The Reviews?
I always look for user testimonials of the products I review, to get an idea of what actual customers think of it. I wasn't surprised to find any actual users.
All the reviews were either from the affiliates, posting the same video in hopes of selling it, or reviews such as mine telling people to run!
I did find a fake user review, though, which the product owner put out. This is obviously a fake.
Do you know how I can tell? Notice that she never once says the name of the product.
It's very generic and can be used over and over with any product this guy sells.
I tried very hard to find a picture of her on the usual freelance websites. These actresses are hired as video spokespersons, who read their client's script.
Unfortunately, I couldn't find her image. She may no longer be for hire…
But to give you an idea of how they use these actresses, take a look at some reviews that are using the same video, but with different logos swapped in. Same idea, different face…
Pros
60 Day Money Back Guarantee
Cons
False Income Claims
Unknown Owner
Outdated Material
Basic Overview Only
Insufficient Training
Final Thoughts And Recommendations
I get so frustrated when I see such low-quality products being pushed online. This type of scenario is what makes a bad name for this industry.
The affiliate marketing industry is wonderful to be a part of. If done honestly and ethically, it provides a lot of help for people who are needing answers to their problems.
I mean, isn't that why most people go online? To search for something on Google? What they need is honest to goodness help. Not some lousy product promising to make them rich doing very little work.
And those innocent people who believe the lies, and buy these products, end up losing time and money and get so discouraged that they think the whole industry is a sham.
Is Smart Money Methods a scam?   No  
Would I recommend it?   NO
Unfortunately, these types of products aren't legally a scam because you are getting some material for your money. But it sure comes close, doesn't it?
If you wish to specifically learn about becoming an Amazon affiliate, why not go right to the source. Amazon will be giving you the most updated training available.
If you want to learn about social media marketing, there are many courses available online. You can head over to Udemy to find multiple courses. Most range about $15, and there's the occasional free one as well.
And if you're serious about learning how to create a passive income online, then you really should start with proper training and tools, and learn from the ground up.
This way you have your own real estate online that you can grow and scale over time.
Can I make you my honest recommendation?
Don't waste your money on useless products like this. They always promise the moon, yet NEVER deliver.
Instead, I'd love for you to come and see where I run my business. It's a platform providing all the training and tools you need to succeed.
They won't promise you riches or overnight success. They'll simply tell you that your success depends entirely on you. If you're willing to work for it, they'll show you how.
I've been there since 2011, and I love it. They not only taught me everything I now know, but their tools are integrated right into the platform.
They have the only live community that I know of online, too. There're thousands of people online each day, ready and willing to answer any questions you may have.
It's the biggest reason why I'm still there, lol. I have friends around the globe now.
What can I say? It works! I'm living proof…
This company has been getting more successful and growing over the past 15 years. I'd say that's a wonderful testament to their longevity.
They have over 1.4 million members worldwide now. They must be doing something right, eh?
If you click on the image below, you can read all about them. And when you join, I'll meet you on the inside and help you out as long as you need me to. Hope to see you soon!
So where did you first hear about Smart Money Methods? It's an older product, but it's still being promoted.
If you did buy it, would you share your experience? It would be nice to hear if anyone actually used it, lol.
If you have any questions or comments, please leave them below. I'll get right back to you!
Cheers,
Suzanne