Are you looking for a way to ditch your 9 to 5 job, and create an online income? There are many ways to learn how to do this, but the hard part is finding something that's legitimate.
Welcome to the Legendary Marketer review. I'm sure you've heard of this before, as it's highly promoted. But is it legit? Or is it just another high ticket scam?
I'm happy to see you researching this platform before you dive in. David Sharpe seems so sincere, but then again, so do all the others, right? Well, this time, you'll be reading about my own personal experience.
I want to show you what's inside the platform, how it all works, and if it delivers what it promises. You'll then have all the information you need to make an informed decision.
Who Is David Sharpe?
David Sharpe is the CEO and founder of Legendary Marketer. A 10-year digital marketing vet, he's founded 3 multi-million companies from scratch.
He has now educated over 500K students worldwide through his courses and live events. And he's been featured on Entrepreneur and was quoted by Forbes as "one of the masterminds of this industry."
David comes across as one of the most relatable marketers in the world of internet marketing. He's a pleasure to listen to when he speaks, eloquent yet passionate about his desire to help people.
He is very knowledgeable, and his personality seems to draw people in, which is a HUGE asset when promoting his products, lol.
Legendary Marketer is David Sharpe's brainchild. And it's looking to be another home-run!
Here's a little taste of David Sharpe…
What Is The Legendary Marketer?

This is a training program for affiliate marketing, created by David Sharpe. This is an entirely revamped and improved platform launched on January 10, 2019. They offer step by step training and excellent support for beginners and experienced marketers alike.
He offers a free 15-day challenge as well as a variety of high ticket products. He also offers a lucrative affiliate program for those wishing to promote his platform.
Let's Look At What's Inside
Challenge – Free to sign up
Marketing & Advertising
Legendary Marketer's Club – $30 per month
Traffic Rolodex Bundle – $247
Legendary Book – $29.95
Business Blueprints
Affiliate Marketing Business Blueprint – $2,500
Digital Products Business Blueprint – $2,500
Coaching and Consulting Business Blueprint – $2,500
Events and Masterminds Business Blueprint – $2,500
Live Experiences
Legendary Marketer Mastermind – $8,000
Legendary Entrepreneur Mastermind – $12,000
Done For You Brand Builder – $10,000
Legendary Leadership Group – $30,000
Blog
Hundreds of articles to learn from and be inspired.
Added to each week.
Support
Online Chat
Private Facebook group
Affiliate Program
Must take the 15-day challenge before you can apply.
The free membership comes with limited benefits, and commissions from 5 – 30%.
The Pro membership is $29.95 per month with full benefits and 20-60% commissions.
Provide considerable training in your back office.
Expected Costs
You must keep in mind that this is just an education platform. There are no tools provided for you. To be successful online with David's training, you will need:
Costs for which levels you purchase – $30/month, $247 to $30 \K
Domain name – $15 per year average
Website Hosting – $30/month and up
Aweber – $19/month and up
Clickfunnels – $97/month and up
Solo Ads & paid advertising budget – $$$$/month
Who Is This System For?
What I like about this education platform is the integrity they display to honestly want to help its members. They openly admit that this isn't a get rich quick plan and required hard work on your part to succeed.
This system is for beginners and experienced alike. But you need to know that the primary focus of the training is with email marketing using paid traffic. This means the use of Solo Ads and paid advertising.
This can get very expensive for newbies who don't already have an online income.
This is a great program even if you only choose the Marketer's Club. The support provided is also excellent if you decide to purchase.
The biggest complaint used to be them pressuring you to promote their product to make money, and that you couldn't sign up for free for the affiliate program.
It used to be a pay to play system where you couldn't promote a product unless you've purchased it first. So the pressure to purchase all the high ticket products was always there.
They've recently undergone some major changes to their platform and appears to have changed their overall tone regarding their own products. And you can now sign up for a free affiliate program, or a Pro plan which gives you more benefits.
How Does It Work?

In this review, I'll focus mainly on the Marketer's Club, because I haven't purchased the other products. Though I am leaning towards the Traffic Rolodex Bundle, lol. That appears to have a lot of great training for social media and such.
The Free Challenge
When you sign up with Legendary Marketer, you should first go through the 15-day challenge, because if you decide to apply to their affiliate program, you must have completed these 15 steps.
This course is free and walks you through, step by step, discussing mindset and various business models.
Each day opens a section of training, provided every 24 hours. You can't skip ahead, lol.
On Day 4, you won't be able to proceed any further until you set up your Business Plan Call.
They will have you complete an assessment quiz and your advisor will go over it with you. Depending on who you talk to, you might face some pressure to upgrade, but ultimately the choice is yours!
At the end of the 15 days, you have the option to purchase a product or leave with your newly created business plan.
The Legendary Marketer's Club
The Marketer's Club is David's monthly membership program and has been completely revamped with its new launch. It now includes live virtual training workshops each week, as well as new classes added each month.
Interviews
It currently offers three sets of training, set up "interview" style with the industry's top marketers. Here is what you can expect from each person:
#1:  Kevin Harrington, TV's original "shark" on Shark Tank. You get 7 videos totalling 48 minutes:
The Entrepreneurial Pitch
Learning From Your Mistakes
Funding For Your Entrepreneurial Venture
Let's Talk Marketing And Take Action
The Advantages Of Media Today
Leadership Mindset Leads To The Pitch
Entrepreneurial Advice
Kevin is also the founder of "As Seen On TV", and a co-founding member of the Entrepreneur's Organization. He's launched over 500 products and has helped a lot of people become millionaires.
I think you'll certainly learn a thing or two, lol.
The main focus of his course is achieving the proper mindset to succeed, as well as creating the perfect sales pitch.
#2:  Mark Harbert, a home business trainer & entrepreneur. You get 13 videos totalling 103 minutes:
The Entrepreneurial Itch
The Big Break
What Is A Lead?
Advertising Approaches
Timeless Content
The Advantage Of Video
The Quality Of Leads
Paid Strategies
Re-targeting
Delivering Value
The Advantage Of Solo Ads
Ways To Outsource
The Magic Of Automation
Mark, formerly with the US Navy, began his passion for online marketing in 2000. He's now a multiple 6 figure earner, teaching individuals the power of online videos.
#3:  Nathan Lucas, founder of FreedomInfluencer.com, and major YouTuber. You get 10 videos totalling 86 minutes:
The Entrepreneurial Bug
The Power Of Video
Free Isn't Free
Not Perfect But Consistent
I Am Here To Stay
What's Worthwhile To Create
Find Your Way
The Method Behind A Video
Call To Action
Q & A
Nathan started his career in 2014 and focuses on digital affiliate marketing. Being a master YouTuber, he focuses his training there. He also discusses finding your niche and providing a strong call to action.
Live Weekly Webinars
The live weekly webinars are held each Monday and hosted by Matt Hetzel, the Director of Training. Because they are live, you can be assured they are always up to date with the most current strategies.
Depending on when you jump in, all previous webinars are available to watch at your convenience.
This process allows you to learn a new marketing skill every week, instead of overwhelming you with all the courses up front.
The Journey to 250,000 YouTube Subscribers
in this course, you are taught again by Nathan Lucas. It's great to help get your YouTube channel off the ground.
There are 12 videos totalling 149 minutes covering these topics:
The Fear Of Being In Front Of The Camera
Are You Ready To Change Your Life With Video
Find Other People Who Are Creating Success On Youtube
Youtube Statistics Will Blow Your Mind
Must-Have Youtube Tools And Resources
How To Optimize Your Video For The Most Views
The "It's Saturated" Objection
How To Win With Video Optimization Tools
Youtube Will Shut You Down
Why Youtube Is The Best Paid Advertisement Platform
Creating A 15-Day Challenge Youtube Ad
Using Youtube For Branding
Mark offers many solutions to your most frequently asked questions and walks you through the process.
What To Do And Say To Sell More Stuff And Have People Love You For It
Quite the title, eh? haha
This course is taught by David Sharpe himself. Did you know that he's started three multi-million-dollar companies from scratch? I think you can trust what he teaches!
He teaches you how to make a profit with videos, but in this course, he discusses what to do and say to get people to engage with your content.
He'll also talks about his own recording software, Screenshare.
In this course, there are 4 videos totalling 42 minutes:
The Art Of Being Successful Online
Creating A Video Keynote
How To Record A Video On Your Desktop With Screenshare Software
How To Record Your Face And Screen With Screenshare Software
You're One Story Away: How To Use Story To Succeed Online
This course is taught by Michael Yantovsky and Polina Klyukach. They first met in 2012, at one of David's marketing events. The had hit rock bottom and climbed their way out through David's mentorship.
Finding love, the rest is history. Their story is powerful and they have a lot to teach you.
You get 6 videos totalling 66 minutes:
Using Stories To Tell
From College Dropout To Homeless To Making 6 Figures
The Art And Science Of Storytelling
What To Do If You Don't Have Results Yet
Using ManyChat To Grow Your List
What's Your Story?
Learning how to tell stories is a great way to succeed online. And they'll also teach you how to use an application called ManyChat, which allows you to create a Facebook Messenger chatbot for your website.
Traffic Rolodex Bundle
Besides the content on your website, another of the most profitable ways to get leads is through social media. And this product delivers you training on just that.
Legendary Marketer provides you with the best advertising experts to show you how to promote on Google, Facebook, YouTube, Twitter, GDN (Google Display Network), and Instagram.
The best part is that they'll teach you how to create compliant pages for every platform so that you're not at risk of being shut down.
This bundle has eight different courses, each worth $99. David considers this the "advertising Bible". You'll also receive lifetime updates that are important with the everchanging rules and algorithms.
All of the blueprint courses below are designed for both new and existing business owners. They can help you personally, or you can use them to promote an additional income stream.
Affiliate Marketing Business Blueprint
Most successful people online have started out their businesses with affiliate marketing. It's a very effective way of revenue sharing that doesn't require you to own a product. You simply help promote someone else's for a share of the profit.
This course is great for newbies with no experience, as it walks you through the various business models and helps you find the right products to promote. You will also learn how to sell your own products.
I feel it's a little pricey at $2500 because most beginners don't have that kind of money to invest in the beginning, but if you do, you'll be happy with the training.
Also remember, that none of these courses provide you with the tools required to start your business. This will be an additional monthly cost to you.
They will offer you suggestions to the better services available, and discuss what each service is for.
Digital Products Business Blueprint
Like affiliate marketing, this is another method of creating an online income. And going digital is much easier to deliver than handmade or physical products that must be imported and shipped.
All you need to succeed here is your passion, computer, and time. You will be taught how to plan your first product, then walked through to getting your first customer.
There are lessons on how to use audio, video or written format as all effective ways to promote your product. Going digital is a much more sustainable business plan, easier to create and can be replicated time and time again.
This all sounds great, but to me, it's still too pricey for beginners. You would need both of these courses, costing you $5000 total for a well-rounded education.
Coaching and Consulting Business Blueprint
This course will show you how to take your expertise or passion into a service-based business, working on retainer or on a contract basis.
No need for office space or overhead expenses. Your appointments can be made via webinar or over Skype, and payments made through PayPal or Stripe.
Lessons here sill include how to identify your niche, create your offer, and nail your pitch. You'll also learn how to deliver your services and scale your business for maximum profit.
Events and Masterminds Business Blueprint
There is still room in our digital world for human contact. This is one of the best ways to network, and with this course, you'll learn how to plan, host and profit from your live event or mastermind. You'll be shown how to save on costs, who to hire, and where to host your event.
There's also training on how to become a talented facilitator for future promotions. Learn how to create an atmosphere of growth that your clients will love you for, and be willing to return for the next one.
The Mastermind memberships, Brand Builder and Leadership group are David's highest ticket items, that come at a very high cost. He also offers the DFY Brand Builder and Masterminds Bundle for $15,000.
Legendary Marketer Mastermind
These are David's live in-person mastermind meetings, where they cover the newest cutting edge strategies from the world's top online marketers. Each time, they revisit their tried and true curriculum, while bringing the newest ideas to the table.
Once your membership is paid, you're a lifetime member and never charged again. You may attend future gatherings or watch recordings. The only requirement for future events is a low-cost seat deposit.
Legendary Entrepreneur Mastermind
This live in-person mastermind covers health, wealth and wisdom hacks. They also go over growth tips and teach you how to protect your wealth and become the best version of yourself.
These masterminds are held in unique settings, like mansions, and especially suited for growth, intimacy and creativity.
As with the previous mastermind, your membership is paid once and you're a lifetime member. You may attend future gatherings or watch recordings. The only requirement for future events is a low-cost seat deposit.
DFY Brand Builder
If your business is struggling because you can't get a handle on branding, advertising, or generating leads, this service can help you and eliminate the stress.
They will help you tackle your most urgent business needs, and put your business on the road to success.
Legendary Leadership Group
It's David's personal goal for you to achieve your goal, and following his leadership, you have a chance to be one of his success stories.
This service has you following David's strategic components, that's helped 500K entrepreneurs over the past 10 years. You will be modelling his proven plans to launch, grow and scale your business.
The Affiliate Program
Legendary Marketer has also updated its affiliate program with this new launch.
If you choose to apply to David's affiliate program, you must now take the 15-day challenge before you can apply. This doesn't apply to previous affiliates already registered.
You now have a choice between two affiliate programs, free and paid. The free membership pays much less than the Pro plan and has limited benefits. So though the change is a positive one, you're still encouraged to pay a monthly fee to make better commissions.
This is what you receive with the free program:
eWallet Program
Done for you sales funnels
Done for you phone sales team
Manage and track your leads
Manage and track your customers
Advanced customized reporting tool
Gain Exposure Through Ranks and Leaderboard
Customized commission reporting dashboard
Custom funnels
The paid program receives all of the above and the added benefits:
Integrate your own autoresponder
Earn additional streams of income
Private traffic sources
Advanced affiliate training
Once you've been accepted as an affiliate, you have access to your back office. There is an impressive amount of video training there. They give you an overview, help you set up your sales funnel and automate your email marketing. They then show you how to run ads on Facebook, and provide various resources.
These are great resources for you to learn from, even if you don't buy anything and sign up for the free affiliate plan!
Legendary Marketer now offers a Tuition Reimbursement Program. If you purchase one of the products, you now have the opportunity to get your entire investment back. You will qualify:
If you sell 10 of the same product in 2 full years using your unique affiliate link.
Your affiliate account is in good standing.
Keep track of all the dates of qualifying referral sales (only those not refunded).
Submit a testimonial about your experience with Legendary Marketer.
The support team will review your request for reimbursement and if you qualify, you'll receive a cheque in the mail.
Now with all that being said, I'd like to show you a screenshot of their Income Disclaimer. I know that this new version hasn't been out long, and they admit to that, but their forecasted affiliate income is quite low…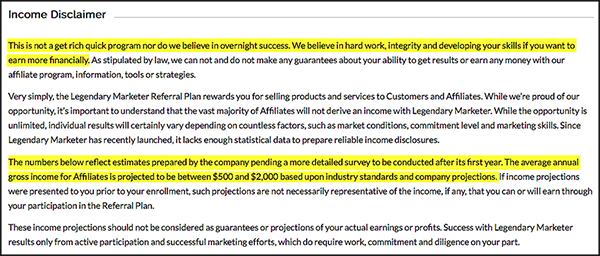 So though the opportunity to make a lot of commissions is there, it will take a very motivated person with a very large advertising budget to make a significant income from Legendary Marketer commissions.

Pros
30-day money-back guarantee
A free 15-day training program
Thorough step by step video training
Affiliate program now easier to apply to
Support community
Opportunity to make high commissions
Cons
Products are very expensive for a beginner
Focus is on email marketing & paid advertising
No tools provided on the platform
Require a large advertising budget upfront
Final Thoughts And Recommendations

Overall, I think the training provided here is very good. The free 15-day training provided with the Challenge is a nice start for beginners, though you will still need to pay for your tools, services and paid advertising.
Now, I don't know if the call from your coach is different now because I had mine before the new platform was released. I felt a lot of pressure to buy some products and start promoting their platform for commission. But at that time, you had to pre-purchase anything you wanted to promote.
Now that you can join for free, I have no idea what this coaching call will be like, lol.
I feel that for most beginners, which is my ultimate passion, the Marketer's Club and the Rolodex products will be great training for you, but the remaining products are extremely expensive.
My personal suggestion is to take the free 15-day Challenge to see what you think. If email marketing is for you, with paid advertising techniques, then that's great.
Is Legendary Marketer a scam?   No   Would I recommend it?   Yes
The first two marketing blueprints cover most of what any new entrepreneur would need to start their own business. But $2500 for the affiliate marketing course and another $2500 for the digital business course is pretty excessive.
I'm sure the training is great, but my goodness! $5000 for training you can find elsewhere for much less.
I'm not saying this training isn't for you. That's for you to decide. I believe the training is good, but it's only training. No tools, which is are an integral part of every online business. So all that will be an added cost over everything else here.
When I started online, I couldn't afford those types of prices. In fact, I couldn't afford anything, lol. Especially after getting scammed a couple of time with all the trash that's promoted online.
I was determined to not quit (even though I thought the whole industry could be a scam…) and spent my time looking for quality, yet cheap. Or better, free!
And you know what? I found it. Not through advertising or scammy emails in my inbox. It was through word of mouth, from a group on Facebook. And it came with all the tools I needed too. Now, I want to help you the same way…
So can I make you my sincere recommendation for a great alternative?
I would love for you to come and see where I learned all about online marketing, and how to start my own successful business. This platform has everything you need under one roof. So if you're concerned about costs, this is the best alternative online today.
What I really appreciated was that they teach you all methods of marketing, not just email marketing. And their primary focus for beginners is learning how to market using free traffic.
Sure, they'll teach you about paid advertising, but that's not their focus. It's exactly what I needed to start!
Like Legendary Marketer, they help you realize that this is a long-term process. And with time, patience, and hard work, you can create for yourself a passive income.
They've never known anyone to fail unless they've quit!
You can sign up for a free starter membership to test-drive the platform. No credit card needed.
If you click on the image below, you can read all about it. And when you join, I'll be there to greet you and help you along.
So what do you think about Legendary Marketer? Where did you hear about them? I'd love to hear from you.
If you have any comments or questions, please leave them below and I'll get back to you.
Cheers,
Suzanne