Are you using social media platforms to help brand yourself, or your business? These platforms can better reach and engage with different audiences.
But not all social media platforms are created equal. There are strategies that work better on one platform but not the others.
Let's take a look at the differences between Facebook, Twitter, Instagram, Pinterest, and Snapchat.
And then look at the 10 laws for social media marketing.  These fundamentals will help you find success, whether using just one platform, or many.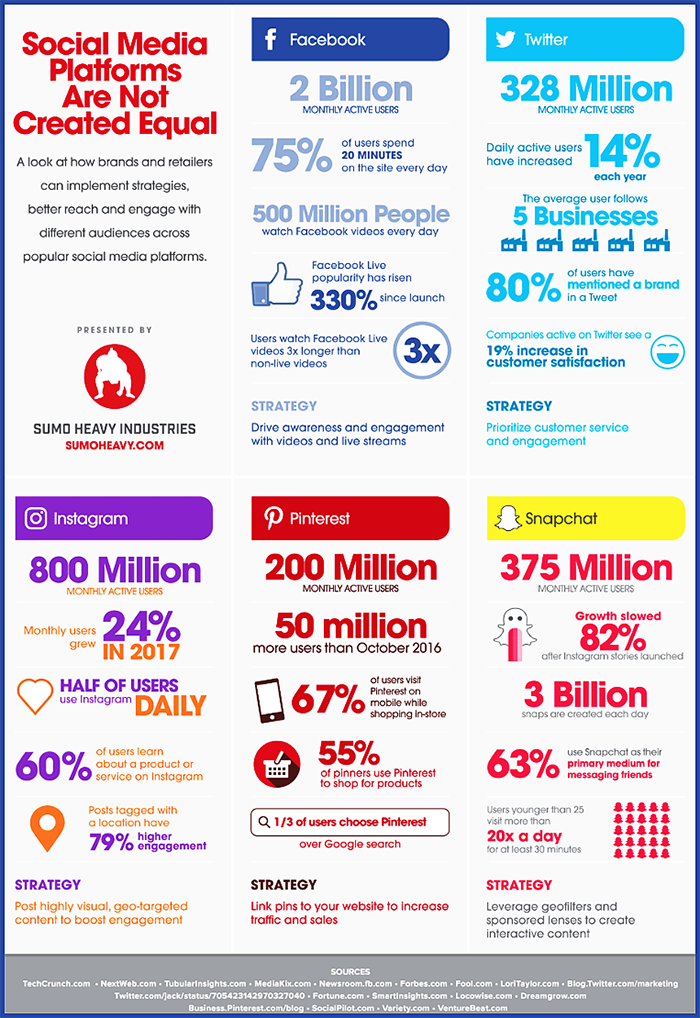 Those are some pretty amazing stats, aren't they? Some say Facebook is dying… Really? They still have the lions share of monthly active users, lol.
I believe the millennial generation is more active on Instagram, though. But for branding purposes, I would consider using the platform that best suits your niche.
A comparison of the social media sites in the infographic above might help you decide which platform you'd like to start with.
[adinserter block="1″]
Social Media Platforms
We will look at five different platforms that are commonly used for business marketing. There are others, I know, but these are probably the most popular after YouTube.
Facebook
Monthly Users
This site has 2 billion monthly active users. Wow! And 75% of them spend 20 minutes of their day there. Hmm… I'm thinking 20 minutes isn't a high enough statistic, lol.
Popularity
This certainly isn't dying… Its popularity has risen by 330% since its launch. Even with all its algorithm changes, lol.
Video Viewing
They estimate 500 million people watch Facebook videos each day, spending 3 times longer watching "Facebook Live" than non-live videos.
Effective Strategy
With millions of people watching both live and non-live videos, this is a great strategy to engage with your followers. Videos attract attention, which in turn drives your business awareness to the masses!
Take Action:
Instagram
Monthly Users
Instagram comes in second with 800 million monthly active users. And about half, or 400 million of those users, are on it daily.
Popularity
In 2017 alone, monthly users grew by 24%. Those are a lot of eyeballs to put your marketing in front of, lol. Can you imagine the number by 2020?
New Product Promotions
Did you know that 60% of users learn about products and services on Instagram? That's amazing!
Effective Strategy
Make sure your posts are highly visual to attract attention. If you own a local business, make sure to tag your post with a location tag. These posts get 79% higher engagement than those that aren't geo-targeted.
Take Action:
Snapchat
Monthly Users
Snapchat comes in third with 375 million monthly active users, with younger viewers under the age of 25 visiting more than 20 times per day. And those visits are commonly more than 30 minutes long.
Popularity
Unfortunately, Twitter's growth slowed considerably after Instagram Stories was launched. By a whopping 82%.
Communication
63% of monthly users use Snapchat as their primary means to message their friends. And that means about 3 billion snaps are created each day!
Effective Strategy
Create interactive content by leveraging the geofilters and sponsored lenses available on Snapchat.
Take Action:
Twitter
Monthly Users
Twitter follows close behind Snapchat with 328 million monthly active users.
Popularity
The amount of daily active users have increased by about 14% each year, so their popularity has been growing for this platform.
Business Advantages
The average Twitter user follows 5 businesses, and 80% of those 328 million users have mentioned a brand in a tweet at some time. That's great for brand recognition.
On the flip side, businesses who use Twitter see a 19% increase in customer satisfaction.
Effective Strategy
As a business user, you should prioritize customer service and make sure to always be engaging with your followers.
Take Action:
Pinterest
Monthly Users
Pinterest takes the last place among these 5 platforms with 200 million monthly active users. But that's still a LOT of viewers you can reach!
Did you know that 1/3 of those users prefer to search Pinterest over Google?
Popularity
There are now 50 million more users on Pinterest than in October 2016. That's quite a bit more, no?
Shopping Advantages
67% of users access Pinterest on mobile for off-line shopping, whereas 55% of pinners use Pinterest for online shopping.
Effective Strategy
Ensure you link your pins to your website for greater traffic and increased sales.
Take Action:
[adinserter block="1″]
10 Laws For Social Media Marketing
If you're a new entrepreneur, it's important to understand the fundamentals of marketing on social media. The following 10 laws will help to build your foundation and serve your customers. Which in turn, should help your sales, right?
#1: Law Of Listening
To learn about your target audience, you need to listen more and talk less. Yes, I know, it's not always easy. Especially if they're spouting off about something you know is wrong, lol. But try, OK?
Read their posts and content to see what interests them. See what issues or problems they face. Then join the discussion and engage with them.
This insight will show you what type of content will add value to their lives. And that should spark continued conversations and build trust between you and them.
#2: Law Of Focus
Just like your niche should be highly focused, so should your social media topic. Specializing in one thing will bring you more success than attempting to be all things to all people.
Just like the saying goes…"you can't please everyone". You should only consider your target audience. And the content you put on your social media should be as focused as your niche.
#3: Law Of Quality
Would you rather have 2,000 followers who interact with you on social media, or 20,000 follows who only connects with you that first time?
You'll find much more success with fewer, loyal connections who engage with you. I know to be able to say you have thousands or millions of followers sounds fantastic, but is it really? Has it increased your bottom line in any way? Or is it just a number?
#4: Law Of Patience
Wouldn't it be grand if one or two of your posts go viral, and you become an overnight sensation? We all hope for that, but the reality is it rarely happens that way.
You'll need to commit to time and patience to see your social media marketing strategy take off. And it will! Like that movie saying…" Build it and they will come", lol.
#5: Law Of Compounding
Just like publishing many quality articles is important for website ranking, so is posting quality content on your social media sites. And the more quality you post, the more likely your followers will share it with their followers.
The hope is that the more people share your content, especially if it's on their own blogs, the greater the chance Google will find your keywords. The end result is putting your content in front of MANY more eyes!
#6: Law of Influence
Get to know online influencers in your market. Their audiences might like your products as much as theirs. So connects with their followers and start to engage with them.
You never know? Maybe they'll find your information a little different and more valuable. This is a great way to find and increase your loyal following. And yes, it's ethical, lol. Heck, they're doing that with your followers too!
#7: Law Of Value
Do you spend all your time promoting your products and services? How do you feel when the people you follow do this all the time? Do you get tired of it and quit following?
No one wants to be sold to all the time. Instead of focusing on conversions, focus on having valuable conversations and developing relationships. Free help can go a long way to creating loyalty, and they'll be more apt to talk about you to their friends and family. See? Free marketing!
#8: Law Of Acknowledgment
Would you ignore someone who reaches out to you offline? OK, maybe that pesky neighbour… But really, you usually help out, right?
Well, its the same for your online relationships. You don't want to ignore them when they reach out to you. That's just bad manners, lol. If you want marketing success online, be sure to acknowledge everyone who reaches out to you.
#9: Law of Accessibility
This is somewhat related to the law of acknowledgment. You want to make sure you're available to your audience. That means that you shouldn't disappear for weeks.
Sure, you might be on vacation, but with the accessibility to WiFi or Internet connections, you should always carve out some time to check your social media platforms and inboxes.
And with all the notification features they have, it should be easy for you to know when someone's asking for you. Isn't it better to do this every few days, rather than come home to a bunch of "unfollows"?
#10: Law of Reciprocity
Wow! Say that 10 times, lol.
How often do you share your follower's content? It's only fair, right? If you expect them to share your content, you should be willing to spend some time sharing theirs.
This is a give and take world. And if all you do is take, you'll find yourself with no one…
[adinserter block="1″]
Conclusion
I hope the strategies above and more importantly, the 10 laws for social media marketing were a help to you. No matter how you personally feel about these platforms, they can be a great help for a business brand and ultimately your sales.
You may hear online gurus saying you don't need anything but social media for advertising. Not even a website.
But I beg to differ… very much! I will always recommend your online business have its own website. All the successful entrepreneurs you see online have websites.
This is the face of your business. It speaks volumes about you and your brand. It's just plain professional, lol.
Personally, if I'm looking for a solution to something online, and find something interesting in the form of an ad, I always look for the business's website. And if they don't have one? I move on. The lack of a website tells me they don't care enough about properly representing themselves.
Yes, social media is great for your marketing strategies. But they should always tie back to your website.
Are you serious about earning money online with your own business? If you are, I would love for you to see where I learned everything about online marketing, and where I run my business to this day.
And yes, there are social media courses as well, lol. You can start for free and check it out!
If you click on the button below, you can read all about it. You won't regret it!
Do you use all the different social media sites above? How have your campaigns been going? The nice thing is that there is a lot of training available online. The only problem is that it's hard to know which is best, right?
If you have any questions or comments, please leave them below. I'd love to hear from you.
Cheers,
Suzanne