Are you using social media platforms to help brand yourself, or your business? These platforms can better reach and engage with different audiences.
But not all social media platforms are created equal. There are strategies that work better on one platform but not the others.
Let's take a look at the differences between Facebook, Twitter, Instagram, Pinterest, and Snapchat.
And then look at the 10 laws for social media marketing.  These fundamentals will help you find success, whether using just one platform, or many.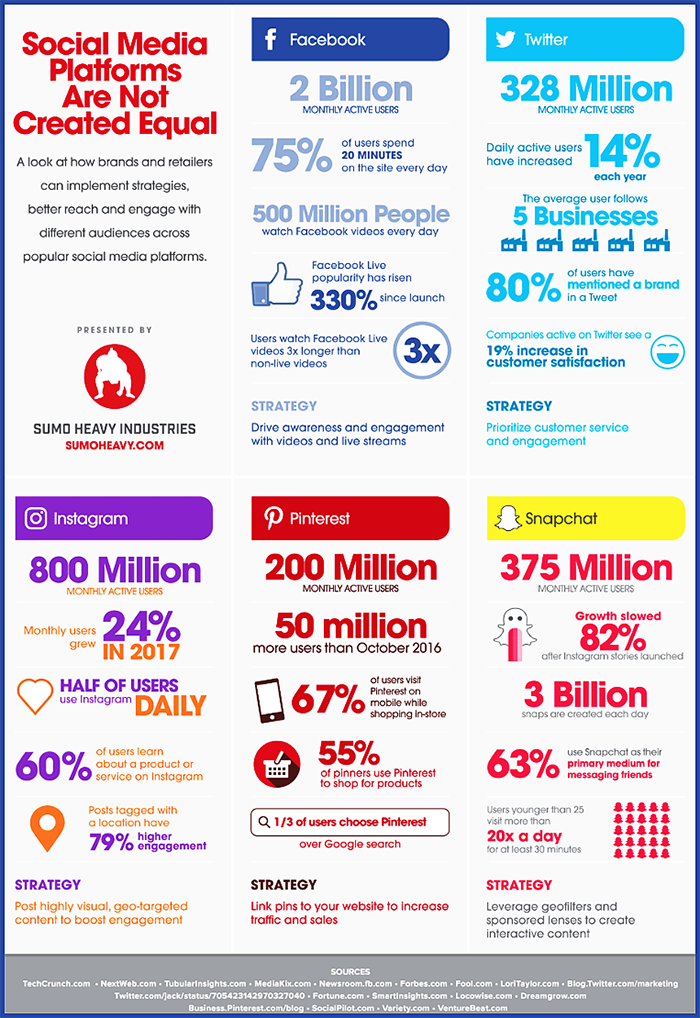 Those are some pretty amazing stats, aren't they? Some say Facebook is dying… Really? They still have the lions share of monthly active users, lol.
I believe the millennial generation is more active on Instagram, though. But for branding purposes, I would consider using the platform that best suits your niche.
A comparison of the social media sites in the infographic above might help you decide which platform you'd like to start with.
Social Media Platforms
We will look at five different platforms that are commonly used for business marketing. There are others, I know, but these are probably the most popular after YouTube.
Facebook
Monthly Users
This site has 2 billion monthly active users. Wow! And 75% of them spend 20 minutes of their day there. Hmm… I'm thinking 20 minutes isn't a high enough statistic, lol.
Popularity
This certainly isn't dying… Its popularity has risen by 330% since its launch. Even with all its algorithm changes, lol.
Video Viewing
They estimate 500 million people watch Facebook videos each day, spending 3 times longer watching "Facebook Live" than non-live videos.
Effective Strategy
With millions of people watching both live and non-live videos, this is a great strategy to engage with your followers. Videos attract attention, which in turn drives your business awareness to the masses!
Take Action:
Udemy has many professional and detailed courses available. And they're often on sale for $14.99, even the $200 courses!
Facebook has an impressive array of free marketing courses, but you don't get to dialogue with the instructor like you do with Udemy teachers.