Are you concerned with your keyword and website ranking? I am. Ranking is important if you want to be visible to your target audience. When someone is looking for the product or service you are offering, you would like to be on page one to get noticed. With low ranking numbers, your target audience won't find you.
According to Ignite Visibility, who performed a micro test on 5000 queries, showed the ranking stats of clicks on the first 10 positions:
Position 1 – 20.5%
Position 2 – 13.32%
Position 3 – 13.14%
Position 4 – 8.98%
Position 5 – 9.21%
Position 6 – 6.73%
Position 7 – 7.61%
Position 8 – 6.92%
Position 9 – 5.52%
Position 10 – 7.95%
Most people tend to click on pages found on the first page. The first-page status tends towards authority in any given niche. With this in mind, people don't usually take the time to scroll much further. So of course, the higher ranked you are, the more visitors you will receive.
The issue is, unless you're a very large or highly authoritative site like Wikipedia or YouTube, it won't be easy.  But it's not impossible!  You may not get high ranking 100% of the time, especially if you have a new website trying to rank for a popular keyword.  But if you use the proper tools, you can greatly increase your chances.
Hi, my name is Suzanne and I'm here to walk you through my process of finding keywords with high ranking value, which in turn leads to a high ranking website.
A keyword research tool is vital to a successful online business.  This is where I learned my success…
Proper Tools?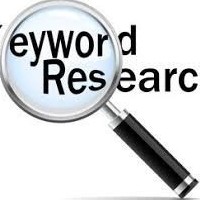 In years past, you had to guess that the keywords you used would have traction in the search engines. Or you would do some searches for words in Google, for instance, and come up with very broad results like how many pages were found with that word.
You had no way of knowing how many times that word was searched in a month, or how much competition it had.
Technology has come so far since then. Now there are tools that give you all this information and more. No more guessing if your keywords are popular. No more wondering how much competition you will have.
The most important aspects of a keyword tool are:
Average monthly searches
Amount of website competition
A keyword quality indicator
The readability of the keyword phrase (does it make sense)
With these statistics, you'll be able to find keywords that are being searched online, with low competition, and giving you the best opportunities to rank on page one.
OK, So Where Do I Start?
Let's say my niche website is pet care, and I want to write content on that subject.  "Pet Care" is still too broad of a keyword (too much competition).  You definitely want to choose keywords that are relevant to your business, but you want to have a more targeted audience to reduce the competition.
Let's see what I come up with using my keyword tool…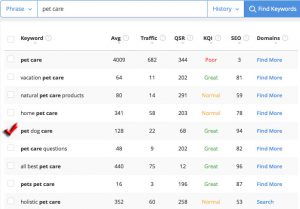 As you can see, the keyword "pet care" has a lot of traffic each month at 4009 average searches. That's great BUT the quoted search results (QSR) of 344 is the number of websites ranked in Google, for that exact keyword. That's not good!
Ideally, you want a QSR under 100.
The keyword quality indicator (KQI) tells me it's a poor choice to use and would only give me a 3 out of 100 chance of getting ranked on page one on google.
If I look down the list, I see other alternatives the tool gives me, with all the associated metrics.
Using the keywords "pet dog care" would be a much better choice. It's targeted to a more specific audience, which is always a better business strategy. "All best pet care" is great too except that it doesn't make sense. Ideally, you want your keywords to be readable.
So let's click on "pet dog care" to get some more ideas.

I found four more keywords I like:
affordable dog care
free dog care
pet dog health
pet cat care (although this wouldn't apply to a dog care website…unless I branch out my pet care website to cover various animals)
I would check off these and save them to my keyword list that this tool provides. They would all make great articles for my niche.
Another way to get ideas is to use the alphabet soup technique. This tool can do this for me with a click of a button.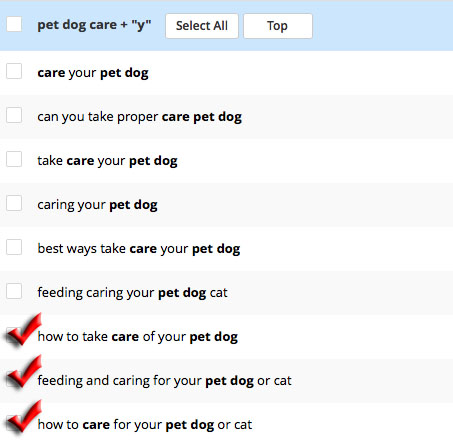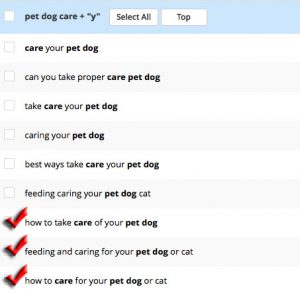 It brings up ideas using every letter of the alphabet. In this case, I scrolled down and liked some ideas using "y"…
how to take care of your pet dog
feeding and caring for your pet dog or cat
how to care for your pet dog or cat
You notice how the keyword is getting to be a longer phrase?  These are long long-tailed keywords and very targeted.  Personally, I prefer using long-tail keywords.  They clearly show the intent of the person searching for a solution.
The monthly searches may be lower with this type of keyword, but you know that your visitor is looking for exactly what you're offering.  Which means it's a good chance you'll get a sale.
So let's go back and type in "how to take care of your pet dog" into the keyword search bar.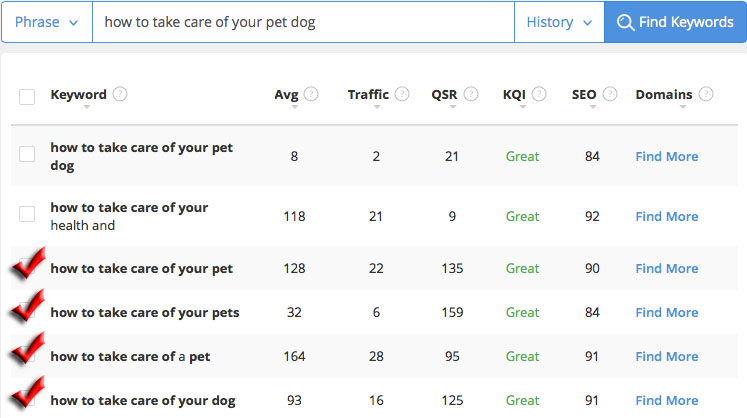 I've now found 4 or 5 additional long-tail keywords to save to my list for future content.
Another way to go about this is to use the google search bar and its predictive text. These suggestions that Google shows you, are actual searches being done by people online. These are the "popular" searches.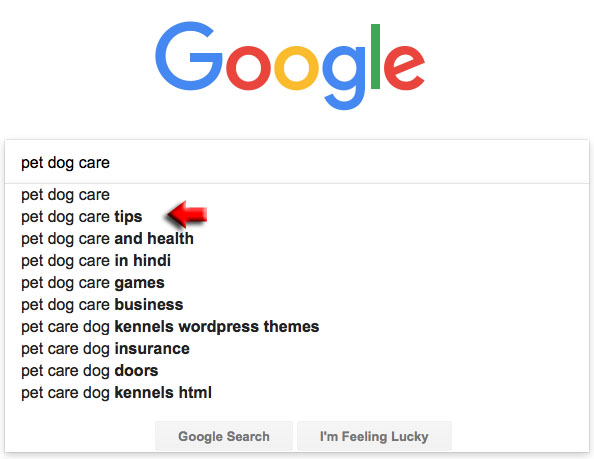 Here I found another idea.  I like the term "pet dog care tips".
Using this idea, I go back to my keyword tool and type it in.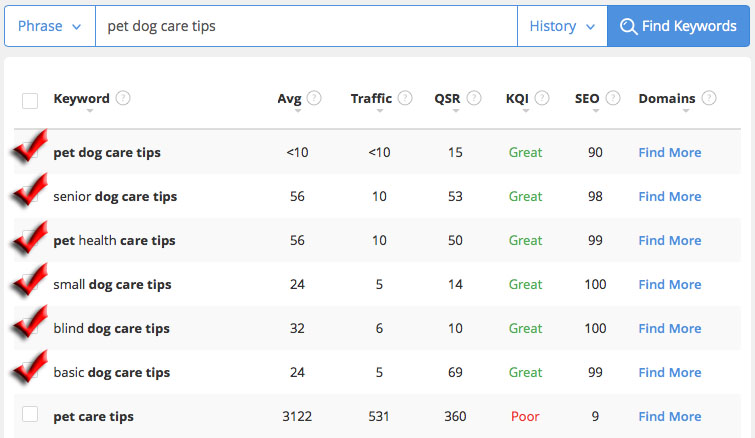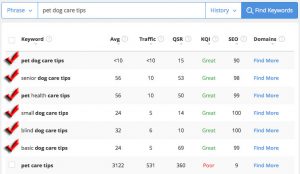 I again find many keywords I like on my list. If I keep going like this, I can end up with a keyword list that would give me many topics for future articles.
The most important thing I've done is find keywords that give me the best chances of ranking on page one.
Would You Like To Know Which Tool I Use?
It's called Jaaxy. This is my favourite tool to use as it gives me all I need to achieve great keyword and website ranking. It offers the basic information I need plus more. Jaaxy works great for me and I know it will for you too.  This is my review of Jaaxy.
Jaaxy has three price plans to suit every budget:
Free Trial – $0 offers you 30 keyword searches plus more
Pro Plan – $49/month offers you unlimited keyword searches plus more
Enterprise Plan – $99/month offers serious users so much more.
Would you like to try it for free? Below is the Jaaxy search bar. Just type in any keyword you might have in mind, and it will bring you to the free sign up page. No credit card needed. Just a free account. It will then show you all the metrics I showed you in my searches above.
Jaaxy was created by the same owners of Wealthy Affiliate University, the best choice for an online training platform. If you're in the market for excellent training, at the best price you'll find online, please click the button below to see my review.
So this is how I find all my keywords and have found success. I know you can too.
Have you found some really great keywords for your articles?  If you have any questions, please comment below.
If you know anyone who could benefit from this article, please share.
Your friend,
Suzanne
SaveSave
SaveSave
SaveSave