Are you hoping to make money online? Are you looking for the easiest way to do this?
If you are, you've probably come across this product.  It sounds too good to be true, doesn't it?
So now you're wondering if it's legit or another scam.  Let me help you answer those questions.
Welcome to the Click And Bank Review.  Let's go inside to see what you get, how it works, and if it's what you expect.
By the end, you'll be able to make an informed decision if it's right for you or not.
Would you like to know where I learned to create a successful online income?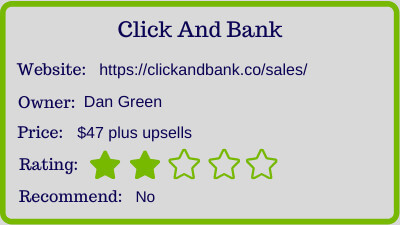 What Is Click and Bank?

This software will create a DFY website with content published on autopilot.
It was created by Dan Green and launched on Warrior Plus on April 27th, 2020.

Click and Bank – $47 (one site)
What's Inside
Onboarding Setup
Dashboard
Your Sites
Posts
Content Spinning
content Sourcing
Reviews
Ads & Optins
Pages
Layouts
Configuration
View Live
Support & Tutorials (Videos)
Dan's Tips For Using Click and Bank
Agency Level Features
Pro-Level Features
Onboarding
Posts
Reviews
Ads & Optin Forms
Layouts & Theme Options
Content Spinning
Content Sourcing
Site Configuration
Bonuses
#1: Clickbank Marketing Secrets Video Training
#2: Clickbank Social Media Training
Upsells
OTO #1: Pro – $67,
OTO #2: Easy Amazon Profits – $27
OTO #3: Done For You – $197 (SOLD OUT)
OTO #4: Commercial + Developer Rights – $67
OTO #5: Reseller + Agency License – $197
Who Is This System For?

I don't think it's for anyone really.  Not if you're serious about making an online income.
I know the sales page sounds promising, but it's written that way to persuade you to buy.  Most of it isn't true at all!
There's no such thing as a push-button system that can make you money with no work.  It's nice to hear, but it isn't possible.
If you continue reading through to my concerns, I'll tell you why, OK?
And I can recommend a much safer way to build yourself an online business.
How Does It Work?

How would you like to generate commissions from the biggest affiliate network out there? Without any manual work!
Hmm… Let's see what else the sales page says…
Sales Page
This new web-based software creates done-for-you affiliate sites that are supposed to rank themselves on Google.
These sites come preloaded with new daily reviews for the top converting click bank products.
The reviews come complete with videos, Images, and bonuses so that you don't have to do anything.
All you have to do is three steps:
Step #1: Choose a niche From the 23 click bank niches that are already set up for you.
Step #2: Enter your click bank ID to get full credit for any sales.
Step #3: Click on "Create My Site" and you're done!
Your site is now on autopilot.
There are thousands of marketers that use ClickBank as it's one of the biggest affiliate networks there is. They paid out over $2 billion to online affiliates.
The super affiliates are successful because they have websites they can monetize. Is this what you're missing? Your own website?
Or maybe you think starting out is too difficult with too much work?
This is why Dan created this product. He wants to give everyone a better chance of making affiliate commissions with no work needed.
This software creates your whole site and hosts it for you. With the content that's posted to your site every day, It'll rank on Google and generate free traffic.
He has included all 23 niches available on click bank so all you need to do is choose one. If there isn't one listed that you prefer, you can customize your choice to literally any niche you want.
Now enter your ClickBank ID and watch your commissions come in on autopilot.
It's ridiculously easy for you to get started with this software.  Now you won't be wasting your time:
Doing website design from scratch.
Writing content for your site.
Creating and spending money on Ads.
Trying to learn the technical side of running the business.
Trying to learn complicated software.
Not only is everything done for you, but you can also add banner ads and optin forms where every want.  You can even use your own domain.
Hmm… I'm not convinced, but let's see if the product does what it promises…

Member Area/Dashboard
When you first sign in to your account you are asked to give your site a name as well as the URL name you choose.  You'll then be directed to your dashboard…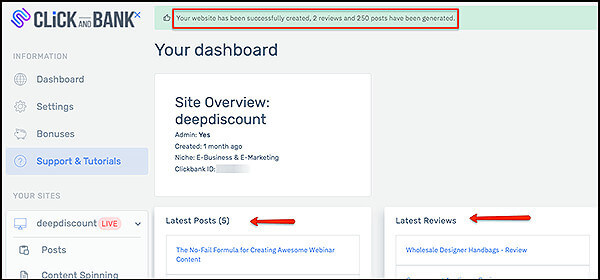 I want you to know that this is the sample product I was allowed to review.  I didn't purchase this product for many reasons I'll share with you below.
I recommend you go through the training first, so you'll have an idea of the things you should do.
Your Sites
There is a demo video below to give you a complete walkthrough, so I'll just go over some of the highlights for you.
Posts
When you click here, you'll see all the posts, as well as "upcoming" posts, were generated for your site…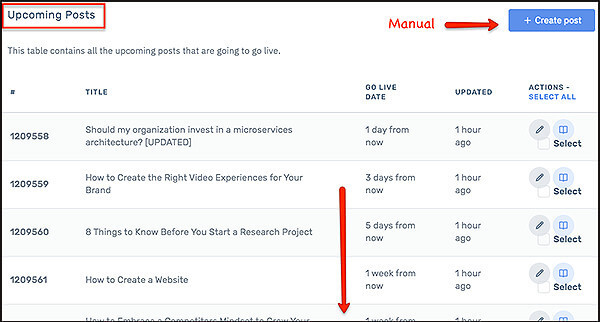 There were 16 pages of upcoming posts here, dated to post from tomorrow to 1 year from now.  There are also 10 live posts already on the site.
I clicked on one to see what it looked like "live"…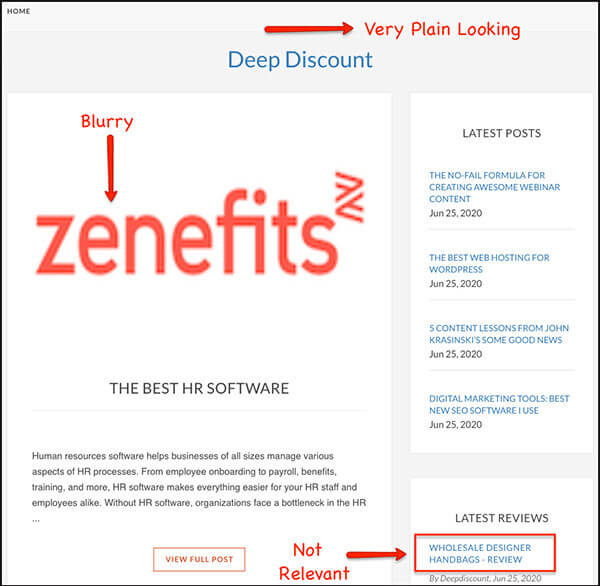 I was disappointed!  It's not a very nice looking site, is it?  The screenshot didn't show it, but the images were blurry as well.
And what's with the "Designer Handbag" review, lol.  I chose a niche about e-business, but about the business side, not the product side.
The funny thing was that the handbag article was the ONLY one that had my Clickbank affiliate link attached.
To eventually rank on Google, you need to have loads of content that it considers helpful to your visitors.
And the fact that there are so many posts already added, and upcoming ones added 3 to 4 times per week, this will help speed up the ranking process.
Content Spinning
The owner claims to give you "unique" content for your site.  But the only way to do this is to spin the content it pulls off the internet.
Google will not rank duplicated content (that's also considered plagiarism…).
So the content is spun for you.  Here's a comparison from the original article to your spun one…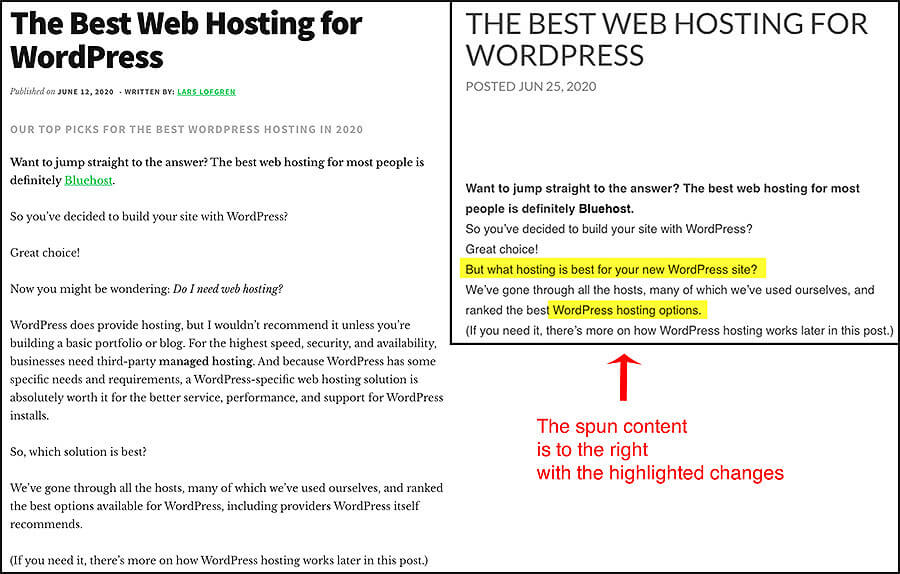 This is a screenshot of the top portion of each post.  As you can see, the spin tool removed some content and only changed a couple of sentences.
In my opinion, this is poorly done with a lot of duplicated content still there.  This won't rank!!
You do have the option to create your own content word swap.  If you enter the word you'd like to change and then add as many synonyms for it as you like, the software will automatically change that word for you in all the articles.
Content Sourcing
This section shows you the RSS feeds that it's using to pull your spun posts from.  These are the default sources for this niche.
You can choose other sources to add if you wish.  Watching the "Content Sourcing" tutorial video will show you how to do this.
Reviews
These are your review posts, and the ones containing your affiliate link.  This would be the "Handbag" review I discussed above.
It was immediately added to the site, and the next one is about "Government Auctions".  It will contain a Youtube video talking about buying and selling cars that have been repossessed.
The product that is offered is something that is relevant to the article.  This will have your affiliate link embedded.
One nice feature is the "Bonus" addition.  Any review will have a bonus offered.  This is how you would encourage your visitor to purchase the product.
These bonuses are included with the software and are delivered to your visitor when they make the purchase.
This is what the bonus section looks like at the bottom of the handbag review…
It gives the visitor a full description of what they'll be getting.
Ads & Optins
This is where you would create your advertisements or optin form for your site.
Creating an optin form is important if you want to start building an email list.  As your visitors are those who are interested in your niche, these leads would be considered targeted leads.
Your list is a great way to send them future promotions for more affiliate commissions.
Pages
This section is where you create any pages for your site.  These are usually your "About Me", privacy, and affiliate disclosure pages.
When you click on "create page", you'll be brought to an editor to make your new page.
I recommend you have at least the 3 pages I mentioned, for security's sake.
Layouts
If you want to spruce up the look of your site, this is where you'll do it.
The edits are:
Your logo
Your site bio
Different site colours
Theme options
Grid and header layout
Fonts
These edits will definitely help the look of your site.  I know they said you could just create it with one click and no work.
But it will take some work on your part to make your site more attractive.

Configuration
This is where you can view the information you entered at the very beginning:
Site subdomain name
Site title
Niche
Clickbank ID
Embed Code and embed script
This is where you would enable your bonus content, or delete your site as well.
View Live
Clicking here will bring you to your site.  You'll be able to see what other people see!
For a full walkthrough, please watch the demo video below.
Bonuses
#1: Clickbank Marketing Secrets Video Training
This first bonus is a PDF and video training course.  If you are new to ClickBank this will show you everything you need to know about that affiliate network.
#2: Clickbank Social Media Training
This training package all about using social media to drive more traffic to your new website.
The training covers additional ways to drive traffic to your site that's over and above what the product is already doing for you.
Upsells
OTO #1: Pro
This upgrade allows you unlimited sites for unlimited income streams.  Let's say you make $100 a week with one site. Now you can create as many sites as you want and multiply your income the same way.
And with now being able to get stats on your best-performing sites, you'll know which sites to add banner ads on.  This is the best way to do your split testing!
OTO #2: Easy Amazon Profits
This upsell will give you 10 additional income streams with done for you "Amazon" sites.
Each site comes with the best converting product reviews.
Each review comes with an in-depth video review of the product and excellent sales copy.  All you need to do is embed your Amazon affiliate link and you'll be making more commissions in no time.
OTO #3: Done For You (SOLD OUT)

This upgrade was to have everything done for you from building your site to adding banner ads and optin forms.
Unfortunately, they had a strict limit of 100 upgrades, and they are all sold
OTO #4: Commercial + Developer Rights

This license will allow you to create sites for your clients and keep 100% of the profits you charge them with.
You can:
Create original content for them.
Get these sites ranked on Google.
Get traffic for your clients.
OTO #5: Reseller + Agency License

This license allows you to resell this product as your own, and keep 100% of the profits.

Demo Video
My Concerns

Unfortunately, I have many concerns about this product. Let me share them with you.
Concern #1 – DFY? 
I have never liked claims that everything can be done for you and you don't have to work to make money online.
Many product creators say this because it's very enticing. But the truth is it never works.  
As you can see by my screenshot of the website, it will indeed take considerable effort on your part to make it look good as well as rank-able.
Concern #2 – Spun Articles 
If you did what it claimed and all you had to do was push a button and you would start making money, I'm sorry, but it simply won't work.
There is a lot of work required to edit each article so that you won't have duplicated content.   If you don't improve on these articles, Google will not rank them for you.
Do you consider spun content unique? I don't! 
And many times Google won't either.  They are smart enough to know what is unique and what is spun.
Concern #3 – Commissions? 
Though you get many posts published every week on your site, the review articles are posted less frequently.
It appears to be every 3 days or so unless you manually publish your own.  
So when the sales page says you can become an overnight success, that's an outright lie. There's no way you'll be making money with just one post let alone overnight.
Concern #4 – Traffic 
This is my biggest concern.  How can you possibly make any money when there is no traffic going to your website?
Every online marketer will tell you that traffic is the most important ingredient to making money online.
You have to know how to drive traffic to your website in order for people to see your offers.
They claim you will get 100% free traffic when your articles are ranked on Google. But as I already explained there is little chance they will get ranked, let alone high enough to be seen.
You will need additional training to know how to drive traffic sources to your site.
Concern #5 – Hyped-Up Sales Page
This is really just an annoyance as well as some confusion.
The claims made on the sales page are very hyped up and only presented that way to encourage you to purchase the product.
What I found confusing was the two purchase options:
 A monthly fee of $47
 A one time fee of $47
So which would you prefer, haha? That's the craziest options I've seen yet.  
But really, what this tells me is that the owner has little interest in this product. If he were committed I think he would at least create a sales page that made sense.
Could this mean the support for this product will also be poor?
Pros
30-day money-back guarantee
Cons
DFY products never work
The front end product has only one website
Duplicated and spun content
Requires first upsell for multiple income streams
Final Thoughts And Recommendations

I don't believe this product will work for you as it claims.  Therefore I cannot, in good conscience, recommend this to you.
Is Click and Bank a scam?    No
Would I recommend it?    No
With all the work involved to make this product work, I think you could make a much better investment with learning how to do this yourself.
Making money online isn't hard if you have the proper training and tools.  Yes, it takes effort, but then you'll be creating your own business that's unique from any other.  Google loves that!
I can help you with that, and it's FREE too…
Can I make you my honest recommendation?
The platform I run my business on is all-inclusive with so many excellent benefits. I started here in 2011, and I'm still there because of all the excellent features.  And more are added each year.
This platform not only offers excellent training for affiliate marketing, and designed for total beginners, but offers new and updated training, support, and powerful tools to help us scale our businesses to new heights.
They have a domain registry to choose your own company name.
They have a powerful website builder for WordPress sites.
Their hosting service is one of the best in the industry.
They have an exceptional keyword research tool to help rank your content.
Their community is large, active, and live!
And so much more…
The best part is the starter membership. It's FREE, no credit card necessary.
If you click on the image below, you can read all about it. When you join, I'll greet you inside and coach you for as long as you want me too!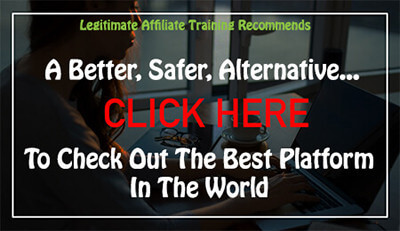 So where did you hear about Click and Bank? Did my review answer all your questions?
If you have any more, or would like to leave a comment, please do so below and I'll get right back to you.
Cheers,
Suzanne
P.S. Please share my post with your friends!