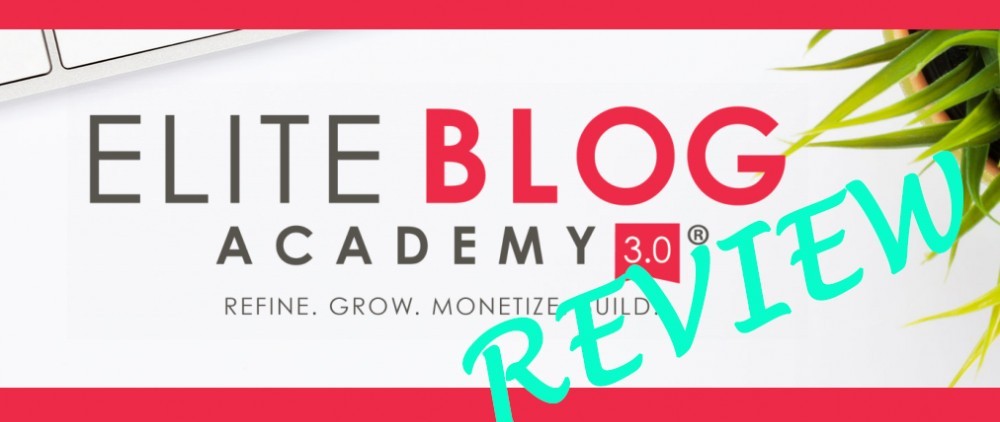 Are you a budding author who loves to tell stories? Or maybe you just have a lot to share and would like to write about it? You've heard the term "blogging", but have no idea where to start. Or you've started, but can't seem to get anywhere. And when researching online, you'll notice there is almost too much information, and you don't know what's legit and what's not.
You've most likely come across the site Elite Blog Academy 3.0 by Ruth Soukup. I'm here today to give you my honest Elite Blog Academy review, show you the pros and cons of her course, then show you my recommendation. There are a few startling things you need to know before going any further.
This is a thorough review, so it's fairly long. But I wanted to make sure you knew what you were getting into. So here we go…
If you're interested, this is where I learned all about blogging!
So What Is Elite Blog Academy 3.0?
According to her website, Ruth says she has figured out what works and what doesn't and has put them together in a plan to help you achieve massive success. Wow! Bold statement!
She claims that whether you are a beginner, or have already started a blog, this course will give you the tools you need to build your business, grow your traffic, and monetize your website.
Enrollment for this course is only open to the public for 5 days, once a year. At the time I wrote this blog, the next registration begins March 4, 2019, and closes again March 8, 2019. The best chance of getting in is to join the waiting list.

The Elite Blog Academy prices are offered in three tiers: $897 (Silver), $1197 (Gold), $1997 (Platinum). Also be prepared for additional costs for tools such as a keyword research tool, and an autoresponder (for your mailing list).
Some tools are necessary for the course, and some are optional but highly recommended by Ruth. You could probably expect several hundred dollars over and above the course cost.
I couldn't join the program to give you an insider's view, but I joined the waiting list to see what would happen. She immediately sent me a free download, which was her three page Blog Structure Blueprint. Pretty basic, but it was free!
And then came offers for more material. I don't usually fall for these upsells, but they seemed interesting so I thought I'd try the first one.
There are upsells already?
Yup, there are! Her first offer was to purchase her Digital Blogging Bundle for just $7. She claims it's worth $49, but that's just a popular marketing gimmick. At least this was worth the $7 because it included her book, which sells on Amazon for about the same price. Her bundle had four downloads:
How to Blog For Profit Without Losing Your Soul  

(PDF) – 105 pages
This book, which is also available on Amazon, tells her story about how she's developed her blog "LivingWellSpendingLess.com to over 1 million viewers per month. She covers a wide range of topics from choosing your niche to building a business.
My one big area of concern is when it was written. It was revised in 2014. A lot has changed in the internet world since then. So much of her advice on topics such as social media will be outdated.
Blogging 101 Workbook 

– 33 pages
This workbook was designed in 2015, with easy steps for a beginner's state of mind. She walks you through choosing a niche, buying your domain name through Bluehost, setting up your WordPress site, installing AdSense, and a basic writing template.
Her information is good, but again, quite basic. I don't necessarily agree with her using AdSense right away, but that's a personal choice. The writing advice is sound, though you will improve on your own style once you been writing for a while. I did enjoy her acronym for writing, which is FOCUS:
First Impression – captivating
Opening – compelling
Central Idea – purposeful
Useful Logic & Illustrations
Strong Conclusion
My Blog Planner 

– 136 pages



This simply entails planner pages for your long-term goals, yearly goals, monthly goals, and a weekly post planner. I assume this is her personal planner that she developed for herself.
Schedules like this are a great way to get organized and stay on track. As you get busier with your own business, you could use this as a guideline with changes made to suit your own needs.
Resources to Grow Your Blog 

– 8 pages
Ruth provides quite a few resources from Google Alerts to Pixabay (free online images). From Gravatar (your profile picture) to MailChimp (autoresponder). And many more. I don't know how up to date they all are, and in the last few years, there are many new products available. But this is a great jumping off point. Some are free, some have a cost.
OK, so I was impressed with the quality of information she was providing and took her up on her next upsell, hoping I wouldn't kick myself, LOL. This one is called Daily Productivity Guide for Bloggers. She claims it's worth $147. She was offering it for $47. So if you sign up for the waiting list, you're offered a substantial discount, (wink, wink).
This mini-course comes with:
Daily Productivity Guide Book 

(PDF) – 90 pages
This guidebook is all about being more productive with your time. How to set up your daily tasks and getting organized. How to eliminate distractions and defining your goals.
This guide is an easy read due to her conversational style of writing. She's developed catchy phrases and tells stories to get her point across.
Each of six chapters has some questions to work on, and the seventh chapter refers to your team (If you have one).
7 Video Lessons
These videos range from 15 to 20 minutes each. They basically summarize the PDF guide but in audio format.
This is great for people who are auditory learners, to help retain the information written in her guide. She has a pleasant voice to listen to and sounds like your best friend, lol.
Downloadable Calendar Pages 

– 8 pages
Ruth has included pages from her planner (I'm assuming), to print off and use at will. These are similar to the ones included with her Resources To Grow Your Blog, above, but updated and "prettier".
All in all, it was an enjoyable read, but now I have to kick myself, sigh. For me, this certainly wasn't worth $47, and I should have know better. This was all information I already knew. I have written my own blog on productivity!
I'm not saying you wouldn't find it good value for the price if you were just starting out, and needed instruction on how to be productive. But all of this information can be found online for free. The only advantage here is that it's all wrapped up with a pretty little bow. And if you weren't signing up for her waiting list, it would cost you $147. Yikes
What About The Academy Course Itself?
Ruth testifies herself, that the Blog Academy is an intense, in-depth blogging course. But before you begin the course, your required to:
Set up your self-hosted blog on WordPress – she directs you to Bluehost for a domain and website.
Set up your social media accounts – Facebook, Twitter, Pinterest Business Account, Google+, Instagram, & LindedIn.
Install several plugins – she lists five, one of which has since been discontinued.
Suggested reading material – unfortunately outdated.
Suggests setting aside 5-10 hours per week to write content.
This was very troubling to me. If a newcomer wanted to take this course, this can be quite a challenge to get set up by yourself. Ruth offers a few tutorials to help you along, and I'm sure the hosting company you choose for your website has help videos and support, but for someone with no experience, it could be a little scary.
The course itself is designed to go at your own pace, but she recommends you take no less than 12 weeks to complete. I appreciate the fact that she tells you NOT to take the course if you're not willing to put in the time and effort into each assignment. You need to plan on 5-10 per week for at least 12 weeks.
The Elite Blog Academy course says it will help you organize your website and create strategic plans for publishing your content. She will show you various methods to monetize your site to achieve your financial goals. She will also help you learn affiliate techniques and teach you how to approach the influential people in your niche.
Ruth listed off several more things you would learn, but these were all abstract such as "embracing your blog" and "discovering the secret to harnessing the most powerful marketing tool". I've heard these types of descriptions before. They sound great BUT there's no secret! It's just hard work and learning the proper strategies.
The course itself is broken down into four main modules, which further divides into units. Each unit has a video with transcript, downloadable workbook pages, a Q&A video, and assignments (36 in all).
As a member, you also have access to a private Facebook group, a printable course syllabus, and bonus videos regarding social media campaigns. Here's what the course modules look like:
Module 1: Refine Your Message
Unit 1: Start With Awesome

Unit 2: Content is King

Unit 3: Presentation is Everything
Module 2: Grow Your Traffic
Unit 4: Grow Your Platform

Unit 5: Grow Your List

Unit 6: Rock Your Social Media
Module 3: Monetize Your Platform
Unit 7: Show Me the Money

Unit 8: Create Your Product

Unit 9: Master Sales & Marketing
Module 4: Build Your Business
Unit 10: Work Smarter, Not Harder

Unit 11: From Blog to Business

Unit 12: Lead Your Team
Ruth states that blogging is not for the faint of heart, and not to expect results before 4-6 months. I agree. Like any online business, marketing isn't a get-rich-quick program. It takes time, dedication, and consistency to see results.
There is also a full refund if you're not seeing any measurable income and traffic growth by the end of the course.  (See the fine print below)
What I Liked About Elite Blog Academy
The course is "finishable".
The course is designed to go at your own pace, but she recommends no fewer than 12 weeks. With dedication and 5-10 hours per week, you should have no problem finishing.
You get lifetime enrollment.
The blogger Academy offers you access to all current and future materials as long as the Academy is operating.
The ability to network.
Ruth provides you with a class roster so that you can connect with other students. That, a private Facebook page, and a community forum allow you to network with other like-minded people.
This is very important to have when starting out in any venture, though a forum community can be quite slow to respond.
Live Q&A videos.
Ruth does a monthly Q&A video where the student can ask her literally anything blog related. If you can't attend live, the recordings are available on her platform.
Things I Didn't Like About Elite Blog Academy
The cost.
This is an expensive course for someone new to blogging. Most newcomers want to test the waters first, to see if they'll enjoy it. That's a very large price tag to try something new and find out it's not your thing.
Those of us who have experience with online marketing will hesitate to spend this much for material we already know. Yes, she lays it out in an organized manner, but most of this information can be found for free, online.
Also, don't expect a quick return on your investment. With the cost of the course and all the tools she recommends, you will be running in the red for quite some time.
Can be overwhelming.
For those who have some blogging experience, this course may be somewhat repetitive, but for those who are newcomers, it can be overwhelming.
Some reviewers have said they bought the course and didn't finish. Now whether they didn't realize the amount of work that was expected, or they were committed to too many things at the time, I don't know.
Must already own a live website.
The fact that you must have your blog up and running is a big disadvantage to someone new. This process is best done with "hand-holding" for a smooth process. Like anything new, the first time is intimidating.
Considerable time commitment.
Do not think you can get through this course in a couple of weeks. Ruth emphasizes 12 weeks with 5-10 hours per week. I think if you have a full-time job out of the home, you can probably expect 3 to 4 months. Some students have reported taking 8+ months.
No technical support.
The community may offer you strategic help and new ideas, but there is no technical support to speak of. This can cause severe stumbling blocks if something goes wrong with your website.
I have personally relied on my technical support team at various times in my career. Without your site working at peak efficiency, your looking at hurting your ranking and losing traffic.
Outdated material.
Because the internet landscape can change so quickly, the material provided needs constant updating. So far I have not seen updates with the material I've received.
This raises a big red flag for me. Nothing can hurt your business more than not following any updated strategies. This is especially true with social media.
The return policy…ouch!
This is where you need to read the fine print. And by that I mean I had to scroll down to the bottom of the homepage to find a tiny link saying "refund policy". To be eligible for a refund, you must do all the following, before 180 days from your purchase date:
complete the entire course
submit all 36 completed assignments
submit screenshots of before and after blog designs
analytic and income reports
Wow! This in itself would prevent many from bothering to get a refund.
My Recommendation – Do You Trust Me?
I believe this blogging course is legitimate. It offers a lot of actionable material, presented in an orderly fashion. Ruth Soukup comes across as a likable, personable teacher. And the fact that she has a very successful blog called livingwellspendingless.com, shows me she's not just all talk.
But she's not my first recommendation, and this is why.
Her course only offers some of what you need to learn.
I believe you need to have access to a platform that teaches you everything from the ground up…including websites.
You need a platform that sells you your domain name, builds your website, hosts your site, and provides only current, updated training to start and grow your business.
You need a platform that provides everything Elite Blog Academy does,
and much more, for a fraction of the price.
They provide all the tools you would ever need and a live community of over 1 million people worldwide. No waiting for forum responses. Your questions are answered almost immediately.
They offer the best blogging training courses, step by step, with both text and video.  They are designed for newcomers with no online experience. Once your training is finished, there are endless additional modules and videos available, on any topic of your choice.  It's truly blogging made simple.
The best thing is their  free starter membership. With just your name and email, your new membership allows you access to everything on the platform, a free website and free hosting. This way you can check it out and decide if it's for you, no investment necessary.
If you decide the premium membership is worth it (and I know you will…), it's only $49 per month or $359 per year (a 40% savings). And no upsells. Their price hasn't changed since 2005.
So why not check it out? There's no waiting, no large investment, and everything you need to become successful with your blog. Watch your blog grow into a full-time income (if that's your wish), or create a passive income for your future. It's an exciting time to start an online business. There's no reason why you can't become as successful as Ruth Soukup.
Do you already have an idea for your blog? Or maybe you already have one and need some help developing it? Let me know in the comments below. I'd love to hear from you.
Do you know anyone else who might be interested in Wealthy Affiliate? Please share.
Your friend
Suzanne
SaveSave
SaveSave
SaveSaveSaveSaveSaveSaveSaveSaveSaveSaveSaveSaveSaveSave
SaveSave
SaveSave
SaveSave