Another product claiming you can make over $1000 per day from a secret website! Kindle Sniper claims to show you how to write and sell ebooks with Amazon Kindle Publishing, without writing a word of it yourself.
Sounds amazing, doesn't it?  But what is Kindle Sniper? Is it legit or scam?
You may have seen this promo video online somewhere or checked it out on Clickbank. The platform, Clickbank, offers many products for purchase, either to use personally or for promotion through affiliate links.
Because it's fairly easy for people to develop products like Kdl Sniper, they make their money by selling it on platforms like Clickbank.
Unfortunately, many of them aren't legitimate. And they certainly don't provide what they offer in their promotional videos. Is Kdl Sniper any different?
What do you think? Does it sound too good to be true? Let's dissect it in this review.  I'll talk  about:
What is Kindle Sniper and what it can do for you.
What you get for your money.
Red Flags!!!
My recommendation for making an honest income.
If you're looking to make extra money with a tried and true method, please click here!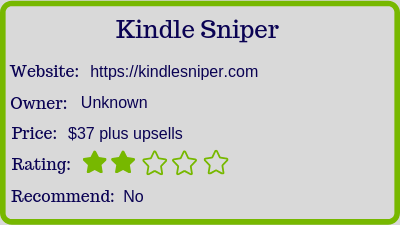 Update
This product is inactive and no longer for sale.
What Is Kindle Sniper?

Kindle Sniper (kdlsniper.com) is a system that claims it can make you over $1000 per day. The alleged owner, Martin Price, says he found this "secret" forum where the members were talking about making thousands of dollars by self-publishing online.
He begins by telling you his whole life story, which of course is an attempt to seek an emotional connection with you. He claims to have failed many times to publish his book, then finds this secret forum which saves his life.
He now wants to share with you this secret website. It's a one time offer that won't be available for long, and it will change your life forever.  Yeah, right…
He says he's developed a system to sell ebooks on Amazon's Kindle Direct Publishing, and not having to write a single word yourself.
He claims to have done all the work for you so now you only have to spend 10 minutes per day, and earn thousands.
He also claims to have made approximately $200 thousand in 6 months and gives similar testimonials from some of his customers.