Online education is becoming more and more available with each passing year. Many platforms offer courses in just about anything imaginable, which offers flexibility for students wanting to learn on their own schedule.
For those wanting to learn about online marketing, such as digital, content, social media, etc., there are many options online. One such platform is called Shaw Academy, and I'd like to give you the Shaw Academy review of my research and findings.
When hearing about this platform, things sounded interesting as they offered diplomas in various industries. But significant research found some concerning facts that need to be considered. If you are here and reading this review today, I hope to show you all the Shaw Academy provides, as well as pointing out things for you to consider before committing to a membership.
This is where I learned all about online marketing.
What Is Shaw Academy?
James Egan and Adrian Murphy founded this online education platform in 2013 and is based in Dublin Ireland, Bangalore India, and London England. According to Wikipedia, they have over 200 employees and serve a worldwide array of students. By the end of 2016, they had taught over 1.8 million students.
The advanced courses are said to be officially accredited and recognized globally. Most courses offer the diploma and accreditation.
They claim that all their courses are delivered live with access to recordings if you missed the live presentation. And they claim to have 24/7 student support for all their webinars, in order to answer all questions. I only say "claim" because I've found some conflicting reports… but we'll look at this further on, OK?
The Courses
Their current list consists of mainly four module courses. The first 4-week module is eight introductory one-hour lessons. The remaining advanced three modules are 24 hours in duration and are offered over 12 weeks. Each week consists of two lessons with a followup question and answer period of 15-20 minutes.
The following is a list of categories offered, with most categories offering several choices within:
Photography
Technology
Health and Wellness
Finance
Marketing
Design
Beauty
Music
Business
Language

The Prices
The majority of courses offer the first module of 4 weeks for a free 30-day trial. The remaining three modules are 4 weeks each at $75/month CAD. (I live in Canada. Your price will come up according to your location).
So let's look at the "Marketing" choices. You have five, course specialties to choose from.
Digital Marketing – 4 modules with certification
Social Media Marketing – 4 modules with certification
Blogging and Content Marketing – 1 module only with no certification
Psychology of Sales – 1 module only with no certification
Viral Marketing – 1 module with certification
If you choose Digital Marketing, your course outline and costs would look like this:
Module #1: Introduction – 30 Day Free Trial
Lesson 1 – Online Fundamentals – The Start of Your Success
Lesson 2 – Target Audience – Who is Your Customer
Lesson 3 – Google PPC & SEO – Acquiring the Right Leads for Less
Lesson 4 – Affiliate Marketing – Developing Strategic Partnerships Online
Lesson 5 – Facebook – Targeted Advertising for Lead Generation
Lesson 6 – Sales Funnel – Nurturing Your Leads
Lesson 7 – Data-Driven Marketing and Sales – Maximum Return
Lesson 8 – Strategy – Retention and Recurring Revenue
Module #2: Digital Marketing – $75 CAD
Week 1 – Advertising – Create Ads In The Digital Space
Week 2 – SEO – Let Your Buyers Find You
Week 3 – Growth Hacking – Create Explosive Growth
Week 4 – Remarketing
Module #3: Content Marketing – $75 CAD
Week 1: Buyer Personas & Strategy
Week 2: Blogging For Business Success
Week 3: Content-Rich Strategies (Visual, Video, And Audio)
Week 4: Viral Marketing – No Coercion Necessary
Module #4: Social Media – $75 CAD
Week 1: Engagement: Convert More Leads
Week 2: Social Media Management & Monitoring
Week 3: Turning Fans Into Buyers
Week 4: Optimizing Your Social Media Strategy
Final assignment plus E-diploma – $60.85 CAD (as of Sept 17/18). Premium (yearly) members are free.
Hard copy diploma – $76.09 CAD, $30.39 CAD for premium members.
So if you wanted to take just the one course and receive the diploma, it would cost you $285.85 CAD for an E-diploma, or $301.09 CAD for a shipped hard copy diploma.
They are currently running discount prices on their available plans. This was as of Sept 2018. There's no indication how long it will last, but I've included an image of prices on their website…
Please note, that all membership plans will continue to be billed monthly unless you cancel prior to the billing cycle. This also applies if you're only taking one course. If you don't cancel on time, that course cost will increase with each monthly charge.
There seem to be a few expired offers online, for lifetime memberships, on different coupon sites.  That might be worth looking into if you are interested.  There is one on StackSocial at the moment, for $99 US, which is set to expire Sept. 19, 2018.  It may extend…
Who Is This Platform For?
Shaw Academy is available to anyone who wants to take a course for accreditation, most likely to improve their resumes for a job promotion. Though designed for European qualifications, they say the diploma courses are recognized all over the world.
It's always worthwhile to continue in your professional development, and some people might enjoy taking these courses for their own personal knowledge.
This online education platform is similar in structure to other platforms, such as:
Udemy.com – please read my Udemy review
Online courses offer more flexibility than offline education. Most offline education requires classroom structure at specified times, which require you to attend in order to be graded. If you work, you must take time off to complete your course. With online education, most courses are available at your leisure and won't interfere with your work schedule.
Shaw claims to offer a unique teaching style that most other platforms don't. Live broadcasts by their educators. This is a big advantage when you don't understand something, and stop to ask a question. They also claim to have a support team handy throughout the broadcast, to make sure all questions are answered in real time.
The courses are also offered in seven different international languages. These include:
English
French
Spanish
Chinese
German
Italian
Portuguese
How Does It Work?
To access the courses, you need to either sign up for the 30-day free trial or purchase a membership if the course you desire doesn't qualify for the free trial. As you can see from the image above, if you plan to take more than one course, it's cheaper to pay 6 or 12 months at a time.
Try to always start with the free trial if you can. Because you're required to submit your credit card information, if you wish to cancel, make sure you do so well before your 30 days are up. Unfortunately, I came upon some disturbing reviews about cancelling and still being charged.
As you can see, when you sign up for a course, you are first required to enter your email and phone number. Student reviews have indicated that you will be called and "encouraged" to sign up for their premium 1-year membership.
You are then given a choice from six courses to choose from for the "free" module #1. You have a variety of weeknight combinations to choose from, and times from 9 am to 10 pm.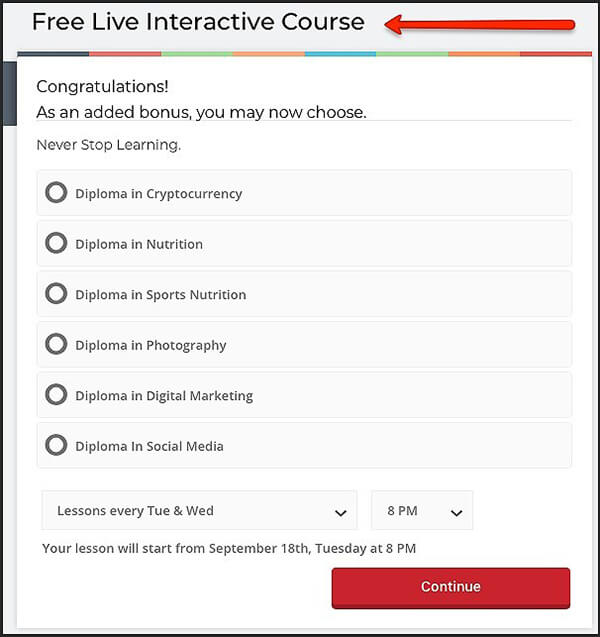 Not all the courses qualify for the 30-day free trial offer. The "Child Nutrition" course, for example, is only 1 module and costs $59.99/month CAD for 30 days access.
They then ask you for more personal information. To be honest, the only reason I can see this being used for is when they text or phone you. It gives them information to build persuasive arguments to have you join the premium membership.
Finally, you are asked to enter your payment information. You have a choice of credit card or PayPal. Personally, I would always choose PayPal, because as added security, you can have PayPal cancel any future withdrawals if you choose to cancel. That way your credit card won't be deducted.
You are clearly given a date to cancel by and are told there are no refunds available.
With any course you initially choose, you will have access to only that course for 30 days. And you will only access each new lesson as they are scheduled, two per week over four weeks. At the end of the 30 days, you will have the option to cancel or continue paying as a member, at which point you can access all the courses.
Below is the first lesson in the Digital Marketing course, "Online Fundamentals – The Start of Your Success". This way, you can get a good idea of what each lesson will look like.
Each course has both theory and practical applications. These are included, but not your final assignment to earn your diploma. This comes at an additional cost. Even more, if you want a hard copy of your diploma.
Previous students have claimed that they would have considered joining if all the extra costs didn't add up so much. You must pay for your final assignments and your diplomas.
Here is an example of a final examination in Digital Marketing, dated April 24, 2017.
Pros
Affordable prices
30-day free trial
Monthly membership costs give you access to all the courses
Live sessions are available at scheduled times
Recordings are available 24/7 if you miss the live training
Courses offered in different languages
Cons
The free trial still requires credit card submission
Not all courses are eligible for the free trial
Free trial courses don't offer much value
Extra costs – final assignment, diploma
Aggressive texting and phoning to push their annual membership
Information only. No tools to apply what you've learned.
Thoughts And Recommendations
I believe anytime you can better yourself with online education, it's a good thing. The only problem is finding a platform you can trust.
As we've seen above, Shaw Academy is another one of those companies who are not completely upfront about their costs. You are led to believe that you will be receiving your diploma for a completed course at the price listed on the website. It's not until you've paid that you find out there are additional costs for the final examination and diploma itself.
And what about the phoning and texting? That just doesn't seem right to me. I would think that encouraging you to sign up for their yearly membership on the platform itself is one thing. But using your phone number to text and call you to persuade you to sign up is unethical in my books.
The number of negative reviews was alarming when I started researching this platform. There are not a lot of practical Shaw Academy reviews out there. The positive ones are definitely affiliates of the platform, so only point out the positives. The remaining reviews I found consisted of complaint type forums like the BBB (Better Business Bureau).
What I also found disturbing were the comments by former employees. On the website Glassdoor.ie, the current employees gave the Shaw academy decent reviews, yet any former ones posted horrible ones. Makes you wonder what goes on there, and how they manage their employees, lol.
The positive reviews were mainly about the course material itself, praising the education, the structure, and the instructors. So that's encouraging!
The majority of Shaw Academy complaints seems to be with billing, service, or shipping issues. Many students were frustrated when being charged even after cancelling. Many emails and phone calls are never returned, and hard copy diplomas never arriving.
Another valid concern is the pre-recorded webinars.  Many of the recordings were done in 2016.  Depending on the course you choose, this is a problem.  Social media, for example.  The way you use social media for any type of advertising or promotion changes rapidly.  What worked in 2016 will not work today.  This type of training needs to be continually upgraded.
I am always careful to take each "scam" comment with a grain of salt, but there are just too many. And quite recent as well. Below is a screenshot of a complaint from Susan, on August 27, 2018, on the website "Online Study Australia".
So is Shaw Academy a scam? No. Would I recommend them? A cautious yes. I believe their platform can offer you legitimate training, but you should also beware of the number of negative reviews. Personally, it's all the negative reviews holding me back.
The important question you need to ask yourself is…
"Am I doing this to supplement my resume or my income?
If it's for your resume, and you need a diploma for proof, then OK. But if it's to supplement your income, can I offer you a better recommendation?
It's a platform that not only offers all the training you'd ever need about online marketing but for a lower cost, you'll also get all the tools and support to actually start your own online business. No surprise upsells or additional costs.  And continually updated.
You can learn at your own pace, and start earning supplemental income that could turn full time if you want it to.
The best part is you can start for free. With no credit card needed!
Click on the picture below to join, and I will personally meet you on the inside. I promise to be there for you as long as you need me.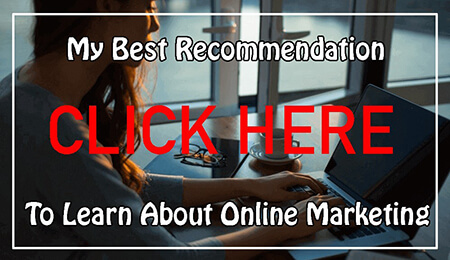 Have you taken any online courses before? Who did you choose, and why? I'd love to hear from you. If you have any comment or questions, please ask me below and I'll get right back to you.
Your friend,
Suzanne