Every month of the year, there are new products and systems launching online, claiming they're the only way to successfully make money online.
And this new launch is no different. It's called Easy Profits Makers, which offers video training to achieve $179.63 per day.
I'm proud of you for researching this product before purchasing, no matter how low the initial buy-in is. You're a smart person, and want to be careful with your money.
So let's go through this Easy Profit Makers 2018 review and see if it's a legitimate product, OK? And NO, I'm not an affiliate… :).
If you want to bypass this uncertain system and learn how to make money online the proven way, CLICK HERE.
What Is Easy Profits Makers 2018?
This is a new system launched in November 2018. It was created by Michel Sirois and his partner Reed Floren.
Michel has already produced several products like Snowball Profits and Scalable Profits Revolution. These are all available through Warrior Plus affiliate marketplace.
The launch price to purchase is $1 for the first 14 days, then $47 per month for as long as you remain a member.
His sales page has a countdown timer and claims the price will go up when 100 sales are reached.
This, by the way, is a great sales gimmick! Every time I open the sales page, the timer started over, lol.
Let's look at what you get:
Easy Profit Makers – $1 for 14 days then $47/month
This comes with 14 modules of training:
Module 1: Tools needed to own your e-mail business
Module 2: Sign-up as an affiliate
Module 3: Let's make a web page 
Module 4: Let's add your Click Magic Tracking Pixel
Module 5: Setting-Up A Campaign In Aweber + How To Load our "Done For You" affiliate email swipes
Module 6: Let's make your lead capture page
Module 7: Sending traffic to your lead capture page
Module 8: Daily chores to keep a healthy e-mail list
Module 9: How To Write Well-Structured E-Mail Messages
Module 10: Mass-messaging your e-mail list
Module 11: The True Secret To List-Building Success
Module 12: The "Live Chat" Is Not A Decoration
Module 13: Advanced Module: How To Segment Your Email List By Interest
Module 14: 2X, 5X or Even 10X Your INCOME With The Same Leads
Upsells – $97 to $497
#1. Complete "Done For You" Affiliate Pages Branding – $97 or $67 downsell*
*A downsell is when you exit the opt-in page, and another page opens offering you a smaller offer.
This first upsell creates your own custom affiliate pages. These pages will have your name and picture on them so it looks like you're one of the owners of Easy Profit Maker. It includes 1 of each:
Sales page
About Us page
Free Report (opt-in magnet)
Homepage
#2. Complete "Done For You" Pre-Sell Funnel – $197 or $147 downsell

This upsell includes:
3 different Lead Capture Pages
Help to set up your autoresponder service
Email Swipes
Embed your links into the emails
Help to set up your tracking service
#3. Complete "Done For You" List Segmentation Setup – $497 or $397 downsell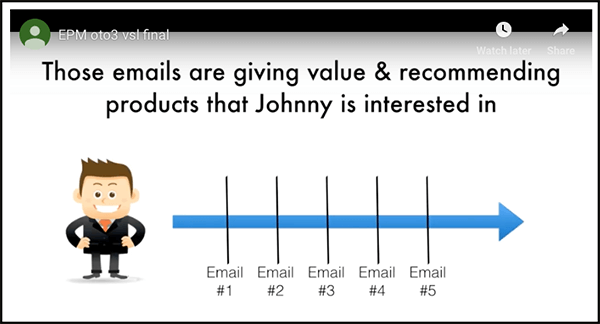 This upsell includes:
Tech team help to segment your email list
Advice on sub-niches to choose for each segment
Testing to keep everything working at maximum capacity
Bonuses
#1. Open Rate SOLVED 2.0
This product reveals his new method to increase inboxing and never get banned from autoresponder companies.
#2. Scalable PLR Products
Here, he shows you how to monetize PLR products, both in video and text. Members can also access his 1500 PLR library.
#3. Unlimited Support
Readily available support inside the member area.
Recommended Tools
Namecheap (Domain name) – $15/year average price
Bluehost (Website hosting) – $7.99/mo. to $23.99/mo depending on needs
Click Magick (tracking) – $12 to $66/mo depending on the number of clicks
Aweber (autoresponder) – $19 to $149/mo depending on the number of subscribers
OptimizePress (web page editor) – $97 to $197/year
AW Pro Tools (segmenting) – $37.99 to $128.99/mo depending on the number of subscribers
Udimi (solo ads) – $.35 to .95/click or use the Co-Op for $0.35 per click (for promoting this offer)
Expected Costs
The main product is the basic email marketing training which will run you $47/month.
For access to his done-for-you material, you will spend anywhere from $67 to $791.
The recommended tools will cost anywhere from $86.31 to $385.65/month.
Solo Ads will cost per click so it depends on how many and how often you promote your ads… $200? $600? per month
Who Is This System For?

This is for someone who is looking to earn an income through email marketing. This is a legitimate way to earn money and is just one of many ways to perform affiliate marketing.
They will usually say that you can earn money quickly, which you may, but at a large cost.
Michel says he has done-for-you email swipes and a sales funnel for you. These are his upsells, which are high ticket items.
No special "tech" skills are required to use this system, as long as you follow EXACTLY as he instructs. All the videos are step by step and easy to understand.
If you do run into difficulties, Michel and his team will provide 1 on 1 coaching inside the platform. This can be very beneficial to someone who's never done this type of marketing before.
With the upsells, the system will be completely automated for you, except for buying solo ads.
So if you're not interested in learning how to create a sales funnel on your own, and you want done-for-you material, then you will probably like this system.
His ready-made material is to promote his product only! 
If you're not interested in spending extra for the upsells, then the initial 14 modules will give you a basic understanding of email marketing and what's required.
I don't believe there's enough training here to truly get you going on your own unless you already have experience with email marketing.
How Does It Work?
You've most likely received this offer in your inbox. It starts off with a video that sounds just like any promotional video. He says that there are too many "gurus" online, promising you big money, but none show you how to be successful.
Personally, it sounded a lot like all the other videos I've heard, lol.
Michel's sale page is written to persuade you to opt-in. It's obvious he's a good marketer. But please keep in mind that he's not being fully transparent.
He claims to have put together a step by step method that could get you earning money by the end of the week.
Unfortunately, the only way that's possible is if you pay for all the upgrades. Going through the 14 modules will not be enough to teach you how to earn money in one week.
He points out that once inside, you have access to a done-for-you funnel and an affordable traffic method. You will have to pay significantly more money to access these.
What's frustrating is that he doesn't say these are upsells.
As far as the affordable traffic is concerned, other systems, like David Dekel's Funnel X ROI, offer this.
Basically, you join in with other members and buy clicks from a Solo Ad "co-op".  You then pay for how many clicks you want.
Co-ops are useful because it saves you the time to find a good seller as well as getting a discounted click rate. This is good for beginners who don't know the process of buying paid advertising.
In order to earn money quickly, you must invest in solo ads.
The Solo Ad technique is when you pay someone to send your promotional emails to their email lists. You pay the seller so much per click. These usually average about $1 per click.
Now, this doesn't mean each click is a sale. In fact, you'll be very fortunate if you get 1 in 10.  So you can see how this can get costly. $200 for 200 clicks.
The picture below is from information on his affiliate page. Anyone can access this.
He meant this information to show the high "EPC" his system can generate. EPC means "earnings per 100 clicks". Much of the value is dependent on the size of each sale. A larger ticket item will produce a higher EPC.
But this also shows you how few sales you get on average for the number of clicks you pay for. 628 clicks at an average of $1 per equal $628 that the person spent on Solo Ads.
As you can see, you need to have a generous advertising budget to make this work. And even so, how long will it take to actually make a profit?
Keep in mind that you will be required to become his affiliate to make any money.
It's your affiliate links that earn your money… the commissions you make for promoting his program.
He has made it simpler for you by pre-writing the emails, setting up the funnel, utilizing a copy/paste system, and automating the whole process.
You will then have to monitor the statistics you get from your tracking system to see which promotion works the best.  The rest depends on how often you blast out your advertisement using solo ads.
You can cancel the monthly membership at any time, but you will forfeit any recurring income you've created. There is no refund for any upsells purchased.
Pros
Training on how to perform email marketing
Done-for-you sales funnel and email swipes (at additional cost)
1 on 1 coaching
Solo Ad Co-op
14 day trial for $1
No skills necessary
30-day money-back guarantee
Cons
Initial product only has basic training on email marketing (with a monthly fee)
Pricey upsells
Requires tools that are not included with the product
Requires generous advertising budget
Made-for-you sales funnel is for this product only
No refund policy after 30 days
Final Thoughts And Recommendations

Though the initial system is fairly basic, it will give you an overview of what email marketing is all about.
With this training, you'll learn which tools you need for the industry, as well as how to set them up. You don't have to create content or sell your own product.
The only problem is that his pre-made-material is to promote his system only. You're not going to be able to use it for a niche of your choice unless you take what you've learned and copyright your own material.
Many system creators like this say how easy it is to use their products.
And the fact that he provides ready-made material does make it easier, but it still takes work on your part.
Please don't think that all you have to do is dish out money for Solo Ads and sit back. It's never as easy as they claim. If it were, wouldn't everyone be doing this?
Like any successful business, this will take time, patience and a monetary investment before you see any real profits. If you can afford to do this, then give it a try.
Do I think this is a scam?  No  
Do I recommend this product?  Yes, but expensive!
The lessons are easy to follow, but at no point does he explain "why" he does it. Just "how" to do it.
So my big concern here is what if this system is taken down. Will you know how to start over again with another product?
This is the big issue I have with these types of systems. Yes, they offer all the pre-made material for you (at a high cost) to help you get up and running, but because you don't own any of the material, you're at the mercy of the author.
If he disappears overnight, you'll end up with all these tools that you're paying monthly for, and no real knowledge of how to start another business.
Can I offer you a better alternative?
I would love to show you a platform I use myself. It offers training on all methods of affiliate marketing, not only email marketing.
And all the tools you need to start and run your own online business are included on the platform.
What's nice about building your business here is that you own your business. No one else can take it away from you.
The training provides you with a solid foundation, which all successful businesses need.
They will not promise you overnight riches, just a solid education.
It's designed for beginners with absolutely no online experience and offers training in both video and text format.
All the lessons are interactive with easy to follow tasks. You'll have your website up and running by lesson 2.
The best thing is the free starter membership. With this, you get 2 free websites and the first 20 lessons with two certification courses.
If (and when) you see the value of this entire platform, you may join for only $49/month.
For that price you get everything! No upsells.
This is where I started and I'm so grateful. They've helped me create my very own successful business which will sustain me for years to come.
So think about your passion, or a hobby, and click the picture below to learn how to turn it into a profitable business.
So where did you first hear about Easy Profits Makers? I received the advertisement in my inbox. Did you?  Or maybe you saw it on Facebook?
If you have any questions or comments for me, please leave them below.
Cheers,
Suzanne