Are you interested in e-learning and how big this market is these days? It's a great way to make money online.
If you've been researching this topic, you've probably come across this product. But what is My IM University? Is this truly legit, or another scam?
When they claim it's all done for you, can you believe them?
This is why I write my reviews for you, and I'm so happy to see you doing your research before purchasing. I've done all the hard work for you.
We'll take a look inside to see how it works, and if it delivers on its promises. By the end of this review, you'll be able to know if this is what you expected and if it's right for you.
Would you like to see where I learned to create my own successful online business?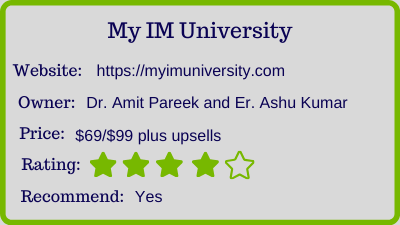 What Is My IM University?
This software was created by Dr. Amit Pareek and Er. Ashu Kumar. It was launched on both Clickbank and JVZoo on July 15th, 2019.
This creates Udemy like websites with ready to sell training videos. You don't need to create any courses as they're all done for you, with no hosting required.
IM University – $69 for Standard, $99 for Commercial

What's Inside
Dashboard
Products
5 DFY funnels and courses
Blog
Get Traffic
Reports
Business Report
Blog Report
Social Report
Add Campaign
Members
List of all subscribed member's to your courses
Library
Tickets
Bonuses
Access to all your bonuses
Settings
Autoresponder, CRM, Webinar, Advertising, Social, Payment, and Custom Domain integration
SMO (Social Media)
Slider Settings
Legal Settings
Cookie Consent
Team Management
Business Settings
Session
Client Management
Bonuses
#1: AffiliateNinjaPro with Commercial License
#2: Messenger1 Software
#3: Article Analyzer
#4: Backlinks Warrior Software
#5: LIVE Training: Build a Six-Figure Business From Scratch In Minutes
#6: Facebook Group
Upsells
#1: MyIMUniversity Pro (Commercial) – $47 ($67)
#2: MyIMUniversity Authority (Commercial) – $47 ($67)

#3: MyIMUniversity Reseller 100 (500) – $97 ($197)

#4: MyIMUniversity Premium Membership – $27/month, or $197 for 15-month plan

Who Is This System For?

This software is for those marketers interested in an e-learning site. It comes with done-for-you courses and all the promotional material for your own affiliates.
The software itself works well, but you must be aware that the same courses are available to all the members.
I highly recommend you personally edit and brand everything, to make your site unique to you.
If you don't do something to stand out from everyone else, you'll have too much competition.
You will also have to drive traffic to your site to be successful, which is something you'll need to do on your own.
How Does It Work?
Do you have some expertise that you' like to teach to others? Wouldn't it be amazing to set up a course like the ones you see on Udemy?
The owners of this software claim that you can!
Let's see what else the sales page says…
Sales Page
Not only does this software create Udemy like sites, but it has an inbuilt member's area packed with all the things you would need for a great course, like HD videos, video hosting, and a support desk for your students.
Inside, you'll receive:
A cloud-based system
Free hosting for your courses
The ability to create multiple courses and funnels
Step by step training
An HD video creator, hosting and player
A DFY lead generation system
The ability to integrate over 10 autoresponders
And more…
They predict that the e-learning and digital education market will surpass $243 billion by 2022. That's incredible!
You can set up a course once, and sell it forever… Just make sure it's always relevant to the times!
The owners claim that it can take over 200 hours and cost you up to $2500 to design, market and sell just 1 course, so why not let them do it for you.
With this software, you'll never have to:
Write a single word or record a video
Face a camera or outsource to freelancers
Pay a recurring cost for hosting, videos, and storage
Create any sales material, test, or tweak it with an ad budget
Worry about taking full control and keeping 100% of the profits
All you have to do is select a course, fill in the payment details, get your affiliate links, and you're ready to sell your own e-learning course. All in just 7 minutes!
Well, so far it all sounds amazing.
Let's see if the actual product delivers what it promises…
Member Area/Dashboard
Once you have access to the software, you will first see your dashboard…
Products
The first thing you want to do is go to "products" and choose one of the 5 DFY funnels and courses. This is done by clicking the "status" tab so it turns green. The software will automatically bring you to the settings page for that course.
When the settings page comes up, there will be several areas for you to enter your details and do any editing to make the course more unique to you.
About
Your name and image.
Your course description.
Your payment platform choice.
Overall page color.
Free Reports
This is the URL of your lead magnet (ebook). You can view it here.
It's the download page your customer receives for signing up to the course.
Step by Step Training
URLs are for your front-end sales page, the delivery URL, and the thank you page.
You can edit the long-form sales page if you wish or leave as is.
You must add your affiliate ID (if paying through an affiliate network) or buy button code (if using PayPal).
You can change the suggested price.
Pre-loaded email that gets sent to the customer.
This is a screenshot of the top of the sales page for this Facebook Course…
Training Videos
Each course has 20 training videos already installed. You can view them here.
Affiliate Stuff
This is where you can manage your own affiliates. It will generate an affiliate ID for them as well as the URL they'll be using.
You can also provide them will affiliate promotional material, such as email swipes and promotional banners.
Blogs
To have your e-learning website look more professional, you can provide feature articles for your visitors to read. Just choose from the section to find relevant ones for your niche, and activate.
This is what your "homepage" can look like…
You can also create your own articles with the editor and publish them from there.
You are allowed to have 10 articles for each specific product.
Get Traffic
Under social campaigns you can add, you can choose which products to share, and easily set up your accounts for:
Pinterest
LinkedIn
Twitter
Tumblr
Reddit
Blogger
The SEO section here is very important. Entering a few details and clicking tabs, your site will be SEO ready…
For better SEO, I recommend you purchase your own domain, rather than use their sub-domains.
Reports

These reports will give you statistics on:
The overview of total products sold, total site visitors, and members registered.
The technology used by browser, operating system, and devices.
The geographical location of your visitors.
The results of product visitors vs clicks, conversion rate, and a member's graph.
Ad Campaign
This section is to create your pop-ups with a choice from 125 DFY templates in different niches.
Simply link it to your autoresponder, select the text you wish to edit, add some design edits, and you're ready to go.
Members
This section will show you who has signed up for your courses. It will have their email address, the product name with any upsells, and the date added.
You can now use the email address to send him the access password to whatever he purchased.
Library
This is where you will see any images and videos you may have uploaded.
Tickets
If one of your students requires help, they'll submit a ticket in this area. You'll be able to track what's been submitted and if it's been taken care of.
Bonuses
This is where you can access all of your bonuses.
Settings
To run a successful campaign, you'll need to integrate and set up all the appropriate settings…
There are 9 sections here. Let me show you a screenshot of the "Integration" panel to show you all the autoresponders that can integrate with this software…
Bonuses
#1: AffiliateNinjaPro with Commercial License
If you purchase the Pro version, you'll receive the commercial license which will allow you to provide services to your clients.
You can charge any monthly fee you wish and keep all the profits.
#2: Messenger1 Software
This software allows you to send bulk messages to all your page's messenger leads. So after you've created multiple FB accounts for different niches, you'll be able to set-n-forget automated comments and replies to save you massive amounts of time.
This software also comes with chat integration for your website, unread message alerts and notifications, and smart analytics.
#3: Article Analyzer
You'll be able to analyze your articles for keyword density and get targeted traffic to your website.
Just open the article and copy/paste it into the article interface for fast results.
#4: Backlinks Warrior Software
With this software, you'll be able to find high-quality and relevant backlinks to be able to get your website ranked high on Google.
All without additional expense.
#5: LIVE Training: Build a Six-Figure Business From Scratch In Minutes
This training will show you how to build a 6-figure business. The live training is completed now, so you'll be invited to watch the recording.
#6: Facebook Group
Join this group to meet other members and like-minded people.
You can get access to much more information as well as get your questions answered.
Upsells
#1: MyIMUniversity Pro (Commercial)
The Pro upsell allows you access to:
The authority blog
Banner placements
30 lead generation templates
DFY follow up emails
Webinar integration
20 DFY ad campaigns
All this plus 20 different theme colors, a media library to manage all your images and videos, and advanced analytics.
#2: MyIMUniversity Authority (Commercial)
To stand out from your competition, you'll be able to customize your pages and courses with:
6 different types of colors
30 lead generation popups
15 high converting social ads
20 premium promo templates
Special effects
You will also be able to automate your traffic by sharing on social media sites as well as Reddit, Blogger, etc.
#3: MyIMUniversity Reseller 100 (500)
This is a complete "business in a box" for you. Using all the materials provided, you can sell the MyImUniversity software as your own and charge monthly or recurring payments.
There are two options available. You can sell 100 or 500 licenses. And with your purchase comes additional bonuses:
List Segmentation Secrets – An ebook showing you how to boost your profits by properly segmenting your email list.
The Art of Selling Online – This guide will show you strategies to grow your business, retain your customers, and get free referrals to establish your reputation.
Affiliate Money Machine – An ebook to help you learn the exact methods needed to make money online with the best use of affiliate marketing.
Three Ways to make $10 An Hour – An info-packed training guide that states 3 proven and tested ways to make money online fast and easy.
50 Ways To Make Money Online – Inside this package, you will get information about implementing Google AdSense into your website, ClickBank affiliate program, selling E-Books, become an Amazon associates and much more to boost your profits online.
Let's Make Money Online – This guide will provide up-to-date information on the top money-making methods online today.
Getting Viral PLR Article Bundle – This article bundle will give you great stuff which helps in creating a viral campaign and strategize your campaign to go VIRAL.
#4: MyIMUniversity Premium Membership
With the membership, you'll get 1 ready-to-use course with a funnel each month, on a new topic. You'll also be getting regular updates at specified times for any pertinent information.
The payment plans are either monthly or a one-time payment good for 15 months, which is a 52% savings.
Demo Video
My Concerns

This is an impressive software, but I would still like to share my concerns with you.
Concern #1: Set and Forget
It's certainly a huge benefit to have these done-for-you courses ready to go, but if you notice in the "products" image above, some are dated 2018.
So as of now, these particular courses are already 2 years old. How long can you "forget" about these courses on your site, before they're outdated.
It's very difficult to create course instructions on a topic, and not have to update it often. Especially with anything related to social media.
These platforms change their algorithms often, and what worked before might very easily be useless later on.
Concern #2: Duplication
Every member on the platform will have similar sites, the same DFY courses, and probably the same blogs unless you create your own articles.
I know that they have your SEO set up for you, but it won't matter is everyone's using the same material.
Especially your blog. Your site won't rank if you're using duplicate content.
You're best bet would be to get your own domain name, write your own unique content, and try to personalize the courses as best you can.
To be successful with this business, you will need a uniquely branded site to stand out. Otherwise, your competition will be fierce.
Concern #3 – Traffic
Despite how convenient this software is, you won't make any money without traffic.
This is the key to any form of online marketing, including e-learning sites.
Sure, you can link your site to all your social media accounts, but will that help you? Do you have a large following to your social media pages that are interested in this type of promotion?
You must have a way of driving a lot of traffic to your site to get any subscribers. This can take time and a lot of effort on your part.
Pros
60-day money-back guarantee
Low price
DFY courses
Many pop-up templates
Ability to get your own affiliates
Cons
Duplication
Traffic generation is up to you
Courses will get outdated unless you sign up for the membership
Final Thoughts And Recommendations
I believe this software is very good and does what it promises. All except getting a lot of traffic. Unfortunately, you'll have to work on this aspect, to find ways of driving more traffic to your site.
I would also recommend you brand your own site with your own domain name and design. The only way you can truly be successful is to stand out from all the other members.
Is MY IM University a scam?   No
Would I recommend it?   Yes
This software is just a tool for creating e-learning sites. It does a great job, but it's still just a tool. Without target traffic, you won't get too many sales.
Simply linking to your social media accounts isn't enough. You need to find traffic that's interested in e-learning. Linking to Reddit and such sites will help if you can target the right audience.
This involves a learning curve that many beginners may not know how to do.
If you already have an online business, and some experience, you'll enjoy this software much more.
But if you're new, I wouldn't rely on this product to earn you a lot of money. At least not in the beginning.
Do you want to start your own business and learn all the steps you need to perform to be successful?
Starting from the ground up, so that you're not relying on DFY products, is the only way to secure a long-term business. That way what you've built is your own and doesn't rely on someone else's services.
These products come and go quickly, so you can't rely on them for the long-term.
Can I make you my honest recommendation?
I would love for you to come and see where I learned everything about online marketing, getting free traffic, and how to scale my business for the long-term.
This platform has everything you need under one roof. All the excellent training, the tools you need, and a wonderful community for support.
I've been there since 2011 and I love it.
I started with their FREE membership and signed up for Premium soon after. Your first month is only $19.
If you click on the button below, you can read all about it. When you join, I'll greet you inside and be there to help you as long as you need me to.
So how did you hear about My IM University? Did I answer all your questions?
If you have any more or would just like to comment, please leave them below and I'll get right back to you.
Cheers,
Suzanne
P.S. Please share my post!