Have you wondered if you can make money with paid advertising?  The trick is making more money than what you pay in advertising fees, right?
But it's not that easy, is it?  Well, the Super Cheap Traffic Secrets claims it can show you how to make a profit using 3 methods that would only cost pennies per click.
Really?  Is this legit, or another scam?
That's why I'm here, writing this review for you.  I've purchased it myself and will show you what's inside, what Liam will teach you, and if it's legitimate.
You should have no problem deciding what to do by the end of my review.
And if you'd like to know where I learned to build my own passive income, you've got to read this!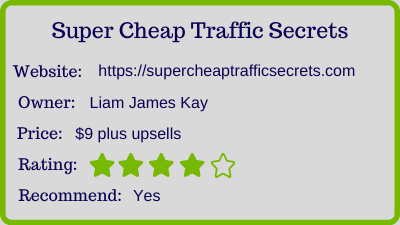 What Is The Super Cheap Traffic Secrets?
This training is created by Liam James Kay, who's primary training platform is called 6 Figure Affiliate Bootcamp.  This product is actually part of his complete training system called 6 Figure Affiliate Bootcamp.
It was launched in May 2019.
You will learn how to use paid advertising in 3 areas: Push Notification, Instagram Stories and Snapchat Ads.  He will show you how to get clicks for very cheap, even 1 cent.
Super Cheap Traffic Secrets – $9
What's Inside
Training Videos
Welcome to Super Cheap Traffic Secrets – 2:33 minutes
Push Notifications Traffic Intro – 7:13 minutes
Push Notifications Traffic Campaign Creation – 26 minutes
Maximize Your Success With Push Notifications – 3:11 minutes
Instagram Stories Intro – 2:10 minutes
Instagram Stories Super Cheap Campaign Creation – 18:44 minutes
Snapchat Ads Intro – 3:26 minutes
Snapchat Ads Super Cheap Campaign Creation – 7:00
Upsells
#1:  Google Ads Affiliate Bootcamp – $97
#2:  6 Figure Affiliate Marketing Bootcamp – $997  now $593
Who Is Liam James Kay?
This young man made over $200,000 in his first year of affiliate marketing.  He is currently the top "Builderall" affiliate.  And he says he wants to reach 1 million by the time he's 30 years old.  Wow!
This is an amazing achievement for such a young man!  I would say he really knows his stuff!
Liam is what we would call a "super affiliate".  He had also started a project called "The Million Dollar Passive Income Challenge".
His goal with this challenge was to help 1000 marketers earn a minimum of $1000 through the Builderall affiliate program.
This was a great way for him to add people to his Builderall down line as well.  When you signed up under him, you got access to his exclusive training and coaching system.  So it was a win-win for everyone.
He has now created his own "6 Figure Affiliate Bootcamp" training program which would certainly be worth the money he charges.  He's proven that his system works!
Who Is This Training For?
This training is for any online marketer who is looking for cheap traffic to their offers.
The training is so detailed, that even beginners who've never done this before, can learn how to drive traffic to their affiliate offers.
Personally, I believe these methods would be a great way to drive traffic to your own products and services you've created for your already existing business.
You are definitely getting a lot of value here for only $9.  And if you think you'd like additional training, his upsells are also very good.
Please know that the discounted rate for his full course is only available for you with the last upsell.  It isn't available again once you get inside.
How Does It Work?
This course is an amazing asset to your business.  Liam shows you how to get really cheap traffic from paid advertising, known as PPC, using 3 methods are greatly undervalued.
He is a successful young man who shows you exactly how he uses these strategies himself.
Sales Page
His sales page is simple and to the point.  He shares how this will work for everyone, even beginners.
You don't need:
Email lists
Websites
Twitter or Facebook
A big-budget
Etc…
Liam shares how he's spent thousands of dollars testing different cheap traffic sources.  After eliminating the duds, he's created a training that covers the ones that do convert, along with his tips and tricks to scale and optimize.
He also shares the screenshot of his inbox, showing all the money he's making.  Impressive!!
The course is worth $197, and he's offering it for $9.  It says it's only the "launch" price, but this was back in May 2019, so I don't believe it'll go up in price.
Let's see if the course is as good as he claims…
Member Area/Dashboard
When you make your purchase, you'll be presented with your upsell landing pages.
I usually recommend you don't purchase the upsells until you've seen how you like the front-end product.
But in this case, when Liam says they will no longer be available at this price, BELIEVE HIM!
I looked for the Google Ads course online and couldn't find it anywhere.  And all ads for his "6 Figure Affiliate Bootcamp" was the full price of $997 (or 3X $397), compared to his offer of $593.
The discount he is offering with upsell #2 is fantastic if you're interested!  It's not offered again inside the dashboard!
Welcome to Super Cheap Traffic Secrets
This is your welcome from Liam himself.  He tells you that he's going to show you about paid traffic.
He explains how cheap traffic usually means less targeted, therefore fewer conversions.  But what he's going to teach you is how to apply these sources to the right audience, as they're not suitable for everything.
Push Notifications Traffic Intro
Here, Liam explains what push notifications are, and will show you how to sign up to the different platforms that he uses.
This is an undervalued traffic source because people aren't used to this yet.  But when used correctly, it can be very effective.
He gives you the links to the platforms:
Push Notifications Traffic Campaign Creation
In this video, Liam walks you through how to set up a campaign in Propeller Ads.  This method will work with any other company.
This is 26 minutes of step by step, over the shoulder training of exactly how he sets up his own campaigns.
He shows you how to choose an offer (Max Bounty), how to track and optimize your campaign.  Because you can't use demographics and target markets, he's developed tricks that work.
Maximize Your Success With Push Notifications
Liam will show you some resources you can use to see ways that other people use this method.  Some of the services are paid, but with free trials.
One service spys on the competition so you can see their push notifications, and how successful they are.
Liam suggests that if you're going to be serious about this method, these services are great resources.
He gives you links to two services that he's tried:
Instagram Stories Intro
Instagram Story Ads can be really cheap if you do it right.  With retargeting, the market is massive.
These ads work great with CPA marketing.
These ads are not as flexible as push notifications, but Liam will show you how to maneuver the restrictions and jump through Instagram hoops!
Instagram Stories Super Cheap Campaign Creation
This is another step by step, over the shoulder training.  Liam shows you a campaing that he's currently running, as well as walking you through the process of setting up a new one.
Because Instagram doesn't like direct linking to offers, he'll show you how to get around that restriction with Instagram's approval.
Using free resources, and showing you his campaign structure breakdown, he shows you how to get cheap clicks.
Snapchat Ads Intro
Liam has made thousands of dollars using CPA ads and Snapchat.  Snapchat is very strict and he feels they don't like affiliate marketing, even though there's nothing in their policies and guidelines.
So he warns you upfront that this may not be a long-term method for you.
He says to follow the steps exactly, to make your adverts acceptable.  It's working for some and not for others, so make sure your advert matches their guidelines.
It's worth a try, though, because the clicks are so cheap!
Snapchat Ads Super Cheap Campaign Creation
Another step by step training, Liam walks you through some of the adverts he created before they got banned, lol.
He explains what works best for him, and how to be creative with the ads.  He explains how they really keep an eye on new accounts, and how you want to stay under the radar…
Following his steps and Snapchat's rules, there's a great opportunity to be very profitable.
Upsells
#1:  Google Ads Affiliate Bootcamp
Liam's Google Ads course shows you how to manipulate this huge platform and make a lot of money.  He's going to show you his exact strategies, step by step.
Google Ads is an incredible traffic source, and his methods have gotten him to the top of the search page with the least amount of money per click.
This is the most popular training in his "Affiliate Bootcamp" training course.
#2:  6 Figure Affiliate Marketing Bootcamp
This is Liam's total package where he covers everything from mindset to making money with affiliate marketing.  He shows you step by step, how he's made all his money with various strategies:
Branding
Products
Affiliate Networks
Funnel Building
YouTube, Facebook, Instagram
Solo Ads
Plus much more…
There are also 6 additional bonus courses included.
You can see in the image above, that this upsell offers you a big discount on the full price of this Bootcamp!
My Concerns?
I think this is the first time I can say I have no concerns, lol.
For your $9 investment, you are getting very good training on 3 under-used traffic sources.
This training is done by a young man who has proven himself time and time again and is currently making a lot of money.  So if you follow his training, step by step, you should be able to as well.
I also recommend his upsells.
If you are new to affiliate marketing, his 6 Figure Affiliate Bootcamp is an in-depth platform and proven successful for many of his members.
And the discount he's offering as the 2nd upsell is amazing.  I haven't seen this discount anywhere else online, and it's not available inside the platform.
Pros
14-day money-back guarantee
Very detailed training
Learn to use "underused" methods
Ability to run ads for pennies per click or less
Big discount for his primary training platform
Cons
Final Thoughts And Recommendations
I believe this course is definitely worth your $9.  You get very detailed training that can work for you if you follow Liams steps.
As online marketers, we all want cheap traffic to our offers.  Of course, free traffic is great, but that can take some time.  If you're wanting to get into paid advertising, it can be faster but also expensive.
This is why Liam's training is so great.  He's not only showing you 3 methods that are underused, but also showing you how to get clicks for only pennies.
Liam is a very successful affiliate marketer, and after considerable testing, is willing to share with you the cheapest way to get paid traffic to your promotions.
Is Super Cheap Traffic Secrets a scam?     No
Would I recommend it?    Yes
As I already mentioned, this is great training for beginners, but also for those of us who already have an online business.
Paid traffic is often used for more immediate results, but requires consistent tweaking and working at it for any consistent income.
That is just one way to perform affiliate marketing.  Another way is to create your own website, build up a loyal following with free content marketing, and enjoy a passive income.
If this is something that you'd like to develop, so you can stay home with your kids, or retire with security, then come and check out where I learned how to do this.
This platform is incredible and has everything you need under one roof.  The training, tools, and supportive community.  Then add the training from Liam, and you'll be successful in no time!
If you click on the button below, you can read all about it.  It's free to join, too!
So what do you think about Liam's training?  I really liked it and can't wait to start using it!
If you have any questions or comments, please leave them below and I'll get right back to you.
Your friend,
Suzanne
P.S.  Please share!!