Are you in a financial bind and looking for ways to make money online? You're not alone. Many people are looking for ways to create an income, and come across many opportunities that say they can help you make thousands almost instantly.
I'm glad you're here today, to read the Smart Cash App review. It's always wise to do some research on these products before you purchase. I know it's fairly cheap, but will it work? Can you really make over $1,500 per day?
By the end of this review, you'll know exactly what you'd get if you purchased it. I'll show you what's inside the member's area, and what to expect once you get in there.
I'll show you how it works, and then give you my honest recommendation. Then you'll be able to make an informed decision OK?
And if you're just sick and tired of trying to find something that actually works, please read about where I learned to build my own successful business.
[adinserter block="1″]
What Is The Smart Cash App?
This product was launched on November 5, 2018, and created by Robert Fisher (a fake name). The Promo video is intentionally vague and doesn't tell you anything about the product.
Robert says it's a step by step money making system where you can make $1,595 per day from one simple scheme that exploits an error made by a $177 billion company.
Smart Cash App – $37
What's Inside
Smart Cash App 1.0 (Main Product) – 48 page PDF
This PDF gives you information about how to become an Amazon affiliate.
Smart Cash App CPA (Click Per Acquisition) – 18-page document
This Word document introduces you to the world of CPA
Upsells
Smart Cash 2.0 – $197
Smart Cash 2.0 – Video format of information given in the 48 page PDF – 15 short videos (2 to 4 min. each)
Smart Cash Instagram – PDF and 4 videos (same info as PDF)
Smart Cash YouTube – PDF and 4 videos (same info as PDF)
Smart Cash Pro – $177
Smart Cash Pro – 98 page PDF
Smart Cash Pro Video Training – 16 videos (same info as PDF)
Social Media Marketing – 10 lessons with templates and videos
Smart Cash Social – $97
Smart Cash Facebook – 21 videos
Smart Cash FB Marketing – 2 videos
Smart Cash Snapchat – 26 videos
[adinserter block="1″]
Exposing The Truth
During my research, I discovered that this product is just a rehashed version of the owner's previous product, Smart Money Methods. That one was launched in June 2018.
The only thing he changed for this product is to add another upsell call Smart Cash Social for $97. Other than that, it's EXACTLY the same product.
This is an image I took from inside the member's area.  The names on the left have been changed, but not the videos.  They are still called "Smart Money".

There's More
This product is actually a PLR product named Amazon Affiliate Profits.
This is commonly done by affiliate marketers to make money. They buy a PFR product that allows them to put their name on it to make it their own and resell it for a profit.
The owner would have paid $37 for the PLR once and making $37 again and again from his customers.
Now, this is perfectly legal for marketers to do, not that I would, but as long as they've purchased the legal right to put their name on it and can resell it, some will.
But are you helping anyone? Does it bring value to your customer? Or are you just concerned about making money? The fact that he doesn't reveal his identity tells me it's all about the money!
My biggest issue is that he keeps relaunching the same low-quality product. He never updates any outdated information or training. The product's website was originally created in January 2017. At that time, maybe everything taught was relevant. Generic but at least applicable to the date.
But things change very quickly online. Many techniques taught 2-3 years ago no longer work today.
For instance, chapter 14 of the PDF is about Amazon aStores. They have long been retired, yet this training is still being sold today. The image below is the list of chapters …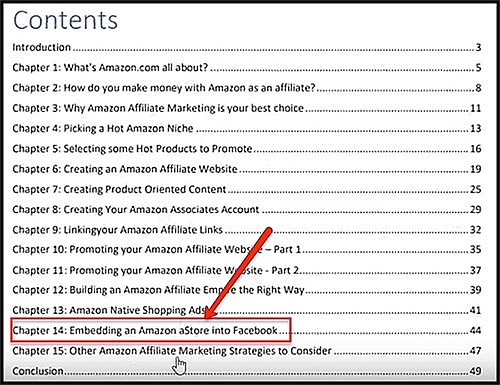 The image below is the current page I found on the Amazon Associates site regarding aStores…
So you can see the original PLR was correct in early 2017, but it no longer applies today.
And More Yet
Yup, there's even more… This product was AGAIN repackaged and relaunched in January 2019 as the Fast Cash App. This guy (or gal) just keeps rehashing the same inferior product over and over again. Three times in less than a year.
Do you see why I believe he's only in it to make money? There's no value here. It won't help people make thousands of dollars as he promises. It's all a scheme to line his pockets!
To show you, here my review on:
And who knows how many more times he's done this?
[adinserter block="1″]
Who Is This System For?
This isn't for anyone. I'm sorry, but I really can't trust someone who would dupe people like this, and I certainly don't want to buy any of his products.
Three launches in under a year. So what happens to the people who bought the first product? Is there any kind of support or are you left on your own?
If he doesn't care about providing value to his customers, I doubt he cares about answering emails.
This type of affiliate marketer is known as a serial launcher. They try to make big money at launch time, then know it'll fizzle out in no time.
They hold a contest for their affiliates, giving away generous prizes for the top few affiliates. That's why you'll suddenly see many promotions pushed all at the same time, saying how great this new system is.
So they keep relaunching the same low-quality stuff just to make a quick profit. It's sad really!
There is truly no way to create an income online without a lot of hard work, patience, and a "never quit" attitude. None of these products and systems will do for you what they promise. It's all just nonsense.
Don't you think if it was as simple as they claim, everyone would be making it rich online? And the system that works would definitely be more than $37, LOL.
[adinserter block="1″]
How Does It Work?
The Sales Page
The video is the usual hype and lies that try to push your emotional buttons in order to jump in quick before thinking about it. He tells you that you've been personally invited to watch the video and do not share it with anyone.
There are the usual red flags that all these types of schemes have:
#1: Unknown Owner
The name he uses for this system is changed to Robert Fisher, and that's as fake as it was with the first launch. It's just a voice-over actor who's reading the script provided to him.
They don't want their real identity known because they know they're being unethical and dishonest. If people knew who he was, his reputation online would go down the toilet, lol.
#2: Unknown Product
They intentionally keep any details of the product out, yet tell you it's a controversial new system that you've never seen before. That is, of course, an outright lie!
He wants to give you the chance to copy this new method so you can make real money online. And I laughed out loud when I heard him say…
He doesn't make money by taking yours…Hahaha. Sure…..
He does have a sense of humour though. He said you need to be uniquely qualified. How? Just by watching the video, lol.
#3: Outright Lies
He keeps saying he's going to tell you exactly how this system is going to work, yet never does. And that's on purpose because he knows he's not telling the truth.
The icing on the cake is when he tells you there are no hidden fees. YES, THERE IS!!
He also says this is a never before seen or used method of making money online. Well, I can honestly tell you that there are never any "new" ways of making money online. Everything that can be done, has been done!
#4: Scarcity Tactics
He uses a lot of scarcity tactics, saying "he can't save your spot for long", or "act right now before or you're going to miss out". These types of statements entice you to click that button without any further thought, so be careful.
#5: No False Testimonies??
This surprised me. There are usually fake testimonies made by hired actors, telling you that they've used the product and are so happy they did.
This time there were none, nor were there any fake user reviews on YouTube. I wonder if these creators are realizing that no one believes what these testimonies say, lol.
The Training
The PDF's and videos are short and are quite generic. They give you an overview of selling on Amazon, as well as the Click Per Acquisition (CPA) market.
But seriously, the information you get is nowhere near enough to help you build a successful business. There's just no way you can properly explain any techniques in such short videos.
And of course, there's the outdated information you have to be aware of. Like the aStores I mentioned above. That's no longer useful.
You will get a little more advanced training with the upgrades, which is good, but you'll have to spend hundreds of dollars to get it. It's just not worth it.
If you're truly interested in selling Amazon products, why not go straight to the source. You know Amazon will be the most current training, and it's free.
Pros
60-Day Money Back Guarantee
Cons
Unrealistic income claims
Outdated training
Old product, new name
[adinserter block="1″]
Final Thoughts And Recommendations
I truly believe this product is a waste of your time and money. Sure, the initial product is cheap, but you're only getting generic and outdated training for your money.
This is why researching these types of offers is so important. You need to know what you're getting in advance. And you can find better training elsewhere. Trust me! LOL
Do I think Smart Cash App is a scam?   No   Would I recommend it?   No
Even though it seems like a scammy product, it's legally not because you are getting something for your $37. Unfortunately, that something is more or less useless.
What I find most frustrating is that these people are making a bad name for the affiliate marketing industry. There are so many lousy products being pushed for the sake of making the owner's money.
But this industry is actually a wonderful way to create your own passive income. If you approach it with honesty and integrity and are willing to work hard to build your online business, it's very profitable.
Can I make you my honest recommendation?

If you're serious about making money online, I'd love for you to come and see where I have my business. Especially if you're a beginner. Products like the one above would only frustrate you and leave you overwhelmed with a lack of proper training.
The platform I want you to see teaches you from the ground up, and how to start and succeed with your very own online business. This way you build a solid foundation which will sustain you for years to come.
And they not only offer you amazing step by step training, but they also provide the tools and all the support you'll ever need, all under one roof. No need to go searching anywhere else for information.
They currently have over 1.4 million members worldwide. They are very transparent, and would never hit you up with useless upsells. What you see is what you get!
They don't promote themselves with sales videos spouting lies.
They don't promise you'll be rich overnight.
They'll never say "join now or you'll lose out".
They've let their amazing reputation speak for itself. And their training works!! I know cause I'm my own proof! LOL
I've hosted my business there since 2011, and I love it. And I truly think you need to check it out yourself.
The best incentive…you can start for free! Yup. They offer a free starter membership with no credit card needed. There's absolutely no risk to trying it out. No need to worry about giving away your confidential information, or wondering if they have a refund policy.
If you click on the image below, you can read all about it. And when you join, I'll great you on the inside and help you as long as you need me to, OK? See you soon!
Have you come across the Smart Cash App? Did you try it? I'd love to hear from you.
If you have any comments or questions, please leave them below and I'll get right back to you.
Your friend,
Suzanne