Trying to find help to make money online can be exhausting. Let alone the times you may have lost all your money. This is why it's so important to research these products and systems before purchasing them. This is a very important step because they never seem to tell you the whole truth.
Today, I want to share with you the Easy 1Up review, so you can make an informed decision. You've most likely seen an advertisement for this, claiming how you can make big money with this system.
Through research, I've discovered facts that will hopefully make your decision easier to make. I'll show what the system actually is, what's included, and what type of person would have the most success with it.
For those of you who want to learn how to make money online, with a proven system, please click here.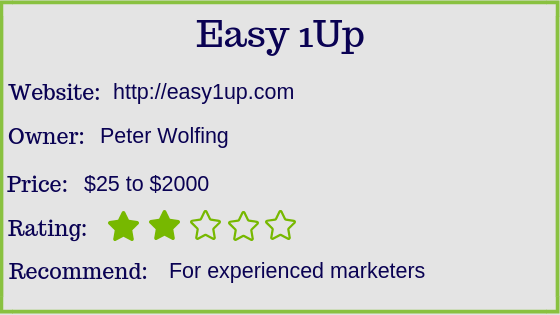 What Is Easy 1Up?
This product was founded by Peter Wolfing in 2007. It's a standalone product as well as being used in other sales funnel systems like David Dekel's Funnel XROI.
He has created many other products, many of which were reviewed as cash gifting pyramid schemes.
This system works like any MLM company or pyramid scheme. You make your commissions when other people buy into the same system, under you. The more people who sign up under you, the more money you make, as long as your downline remains active…
He claims to offer many hours of training to keep you up to date with the latest trends in the industry. The higher the tier you purchase, the more training you receive. Each tier includes the material from the ones above it.
Whichever level you buy-in at, you will own the resale rights for those products. This is how you are able to turn around and try to resell Easy 1Up.
They offer six tiers for you to choose from to sign up with:
#1. Elevation – $25
Their most affordable course discusses the basics of networking and some social media lead generation.
What online network marketing is with its pros and cons
Which network marketing company to join
How to scale your business
How to create a landing page and generate leads
Videos on setting up your email marketing campaigns
#2. Elevation Elite – $100
With the basic training of level one, this course provides video training to market on YouTube and Udemy. You'll learn how video can drive more sales on social media.
All #1's material
Training on Udemy, social media, and YouTube
The use of Solo Ads
Product creation
Market research and copywriting
#3. Vertex $250
This course is more in-depth training on affiliate marketing. You'll learn how to become an affiliate, or how to create your own product to attract affiliates.
All of #1 & 2 material
Developing the right mindset
Creating irresistible offers
Building lists and traffic
Affiliate marketing survival in three parts
#4. Vertex Elite – $500
This course focuses on how to generate free traffic online. There's also training on how dropshipping works.
All of #1 to 3 material
Money Counts live business building course in two parts
Drop-Shipping
Free traffic
#5. Vertex Pro "Connect" – $1000
This course focuses on Facebook paid marketing ads, and touches on other platforms.
All of #1 to 4 material
Training on WhatsApp, social media, Reddit, and Slide Share
Training on video sales
General traffic techniques
Creating authority
#6. Vertex "Live" – $2000
This course offers more than 18 hours of video training on assorted topics, as well as two tickets to one live event at a future date.
All the above material
Internet marketing lifestyle
Internet marketing blueprints
Training for Amazon affiliates
Two entry tickets to an event of your choosing
$295 for additional events
Expected Costs
Each tier has its own buy-in cost. With each level you can expect these additional costs:
Admin fees of $5 to $100
Domain name $15/yer (optional but will look more professional)
Website hosting $15/month and up (optional but will look more professional)
Autoresponder $19/month and up (optional but will help increase sales)
Solo ads $100/use and up
A generous advertising budget for paid ads (Facebook etc) $200/month
As you can see above, to build a successful business, there are considerable monthly costs to start creating a sizable income. Trying to start for free won't produce the results you expect.
Who Is This System For?
Peter talks about time vs money, and how we need to use our time effectively to earn money. He created Easy 1Up to help create money in as little time as possible.
And this is how he promotes this system. So if you are interested in creating an income by way of sales funnels, then this might be for you.
I would caution you though. I, personally, have not bought into this system, so I cannot tell you firsthand if the training material is legitimate.
Any decent salesperson will make their product seem very inviting and profitable. And because there's no free trial, there's no way to see if it's any good.
I'm sure the training is focused on methods to push this product. And that's because the commissions you make come from people buying into this system.
You can take a chance and buy-in at a lower level, but I'm sure the training is fairly basic and thin at the first few levels.
Their website pushes the Vertex Pro level at $1000 because if you want to make a bigger commission, this is the level to enter in. That being said,
I would only recommend a level you can afford to lose.
If you've had any marketing experience online, you may be successful. But if you're a beginner in this industry, it's not as easy as he makes it seem.
You must have some copywriter experience in order for your sales funnels to convert. Most people online can recognize a poorly drafted landing page, and will quickly leave the site.
You must also consider the additional costs to create the traffic you'll need for conversions.
No traffic = no sales.
So things like paid advertising and solo ads (paying for someone else's email list) can become pricey for each campaign.
How Does It Work?
Basically, it works like a multi-level marketing or pyramid scheme. Yes, he provides you with training material in order to keep the system legal and technically not a Ponzi scheme.
But the primary purpose of such a system is to promote it in hopes of persuading others to sign up under you. This creates your downline. Your commissions come directly from other people buying in.
With Easy 1 Up, you purchase whichever level you're comfortable paying for. This is the highest commission you will receive. If you pay $100, you get $100 increments only. If you pay $1000, you get $1000 increments.
Keep in mind, if you bought the $250 level, and someone below you buys the $1000 level, you will only receive $250 commission.
The idea here is to personally sell this system to as many people as you wish on your team. When you make a second sale, the commission goes to the person directly above you. Any third sale onward, you get.
Now when you coach your team to make their own teams, you get all their second sales. And so on, and so on. So you see how it is actually a pyramid scheme. Your commissions come directly from other entry fees.
This is why they push the Vertex Pro level at $1000. It has you believing you can make so much more money.
But this all depends on your marketing abilities!
If you're a beginner at this type of marketing, you'll struggle to make money. You have to create a high converting sales funnel to persuade people to buy-in. So this is where experience comes in, despite they're saying it's easy.
Their website details all the specific training that comes with each level, but there's no way to know if it's any good. And more importantly, if it's continually updated.
This industry changes so quickly, sometimes overnight. If the training isn't updated regularly, you could be penalized or banned from different platforms.
Some commenters on YouTube videos claim that the videos are outdated and not worth the price. This was as of Sept 2018.
This type of MLM system will eventually die out. When the market gets so saturated with people trying to promote it, it will eventually run out of interested parties.
You will find many positive reviews online, and of course, these are from their top earners continuing to promote it. There are also many proofs of payment, which may or may not be legitimate.
I chose not to purchase this system. The very fact that there's no free trial and no refunds makes it a risky venture. I'm also not interested in managing a team, so I know that my downline would eventually peter out.
That's always the risk of a pyramid scheme. Your income is directly related to your downline's ability to create more sales. If they are unsuccessful or quit, then that leg dies and you no longer get commissions.
As in any industry, there are those people who join but don't want to do anything. Or they rely on things called "rotators" which sponsors claim they've developed to help create free traffic. They will use this tactic as special bonuses if you agree to sign up under them.
You need to know that these "rotators" have been around for a long time, and they really aren't that effective, despite what they claim.
Personally, I'm building up my own online marketing business, which is successful and has longevity. My focus is on helping people create a passive income business, that doesn't rely on one-off sales.
Pros
100% commission
Paid immediately
A wide variety of training provided (though costly)
Cons
No free trial
No refunds
Not sustainable (no recurring commission)
Must buy the product to sell it
Must have a dynamic personality to attract people to your team
Final Thoughts And Recommendations
I can definitely see why people would be interested in this system. It sounds enticing and seemingly a great way to make money. But it's a difficult product to research because the internet is full of very positive reviews (from people trying to get you to sign up) to very negative reviews.
But can it really work?
It has obviously worked for some, though we don't know the statistics regarding the failures. And I'm sure there are a lot of those.
The fantastic claims that these promoters claim you can make are often inflated. Keep in mind, if it sounds too good to be true, it's probably a lie!
So the question is, are you willing to take the risk and try it out yourself?
Are you a gifted salesman who can write highly effective advertising.
Do you have a strong, likable leadership personality that can attract people to your team? Can you keep your team motivated and productive?
If you have these traits, then you should be able to make some money.
If you're a beginner in this industry, I would caution you.
Nothing is ever as simple as these product creators would have you believe. There is a significant learning curve to developing successful sales funnels and landing pages, to creating persuasive videos, and most importantly, leading a successful team.
And of course, there are the additional fees required to become successful.
Sure, they talk about free traffic, but that takes a long time to develop. The people making big money with this type of system, have very generous advertising and media budgets. It can get very expensive.
The use of Solo ads in themselves can be quite pricey. This is when you purchase someone else's email lists.
In essence, you are technically spamming inboxes. They didn't give you express permission to send them anything. And many email providers have strict spamming rules you need to be aware of.
When's the last time you appreciated a bunch of junk mail in your inbox?
Ok, this review is reminding me of an episode of "The Office"…
Sorry, I couldn't resist, LOL.  But seriously…
This review was to show you all that's involved in this type of system and to make you aware of issues they don't discuss.
If you have a dynamic personality, and money that you're willing to lose (just in case), then go ahead and try.
But if you're someone new to the industry,
I have a better alternative for you to make money. 
This method may take a little longer, but is much more sustainable in the long run, with passive income capabilities.
I have been a member of this platform for many years, and I can honestly say it provides the best training in affiliate marketing, online today.
It starts at the very beginning of what you need to learn, choosing your niche, then continuing on through to all the different methods of earning an income online.
You can start with a free starter membership, and if you choose to become a member, I'll be available to coach you whenever you need me.
Go ahead and click the picture below, and I'll meet you on the inside.
So how did you first hear about Easy 1Up? Have you done enough research to help you make a decision? I truly hope so.
The online advertising for make-money systems is ruthless, and it's so hard to know what you're getting yourself into.
If you have any questions or comments, please leave them below. I'd love to hear from you.
And please share this post with your friends.
Cheers,
Suzanne