There are many companies out there who claim to provide pre-made sites for beginners in online marketing. I have been researching Dom Well's business and I would like to give you my honest "Human Proof Designs" review.
Let's find out if this is a legitimate service or one of the many online scams.
If you have been researching and came across their site, you undoubtedly have many questions. How does it work? Is it worth the money? Will they provide the support they promise? Will it make me money?
There are likely many more questions running through your mind, so let take a deeper look, OK?
If you would like to see how I learned to do all this, myself, follow me here…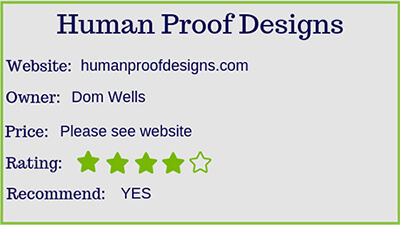 What Is Human Proof Designs?

Basically, his company makes ready-made websites you can buy!
The owner, Dom Wells, decided he didn't like the way unscrupulous developers were cloning "cookie cutter" sites and selling them for cheap. The unfortunate buyer would be sold a poor product with no training or support. These developers were there one day, gone the next.
What he also noticed was newcomers interested in buying "niche" websites that had all the hard work done for them. Meaning the website design, content, and SEO with keywords.
These Are The Services They Offer
Please note that their prices are adjusted frequently.  Please CLICK HERE for the current prices.
Websites
These done-for-you websites will save you months of time spent on research, building your site, and writing content.  And the training provided will help you scale your operations quickly.