Have you heard about dropshipping and are wondering if it's something you can do to make money online? If you've been looking into this, you've probably come across this product.
So what is xPress Funnels? Is this legit, or just another fancy scam?
I'm glad you're doing some research before you jump in. If you're anything like me, you want to know what to expect when you hand over your hard-earned money.
Well, I can help you there. This review will take you inside and show you how it works. Then you'll know what to expect. I'll also offer you my honest opinions and recommendations, OK?
After reading through this, you'll be able to make an informed decision.
Would you like to see where I learned how to create my own successful online business?
What Is xPress Funnels?

This product will quickly create eCom sales funnels for your own dropshipping business.
It was created by Glynn Kosky, and launched on both Warrior Plus and JVZoo on March 14th, 2019.
xPress Funnels – $29.95 (Lite), or $39.95 (Pro)
What's Inside
Training
Introduction – 4:23 minutes
How To Build Your Funnel Pages – 17:17 minutes
How To Connect PayPal – 12:43 minutes
How To Set Up Your Emails – 18:02 minutes
Facts & Support
How To Get Support – 2:13 minutes
How To Create A Funnel – 0:35 seconds
How To Create A Page – 0:40 seconds
How To Activate The Timer – 0:40 seconds
How To Create An Order Bump Page – 1:12 minutes
How To Link Pages Within Your Funnel – 1:39 minutes
How To Use Your Own Domain – 0:26 seconds
How To Replace The Video – 1:57 minutes
Ecom Training
Preferred Traffic Sources – 6:18 minutes
How To Choose Products – 13:52 minutes
Create A Funnel (Software)
Bonuses
#1: The Shoulder Series
#2: Private Facebook Support Group
#3: Live Master Training with Mr. X
Upsells
OTO #1: Done-For-You Funnels – $67
OTO #2: Unlimited Version – $67
OTO #3: xPress Profit Multiplier Funnels – $67
OTO #4: Automated Traffic Flow – $197
OTO #5: Reseller Rights – $147
Who Is This Sofware For?

I believe this software would be better used by someone who's worked online for some time. You will need traffic sources to make any money with these funnels.
The software is fine and delivers what it's supposed to. It's easy to use and you can quickly build your ecom funnels.
But unless you have the traffic you can send to your promotions, you won't make any money.
If you're a beginner online, you will need to take the time and patience to build up your traffic. And without a website, it will be even harder.
How Does It Work?

Wouldn't you love an app that creates DFY (done for you) eCom funnels in just 60 seconds? Imagine how quickly you could add products to your promotions?
That's why the sales page says anyway. Let's see what else it says…
Sales Page
Apparently you can create your own highly profitable eCom business without using Shopify, Amazon, or your own store.
Ecom is a multi-trillion dollar business and a wonderful opportunity to make money online. They say the global retail sales predictions could reach $4.5 trillion by 2020. Wow!
More and more people are going online to purchase products, and now is the time for you to tap into those profits.
Except for 2 big obstacles:
You would need to invest thousands of dollars to hire a designer to code your own store, or…
You would need to pay monthly fees to a service like Shopify and build everything yourself.
Once you are set up, have you one it right? Can you find the products to sell?
Well, hang on… xPress Funnels has the solution for you. Glynn has created a brand new software designed to create your ecom funnels with just the push of a button.
All it takes is 4 simple steps…
Step #1: Login to your cloud-based app and then choose one of the templates. Now you can start setting up your eCom funnel.
Step #2: Choose any products you like from sites like AliExpress, Amazon, or even Walmart. Now load them to your funnel with the click of a mouse.
Step #3: Add your payment details, like PayPal for example. Now click "publish" and your new funnel is published.
Step #4: Use the app's "instant traffic system" to get loads of sales within hours of setting up your first funnel.
The entire process won't cost you a dime. Because you're not buying the product until after your customer pays you!
Let's say you find a product for $5, and sell it for $50. Once your customer pays you the money, you order the product and keep the extra $45 as pure profit.
This is called "Dropshipping" and Glynn claims it's the best way to scale your income to 6 figures per month.
Really?! I'm not so sure about that…
The owner tells you that the app even includes a powerful upsell addition that shows your customers related or similar products.
These are called order bumps. This is the easiest way to increase your sales when selling physical products online.
This app comes with:
Two master funnels. A "free + shipping" funnel and a "free shipping" funnel.
Instant PayPal payments when you integrate your PayPal account.
The ability to grow your email list by integrating your autoresponder.
Quick sharing ability with the built-in social share buttons.
Proven templates designed to make you money.
A drag and drop editor to customize your landing pages.
Quick start video training, that's step by step.
Glynn will also be adding new features every month, even though he's not charging monthly fees.
OK, well it all sounds great. Let's see if the actual product delivers on its promises…
Member Area/Dashboard
When you access your purchase, Glynn will ask you to watch the training first, so you know how to access the software.
Training
Introduction – This is an overview of what dropshipping is and what an express sales funnel is. He walks you through the process from the initial sales page through to the email capture.

How To Build Your Funnel Pages
This video walks you through the building of your first funnel. Glynn takes you by the hand for each step. It's easy to understand and follow.
When you get into the software, you'll see a clean-looking dashboard…
To start a funnel, you'll click on "create a funnel" and give it a name. Click "create" and it will pop up in your list where you can edit or delete it.
Clicking on the funnel name will bring you inside, and you'll notice the different types of pages you can add.
The first thing is to choose from the 2 types of sales pages:
Sales Offer – has a free shipping option.
Just Pay Shipping – has a free product + shipping option.

And under these offers, you get 3 more choices of a long sales page, a short one, or a video page.
Here is a screenshot of what they look like…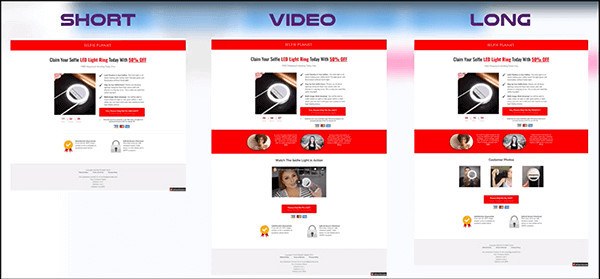 The remaining pages are:
Your upgrade offer
The thank-you page which has 2 options
A privacy page
In the training, Glynn recommends you start with the privacy page. No specific reason. I expect it's to get it done so you don't forget, lol.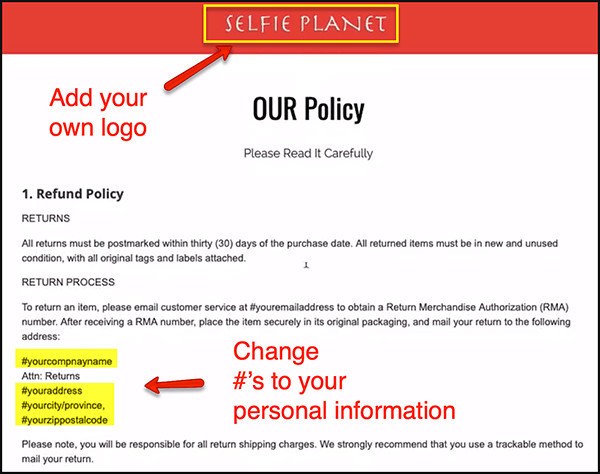 This is a long-form with a lot of information.
You can add your own logo at the top, and then go through the page and find all the hashtags. These are where you need to add your own information.
Next, choose which sales page you want and make any edits you wish.
Again, you should add your own logo, and make any necessary image and price changes.
At the bottom, you'll have to add more personal information and then click Save.
The changes you make to the upsell pages are done the same way. Here's a screenshot of the upgrade template…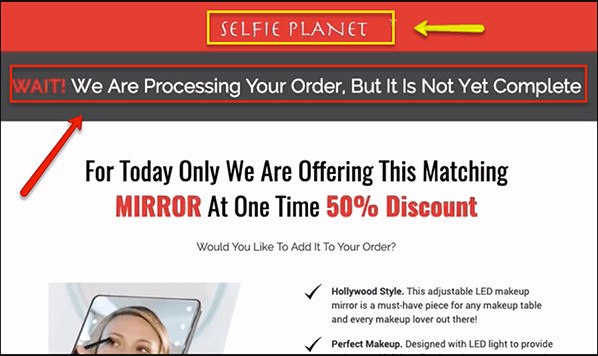 Depending on how many offers you want your customer to view, simply duplicate the page and make any necessary changes, such as images and price.
Your last step is to create your thank you page. You have two choices here:
The standard thank you page.
The thank-you page plus recommended products.
The second choice would be used if you have any other funnels you have made that are similar or relevant to this one, and want to attach it to this funnel.
This is what you thank you page looks like (the top of the page.)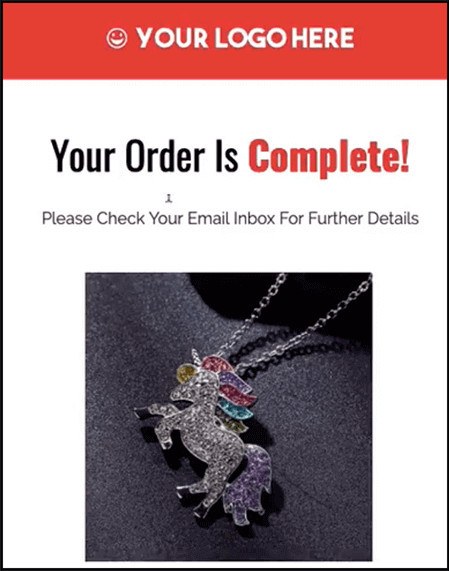 Once all your pages are edited, you will need to go back and link them all together.
Glynn's training walks you through all these last steps so that your ecom funnel is ready to go.
How To Connect PayPal
This next video helps you connect your funnel to your PayPal account. This way, any sales you make goes directly to your account.
You will need to create the proper buttons for each eventuality the customer takes…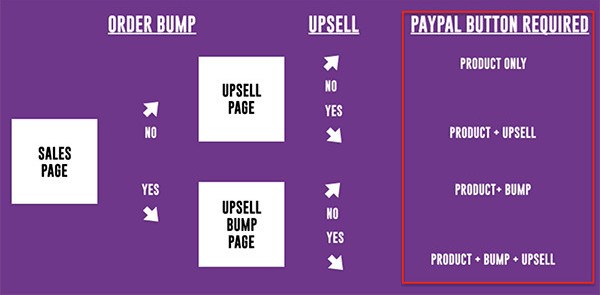 The training walks you through the entire process.
How To Set Up Your Emails
This final training video takes you through how to set up your autoresponder to your funnel and PayPal. Again, Glynn does this with an over the shoulder style that's easy to follow.
In your autoresponder service, Glynn even helps you write the necessary emails.
Facts & Support
These 8 videos are short and simply show you where to go for each step. These are great if you forget how to do a step and need to be pointed in the right direction.
Ecom Training
Preferred Traffic Sources – Glynn discusses driving traffic from Facebook, Instagram, Pinterest, YouTube, Google Shopping, Bing Shopping and various websites.
How To Choose Products – Glynn talks about AliExpress, which is a huge company in China that many dropshippers use. He will then cover the 10 preferred research methods he uses to find the best products.
Bonuses
#1: The Shoulder Series
This training series allows you to look over Glynn's shoulders as he hunts for products to sell, and builds out his funnel.
This is the closest thing you'll get that's like the one-on-one coaching he usually charges a 5-figure price tag to his private students.
#2: Private Facebook Support Group
Access to this group of like-minded members will give you the support you need to increase your success.
This is a safe place to share your concerns as well as learn any beneficial tips and tricks that others are using.
#3: Live Master Training with Mr. X
This person is responsible for generating millions of dollars online, and Glynn has gotten him to agree to meet with all the new members of xPress Funnels.
Mr. X has created many online traffic systems and you'll get access to these on this live call.
Upsells
OTO #1: Done-For-You Funnels
These funnels are premade with products that have been proven to sell over an over again. All you need to do is add you PayPal details, and traffic.
They will include:
Images
Sales copy,
Landing pages,
Buy buttons
And much more…
There will also be additional training and a fast-start guide in this upsell.
OTO #2: Unlimited Version
This upgrade allows you to create unlimited funnels per month, as well as get additional templates to choose from.
You will also get some more money-making features such as a countdown timer, etc., along with Facebook Ads training.
OTO #3: xPress Profit Multiplier Funnels
This done-for-you list building solution will show you how to maximize your return on investment by retargeting you visitors. You'll learn to leverage the exact methods the super affiliates use.
The training included will also show you how to turn your "abandoned cart" into more sales and 3X your profits.
OTO #4: Automated Traffic Flow
With this upgrade, you'll be able to add you Facebook and Google Ads pixel on all their previous sales pages. This will show you where to target the affiliate marketing niche.
The training will show you how to retarget this huge audience for an explosion in your sales.
OTO #5: Reseller Rights
This upsell will allow you to sell this product as you own, and keep more profits for yourself.
Everything is done for you from email swipes and promotional material to customer service.

Demo Video
My Concerns

I think this software does what it claims and will help you create ecom funnels quickly and easily. But my concerns aren't about the software…
Concern #1 – Traffic
Creating a great looking funnel is one thing, but getting it in front of people is quite another.
There is a training video that discusses different ways to get traffic to your ads, but it's really not in-depth enough to help out a newbie.
Attracting traffic, capturing email addresses, and making sales take time, patience, and a lot of work. It's not as simple as posting your ad to your Facebook page.
Concern #2 – Dropshipping Takes Work
Having a dropshipping business takes much more time than you realize. You need to stay on top of your suppliers to make sure the stock you're advertising is still available.
And then there's the customer support. That's all on you, including answering emails and refunds. The emails take time. The refunds take part of your profits.
And don't forget that for China, shipping is cheap. That's why you can get these products with free shipping most of the time.
But for us to send it back, it sometimes costs way more than the product is worth…
Concern #3 – Who's Business Is It?
It's certainly nice that you can have Glynn provide the hosting for your pages, but what happens if this software is ever taken down?
It has happened in the past, with other products. And then there goes your business.
This is the biggest reason why I don't like DFY products. If it's on his hosting platform your pages belong to him. It's really not your business.
Concern #4: Need The Upsells
This is always frustrating, isn't it? The front end product works but is quite basic. To get the full use of all the features, you need to purchase upsells.
I think you would need at least the unlimited upsell to get full use of this software.
The basic product has a lot of limitations when it comes to how many funnels you can have live at one time. And the number of templates are few.
Pros
30-day money-back guarantee
Detailed training videos
Easy to use
Cons
Requires you own traffic sources
You don't own you funnels
No opportunity for a long term business
Dropshipping takes a lot of time to maintain
Final Thoughts And Recommendations

The software is OK and would be much better if you got the second upsell.
That being said, I still don't think it will work for a newbie nearly as well as they claim. And that's because you don't have any traffic sources yet.
If you've worked online and have gotten some experience, then you probably have a relatively large following on YouTube or social media. And most likely have your own website, right?
You're the ones who can make this work for you.
I truly don't believe this will work well for beginners in online marketing.
Is xPress Funnels a scam?    No
Would I recommend it?    Cautious Yes
If you're new to affiliate marketing and would like to try dropshipping as a business, I highly recommend you learn how the industry works and create for yourself an online presence with a website.
Can I make you my honest recommendation?
I would love for you to come and check out where I learned all about affiliate marketing, and where I run my own business to this day.
This platform not only has excellent training, but it offers you all the tools you need to start your online business.
You will get:
Your own domain name of your choosing. This can be your business name!
A WordPress website with a choice of themes and plugins.
The powerful hosting service that rivals the best available anywhere,
Direct access to affiliate programs.
A large and very active support community that integrated right into the platform.
And the best part? You can sign up for a free starter membership! Yup, FREE…
If you click on the button below, you can read all about it. When you join, I'll greet you inside and be your personal coach for as long as you need me.

So how did you find eXpress Funnels?  Did this review answer all your questions?
If you have more or would like to leave a comment, please use the comment area below.
Cheers,
Suzanne
P.S.  Please share!