Are you looking for a way to make money online? If you've been searching for a way, you most likely came across this product.
But what is Triple Traffic Bots? Is it legit, or just another scam? It's so hard to know if the sales page is telling you the truth, right?
I'm so glad to see you researching this product before buying. You don't want to be disappointed with the actual product.
This is why I write these reviews for you.
I'll take you inside and show you the truth. You'll learn how it works and if it's right for you. By the end, you'll be able to make an informed decision.
Would you like to see where I learned to make my own successful online income?
What Is Triple Traffic Bots?
This product is a traffic generation training program that teaches you how to get traffic, leads and ongoing profit with 2 lists and retargeting.
It was created by Glynn Kosky, and launched on both JVZoo and Warrior Plus, on May 12th, 2019.
Triple Traffic Bots – $19.95 Lite, $23.95 Pro (actually $18.95)
What's Inside
How To Videos
Overview of TTB – Do Not Skip
How To Set Up Your Site
How To Create Pages Easily
How To Create The Additional Pages You Need
How To Setup The Email Capture
How To Setup The Pixel
How To Setup The Chatbot
How To Deliver Your Lead Magnet
Send Facebook Messages
Get Buyer Traffic
The Strategy Explained
Resources
Links to 3rd party services
Bonus Training
How To Create Lead Magnets Fast
How To Get Traffic for Affiliate Offers and Ecom Products
Bonuses
#1: Private VIP FB Support Group
#2: Quick Start Checklist
#3:. Live 'Master' Training With Mister X
Upsells
OTO #1: Done-For-You Campaigns – $47/$67, downsell $27/47
OTO #2: Lead Magnet Library – $47/$67, downsell $27/$47
OTO #3: Facebook Pixel Tools & Training – $47/$67, downsell $27/$47
OTO #4: Automated Traffic Flow – $97/$147, downsell $77/$127
OTO #5: License Rights – $197/$297
Expected Costs
Autoresponder service – $19 to $149 per month
WordPress hosting (recommended for ease) – $20/month and up
Messenger service like ManyChat – can be free
Who Is This System For?
This system is for those who wish to learn how to make money online by collecting leads to promote to. You will learn how to collect these leads three different ways.
What totally frustrates me is the misleading statements on the sales page. It says it will be done with 100% free tools which can't be further from the truth.
You may get the first 30 days free with your autoresponder, but then it's a monthly charge.
And you'll need a website with monthly hosting fees, after telling you that you won't need a website.
The training is great, but expect to pay for the services needed!
How Does It Work?
Wouldn't it be great to just copy and paste a traffic system with 100% free tools? This could be the answer for newbies with no advertising budget. At least that's what the sales page says.
Let's see what the sales page says…
Sales Page
Glynn claims that you only need 3 steps to consistent traffic and affiliate commissions:
Step #1: Login and watch the step by step videos.
Step #2: Apply their "proven" methods.
Step #3: Get long-term profits.
Well, that's fairly vague…
He goes on to say that you can generate sales and commissions in any niche with just 2 things… traffic and leads!
So if you can control those, the profits will naturally flow in.
But how can you do this for free? 3rd party services come at a monthly cost which can significantly add up each month.
So they've apparently uncovered these free tools that haven't been revealed to the public:
100% free page builder.
3 separate Facebook Messenger Bot software.
A powerful email autoresponder (that's free for the first 30 days)
Glynn then claims you could get result in 24 hours or less… that's a dangerous statement!
The whole idea is to generate leads on multiple lists and platforms, so you can follow up via email, messenger bots and direct advertising. These are the basic steps:
Your first page offers your reader a free giveaway with the Facebook Messenger Bot notifying them how to get it.
This Bot list is your first list.
Your visitor is shown how to download their gift by first entering their email in an optin form.
This is your second list.
You've added your Facebook pixel to your landing page to capture them in your FB audience.
This is your third list.
All of these lists are targeted, committed subscribers!
OK, this all sounds pretty amazing so far.
Let's see if the actual product delivers what it promises…
Member Area/Dashboard
The training is fine, but what they had you believe on the sales page is very misleading. This isn't going to bring you traffic.
It will help you convert the leads you do get, but without the leads in advance, you won't be making any money.
When you get into the dashboard, this is what you see…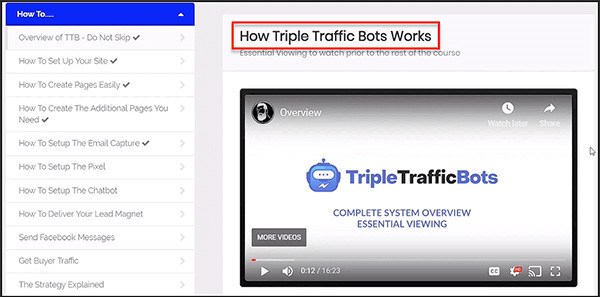 As you scroll down the page, there is additional training and tutorials from Glynn's partner Leigh. These are all available on his YouTube channel, that you're invited to.
How To Videos
The videos are all well done and show you, step by step, how to use any software and perform each step.
The second video "How to Set Up Your Site" is good but didn't they say you didn't need a website? This isn't as newbie-friendly as they claimed!
The 3rd video discusses the use of "Elementor". This is a page builder used in his training.
You can get a free version of this plugin, but it's quite limiting. If you're relying on a page builder for your business, you should really consider the pro version.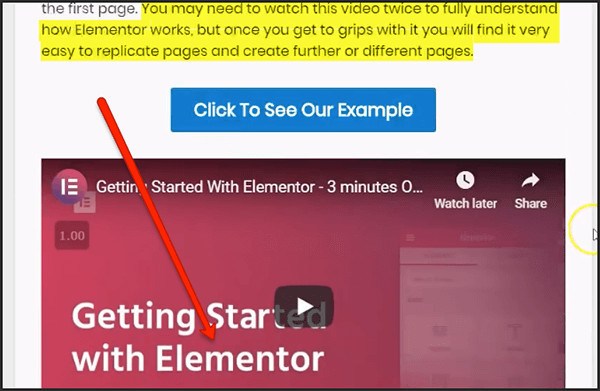 Another thing here, this plugin takes some time and practice to create a great page. Again, didn't he say this was newbie-friendly? Even the wording in the training says it'll take a couple of viewings to get the hang of it…
The one nice thing is that they give you specific examples to follow, which can really help.
The video on email capture shows you how to set up your autoresponder with the common technique but also with your Facebook pixel and ChatBots.
Be aware that even though they say everything is free, you may only get 30 days of a free trial depending on whose service you choose.
Again, I was disappointed to see a training on Solo Ads. This is when you pay a vendor for the use of his email list.
Don't get me wrong, the training is fine, BUT DIDN'T THEY SAY 100% FREE??
This is a valid way to get traffic, but it's risky and doesn't guarantee you any sales. You pay for the amount of clicks you want, which can cost anywhere from $.60 to $1 per click.
But again, these aren't sales! You could lose money rather than profit.
Resources & Bonus Training
Your resources are links to services you may need to build your campaigns:
Aweber – this is the autoresponder I use and they're excellent!
Udimi – Solo Ads
Canva – graphics creator
Royalty Free Images
Facebook Pixel Helper
Ultimate Commission Club – free membership with Leigh
Commission Shortcut – paid product
XPress Funnels – paid product
If you're a newbie, and want an easier way to do everything, you'll need to purchase the first two upsells.
At least this way you'll get both DFY campaign pages, but access to their bonuses as well.
The 3rd upsell will give you more training on using Facebook Pixel tools, and Ad training. Running ads can be expensive, but if you learn how to target your audience, it will help minimize your costs.
Bonuses
#1: Private VIP FB Support Group
This is a valuable way to network with other members and like-minded people.
It's also a great way to receive answers to your questions and offer support to others.
#2: Quick Start Checklist
This checklist is a condensed version of the entire formula.
By ticking off each step, you can ensure you've performed your campaigns with accuracy.
#3:. Live 'Master' Training With Mister X
This webinar will show you how this super affiliate has been using this same system to make money online.
He will show you his exact methods for maximizing you profit with this system.
Upsells
OTO #1: Done-For-You Campaigns
This upgrade provides you with DFY landing pages, affiliate offers, and Facebook notification alerts. You'll also get email swipes and DFY Facebook advertising examples.
This upsell has full training, access to 24/7 customer support, and a 30-day money-back guarantee.
OTO #2: Lead Magnet Library
This is their database of DFY products and lead magnets that you can give away inside your funnels. This is a great way to create high-converting funnels in minutes.
You will also get 2 bonuses:
Video Series Detailing How To 100x Your Income worth $197
Email Marketing On Steroids Guide worth $197
OTO #3: Facebook Pixel Tools & Training
If you purchase this upgrade, you'll get a detailed training course on how to use this system with Facebook Ads.
With the added tools, resources, and insider tricks & tips, you'll be able to 10X your profits as quickly as possible.
OTO #4: Automated Traffic Flow
This upgrade will allow you to add your pixels to their blockbuster sales pages, who are viewed by loads of visitors.
With this data, you'll be able to run laser targeted ads in the affiliate/MMO niche.
OTO #5: License Rights
This upsell allows you to sell this system as your own and keep 100% of the profits.
You'll receive a series of traffic videos as well as email swipes to help you promote the system.
My Concerns

Agh… unfortunately I have many. Not with the training but with the misleading statements on the sales page!
Concern #1: 100% Free??
Right off the bat, it says you can get an automated traffic system with 100% free tools. UNTRUE!
You will need to pay for many monthly fees to use this training.
First of all, they say "You don't need a website or existing email list". Wrong. You'll need a both a website and hosting.
This can be found for relatively cheap, but it's still an expense. I'll discuss the email list later…
Secondly, you'll need for this to work is your autoresponder service. They will link you to Aweber, which is an excellent service, but after 30 days, your price starts at $19 per month.
And it goes up from there depending on how many subscribers you have.
Then, in order to use the Chatbots, you'll need a messenger service. They link you to ManyChat, where you can get the free option, but it's limited and show ads. You'll eventually want the paid version.
Concern #2: Drive Traffic?
Nope. This system captures your leads, and helps to convert them into sales, but it doesn't get you the traffic!
If you don't already have an email list, or a large following on social media, who are you going to share your promotions with?
You need traffic sources to send to your campaigns in order for any of this to work.
This is why they tell you about Solo Ads. It's a paid way to get traffic to your pages.
It's also a risk and requires money upfront to pay for.
Concern #3: Newbie-Friendly?
The training certainly helps any beginner to perform each task, but it still takes a certain learning curve to figure it all out for you.
So if you were thinking it's all done for you, you'll be disappointed.
Newbies will have to work through all the steps and re-watch the videos several times to get going. Many of the services offer tutorials as well, to help get things set up.
Some research online will also find additional helps where needed.
Pros
30-day money-back guarantee
Good training for basic affiliate marketing using Chatbots
Cons
Misleading statements
Not 100% free
Final Thoughts And Recommendations

I believe the training is great to show you how to collect leads using three different methods. These are all effective techniques for your business.
But I'm disappointed with all the misleading statements on the sales page, which is why I'm only giving it 3 stars.
Is Triple Traffic Bots a scam?   No
Would I recommend it?   Cautious Yes
These are valid techniques, and will work great for those of you who already have a business. But if you're a beginner to affiliate marketing, you'll need more than this training to make money online.
What if I told you that you can learn this business from the ground up, and it would be truly free? You can learn how to create your own online business, and get free traffic.
Can I make you my honest recommendation?
The platform I run my business on is all-inclusive with so many excellent benefits. I started here in 2011, and I'm still there because I love it so much.
This platform not only offers excellent training, designed for total beginners, but offers new and updated training, support, and powerful tools to help us scale our businesses to new heights.
They have a domain registry to choose your own company name.
They have a powerful website builder for WordPress sites.
Their hosting service is one of the best in the industry.
They have an exceptional keyword research tool to help rank your content.
Their community is large, active, and live!
And so much more…
The best part is the starter membership. It's FREE, no credit card necessary.
If you click on the button below, you can read all about it. When you join, I'll greet you inside and coach you for as long as you want me too!

How did you hear about Triple Traffic Bots? Did an ad come to your inbox?
If you have any more questions or comments, please leave them below and I'll get right back to you.
Cheers,
Suzanne
P.S. Please share my review!