Are you looking for a system to help you make loads of money online? If you have, you've probably heard about the Super Affiliate System.
So what is the Super Affiliate System 2.0?  Is it better? Is it worth the money?
John Crestani, the creator of the original system, has recently updated and rebranded his product.
I don't believe this is a scam as some reviewers are claiming. But I do want to give you my honest review of all John offers.
I'm very pleased to see you reading reviews on this product before purchasing it so that you can make an informed decision. I don't want to see you spending so much money only to discover it's not what you thought.
I want to be honest upfront and let you know I haven't purchased this system.  I'm very happy with the platform I use and didn't want to spend this kind of money on paid advertising training.
If you're wondering where I learned all about online marketing and how I built my success, please click here.
Let's take a look at John Crestani and the Super Affiliate System 2.0 review.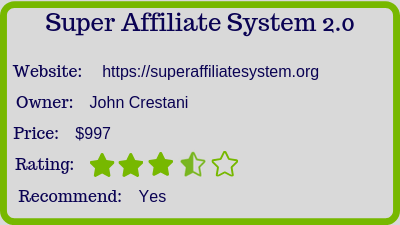 Update
John has updated and streamlined his course and released a newer 3.0 version.
You can read my Super Affiliate System 3.0 here!
Who Is John Crestani?
According to Forbes Magazine, John started his search for online passive income at age 21.
After dropping out of college, he fled to Thailand to "find himself". During his time there, he read the book The 4-Hour Workweek, by Tim Ferriss, and decided that was the lifestyle he wanted to lead.
And he did. He eventually built an affiliate marketing network that generates a tremendous amount of money. But he didn't do it overnight.
Through many years of trial, error, and failures, he finally found something that worked for him. Unfortunately, it wasn't an ethical business.
He had gone back to school and through his computer knowledge, acquired the answers to every online course from his school.
He then proceeded to sell that information! Yes, he got caught and was suspended, but he got a taste of what trading knowledge for money was really like.
In time, he created some success with a couple of other internet businesses, but his real success came when he decided to clone himself.
He screens records every launch he attempts, then has his team of 10 people doing the same thing. They purchase online advertising to promote offers to make money.
He just keeps scaling this way, which has enabled him to make enough money for travelling and having the lifestyle he desired.
What Is The Super Affiliate System 2.0?
For those of you who have heard of this system in the past, this is now an updated release.
The older system was the Internet Jetset System. You will have most likely have seen his new promotions on Facebook.
The rebranding has done away with the monthly charge but costs considerably more money. He says his system is worth $37,223 which he knows no one will pay for.
His first batch of students paid $4,985 for just the course, but you can now get it at a promotional price of $997. Why would he drop the price and offer more?
He claims this is a time-sensitive promotion, which may come down at any time.
This is just a promotional gimmick, which works, by the way, to place a sense of urgency for the customer.
If you have someone thinking they'll miss out on a great opportunity, they're more apt to sign up.
His training course is learning about, and limited to paid advertising. This would include added costs for that advertising, for solo ads, and buyers data.
Therefore, expect costs of:
Super Affiliate System – $997
Upsell – $187 (case studies)
Domain name – $15/year – no mention of this but you can't build a website without one
Cost of website hosting – $14.99/mo. John recommends click funnels $97/month
Solo ads – $200 (average)
Paid advertising on various platforms – $1-2K. John offers a $75 for $895's worth to start
Tracking software – starting at $12/month.
What's Inside
An eight-week course of 50 hours of recorded content:
Week 1 – The System Setup

Setting a goal
How to join affiliate networks
How to setup your site
How to setup your presell page
How to setup facebook ads
How to work with affiliate networks
Week 2 – Understanding The System

How to earn your first 6-figures
The missing ingredient 99% miss
Unlock the millionaire mindset
Why 85% of franchises succeed & most entrepreneurs fail
What is even more lucrative than a franchise business
How to license a proven & profitable online business

Week 3 – Marketing Skills

How to write good copy
Advanced copywriting
My 17-step copywriting formula
How to optimize ads
Advanced optimization

Week 4 – Facebook & Google Ads

Facebook ads
Facebook ad compliance
Important Metrics in Advertising
Google adwords part 1
Google adwords part 2
Facebook ads with Brian Pleiffer

Week 5 – YouTube & Native Ads

How to setup MGID native ads
How to setup Outbrain native ads
How to setup Voluum DSP native ads
How to setup Youtube ads
Facebook ads with Tim Burd

Week 6 – Scaling & Automation

How to use survey funnels
$240K solar case study
Scaling campaigns from 1-20K
How to utilize media buyers
Student loan case study
Week 7 – More Ad Campaigns

How to setup Bing ads
How to setup Linkedin native ads
How to setup Linkedin text ads
How to setup Taboola native ads
Coming soon!
Week 8 – Implementing The System

The right mindset for success
How to research your niche
How to choose your offer
How to choose your ad network
Researching niches online
How to network effectively
Understanding intent
There are two more weeks that haven't been added yet.
Week 9 – Advanced Software & Tools

Week 10 – More Affiliate Programs
Resources
Buyers Data – a list of accumulated data on customers who would most likely buy your product
Ad Templates – pre-made ads in different industries with drag and drop technology
Presell Pages – pre-made landing pages
VIP Pass – for easy acceptance to various affiliate networks
Super Affiliate Community – a private Facebook group
Weekly Coaching Sessions
Here is a great video from a fellow marketer showing you what the inside of the platform looks like.  This is a review of his experience…
 You have access to this system for at least one year. My research found nothing about the cost of renewing the yearly membership.
Email Support is available Monday to Friday 9-5. There is also support with their weekly webinars.
Who Is This System For?
Basically, this system is John Crestani's own affiliate network.
It's for very motivated people who want to help John build his own income. Yes, if applied properly and exactly as he shows you, you can make money too. But first and foremost, he built this system to benefit himself.
I do appreciate how honest John is when he says he's looking for people to help him make more money.
Instead of taking time away from his lifestyle to increase his earnings, he's looking to teach people how he does it, so you can sell for him.
And like any affiliate program, when you sell a product, you get a commission. He gets the balance.
In his promotional video, he says this system is for people who want money and time freedom or are fed up with their job.
This is true for anyone who is looking into online marketing. What he doesn't tell you is that affiliate marketing involves so much more than just paid advertising.
There are many strategies you can use to create a passive income. And in my opinion, you shouldn't put all your eggs in one basket. You need to develop many streams of income for security's sake.
The big problem I see for beginners is the lack of training for all these other methods of creating an online income.
I strongly believe you need to learn all the basics first, with:
Once you've learned all the basics, you will be well on your way to creating multiple income streams.
The reason I believe this is so important is that these systems come and go. I'm not saying his will, but what if it does? You're left with nothing.
If he decides to take his business in another direction, you will lose all the premade templates. And if you have no training for anything else, you're back at square one.
John Crestani talks about his system making people into millionaires, and I'm sure he's helped a handful of students do that, but this is SO RARE.
I think most of his students are making some money, but nothing like what he claims. You would be so much better served to learn other methods as well.
One of the significant methods for online marketers come from their email lists.  Unfortunately, there is no training on this great strategy in this system.
How Does This Program Work?
This program is strictly about paid advertising.
John Crestani has developed a 3-step sales funnel and teaches you how to use it. He wants to show you his secrets, but really, there's nothing secret about this.
This is what a sales funnel is. In fact, there is another program available online that does this same thing.
It's called the Inbox Blueprint by Anik Singal. You can read my review here.
Any 3-step sales funnel consists of:
An enticing advertisement for some product, asking the person to click on the offer.
A landing page (presell page) – this attempts to convince the viewer to buy the product.
The affiliate offer itself.
The advantages of buying his system are all the premade templates he provides for you.
Other than you're required to use his material, this is a big time-saving feature. Creating your own funnel from scratch takes a lot of trial and error until you've got one that works.
Mr. Crestani requires three rules to be followed if you wish to use his system.
You must work with one of two affiliate programs he recommends.
You must use his system ethically.
And you must agree to apply the system.
One of the two affiliate programs is Nutryst, a marketing services company. John used to own this network, but no longer. He still offers it as one of the required programs to use, though.
The other is called Biz Opp (Business Opportunity) which involves the use of solo ads.
Biz Opp shows you how to use solo ads (paying to use someone else's email list) to quickly build an email list.
This method can add up quickly at about $1 per click.
For someone who wants you to be ethical, why would you want to use someone else's email list anyway?
To me, that's spamming. These people didn't give you their permission to email them.
The Super Affiliate System course has considerable information to go through.
This is good because there's quite a large learning curve here. You can take it at your own pace but he recommends one hour per day; half an hour for the video, and a half for exercises.
There are also weekly webinars to help you along.
John is a believer in creating a millionaire mindset to be able to achieve this kind of success. In week two, you'll be taking a look at this.
When doing my research on this program, I discovered that one of his supporters is Winter Vee who founded Millionaire's Brain Academy.
So when I read, in week three, that you learn how to hypnotize people into buying, I figured it came from Mr. Vee, LOL.
John's promotional video talks about bonus material if you sign up right away. I'm pretty sure they'll always be available.
This is again, his way of creating a sense of urgency to get you to buy.
Bonuses
Two, ready to launch campaigns in the health niche
A 40-hour free traffic course (Internet Jetset course)
60 hours of his over the shoulder videos showing how he built out campaigns
The $895 of free ad credits for only $75
The credits he provides for you for $75 is a great start to your advertising budget. He himself says in his promo webinar that you should expect to start with a budget of $1-2 thousand dollars.
Any paid advertising strategy of affiliate marketing is going to get expensive to create an ongoing income. If you want to keep getting sales, you're going to have to keep buying ads.
Even John, in his webinar, shows how much he's spent on advertising up until the time of creating his video…over $340,000.  Wow!!
Now granted, if he's a millionaire, that might not affect him too much. But it goes to show you what's involved to create an ongoing, recurring income with paid advertising.
His method of obtaining buyer data is intriguing.
Every marketer wishes they knew exactly who to market to. That would make selling so much easier.
He says he simply asks another affiliate program's owner for their buyer list, to help him promote their program. Now, I've never tried this, and maybe it would work, I don't know. Sounds interesting though!
And if he's done the work of obtaining it, and is allowing you to use it, this can be very profitable for you.
If, on the other hand, he teaches you how to do it yourself, it might not be so easy. He has the advantage of being known in these circles, which would give him a big leg up.
You can, though, use services for this type of data. For instance, Leadiro can provide you with 1000 contacts each month for $99/month.
John also talks about his big secret method of acquiring a lookalike audience on Facebook.
There's no big secret here!
In fact, anyone can do this themselves. Facebook has tutorials on creating your own targeted audience lists.
Pros
The course contains a lot of information
30-day money-back guarantee (Clickbank)
Step by step over-the-shoulder training videos
$895 worth of media credit for $75
Most lessons taught by John himself
Cons
Expensive
Income claims are unrealistic
Tools needed are 3rd party companies with additional costs
A steep learning curve for beginners
Need a large advertising budget
No free trial
Thoughts And Recommendations
This system provides you with the training to learn affiliate marketing via paid advertising. And the provided templates for the sales funnel are definitely a time saver.
Unfortunately, you don't have the freedom to choose which programs to promote. And that's because John Crestani has created his own affiliate network.
He wants you to promote the programs that make him money. That's the whole idea behind this system.
I suppose you could take the training and move on to other affiliate networks, but that's a pretty hefty price tag for just the training. The value is in all the resources he provides.
You need to keep in mind that he isn't providing you with any training or tools to start your own website, etc.
He recommends 3rd party tools which will cost you additional expenses over and above the system.
My one big concern is market saturation.
John Crestani says no, it won't become saturated, but that doesn't make sense to me. If the market is bombarded with advertisements for the same product, using the same templates, it will become saturated.
If you look at Anik Singal's program, Inbox Blueprint, you are given stats on how saturated each market is. You can view these metrics before choosing which product you want to market.
And he is continually adding new templates and new products for just that reason. I tend to agree with Anik.
Is this system a scam?    No.
Would I recommend it?   Not if you're a beginner.
I say this because I truly believe you should learn about online marketing from the ground up. First learn the basics of marketing, building your website, learning about SEO, and then learn about all the different ways to create income online.
This is a very lucrative industry if done properly. And the proper way is to build your business on a solid foundation.
Paid advertising is only one way to earn an online income, and it's expensive. Even John admits that scaling your business to create a larger income requires you to increase your advertising budget.
In other words, it takes money to make money!
He may get you started with the $75 he has you paying, but you can't sustain an income that way.
It will require much more. John has made a lot of money but he's also paid over $340,000 for his combined advertising fees.
If you're already an experienced marketer and making a profit, then this is another route you can try. But if you're new at all this, I think you'll be disappointed.
Can I make my honest recommendation?
I would love for you to come and see where I run my business from. They provide all the training you need, all the tools you need, and all the support you need.
They'll help you choose your niche, pick a domain name, build your website and host it too!
You will learn about all the ways to create income streams, not only paid advertising.
And the best part is you can start for free. That's right! No credit card needed.
What better way to test-drive the platform to see if you even like online marketing, lol. And I'll be there every step of the way for you.
If you'd like to read all about it, please click the picture below.
So what's your experience with online marketing? Do you already have a business, or are you just starting out?
I'd love to hear from you. Let me know in the comment section below.
And if you know anyone who'd be interested in marketing, please share my post.
Cheers,
Suzanne