Are you looking for a way to increase your affiliate commissions? Many super affiliates are claiming that offering bonuses are critical to your conversion rate.
That being said, you're probably looking for an easy way to create bonus pages, right? With all the tools available online, it's much easier than creating them yourself, let along having enough bonuses to add to them.
So what is the Commission Replicator? Will this software do what it claims? Is it legit, or another scam?
All great questions! And this is why I'm writing my Replicator review for you. I want to show you what to expect when you get inside, and how it works.
You can't always trust the sales pages, so this is where I come in, lol.
By the end of my review, you'll be able to make an educated decision whether you think this tool is for you, OK?
And if you'd like to know where I learned everything about affiliate marketing, check this out…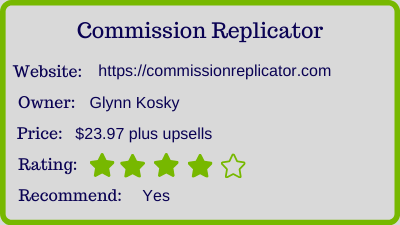 What Is The Commission Replicator?
This is a WarriorPlus product that was created by Glynn Kosky, and launched on December 15th, 2019.
This software is cloud-based and claims to allow you to create high converting bonus pages for your sales funnels. It can be used for any offer or affiliate link, or use the DFY funnels. Hosting is included.
Commission Replicator – $23.97

Limited to 10 bonus pages only
What's Inside
Dashboard
Welcome Video – 1:14 minutes
Links to the Training, YouTube, and Daily Tips (via Messenger)
My Profile
Bonus Builder App
Create New Page
WYSIWYG Editor (From scratch, or Download Template below)
17 Templates Included
Over 100 Bonuses
Done For You Funnels
15 preloaded DFY Funnels
15 Templates (bonus page + thank you page)
Done For You Funnels 2 (Upsell)
Conversion Tools (Upsell)
Email Swipes
Swipes for the 15 DFY Funnels
Email Swipes 2 (upsell)
Training Videos
How To Create Your Campaigns – 4:50 minutes
How To Deliver Bonuses Via JVZoo – 2:30 minutes
How To Deliver Bonuses Via Warrior Plus – 2:10 minutes
How To Create Campaigns For Any Product, Service, or Launch – 5:22 minutes
How to Share/Upload Your Funnel – 1:05 minutes
Upgrades
How To Add The Facebook Pixel To Your Funnels – 4:13 minutes
How To Add Facebook Comments To Your Funnels – 3:36 minutes
How To Add Facebook Messenger To Your Funnels – 3:55 minutes
How To Create Social Proof Pop-Ups – 5:08 minutes
How To Create Exit Pops – 3:42 minutes
Triple Threat Traffic (Upsell)
Bonuses
#1: Private Facebook Support Group

#2: Master Training (recording) with a Legendary Super Affiliate

#3: Quick Start Checklist

#4: Mystery Traffic Bonus

Upsells
OTO #1: Unlimited Version – $97, downsell $47

OTO #2: DFY + Additional Features – $67, downsell $47
OTO #3: Automated Traffic Flow – $97, downsell $67

OTO #4: Conversion Boosting Tools – $67, downsell $47

OTO #5: Triple Threat Traffic – $67, downsell $47

OTO #6: License Rights – $197, downsell $97

Who Is This Software For?
This is a great tool for those of you who market via an
email list
. I could work if you're a newbie, but without a traffic source, you won't make any commissions.
There are ways of getting traffic, but it will cost you. You can pay for Solo Ads, or paid advertising on Google and social media.
The basic front end software is great, but with many limitations. I recommend you try it out first, then go on to purchase any upsells you need later on. They're always available on the dashboard.
The first upsell will give you unlimited pages. This is great because you don't have to pay for hosting.
The fourth upsell gives you access to some great conversion tools.
For $23.97, a one-time price, I believe this tool is more than worth the money. Other page builder tools are much more expensive and cost a monthly fee.
How Does It Work?
This software app claims to allow you to copy and paste his super affiliate system to make $1,000 per day in commissions. That's a pretty bold statement right off the bat!
But Glynn is a successful affiliate marketer, so let's see what else he says on his sales page.
Sales Page
According to the sales page, you can become a super affiliate in three easy steps:
Login to the Commission Replicator cloud-based web software.
Choose one of the included DFY campaigns or create your own from scratch in seconds.
Activate the traffic, and watch the commissions roll in, then just rinse and repeat!
Hmm, I wonder if it could be that simple?
The income proof he shows is impressive, but again, don't forget that if this is true, it's his own account. No newbie is going to make this kind of money any time soon, if at all.
Glynn says his formula is to:
Find top-converting, EVERGREEN offers to promote – ones that provide real solutions and offer great value.
Find or create high-value, relevant bonuses to give audiences the extra incentive to buy.
Setup great-looking bonus pages that 'warm-up' your traffic and convert more prospects into commissions.
OK, so he's right there! Offering bonuses can make a BIG difference in converting your offers.
But it takes a lot of time to find the best products, developing valuable bonuses, then creating a great looking bonus page for your sales funnel.
After all that, you need emails with converting copy, and then the traffic to send to it.
Apparently, this software does all this for you!
Its push-button software automatically creates great bonus pages for any offer you wish. It also has DFY campaigns so you can get started right away.
It has complete DFY campaigns with evergreen affiliate funnels, bonus pages, bonus products, and email swipes.
His secret traffic method to get even more commissions, even if you're a newbie!
This software is compatible with all major affiliate networks, including JVZoo, WarriorPlus, and Clickbank.
It hosts your pages so you don't require extra hosting fees, which will save you hundreds each year.
It has a massive vault of bonus giveaways for you to choose from.
And if you purchase the first upsell, you have access to a countdown timer and exit popups.
So far this all looks amazing. Let's look at the software to see if it delivers…
Purchasing
The purchasing process is quite lengthy, as you'll have to go through 12 different landing pages of upsells before you get inside the product, lol.
I always recommend you wait on the upsells because you want to test the front end product first, to see if you like it.
Don't worry about losing out on any discounts!
They always say to "buy now" or this offer will disappear for good. But you know what? It's still available on the product's dashboard for a future purchase if you want it!!
Member Area/Dashboard
Once inside, you get your first look at the dashboard…
The training link is the same as that on the side dashboard. The YouTube link brings you to Leigh's (Glynn's partner) channel where you can subscribe if you wish. The Daily Tips link brings you to Leigh's messenger account (Facebook).
Training
You should go through the training first, to acquaint yourself with how to use the software. They are all well done with step by step, over the shoulder style so they're easy to follow.
There are 5 videos for the main software, 5 more videos for any upgrade purchases, and 2 more bonus videos that lead you to two more offers:
High Ticket Hijack – $29.97
Affiliate Shortcut – $31.14
You can also subscribe to "Leigh's" YouTube channel. The above 2 bonus videos are his…
Bonus Builder App
When you click on the "Bonus Builder App", then click on "Add New", this is where you can either upload a DFY bonus page or create your own from scratch.
You have 17 different bonus pages to choose from.
When you download, you get the sales page template as well as the download (bonus) page. From there, you can edit as much as you want to. You can add:
Your affiliate link URL
Your own logo
Any of the prewritten copy
Insert your own video
Add an image to the product style box
Add a demo video
Your choice of bonus products
Purchasing upsells will allow you to:
Add your countdown timer
Add an exit popup
Add Social Proofs
Add Facebook tools
DFY Funnels
The 15 DFY funnels are some campaigns that he's had the highest conversion with over the latter half of 2019.
You will still edit them somewhat, to add your affiliate link, your own video and demo video, if you want one, and choose your bonus package.
There are also the conversion tools to add if you purchased any upsells.
Each DFY campaign also has email swipes for you to use. Each product creator gives you access to their material for the best chance at conversion.
Unfortunately, there is no traffic support unless you purchase the upsells.
Bonuses
#1: Private Facebook Support Group
The only Facebook Group I found was when I clicked on "Daily Tips" on the dashboard. It opens up messenger to Leigh's account, where you can ask him questions.
From there, you can click on his name and it brings you to his Facebook Page. It's not at all active, and he seems to just post the YouTube videos he makes.
#2: Master Training (recording) with a Legendary Super Affiliate
Nowhere did I see any master training available to view… (look under upgrade #5)
#3: Quick Start Checklist
Again, I couldn't find this checklist… (look under upgrade #1)
#4: Mystery Traffic Bonus
Nope… can only see any traffic advice in the upsells…
Upsells
OTO #1: Unlimited Version – $97, downsell $47 (Recommended)
With this upsell you are allowed unlimited bonus page funnels. With it, you also have an agency license so you can create funnels for your clients, and keep 100% of the profits.
And guess what… this is where you get that quick start guide he was talking about… lol.
OTO #2: DFY + Additional Features – $67, downsell $47
This upsell provides you with an additional 10 DFY funnels.
They have all been tested and proven to convert. All you need to do is choose, edit, and promote.
OTO #3: Automated Traffic Flow – $97, downsell $67
Glynn claims that he will only allow 50 people to tap into all the traffic he receives from this, as well as his past and future launch pages.
It comes with additional training and bonuses and could explode your sales with unlimited traffic.
OTO #4: Conversion Boosting Tools – $67, downsell $47
This upsell will unlock more of the software features such as:
Countdown Timer
Exit Pop-up Settings
Social Proof Pop-ups
Facebook Ads Pixels
Facebook Comments
Facebook Chat Widgets
You will also get some ebooks containing links to various products and services that Glynn uses.
OTO #5: Triple Threat Traffic – $67, downsell $47

With this upsell, it claims you can triple your traffic. It's quite vague about how it can do this, but I discovered it gives you access to another of Glynn's products for free.
The product is called the Traffic Multiplier. In it, you get training on various forms of traffic generation, links to some of his past products with more training,
As you wind your way through everything, there is an invitation to a VIP Members Workshop. This must be the 2nd bonus he was talking about on the sales page.
It happens to be John Crestani's product, which I've written a review on…
Demo Video
My Concerns

I really don't have any serious concerns about this product. It looks to be well done and can give you a leg up for your future affiliate promotions.
The front end product is basic, but can still provide you with 10 bonus pages to help convert your sales.
As I expected, the tools to really help you come in the form of upsells. I would recommend upsell #1 and #4 for unlimited pages as well as the great conversion tools.
If you're a newbie at all this, without your own email list or social media following, you might find upsell #3 a great help to get you going.
It's too bad that this will end up costing you so much more, but if you get the downsells, it'll save you quite a bit.
Don't expect to make $1K per day any time soon!
I want you to be realistic. The income proof he provides is his own, and of course, you can expect them to be high. He is very experienced and has a HUGE email list.
These people are already super affiliates with years of experience. Not a beginner like you.
But the good news is that in time, you'll be able to start building your commissions, and if you stick with it, you might be able to get into the hundreds per day. That's not too shabby, right?
Pros
30-day money-back guarantee
DFY funnels are preloaded
Training videos to use the software
Comes with email swipes
Comes with bonus products
Higher chance of success with upsells
Cons
Require upsells for full functionality
No traffic training in front-end product
Final Thoughts And Recommendations
I believe this software could work, but unless you purchase some upsells, you are limited to the front-end product.
But for the price, I think it's a great tool to help you with your affiliate promotions.
There are many page builder apps and services online, like Clickfunnels, but they come at a much higher cost. Clickfunnel's lowest membership is $97 per month.
Commission Replicator is a one-time cost of $23.97. I'd say it's a no-brainer if you're looking for this kind of tool.
Is this a scam?   No
Would I recommend it?   Yes
Is this the type of affiliate marketing you do? Or have you only been thinking about starting and don't know where to begin?
This type of tool is best used by someone who is already online and has some experience with affiliate marketing.
I know they always say that anyone can use it, even beginners. But do you understand what's going on?
Without any idea of how this industry works, you're just doing "this" and "that" without any idea "why" you're doing it, lol.
And trust me, you'll get frustrated with no prior knowledge.
There are many ways of performing affiliate marketing. This tool is mainly for promoting via email marketing, which requires a very large subscriber list to be successful.
But did you know that there are other ways as well?
You can start your own online business, attract traffic through your content, and build up an email list of people who follow you specifically. They are loyal and will trust you when you recommend a product.
This is the type of business I have, and it can be sustained much longer. It can also provide you with passive income!
If you'd like to see what it's all about, please click on the button below to read all about it.
Once you've started your own business, think what a tool like Commission Replicator could do to help your sales!
So how did you hear about Commission Replicator? Maybe it came to your inbox?
I'd love to hear what you think about it. Leave any comments or questions below, and I'll get right back to you.
Your friend,
Suzanne
P.S. Please share…