Are you looking for some way to send out promotions for increased conversions? These days, it's important for affiliate marketers to send out bonuses for increased interest. And to do that you need a funnel page builder.
So what is Commission Funnels? Does this tool do what it promises? Is it legit, or another scammy product?
I'm glad to see you here, researching this product before purchasing it. You can't always believe the hype on the sales page.
This is why I write these reviews for you. I go inside, check it all out, and give you my honest opinions and recommendations.
By the end of this review, you'll be able to see if it's right for you, or if it's what you expected!
Would you like to see where I learned how to create my own online income?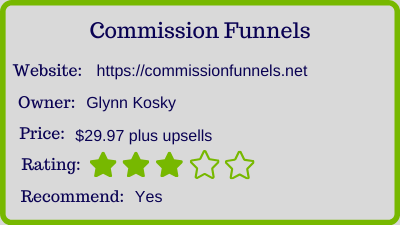 What Is Commission Funnels?
This cloud-based software app allows you to create bonus page funnels to promote your affiliate marketing products.
It was created by Glenn Kosky, and launched on both JVZoo and Warrior Plus on July 28th, 2019.
Commission Funnels – $25.97 Lite, $29.97 Pro (10 bonus pages)
Dashboard
Bonus Builder App
Done For You Funnels
Done For You Funnels 2 (Upsell)
Conversion Tools (Upsell)
Email Swipes
Email Swipes 2 (Upsell)
Training
How To Create Your Commission Funnel – 6:41 minutes
How To Deliver Bonuses Via JVZoo – 3:18 minutes
How To Deliver Bonuses Via Warrior Plus – 3:05 minutes
How To Create Campaigns For Any Product, Service or Launch – 13:15 minutes
How To Share / Upload Your Funnel – 1:10 minutes
What Are Shortcodes – 1:48 minutes
How To Add The Facebook Pixel To Your Funnels (Upsell) – 5:02 minutes
How To Add Facebook Comments To Your Funnels (Upsell) – 4:37 minutes
How To Add Facebook Messenger To Your Funnels (Upsell) – 5:35 minutes
How To Create Social Proof Pop-Ups (Upsell) – 4:49 minutes
Triple Threat Traffic (Upsell)
Auto Traffic Flow (Upsell)
Reseller Info (Upsell)
Upgrade Membership
Bonuses
#1: Private Facebook Support Group
#2: Live Master Training with Legendary Super Affiliate Mr. X
#3: Quick Start Checklist
#4: Mystery Traffic Bonus
Upsells
OTO #1: Unlimited – $97, downsell $67
OTO #2: Done-For-You Funnels – $97, downsell $67
OTO #3: Automated Traffic Flow – $97, downsell $67
OTO #4: Conversion Boosting Tools – $67, downsell $47
OTO #5: Triple Threat Traffic Training – $67, downsell $47
OTO #6: Funnels License Rights – $197
Who Is This Software For?
This software is for any affiliate marketer who wants to create bonus pages for their campaigns. This tool not only allows you to create your own but has several DFY choices.
The only issue is that you must choose from the bonuses included as you can't upload your own.
Other than that, the software does a good job and simplifies the entire process.
Remember that though this is an excellent asset to add to your business, it's just that. A tool. It's up to you to send targeted traffic to your promotions to make any money.
How Does It Work?
This software claims to be a game-changing software that allows you to copy and paste "Super Affiliate Funnels" for instant commissions!
Wow, instant commissions! Wouldn't that be awesome?
Let's see what else the sales page says…
Sales Page
This cloud-based system is supposed to be 100% DFY (done for you) and requires no experience or technical skills. You don't have to create products either. There are over 15 campaigns that are ready for Plug'n'Play profits.
The system is set up in 3 steps:
#1: Login to the Commission Funnels cloud-based web software.
#2: Choose one of the included DFY campaigns or create your own from scratch in seconds.
#3: Activate the traffic, and watch the commissions roll in, then just rinse and repeat!
OK, that sounds pretty easy so far, right?
He goes on to say that the solution to passive affiliate commissions is simple…
Find top-converting, evergreen offers to promote – ones that provide real solutions and offer great value.
Find or create high-value, relevant bonuses to give audiences the extra incentives to buy.
Setup great-looking bonus pages that 'warm-up' your traffic and convert more prospects into commissions.
I agree with those statements! Especially in today's marketing environment.
So Glynn created a push-button software that has over 15 complete DFY campaigns. These have the funnels, bonus pages, bonus products and email swipes ready to go.
Apparently, you can see results within 2 hours of logging in. OK, I don't necessarily agree with that statement, lol.
He says there's traffic built-in too. That's what I want to check out.
So let's go inside to see if this product delivers…
Member Area/Dashboard
When you first get your purchase link, you're brought to a landing page with 6 steps to go through after watching the welcome video.
Step 1: Register for the VIP Members Workshop
This has now taken place so you'll be able to view the recording in the member's area.
Step 2: Activate Your Exclusive Hosting Deal For Commission Funnels Members
Your pages are hosted by the system. This is only if you need hosting for anything else.
Step 3: Claim Our HIGHEST Recommended Product
This is simply a promotion for another product called Kartel which I've reviewed already reviewed for you.
Step 4: Access Commission Funnels
Your access link with username and password would have been emailed to you. If you didn't get it, he provides you with more links for access.
Remaining Steps (5-9)
Links to your upgrades
Download your bonuses
Subscribe to Leigh's YouTube channel
Join the Ulitmate Commission Club (free)
Subscribe for daily tips and additional 5 training videos by Leigh
OK, now you can finally get to the software…
Bonus Builder App
This is the editor you will use to create your own bonus pages. And yes, you're doing the work here! This editor is great if you want to create a page for a product not included in the system.
After clicking on "add new", you're brought to the editor. The first thing is to click on "load sales/download pages template". You have a choice from 17 templates for this step.
Take note that any templates with countdown timers will only work if you've purchased upsell #4 with the extra tools.
The entire bonus page is editable so you can add:
product details
images
features and benefits
demo video
OTO information
bonuses
This is the typical layout for any bonus page. Now you just have to customize it with your own unique style.
The download "Thank You" page is also able to be edited.
The setting tab is where you will add your affiliate ID, as well as your expiry date if you purchased upgrade with the countdown timer.
This is where you can choose all the bonuses you wish to add to your page.
There are hundreds here, for you to browse through, along with their estimated retail value. You can change these values if you wish.
Your visitor will appreciate learning how much value they're receiving.
When you hover over the name, you'll see the bonus image as well as a brief description.
Once everything is saved, you'll be automatically brought to your list page where you can do further edits, view the page, download, or get an embed code.
I didn't do anything to this page except add a few bonus products as an example. To view this page yourself, to see how this particular template looks, Click Here.
You'll notice by the URL that I was able to download the page and upload it to a dummy site I use. This is a handy feature as well if you don't want your visitor to see a "sub-domain" URL like this…
https://commissionfunnels.info/bsp.php?s=xxxxxxxx=1
Done For You Funnels
This section works in the same editor you used to create your own page. Except for this time the templates are almost completely finished already.
You have a choice of 18 product templates to choose from.
The only frustration I had was always seeing the countdown timer when viewing the finished product. I didn't purchase that upsell, nor did the template show it in the editor;
It's kind of hard to delete something you don't see in the editor, lol. I'll have to contact support and hope they get back to me in a timely fashion. They hadn't responded before I published this review…
Done For You Funnels 2 (Upsell)
This upsell provides you with 10 more DFY bonus page funnels.
Conversion Tools (Upsell)
This is upsell #4 only.
Email Swipes
This is where you need to go to request your affiliate ID. When you click on the green link, you'll be brought to either JVZoo or Warrior Plus to ask for approval from the product vendor.
When you're ready to send out your bonus page campaign to your email list, the vendor also provides you with email swipes. These are pre-written emails you can use.
I recommend you tweak them to make them sound unique to you and your brand.
Email Swipes 2 (Upsell)
These emails go with upsell #2 only.
Training
All of the training videos are step by step, showing you exactly what you need to do.
Remaining Tabs
The remaining tabs are for upsell purchases. If you decide you want to upgrade further, the links are under the "Upgrade Membership" tab.
Bonuses
#1: Private Facebook Support Group
This group is full of like-minded members of Commission Funnels, as well as their team of dedicated experts.
They'll offer you round-the-clock help and offer inspiration when needed.
#2: Live Master Training with Legendary Super Affiliate Mr. X
Mr. X is a top affiliate, earning 5-6 figure commissions per month.
This live session will allow you to learn his secrets for maximizing your profits in the shortest time. There will also be a recording of this in the member's area.
#3: Quick Start Checklist
This handy checklist will help you take the shortcut to get up and running and profiting in 24 hours.
#4: Mystery Traffic Bonus
Glynn will allow you to tap into his free traffic solution. This should get you tons of buyers to your pages for passive commissions.
Upsells
OTO #1: Unlimited
This upsell will give you:
Unlimited bonus page funnels
Deluxe selection of bonus products
Premium bonus page templates
So rather than having only 10 set-and-forget funnels in the front end product, you can create an unlimited amount for unlimited commissions.
OTO #2: Done-For-You Funnels
Now you can get the entire campaign done for you. There will be 10 funnels ready to go. All you have to do is insert your affiliate link to get paid.
These bonus page funnels have been tested and proven to convert, so you can start making money immediately.
OTO #3: Automated Traffic Flow
This upsell allows you to add your pixel to Glynn's sales pages and siphon off all his buyer's data. He included training to show you how to do this, and how to use the data.
You will also be able to use all his previous and future launch pages for even more data!
OTO #4: Conversion Boosting Tools
With conversion tools, you'll be able to generate more commissions with your funnels. These tools include:
Your Facebook Ads Pixel to capture data
Facebook Comments for visitors to read
Countdown Timers for scarcity
Exit Popups to get more email opt-ins
Social Proof Popups to emulate sales
OTO #5: Triple Threat Traffic Training
With this upsell, you'll get to use his unique Traffic Multiplier Method, which allows you to create two lists in one. You will get both email subscribers and push notification leads.
This system includes all the training and software tools you need to multiply your profits in any niche.
OTO #6: Funnels License Rights
This upgrade will give you the rights to sell Commission Funnels as your own product, and collect 100% of the profits.

Video
My Concerns
I only have a few concerns with this software, that I'd like to share with you.
Concern #1: Bonus Products
When you want to send out a campaign, you always want to make sure it's of great value and quality. And this includes the bonuses you attach for free.
Everyone loves to get free bonuses, but only if they're of any use.
The bonus selection in the system is vast and covers many niches, but there's no way to know if they're old or outdated.
Some are evergreen, meaning the information provided is applicable at any time. But many are techniques and strategies that may not be. For instance, strategies for affiliate marketing or blogging SEO…
The industry changes frequently and outdated techniques won't work any longer. They could even hurt your business.
Where I would highly recommend you review each bonus before attaching it to your page, there's no way to do this in the system. So I'd be very careful about what you use here…
Concern #2: Cannot Add Your Own Bonuses
Unfortunately, you can't upload your own bonuses into the system. This is a big disadvantage due to my first concern about not being able to review what's already there.
So you may want to give your customers added links to other bonuses if you're worried about using the system's choices. This kind of undermines the value of this tool though…
Personally, I use Commission Gorilla to build my pages. They have fantastic features and you can upload your own bonuses as well.
Concern #3: Traffic??
The sales page is very misleading when it says the traffic is built-in. Because it isn't! Especially with the front end product.
In order to help with your traffic, you'd need to purchase upsell #3, 4, & 5.
And even then, there's no guarantee you'll get any traffic. You can share your page on social media, but you must be careful here too. Platforms like Facebook will often ban links like this.
You must be aware that this is just a tool, not a means of generating tons of sales on its own. You need to have leads to send these campaigns to.
So if you don't already have your own email list or huge social media following, I don't think you'll make any immediate money.
Pros
30-day money-back guarantee
Low cost
Great software training
Bonus pages are highly recommended for your campaigns
Cons
No way to access bonuses for review
Requires a couple upsells for optimal use
Final Thoughts And Recommendations
I believe this software does what it promises, and is a great way to promote the DFY products or create your own. The only real concern is the quality of the bonuses they provide.
Overall, it's a decent page builder to help grow your email list as well as increase conversions.
Is Commission Funnels a scam?   No
Would I recommend it?   Yes
Have you started your online opportunities yet? Do you have a business started, or are you hoping one of these tools might be the answer?
This is the point I want to make. This is simply a tool. It's up to you to send traffic to it if you want to make any money.
What if I told you I know a perfect way for you to start your own business, build up an email list, and provide a brand for yourself. Then a tool like this would be an excellent asset to your business…
Can I make you my honest recommendation?
I would love for you to come and see where I learned everything about affiliate marketing, and where I still run my business to this day.
I've been there since 2011, so I can vouch for its effectiveness.
It has detailed, step by step training showing you how to start and grow your online business. And you have no need to go elsewhere for your tools. They're all integrated into the platform for you.
The best part? You can start for FREE, no credit card necessary.
If you click on the button below, you can read all about it. When you join, I'll greet you inside and help you along for as long as you need me.
So how did you come across this product? Did my review show you what Commission Funnels is all about? I hope so!
But if you have any more questions or comments, just leave them below and I'll get right back to you.
Cheers for now,
Suzanne