Wouldn't you love to find an easy way to make money online? There are many marketers who know this, and they create products that can capitalize on these emotions.
If you've been looking for something, or possibly have seen this product in your inbox, I understand how enticing it sounds.
But what is the AffiliSites Pro? Is it as good as it sounds? It's so hard to tell, these days, what's legit and what's a scam.
I'm so happy to see you researching these kinds of products before purchasing. These sales pages sound so convincing, but that's only a sign of an experienced marketer, lol.
And this is why I write my reviews for you. I want to show you what's inside, how it works, and reveal the secrets they may not let you know upfront.
By the end of my review, you'll be better able to make your decision about purchasing or not.
And if you'd rather learn how to create your own successful online business, and not rely on someone else's product, please read where I learned to succeed.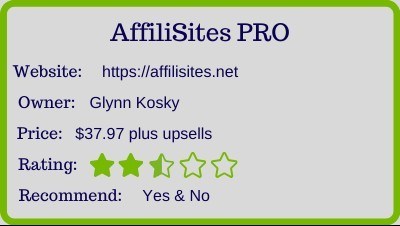 What Is The AffiliSites Pro?

This is a WarriorPlus product created by Glynn Kosky. He launched his software on November 24th, 2019.
The software gives you a pre-loaded website with high converting product reviews. These products come from Warriorplus, Clickbank and JVZoo.
AffiliSites Pro – $37.97
10 "set & forget" affiliate review sites per month
What's Inside
Dashboard
Welcome video
Link to the training modules
My Profile
Personal information
Your social media links
Site Settings
Edit Title, Logo, Favicon
Edit About me, Font, Color theme
Additional social media links
Affiliate Info
Access to affiliate links
View review and bonus pages
Site Ads
Add banner ad
Add Adsense
Menus
Configure main and footer menus
Pages
Categories
Info training courses
Software
Products
DFY product reviews & bonus pages
Fully customizable
Training Videos
How To Set Up Your AffiliSite Part 1 – 4:50 minutes
How To Set Up Your AffiliSite Part 2 – 3:19 minutes
How To Set Up Your AffiliSite Part 3 – 3:43 minutes
Upgrade: Add Your Own Reviews – 9:44 minutes
Upgrade: Add Your Own Pages – 3:31 minutes
Upgrade: Add Social Proof – 5:21 minutes
Traffic Training: Email – 6:40 minutes
Traffic Training: Video – 7:02 minutes
Traffic Training: Free – 8:05 minutes
Link to "Super Affiliate Millionaire – Leigh on YouTube" to subscribe
4 additional videos from Leigh (not related to the product)
4 links to other products
Bonuses
#1: Private FB Support Group
#2: AffiliSites Quick Start Checklist
#3: Private Members Only Workshop
#4: Powerful Free Traffic Playbook
Upsells
#1: AffiliSites Unlimited – $97, downsell $47
#2: AffiliSites Done For You – $97, downsell $67
#3: AffiliSites Traffic – $97, downsell $67
#4: AffiliSites Conversion Boosting Tools – $67, downsell $47
#5: AffiliSites Bonus Builder – $67, downsell $47
#6: AffiliSites License Rights – $197, downsell $97
Who Is This Software For?

This software is for affiliate marketers who would prefer not to learn the process of writing product reviews. This system provides done-for-you product review sites that can be edited and customized.
You must know that you don't own these sites. You're getting a sub-domain which will look something like this…
Affilisites.net/YourSiteName   or   YourSiteName.Affilisites.net
You should also know that the front end product only allows you to add 10 reviews per month. This isn't stated on the sales page. You find this out when you're presented with the upsells.
This software will work better for you if you purchase the upsells, but unfortunately, that can get expensive.
That being said, I always recommend you purchase the main product for the low cost and test it out first. If you like it, you can always purchase the upsells on the platform later on.

How Does It Work?

This product's sales page looks very impressive and has a lot of information for you.
Let's take a look at what it's saying…
Sales Page
Right away it says it's a 1-click DFY site that will give you 4+ figure daily commissions, without experience or tech skills.
That sounds amazing but really? 4+ figures a day? That's pretty bold…
He talks about all the amazing features of this product, like 100% DFY affiliate reviews, where you get 100% free traffic and get to keep 100% of the commissions.
Personally, I'll have to see this to believe it! Many products come with done-for-you material, but they rarely provide the traffic to your offers…
Glynn breaks down this method into 3 steps?
Step 1
All you need to do is log into the cloud-based software, enter your Clickbank, JVZoo and Warrior Plus IDs, so you can get paid from EVERY sale.
Step 2
You then customize the site with your details, select the products for your review site and choose the bonuses you want to offer.
Step 3
Then use the included free traffic to start banking passive daily commissions!
OK, there's the mention of free traffic again…
He claims your site will have built-in authority because you're linking to products on leading affiliate networks like Clickbank, JVZoo, and Warrior Plus.
Yes, this is true, but I believe there's more too it than that to get great ranking by Google…
Glynn claims to have covered those areas that other products limit you in…
Like exact same sites with limited customization. AffiliSites offers you 100% customizable sites, reviews, and bonuses.
Like duplication. AffiliSites offers you a premium content spinner to make your article unique.
Like having offers that aren't great. AffiliSites has offers chosen by a top vendor on these networks and he knows what sells.
Like no bonuses. AffiliSites gives you access to his exclusive library of bonuses to choose from as incentives to any offer.
Like limited ways to earn income. AffiliSites can set you up with customizable banner ads, Adsense, or even Amazon Ads.
Like simple reviews. AffiliSites reviews are written by industry experts and have many addons like rating, related products, etc.
OK, so they're making AffiliSites seem like a really great deal. Let's see if the actual product lives up to its promises…
Member Area/Dashboard
Once you've gone through the lengthy checkout process (upsell after downsell, etc…) you will finally get into the software dashboard.
I always recommend you wait on the upsells, and test The primary product first to see if you like it. Even though they say you only have one chance to purchase an upsell, that's only to entice you to buy.
The primary product first to see if you like it. Even though they say you only have one chance to purchase an upsell, that's only to entice you to buy.
All of the upsells are always available in the member area for you to purchase later on if you want.
Software
The first thing you want to do is customize your site with your own personal information. Adding your image and a short bio about yourself always helps to earn some trust from the reader.
You can also add your social links in this window. This way your social links will show on the review articles for people to click on.
Next up is the website settings. Here you can personalize your reviews with a logo and a favicon, as well as adjusting your font and theme colours etc.
The affiliate link step is very important to update if you want to get paid.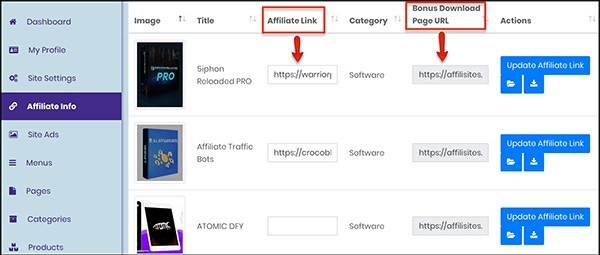 In this window, you need to update the affiliate link for each product you have chosen for your site. You will need to access Clickbank, JVzoo, or Warrior Plus, to get an affiliate approval. Once you've gotten the approval you can copy/paste your personal link into the software
Done For You Reviews
Beside each review, you can click to see what your review will look like on your site. Your updated your affiliate links will be automatically embedded with your personal link.
You will also be given the link for the bonus page for that product.
This is something you can offer your visitor to entice them to buy the product.
Once they purchased the product through your link, they'll have access to their bonuses.
This bonus page link can be added to your affiliate network account. When the customer accesses the affiliate network to get their product, they will be able to download their bonus page there as well.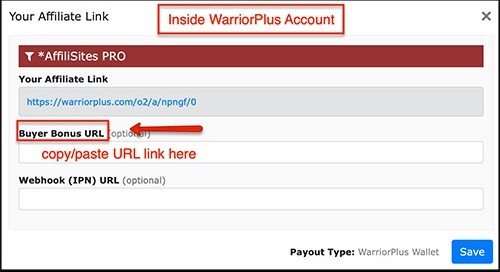 You also have the option to edit these reviews to personalize them for yourself.
Add Your Own Reviews
This software enables you to add your own products to your site. This is a great way to review upcoming products that are about to be released.
Muncheye.com is the best place to see what's coming.
Writing your own reviews is very easy with the software. It is already formatted so all you have to do is enter the details.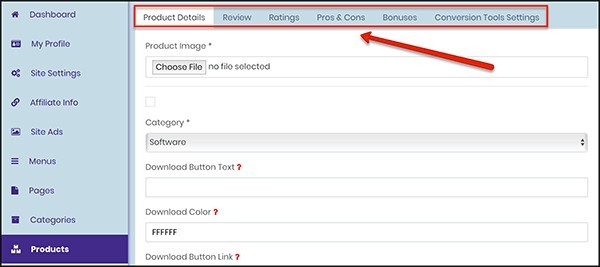 The formatted areas are:
The title and permit link
Product details
Review (the content)
Ratings (0 to 10 stars)
Pros and cons
Bonuses (choose from 200+ bonuses)
Conversion tools settings (popup, social proof, pixels, etc.)
Other Advantages
Multiple Income Streams
Not only do you keep 100% of commissions, but you can also ad banner ads, Adsense, or Amazon Ads to your site for more passive income.
Hosting Provided
With this software comes premium hosting. There's no need to buy a domain name, and there are no monthly fees.
Bonus Offers
You can add as many bonuses as you wish, to entice your visitor to purchase. There are hundreds to choose from various niches.
Cloud-Based
This software is cloud-based, so there's no need to download anything to your computer.
Evergreen
The pre-selected products are evergreen, meaning they will be relevant to buyers for years to come.
Complete Reviews
Each DFY review comes with:
In-depth content review
Demo video
Graphics
Rating
Product details
Related offers
Bonuses
#1: Private FB Support Group
This is important for any online marketer. Because we're usually working alone, at home, a community of like-minded people is important for support and motivation.
It's a place to share ideas and get answers to your questions.
#2: AffiliSites Quick Start Checklist
This one-page shortcut can help you get your site up quickly. It shows you each step to take to customize your site.
#3: Private Members Only Workshop
This was a live session with the product creator, Glynn Kosky. You now have the opportunity to view the recording of this workshop.
Glynn's own input can provide you with additional strategies, to get this software working really well for you.
#4: Powerful Free Traffic Playbook
He's put together a list of his most effective free traffic methods, that work especially well for affiliate marketing.
Upsells
I always recommend you only purchase the upfront product. They'll tell you things like "this is your only chance" to buy the upsells but that's only to persuade you to buy. They are available inside the member area for purchase later.
It's wise to test the product to see if you like it before investing hundreds on upsells.
#1: AffiliSites Unlimited
With this upsell, you get
Unlimited review sites each month
Unlimited hosting
Premium site templates for your reviews
Step by step training from support in the USA
Extra money-making features
VIP video training
Agency License so you can create review sites for your clients.
#2: AffiliSites Done For You
This upsell comes with:
Access to DFY library of pre-selected high-converting reviews
Extra themes, menu options, colours, and more…
New sites & themes added to your dashboard
VIP video training
#3: AffiliSites Traffic
Generate traffic and sales with:
100% DFY traffic stream
Using traffic from all previous launches
Using traffic from all future launches
VIP video training
#4: AffiliSites Conversion Boosting Tools
Grow your income with:
Add Facebook Ads Pixel to review pages
Add Facebook comments to review pages
Add countdown timers to review pages
Add exit popups to review pages
Add social proof popups to review pages
Rolodex of paid & free traffic sources PDF
Zero-cost guide PDF
#5: AffiliSites Bonus Builder
This add-on software creates:
Stunning bonus pages that are unique to you
Cloud-based pages with no need to download
Integrated into the platform
VIP video training
Email marketing guide PDF
#6: AffiliSites License Rights
This upsell allows you to:
Sell AffiliSites Pro software and keep 75% of profits
Sell it as your own
Use DFY email swipes
Have everything set up for you
1-on-1 coaching by the support team
Access a private support group
Directly contact Glynn
Access 50 extra traffic videos to help sell AffiliSites Pro

My Concerns
So far this product seems fine, but I have some concerns to point out before you make your decision.
Main Product Is Limited
Unfortunately, the sales page keeps some important information from you.
The front end product only allows you 10 reviews per month. That's not much!
You don't find this out until you purchase the product and then are presented with the upsells. The first upsell landing page tells you about the 10 reviews per month you're limited to.
And of course, this is how marketers sell their upsells. But it's still disappointing that they aren't honest upfront.
Free Traffic?
This claim is a little misleading. By free traffic, he means that when you add your social media links to your reviews, you'll get free traffic from these sites.
He also claims you'll get a lot of organic traffic because your links lead to authority sites like Clickbank, etc.
Yes, links to and from these sites are great for SEO, but your traffic won't be much unless you rank well on Google.
So unless you have a large email list, I can't see too many "free" eyes getting in front of these reviews.
Also, the truly free source of traffic you get is from upsell #3 for $97. This upsell allows you to add a pixel to their product sales pages. If you can afford this, it's probably the easiest way to get traffic!
Duplication
This is my biggest concern. Everyone who buys this product gets the same DFY reviews. They have a content spinner to help them make unique. But how many times can you spin an article, before the spun ones are duplicates also?
Google doesn't rank duplicated content, so you have to rely on paid advertising, social media, etc.
Traffic Training
The 3 videos about traffic methods are short and not enough for a beginner marketer to really grasp how to drive traffic to your site.
These methods are:
Paid advertising using Solo Ads. This can be quite expensive for newbies and doesn't always work very well.
Instagram & Pinterest. This can work really well but takes a long time to get a big following.
Youtube marketing which is one of the better ways to get traffic.
These are all readily used by marketers, but I feel there isn't enough practical training here for beginners.
So unless you purchase the upsells, you must still learn how to drive traffic to your sites.
Sub-domain Only
Your sites are actually sub-domains of the AffiliSite domain. This is why you don't need to buy your own domain name.
The downside is that you don't own your own sites. Yes, you can customize them, and the sales you get from them belong to you but…
What happens if this product shuts down? There goes your income!
This is my big issue with done-for-you products. You're at the mercy of the product owner.
Demo Video
This demo video will show you how to add other reviews to your site from scratch. Lee walks you through the steps on how to use this software to pull it together.

Pros
Low cost
30-day money-back guarantee
DFY reviews
100% customizable
Opportunity to make money (with the upsells)
Cons
Unrealistic income claims
Expensive upsells
Don't own your sites
Won't work well without upsells
Final Thoughts And Recommendations

AffiliaSites Pro has its advantages, but I'm concerned about the duplicity of the DFY reviews. The software though could be used to write your own reviews. This would at least ensure that your reviews are unique to everyone else who bought this system.
If you happen to be experienced already and have a large email list and social media or Youtube following, then yes, it could save you a lot of time.
But if you're a beginner, you're going to be relying on the DFY reviews and need the upsells to make it work for you.
If you can afford all this, then give it a try. You can always ask for a refund if you don't like it.
Is AffiliSites Pro a scam?    No
Would I recommend it?    Yes, and no…
As you can probably tell, I'm not fond of DFY products. I think the best way to build a long-term sustainable business is to build one you own. One that doesn't rely on anyone else. And with a loyal following who returns by choice.
That is how you can create a passive income.
Affiliate marketing is an amazing industry and can be very profitable if done properly. With the right training and tools, you can create financial freedom for you and your family.
How do I know? Because I'm doing it myself, lol.
Can I make you my honest recommendation?
I would love for you to come and see where I learned everything about affiliate marketing. This platform has everything you need under one roof. No need to go elsewhere.
And the best part is you can start with a FREE starter membership. No credit card necessary. You can test-drive the platform to see if it's a good fit.
And if it is, the premium membership is the cheapest you'll find anywhere online. To get all this training and these tools elsewhere, would cost you at a minimum 5X more money.
If you click on the button below, you can read all about it. And when you join, I'll greet you inside. I'll coach you for as long as you need me to. See you soon!

Where did you first see the AffiliSites Pro promotion? Did it come to your inbox?
If you have any questions or comments, please leave them below and I'll get right back to you.
Cheers,
Suzanne
I believe everyone deserves the opportunity to earn financial freedom!