So what is 7 Minutes Daily Profits? Have you come across this product yet? Apparently, you can make $500 per day with only 7 minutes of work. Doesn't that sound amazing? Who wouldn't want this?
Well, unfortunately, many of these promises are lies. And that's what we're going to find out today.
I'm so happy to see you researching these products before jumping in. Because they're rarely just the price of entry. There are usually hundreds of dollars of upsells and services you need to spend before even thinking of success.
By the end of my review, you'll have all the information you need to make an informed decision whether you want to buy it or not. I'll share with you what's inside, how it works, and then give you my sincere recommendation.
Do you want to just bypass all the hype? Would you like to see something that actually works? Trust me, it worked for me and still is.
What Is 7 Minutes Daily Profits?
This software, created by Vince Howard, will generate over $500 per day in 7 minutes. It deals primarily with Solo Ads and email marketing.
7 Minutes Daily Profits – $9
What's Inside
#1. Welcome page
You're immediately Invited to watch Chris Luck's 90-minute Masterclass. This is another Clickbank product worth over $1400.
OtherClickbankk products are also advertised.
#2. Premium Traffic Source
Introduction

2 videos giving you an overview of Solo Ads
access to Clickbanking groups
Solo Ad tracking spreadsheet

Sales Funnels – 5 videos

What A Sales Funnel Is Not
What A Sales Funnel Actually Is
Why Email Everyday
How To Send A Broadcast On Get Response
Seinfield Email Sequence

Advanced (Being A Solo Ad Provider) – 7 videos

Basics
Solo Ad Course Breakdown
Tracking Results For Each Seller
Becoming A Solo Ad Seller Overnight
Importing Your List You Bought
Quantity Results & ABC
Clickmagick Rotators
#3. Create Your Site
Select Your Page Template – choice of 6 landing pages
Create Your Squeeze Page
Sign Up To Getresponse
Getresponse Integration
#4. View Your Site – access to your landing page
#5. Unlimited ROI Traffic
Ad Swaps – 6 videos

Swaps & Solo Ads
The Perfect Offer For Ad Swaps & Solo Ads – Pt. 1
The Perfect Offer For Ad Swaps & Solo Ads – Pt. 2
What To Look For In Partners & Sellers
Massive Warning About Ad Swaps & Solo Ads
Taking It To The Next Level

Social Media Traffic – 3 PDF's

Boost Your Website Traffic
Traffic Overdrive
Get Traffic To Your Website Fast

Traffic Hacks – 10 PDF's

Traffic Rush for Facebook, Twitter, Youtube, Instagram, Medium, Reddit, Quora, Pinterest, Linkedin, & Slideshare

Google Traffic – PDF
Upsells
Profit Booster – $147, downsell $97
Commission Activator – $127
Expected Costs
To buy the entire product, you'll be spending $283
GetResponse autoresponder – $15 to $165/month (depending on list size)
Clickmagick tracking service – $12 to $66/month (depending on the number of clicks)
Solo Ads – $$$/month
Who Is This System For?
I would honestly say no one. Sure, it's cheap for $9. And for that, you will get some a basic overview of how to use Solo Ads to send traffic to a landing page.
The information you're getting is somewhat outdated, and unless you spend hundreds of dollars on the upsells, it really won't do much for you.
You also need to sign up for a couple of services that you'll have to pay monthly for. Besides that, the cost of buying Solo Ads can add up very quickly.
You would need to start with a healthy advertising budget to get going.
And there are no guarantees with Solo Ads. You could spend hundreds on a run and only get 1 or 2 sales. It will take quite some time before you see any ROI (return on investment), if at all.
How Does It Work?
Well, this was just another video that was full of hype and lies! Will these promoters never change? Or are there still enough people in this world who believe these things?
I suppose if you're desperate enough and are looking for any way possible to make online money, you might be tempted.
The Video
The narrator of the video, who calls himself Vince Howard, is a fake person. And that's for good reason.
Can you imagine the flack this person would get if people knew who he actually was? His online reputation would be ruined for trying to sell these low-quality products.
He claims this software is legal and ethical and will make you at least $500 per day with only 7 minutes work.
I beg to differ! It might be legal, but I have a problem with the "ethical" part, LOL.
Trying to sell a lousy, outdated product is not ethical in my mind. He's not trying to sell something he uses himself. I believe he's only selling it to make money off of the purchasers.
He goes on to claim he's been featured in magazines and interviewed for Huffington Post and Forbes. Well….there is a Vince who's popular as an actor on Saturday Night Lights, but I doubt this is him, hahaha.
The video is your typical promo video trying to push your "emotional" buttons, in hopes of getting you so excited about making a lot of money, that you'll click the "buy now" button quickly.
I mean he keeps saying free right? But it's not free!
The $9 gets you inside, but the information you get for that won't be enough to help you make money.
You see, that's what these product creators do. They make boatloads of promises to get you to pay for the initial product, but hold all the good stuff as upsells.
They then persuade you to pay for the upsells for you to succeed. And guess what? These usually don't work either!
I'm sorry, but there are just too many red flags here, and I wouldn't trust this product.
Red Flags
Let me share with you what I mean about red flags. And hopefully, you'll be able to recognize them in other products as well. They're commonly used.
#1. About to come down??
You will see these scarcity tactics on almost all of these sorts of offers. This one has a banner across the top saying "Warning! This page will be removed @ midnight on such-and-such day – Act Now!
It's usually the day you opened the landing page.
They will often say there are only so many open positions left so access now! This is so hilarious, because first of all, it's a Clickbank product and always available.
And there's no way the creator will remove the ad so long as it's making him money!
#2. Who the heck is Vince Howard?
The real owner hides behind a name and doesn't introduce himself. Like I said above, he's protecting his reputation from a lousy product.
Don't you think that if an owner "ACTUALLY" had a great product, that could make you so much money, that he'd take credit for it? And charge a little more than $9? LOL
#3. He made how much?
All of the testimonials you see in the video are fake. And that's because there are no real ones.
So the owner goes to sites like Fiverr and hires an actor to read a script about how much money they made. Take a look at this one…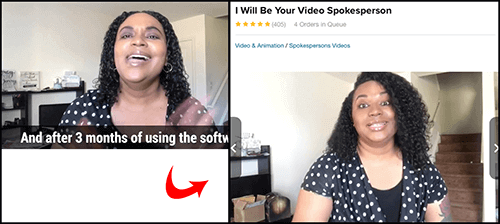 Please believe me when I say the remaining testimonials are fake as well.
#4. Really?! $500 per day? Nope!
The claim about earning $500 per day so quickly, and with so little work, is an outright lie. Unless, of course, you spend more than that on Solo Ads each day. But then, you're still in the hole!
Any legitimate online marketer, including myself, will quickly tell you it's impossible to do.
Creating any sort of online income takes time and considerable work to achieve.
Yes, it very possible to make money like this, but not without the proper training, tools, and time!!
#5. But what is it?
Isn't amazing how long these people can talk, and yet never tell you what they're actually selling, lol.
They go on and on about how much money you can make, how you can overcome your life's obstacles like he did, blah, blah, blah.
It would sure be nice to even get a hint of what this "secret, never before seen" system he's talking about, right? And then only to find out that it's no secret, everyone is already doing it, and it's going to cost you big bucks
The Product
This product's information in the form of videos and PDF's are fairly old and outdated.
The overall premise is ok because there are many people who promote products through email marketing. Just like this product here.
This person, or his affiliate, sent the promotion to you via an email list you were on.
But like anything in this industry, changes happen fairly often. And when they do, you need to adjust your strategies to keep them working.
PLR Products – not even his own original training!
And this is where the problem lies. The PDF's inside this product is old and outdated. The owner has bought some PLR material and is using it as his own.
PLR stands for Private Label Rights, which means whoever wrote the material, sells the rights to others for their own use. Sometimes you're allowed to change the name, and sometimes not.
In this case, the owner bought the PLR product called "Social Traffic Rush", and used part of it in this product.
He broke down the ebook's 10 chapters on different social media platforms. Those are your downloads in the system.
The Boosting Website Traffic is also a PLR product.
The problem with PLR products is that those writers have to make the information in them so generic, that they won't be useless too quickly.
Usually, the information is a general overview, that might last the test of time. Unfortunately, that really isn't possible. Things change just too quickly.
So you see, instead of your getting a product that's offering you real value in today's marketing industry, you're getting bits and pieces of PLR products and Youtube videos that are outdated.
Solo Ads – yuck!
There are many opinions on the use of Solo Ads for internet marketing. Personally, I don't recommend using them, and here's my reasoning…
Usually, when someone asks you for your email address, it's in exchange for a free ebook, or mini-course, or something of value. People rarely like to give out their personal information for nothing.
But when they do, they're giving you their express permission to use their email for further contact.
Solo Ads are different. Solo Ad vendors sell you access to their email lists for a cost, averaging about $1 per click.
That means that if you have an email promotion you want to send out and want 500 people to click on it, it would cost you $500 to send.
So what's so bad about that?
Well, where did these vendors get their lists? That's my issue right there! Who knows?
They could have bought a list of subscribers from some shady person. They could be scraping them off of the internet with unethical methods. Or maybe they've honestly earned them through ethical means.
But… those subscribers didn't give YOU permission to spam their inboxes. And that's what you're essentially doing. Sending spam, because you don't have their express permission to email them.
I know many will argue with that reasoning, and that's ok! I just wanted to share how I feel, and that's why I'll never use Solo Ads!
There are many other valid reasons why you shouldn't use Solo Ads.  Are you getting legitimate leads, or are they bots?  Are you actually getting sales or just a bunch of dud subscribers on your list?
I really enjoyed Aaron Chen's Youtube video about Solo Ads.  It's a little long, but he shares my views on the subject.
He's been online for over 10 years and is very successful.  He's sincere and shares his experience with using Solo Ads.
Pros
60-Day Money-Back Guarantee
Basic overview of Solo Ad use and social media traffic sources
Cons
$9 product won't work without upsells
Insufficient information to find success
Unrealistic income claims
Fake owner and testimonials
Final Thoughts And Recommendations
The last thing I want is for you to waste hundreds of dollars on a system that won't work. It's going to cost you much more than you expect, with probably little to gain.
What I found alarming was that the only positive reviews I've found online are those written by his affiliates.
I couldn't find ONE user review that explained they even used it to make money. That speaks very loudly to me!
Is 7 Minutes Daily Profits a scam?   No  
Would I recommend them?   No
You should never trust an owner who can't be open and honest about himself upfront. And if he can't do that, how can you possibly trust his product!
Sure, for $9 it's dirt cheap, but it's the upsells that worry me. I'd hate to see you be persuaded to buy them.
And you have other services you still need to sign up for, as well as purchasing paid advertising.
And where the heck does it say anything about it taking only 7 minutes to perform?
I couldn't find that explained anywhere inside. It's just what they call "clickbait". A way to get you to look at the video. Sheesh!
This is certainly not for anyone starting out online. It's an expensive way to start, and an iffy one at that. The only person making money here is the owner!
Imagine if you bought 7 Minutes Daily Profits, and actually had your landing page and squeeze page working. Now, what happens when this product goes belly-up?
It's happened more times than I can count. The owner stops making money and simply closes everything down.
You've suddenly lost your business because they were hosted on their servers. You can no longer have access.
So now what? Do you know how to start over? Probably not, because they haven't shown you how.
To start a real business, that can create for you a passive income, you need proper training with proper tools. That's truly the only way to succeed.
Once you've learned how to build your business, from the ground up, you can replicate it as many times as you want. And these businesses are yours to control.
Can I make you my sincere recommendation?
Come over and see where I learned everything about online affiliate marketing, and the platform where I run my business.
They provide all the training you could need, step by step. It's designed for beginners as well as more experienced who need an extra hand.
The tools you need are free and integrated into the system. And the support community is simply amazing. I've been there since 2011 and will probably die there, lol. It's that good!
If you click on the image below, you can read all about it. And when you join, I'll greet you on the inside and help you as long as you need me to. See you soon!
So where did you first hear about 7 Minute Daily Profits? Did it come to your inbox? Most likely, as that's what he's preaching, lol. Question is…did you give him permission?
Please leave any comments or questions below. I'd love to hear from you.
Cheers,
Suzanne