Are you hoping to make money online with an easy to use system? I don't blame you. Easy is always good, right? But will it work?
Welcome to the Optin Turbo review. This is one of those products that claim you can get traffic, leads and sales with the click of a few buttons. But is it legit or another scam?
This is why I write these reviews for you. I do all the work of researching this product for you, so you can make an informed decision.
I'll take you inside, show you how it works, and then give you my honest opinions and recommendations, OK?
Would you like to see where I learned how to create my own successful online income?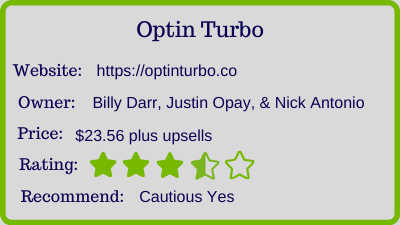 What Is Optin Turbo?

This product claims to include software, video training and customizable optin page templates to allow you to capture traffic, leads, and sales in 60 seconds or less.
It was created by Billy Darr, Justin Opay, and Nick Antonio. It was launched on JVZoo on January 18th, 2020.
Optin Turbo – $23.56
What's Inside
Dashboard
Visitor Activities
Traffic Report
Training
Introduction – 2:49 minutes
Integrating your Autoresponder – 3:38 minutes
Add Your Social Account – 1:39 minutes
Managing Your Leads pt. 1 – 5:07 minutes
Managing Your Leads pt 2 – 1:35 minutes
Embed Campaign As A Popup – 1:40 minutes
Using the Advanced URL Shortener Tool – 4:01 minutes
Traffic Generation Tools – 2:59 minutes
Creating Polls Engagement – 3:21 minutes
How To Add Custom Domain (Namecheap) – 3:18 minutes
OptinTurbo & MailChimp Integration – 1:10 minutes
OptinTurbo & GetResponse Integration – 1:39 minutes
OptinTurbo & ActiveCampaign Integration – 1:53 minutes
OptinTurbo & Aweber Integration – 1:19 minutes
Agency Features – 2:45 minutes
New Campaign
All Campaigns
List of created campaigns
Leads
Polls (Upsell)
All Links
List of active and expired links

Custom Domain
Linking up a private domain name
Integrations
Autoresponder API
Social Media integration
Agency/Reseller (Upsells)
Settings
Bonuses
Bonuses
#1: $1K A Day Training Call
#2: $48 Discount On Upgrade 1
#3: Premium Agency License
#4: Newbie To Super Affiliate
#5: New Year 2020 Bundle
Upsells
OTO #1: Unlimited Edition – $49
OTO #2: Viral Traffic Edition – $49
OTO #3: Done-For-You Edition – $197
OTO #4: Reseller Edition – $49
OTO #5: Luxury Edition – $197
OTO #6: Sales Machine Edition – $197
Who Is This Software For?

This system would be best used by someone who already has an online business with a large email list or huge followings on their social media accounts.
Even though the software is easy to use for beginners, it won't do them much good if they don't have any decent traffic sources to send their optins to.
The owners promise a viral traffic method, but this only entails sharing your ads with your social media accounts.
This is why it won't work well for people who only have friends and family following them.
How Does It Work?
Wouldn't it be awesome if you could get free traffic, leads and sales in 60 seconds or less? All you need to do is 6-clicks on this software, and you could go viral!
At least this is what the sales page says, lol. Let's see what else it says…
Sales Page
Apparently, this is newbie-friendly and anyone can do this in 3 steps:
Step #1: Choose from over 50 built-in templates in various hot niches.
Step #2: Customize your template with the point and click editor.
Step #3: Press go and sit back to watch your traffic, leads and sales come in 60 seconds.
60 seconds? Really? I'm a little skeptical here… Ok, a lot skeptical…
The owners claim that the online millionaires are different because they:
Have the power to focus.
They're mindful of their time.
They build evergreen assets.
They avoid shiny objects…
Avoid shiny objects, eh? What do you think this is? LOL
They go on to say that this software deploys viral funnels in 60 seconds or less.  Ah! It's the creation that takes 60 seconds, not you getting the traffic. OK, that makes much more sense…
They also say their customer support is fantastic, the video training is beginner-friendly, and a case study to show you how they make $823.54 with Optin Turbo.
Also included is an agency license. This license allows you to use the funnel for clients, so you can create your own digital agency.
The software is:
Cloud-based so there's nothing to download and install.
Beginner friendly and easy to use.
Pre-built with over 50 DFY funnels that are completely customizable.
Including a built-in stats dashboard so you can see how much traffic you're getting, and from where.
Instantly integrate with 5 top autoresponders.
Giving you two built-in 1-click traffic methods.
Something I've never seen before is their money-back guarantee promise!
If you use this program the way they teach you, and for some reason, you don't get any results in 365 days, they'll send you $300 and a full refund. Wow!
This all sounds amazing. Let's see if the actual product lives up to its name…
Member Area/Dashboard
When you've purchased this product, you'll get a thank-you page with all the steps you need to take:
Register for the live training call.
Register for access to the software.
Download all your bonuses.
A second chance to all the upgrades.
Click the links to the additional training bonuses.
Once you get inside, you'll see your dashboard…
Trainings
The first thing I recommend for you is to go through all the training videos. These are well done and show you step by step how to go through each needed step.
To access the training, click on the "Training" tab at the top of your screen.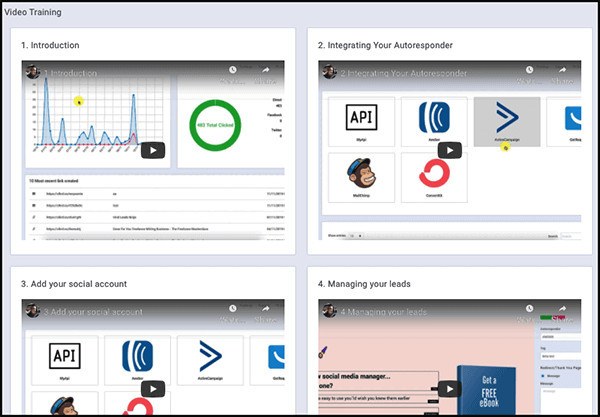 The introduction video is an overview of the entire software. The following videos show you how to perform each step with an over-the-shoulder style.
New Campaign
This is where you will create your new funnel. There are 119 templates for you to choose from…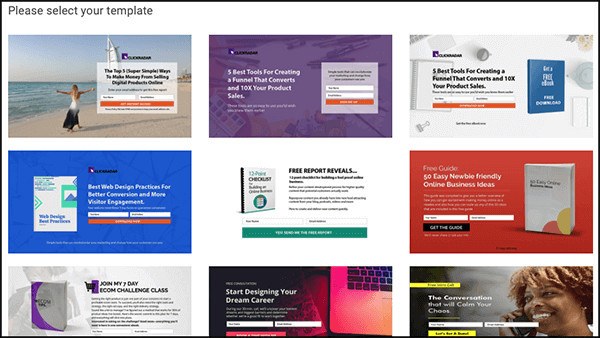 Once you've chosen the template you wish to use, it's simple to customize with your image, logo, autoresponder, tag, and text for your thank you page and download button.
It will let you know if you forgot to add your URL link to your download button.
Once you've saved your optin page settings, you can view it, or continue to edit it…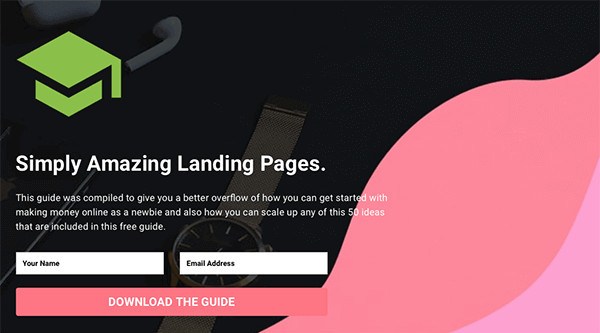 All Campaigns
This tab shows all the campaigns you've created.
You'll see the name of each, it's link, the number of subscribers you captured, and the ability to edit or delete.

You'll notice the "Go Viral" button in this section… This is the 1-click traffic method they were talking about.
You can add your social media accounts under the "Integrations" tab.
If you click on "share", it'll bring up:
Facebook
Twitter
Pinterest
Linkedin
Reddit
The links bring you to each platform where you can manually post whatever you wish.
Leads
This section is great if you don't have an autoresponder set up yet. The software records all your leads right in the software.
From here you have the choice of:
Viewing the list by the tag you added to each campaign.
Downloading your list as a CSV file.
I know that many will say you can download your list and then upload it to another autoresponder, but you must be careful if you do this.
Many reputable services will not allow you to import leads from products like these. It's always best to check with your autoresponder first.
Polls (Upsell)
All Links
This is where you can see all the campaign links you currently have active, as well as those that have expired.
You have the ability to share to your social media accounts from here as well.
Here is where you can customize your links and choose what it is that you want your visitor to see…
What's great about this link shortener is that you can create separate optin pages for a campaign, so that each visitor sees what you want them to see, in their geographical area.
First, you must click on "Create New". You're then brought to another area where you can click on "Advanced Features".
This brings up many different features you can use to target specific groups of people:
Use an alias if you've created any for your blogs.
Set an expiration date for your link (for time-sensitive offers).
Set up a password for qualified access to certain offers.
Geotargeting allows you to target specific global regions.
Device Targeting allows you to target specific devices.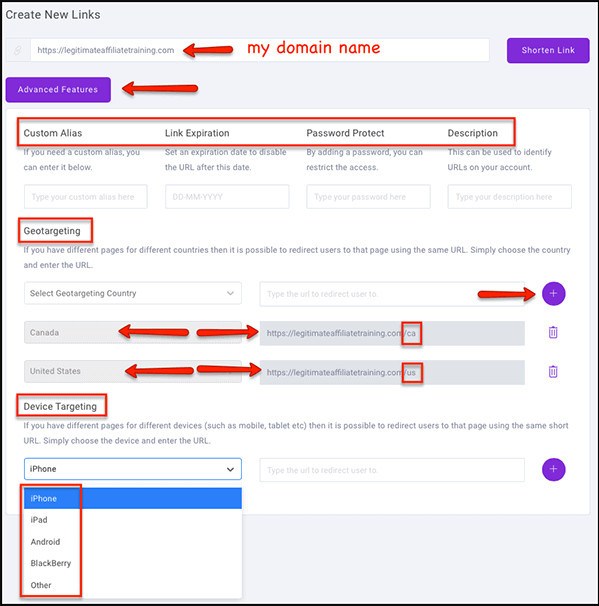 As you can see, I can send customized offers for people living in different countries, so that they see the relevant information that may apply only to them.
I've added a country name at the end of each separate link. You can add as many different versions as you wish.
You can even target your audience by the device they use. That's pretty cool!
When you're done, just click on "shorten link" and everything will be saved for you.
Custom Domain
If you have your own domain you'd like to link your campaigns to, this is where you will add your URL to the software.
It gives you instructions on how to connect your domain to Optin Turbo.
Integrations
If you have your own autoresponder service, you can integrate with the software. Your options are:
MyApi
Aweber
ActiveCampaign
GetResponse
MailChimp
ConverKit
The integration is very easy to use. Just click on your choice and it asks you to sign in to your autoresponder.
All you do is give the software permission to use it and it's done. All hooked up!
This is also where you add your social media account. Click on the "add social media" button. You can easily add:
Facebook
Twitter
Pinterest
My issue was adding my Facebook Fan Page. It would only add my personal account which does no good because FB won't allow you to auto-post links to your profile.
You need to have a business page for this to work.
Agency/Reseller (Upsells)
I was disappointed to not see the agency license included with my purchase. Especially since the sales page says that's it's included. I've sent a request but haven't been replied to as yet.
The reseller license is an upgrade.
Bonuses
#1: $1K A Day Training Call
You will be invited to this exclusive member-only training call. Here, you can learn how to optimize this software so you can go from $0 to up to $1K a day.
#2: $48 Discount On Upgrade 1
This bonus automatically gives you a $48 discount coupon if you choose to buy the first upgrade.
It's the first upgrade that usually gives you the ability to fully use the software, so this is great!
#3: Premium Agency License
This is a license that allows you to use this software for your clients if you have any.
If you don't, this is an opportunity to start your own agency business and create another income stream.
#4: Newbie To Super Affiliate
Their Super Affiliate coaching program is especially great for beginners.
It will show you how the owners have generated $400K in affiliate commissions, combined.
#5: New Year 2020 Bundle
Because this product came out just after New Years, they are offering you all the software and training programs they've sold over the last few years.
This is a great way to apply even more money-making methods to your arsenal.
Upsells
OTO #1: Unlimited Edition
With this upgrade, you'll get to use unlimited campaigns, to be able to scale your income 4X more.
It will unlock an additional 50 funnel templates for you to choose from, as well as additional training videos.
OTO #2: Viral Traffic Edition
This upsell unlocks 10 more traffic sites for you to link to, along with extra video tutorials.
You will also have the rights to sell the agency rights to others, for an additional income.
OTO #3: Done-For-You Edition
This upgrade will have everything done for you. From the setup to the profits.
OTO #4: Reseller Edition
With the reseller license, you can sell Optin Turbo as your own and keep 100% of the profits.
OTO #5: Luxury Edition
To be honest, I don't know what this is. The sales page is very vague.
All it says is that they will personally setup the "100 Dollar Daily Method" for you. All you do is sit back and watch the commissions roll in?
OTO #6: Sales Machine Edition – $197
Again, the sales page is vague.
The owners claim they're experimenting with an A.I. system that's supposed to produce sales day and night.
There's no other detail, so I have no idea what it does for you.
Demo Video
My Concerns
I don't have any concerns with the software itself. It does what the sales page says, except for the "viral traffic" promise. Here's what I mean…
Concern #1 – Free Viral Traffic?
Like most done-for-you systems, they claim a 1-click traffic method that supposed to get you some viral traffic.
But this is very misleading. All the software does is let you post to your social media accounts.
Now, this is fine if you have business accounts with a large following. But if you're new to all this, you probably don't.
Is your facebook page only followed by your friend and family? Is your following even interested in purchasing affiliate products from you?
Without traffic, there are no sales. So please be aware that making a lot of money with this system will be next to impossible if you don't have enough people to show your ads to.
Concern #2 – Facebook Sharing
If you only have a personal Facebook page, you won't be able to share your optins. You need to have a business account for this to work.
My business page is a fan page, and I couldn't find a way to connect it.
Concern #3 – Agency License
The sales page specifically says you'll get the agency license with your purchase, but mine didn't come with one.
I've sent in a ticket asking why, but haven't received a response yet.
Concern #4 – Upsells
As usual, you'd need to purchase at least the first upsell to fully optimize the software.
The second upsell gives you 10 more sites to share with, but again, don't rely on too much traffic. I'm not sure which sites these will be, but I'm sure they aren't a very targeted audience for you.
Upsells 3, 5, and 6 confuse me. All of these DFY promises saying you don't have to lift a finger to be paid commissions.
I'm sorry folks, but that's just impossible. If such a thing were true, everyone would be buying them and you'd hear talk of it all over social media and the nightly news, right?
This is just another way for the owners to make more money.
Please be careful as sometimes the upsells aren't refundable!
Pros
365-day money-back guarantee
They'll pay you an extra $300 if this doesn't work.
Low cost
Cons
Exaggerated income claims
Unlikely to get viral traffic
Need a couple of upsells for optimal use
Upsells are extremely hyped up
Final Thoughts And Recommendations

Well, the software works fine, and it has a few really great features. And if you have some great traffic sources to share your optins with, you can probably collect many new leads and sales with this system.
But if you're a newbie, with no understanding of affiliate marketing, and no huge traffic sources, I don't believe you'll make much money in the beginning.
After some time and patience, you might collect enough leads to your email list to be able to make some money.
Is Optin Turbo a scam?   No
Would I recommend it?   Cautious Yes
I only say cautious because I don't believe thier traffic methods will get you many sales. It's very hard to get conversions on social media.
Do you have your own business where you can use this software to save time? That's the best scenario in my opinion.
If you don't yet…
Can I make you my honest recommendation?
I would love for you to come and see where I learned everything about affiliate marketing, and where I run my business to this day.
This is an all-inclusive platform that has everything you need under one roof. No need to hop around from site to site trying to figure out what to do. It's all there for you.
Here's a bit of what they offer:
Training – Step by step courses, classrooms, tutorials, and live weekly webinars.
A domain registry – An easy way to find the perfect name for your business.
A website builder – With over 4,000 WordPress themes to choose from.
Website hosting – With powerful servers, security, backups, and emails, and more.
A keyword research tool – Find low-competition keywords for the best ranking.
A large and active LIVE community – They always have your back!
And much more…
And the owners, who you meet and interact with whenever you wish, are so confident in their platform, that they allow you to start with a FREE starter membership. No credit cards necessary.
There's really no other place like this online today!
If you click on the image below, you can read all about it. And when you join, I'll be there to greet you and help you as long as you need me. See you soon!
So where did you hear about Optin Turbo? Did the Optin Turbo review answer all your questions?
I'd love to hear from you. Please leave your comments below.
Cheers,
Suzanne
P.S. Please share my blog!