Do you have an online business, and wanting to create your own digital products? Wondering if you should spend the money on outsourcing?
If you've been researching the topic, you've probably come across this new product called the DigiProduct Lab. But what is it? Is it legit and really work, or another scam just wasting your hard-earned money?
I'm so happy to see you researching this product before purchasing it. The sales page looks awesome but that's just a sign of a great marketer.
And most of the "reviews" out there are only pushing the product for their own benefit.
Well… today I'm writing my honest review about what's inside, how it works, and if it can do all that the sales page claims it can.
By the end of this review, you'll be able to decide if this is for you, or not. I'll offer you my opinions and my recommendation.
Have you started your new business yet? If not, this is where I learned everything about affiliate marketing.
What Is The DigiProduct Lab?
This product was created by Glynn Kosky and was launched on JVZoo and Warrior+ on June 27th, 2019.
Glynn claims the software can create digital products with zero effort in less than 60 seconds.
It's a cloud-based software that can create ebooks, reports, lead magnets, etc. to help increase your leads and sales.
DigiProduct Lab – $25.97 for Lite, $29.97 for Pro
What's Inside
Dashboard
Welcome and training video
Number of completed ebooks, landing pages, ecovers & licenses
eCover Creator
Choice of flat cover, 3D book cover, or 3D CD cover
Templates for each choice
Create eBook
Create from articles
Create manually
Create from URL
Upload your ebook
Choose DFY ebooks (upsell)
Create new chapters (About me, Intro, Summary, etc.)
My Library
Lists all ebooks with download options
Create a landing page with licensing
Templates available
My Collections
List of uploaded articles
DFY Packages
License Generator
Add new license certificate
Customize license terms
Bonus Builder
Training Videos
How To Create Your Books
How To Create An Ecover
How To Add Additional Pages
Add Your Article In Bulk
Bonus Builder DPL (Upsell #5))
Create Your Landing Pages DPL (Upsell #4)
How To Use The DFU (Upsell #3)
Added Videos – Super Affiliate Millionaire (Youtube Channel)
Bonuses
Styled eCover Creator
Sales Graphics Producer
Private Facebook Group
Webinar – John Crestani's Super Affiliate System – $997
Quick Start Checklist
Mystery Traffic Bonus
Upsells 
#1: DigiProduct Lab UNLIMITED – $97, downsell $67
unlimited creations and hosting,
additional templates
#2: DigiProduct Lab AUTOMATED TRAFFIC FLOW – $97, downsell $67
done for you traffic stream
training to add tracking pixel for Facebook & Google Ads
#3: DigiProduct Lab DONE FOR YOU PRODUCTS – $97, downsell $77
10 done for you packages in different niches
includes ebook, landing page, thank you and download page
#4: DigiProduct Lab LIST BUILDER & OPTIN FUNNELS – $47, downsell $27
done for you products with an opt-in page
1-click integration with autoresponders
customizable
#5: DigiProduct Lab BONUS PAGE CREATOR – $67, downsell $47
choose from a database of products
create a bonus and thank you page for your product choice
#6: DigiProduct Lab LICENSE RIGHTS – $197, downsell $97
rights to sell DigiProduct Lab
email swipes
series of traffic videos
access to Glynn via FB & Skype
Who Is This System For?

This product is for anyone who has an online business. Digital products are extremely effective as opt-ins for growing your email list as well as creating your own products to sell.
Any time you can offer your reader free information that's relevant to what they're searching for, you have a way to create trust and loyalty from that person.
This product should cut your creation time down to just a few minutes, which is something all online entrepreneurs want, right?
Well, it should!!  But my experience was time-consuming!
Unfortunately, my experience with the tool, and with support, wasn't positive, and I asked for a refund.
Does this mean it's a lousy tool?  Not necessarily.  If they can fix the bugs so that the entire tool works, then I think it would be an asset for this initial low price.

How Does It Work?

If you look at the sales page, this software looks pretty amazing. With claims of making digital products with zero effort, who wouldn't want something like this in their arsenal.
The big question is… will it do what it claims?
First, let's look at what Glynn is claiming…
Claim #1 – Copy The Top Dogs
Glynn says all you need to do to succeed is to copy what the top digital marketers do. He says that
"Everyone knows the richest digital marketers ALL have their own products."
He also claims that 8+ figure marketers use ebooks to drive traffic, generate leads, and direct people to their offers. That's how they make PASSIVE profits.
The Truth
Ok, yes this is true. Ebooks can be very effective if you're giving away free solutions to your targeted audience, but that's not the only reason these millionaires are rich!
They have huge teams of specialists working for them to create and promote various things in the most effective way possible. We'd all be rich if we had teams like this, lol.
None the less, this tool could give you an easy way to create your own ebooks, with your team of 1.
Claim #2 – Generate 100% Passive Profits
Glynn says that most online methods aren't passive because they require ongoing effort to work.
And that people who use these methods are trading time for money. For example:
eCommerce takes daily product updates, ad creation and promotion.
Video marketing takes constantly creating new videos.
Social media marketing takes daily posting & group maintenance.
Affiliate marketing takes creating campaigns, writing emails, posting on social media and updating review sites.
The Truth
Really?! Does he think that only ebooks are passive?
Believe me, even when you create and possibly sell these digital products, you will still be creating, tweaking, posting and updating.
All the above methods have a passive aspect to them. Your campaigns and emails can be set and forgotten for some time, and bring in many more customers.
Posting to social media can be automated to save a ton of time.
And any videos or articles you post will continue to bring in leads, for many years!
So his claims that ebooks become passive are true but he's exaggerating that this is the only true way to earn money with no more work.
Claim #3 – Stop Paying To Outsource
Are you paying outsourcers thousands for basic ebooks?
Yikes, I hope not. And neither do I. But Glynn seems to think that most of us will never make money because this is what we're doing…
The Truth
I can honestly tell you that I've never used outsourcing for any digital products I've created.
These days, there are so many free services and software online, that it isn't too difficult to create something great.
Take Canva for instance. This is a free tool, online, that you can use to create awesome promotions for many things.
No, you can't make an ebook, but you can make a great cover, social media posts, header images, etc.
Personally, I also use Designrr and love it. This link will give you an awesome deal!!
DigiProduct Lab is somewhat like this, but a more basic software.
And… I know Designrr keeps upgrading and improving and will be around for a very long time, but I can't say that about DigiProduct Lab.
Claim #4 – Never Write A Word Again
Apparently, you'll never have to write a single word of content.
It pulls content from a library of 250K PLR articles. (PLR stands for Privat Label Rights. This is material that someone has written with the intent to sell anyone his right to use it as their own.)
You can input someone's URL and create an ebook from what they've already written.
Enter your own article.
The Truth
Yep, these are all steps you can take, besides writing your own from scratch. But these are the issues I have:
Many PLR's I've seen use old and outdated material. You can find newly released ones that may be current for a few months, but after that, they get useless really fast.
It really depends on what niche you're in. If it's "evergreen" information that stays the same from year to year, you're fine.
But if you're in the affiliate marketing industry like me, you're not! Google likes to keep us on our toes, lol.
In this case, you'd be redoing and tweaking your ebooks fairly often to ensure you're providing the most current advice and solutions.
Using someone else's content can be dangerous. And unethical! Google doesn't tolerate plagiarism or duplicate content.
I know, you're saying you can spin it. But Google has a way of detecting this as well. So be careful!
Claim #5 – Generate Sales & Commissions
Yes, this is entirely possible.
Of course, the sales page makes it sound like you've never gotten any sales yet and this will make all the difference to your business, haha. But I can sure help.
Digital products are great in so many ways.
It can grow your email list with targeted leads. It can funnel your readers to your promotions, which can turn into sales.
Or they can become products you wish to sell directly!
The Truth
Whether you use this tool, or any other, creating digital products will benefit your business. There are millions of people searching for training, or solutions to their problems, each and every day.
But remember that you still need to know how to drive traffic to your site and your offers.
People have to get there before they can like your opt-in offers or your products. Once they're there, these ebooks are great to keep them engaged.
And if you're giving these ebooks away as freebies for opt-ins, you're showing that you care about your visitors, which in turn can lead to a loyal customer.
So let's look to see if this product is all it claims to be…
Logging In…
When you first get access to the platform, you'll have a welcome video by Glynn with some instructions.
Step 1 – is registering for a VIP Members Workshop.  Funny thing it's dated for Tuesday, July 2nd, but no worries.  You can register and immediately see a replay if you wish.
Step 2 – is trying to get you to sign up for a hosting package with Coolhandle.  He says he's got a VIP deal for you, but not really.  This offer is included in many products I review, and it's the same price for everyone!
Step 3 – is accessing DigiProduct Lab.  Your username and password would have been emailed to you.
Step 4 – gives you the link you need to access your upgrades if you bought any.  You'll use either JVZoo or Warrior+ links.
Step 5 – asks you to join Glynn's Facebook group called Digital Income Academy.
Then there are oodles of bonuses below these steps, and they're not all free.  Some are plugins, some are case studies and videos.
And many capture your email address, so expect many other product promotion emails.
The Software Program
Pretty simple, but it works!  Well… some of it anyway!
First, you start with your ecover and choose your template. If you choose the "blank template", it opens a design tool to create your own creation.
You can select from Pixabay or Flickr (within the editor), type in your keyword, and it brings up all the appropriate images.
Add your text, shapes, etc, to finish your creation.
Second, you create your ebook. You can choose from:
Articles – type in your keyword, pick from PLR's or your own collection, and the software will pull up everything it has matching your keywords.
Manually – this is for writing your own content in the editor.
From URL – you can copy/paste any URL and it will upload the content into the editor.
Your own ebook – if your current PDF needs editing.
Done-for-you ebooks – this is only available if you've purchased upsell #3
Once you're in the editor, you can add your ecover and change your ebook headings, footer, chapters, intros, about me, etc. Save, regenerate, and it's saved to your library.
Third, you can create a landing page with a thank you page.
Choose and customize your choice from the available templates.
Get your embed code to add to your content.
Fourth, you can generate a license to add to your product. This is great if you're selling it for others to use as their own. This is your PLR product!
Here's the quick demo video that was on the sales page. It goes fast, so if you want to slow down your playback speed, you might get more out of it, lol.
The Training
The training videos show you exactly how to use the dashboard. But really, it's quite simple to use.
You will also see some additional videos that don't have anything to do with this product. They are videos from a gentleman name Leigh, who is one of the owners of DigiProduct Lab.
He offers online help as well as promote products. There are a few you'll come across here, such as:
Triple Traffic Bots
Instant Ecom Funnels
Domainer Elite Pro – this link is to my product review.
Bonuses
The bonuses are fine and fairly typical. There are other product promotions here as well. One of which I see in the majority of reviews I write…
John Crestani's Super Affiliate System. This link is to my review of his system.
The free webinar is meant to hype you up to buy into his system, which is good, but not for beginners in my opinion. It's also what's known as a high ticket item, costing you $997.
Upsells
There are many upsells, and you'll be presented with each as you go through the checkout process.  Brace yourself, there's 12 in all, lol.
I listed them above with links to each landing page so you can read about the details if you're interested.
Glynn repeatedly says that you only have the one chance to buy the upsells.  But once I got inside, I noticed you can upgrade there too.
One thing I'd like to point out is to always edit any done-for-you packages. There will probably be a lot of people using DigiProduct Lab, and you don't want your material looking like everyone else's.
You run into duplication problems again, which Google frowns upon!
This Is My Experience
The only ebook this tool would generate was from "articles".  And I'm not a fan of using PLR articles.
The ones it pulled up for me were outdated information that I wouldn't want to send my visitors.  I only want the most updated and current strategies to help my readers.
So I decided to use the URL's from my own articles, written by just me.  It would pull it up ok, and after spending time editing, I clicked "regenerate".
Nothing happened.  A half-hour later, the spinning wheel was still spinning!
So I tried again and again.  I tried the other tabs where I could manually write in the editor, or copy/paste an article.  But still, nothing else worked.
And unfortunately, the training video is only for the PLR articles.  There is no additional training for the other methods, or for troubleshooting.
OK, so then I tried emailing support.  I bought DigiProductLab on August 23rd and emailed support on August 29, 2019.
They informed me they respond within 24 – 48 hours, and I got a response on September 1st.  They wanted me to provide a video of what was happening.
Except they'd only let me upload a video less than 1MB.  Impossible!  So I sent them screenshots.
By September 5th, no response so decided to ask for a refund.  It had been over two weeks and I couldn't use this tool!
Then I got some action, lol.  This is what they sent me…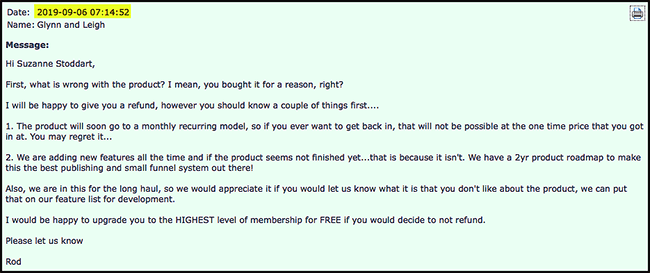 This is probably a standard response, but I can't trust a tool that was released before it worked properly.  And support was taking too long in my opinion.
This may be improved in the future, I don't know.  This was my personal experience only!
As of September 13, I still haven't received my refund!
And unfortunately, Warrior+ doesn't give the refunds as Clickbank does.  So You have to go to the product owner.
If you don't get any response from the owner, you can then contact Warrior + to help you intercede.
It would, of course, be in the owner's best interest to respond themselves, if they want to keep in good standing with Warrior +.
This purchase was for my review, and I'm not worried about the ability to create ebooks.
As I said above, I use Designrr to create my material.  They're a little more expensive but reliable with excellent support.
Pros
30-day money-back guarantee
Low cost
Creates professional-looking ebooks
Many templates
Customizable
Cons
Many upsells
Ethical considerations using URL's
Outdated PLR's? Don't assume it's current!
The tool only worked with PLR's as of September 2019
Final Thoughts And Recommendations
Overall, this product has potential, but only if they can fix all the bugs. And that's because every online marketer can use ebooks to both create leads and increase your income.
Just remember that this is a tool and not a promise that you will suddenly become rich overnight, lol.
Is DigiProduct Lab a scam?   No  
Would I recommend it?   Yes, but…
Right now, the price is fairly low for all you get. And expect to be pressured to purchase the upsells, because that's where they're making most of their money.
The initial product only allows you 10 ebook creations per month, so I decided to try the "unlimited" upsell, at the downsell price of $67.
The others looked ok, but I'm not fond of done-for-you products, so opted out.
But like I stated above, I've had nothing but problems with this tool and have asked for a refund.
They may have everything fixed by the time you read my review, and you may wish to give it a try.  The good thing is that you do get a 60-day money-back guarantee.

Now, you will still need to know how to drive traffic to your site, so that you can offer these ebooks. There isn't any training for this, so that's up to you.
Do you need help with traffic? Are you just starting out and not quite sure how to proceed?
I would love to recommend learning where I did. They provide everything you need to learn how to be a successful online affiliate marketer.
If you'd like to read about it, please click the button below. I
'll greet you on the inside and help you learn how these ebook creation tools can benefit and scale your own online business.
How did you come across this product? Online, or did it come to your inbox?
If you give it a try, can you let us know how you like it? I'd love to hear from you.
If you have any comments or questions, please leave them below and I'll get right back to you.
Cheers,
Suzanne